BARRY MANILOW ENDS RESIDENT HILTON RUN ON DEC. 30
Barry Manilow's record-setting five-year engagement at the Las Vegas Hilton will conclude on Dec. 30, 2009. He began his long-term run with the Las Vegas Hilton in February 2005 with "Manilow: Music and Passion." His current show, "ULTIMATE MANILOW: The Hits," debuted in July 2008.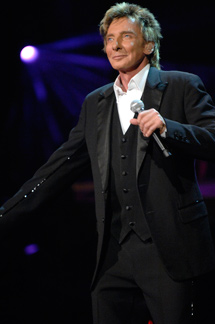 By the end of the year, Manilow will have performed more than 300 shows, to nearly 450,000 people with gross ticket sales of more than $70 million. The remaining performances are Nov. 27-29 and Dec. 28-30.
Column Continues Below Advertisement
HOME SHOW EXTRAVAGANZA WILL BE HELD AT CASHMAN CENTER
The annual Las Vegas Home Show Extravaganza, which is a virtual information center for every type of interior home and outdoor living improvement, plus decorating projects, will be held Oct. 23-25 at Cashman Center downtown. There will be more than 500 booths showcasing designer rooms, cooking demonstrations, outdoor living products and services, spas, gazebos, pools, statuary, furnishings and accessories. Guest speakers will offer tips and helpful information.
Daily general admission is $7 for adults, $6 for seniors, and free for children 18 with a paid adult. Hours are Friday noon – 7 p.m., Saturday 10 a.m. – 7 p.m., and Sunday 10 a.m. – 6 p.m.
FREMONT STREET EXPERIENCE INTRODUCES 'OKTOBERFRIGHTFEST'
The Fremont Street Experience is unveiling an Oktoberfest and Halloween combined street party with its first "OktoberFrightFest," a three-week festival Oct. 13-31. The Fremont Street Experience will feature Oktoberfest and Halloween festivities, including a haunted house attraction inside Binion's, a Viva Vision light and sound show themed to "Time Warp" and "Monster Mash," seasonal Oktoberfest food and drink specials, plus three free Halloween-themed stages.
Jan Rouven, an international master illusionist from Germany, will make his Las Vegas debut by headlining OktoberFrightFest with his show, "Jan Rouven presents Death-Defying Illusions." Rouven, billed as "The Man With Nine Lives," will perform nightly at the 1st Street Stage at 8 and 10 p.m.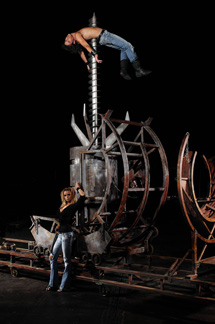 "Frank & The Steins" is a live musical revue of classic Halloween songs produced by Face Productions and choreographed by Melden Steele. The cast is comprised of hot ghouls and guys; singers, dancers and live musicians performing songs including "Psycho Killers," "Spooky," "Time Warp," and "Ghostbusters." This show will be performed Tuesdays-Saturdasy at the 3rd Street Stage at 8:30, 9:30 and 10:30 p.m.
"Sexy and Dangerous Mario & Jenny," from NBC's hit show "America's Got Talent," will perform on the Haunted Bus Stage at the Fremont Street Experience Thursdays-Mondays at 8:30, 9:30 and 10:30 p.m.
In addition to the free entertainment, Binion's will host Downtown's Vegas Haunted Casino. The ticketed-admission attraction features three haunts open from 7 p.m.-1 a.m., Oct. Oct. 13-31 (dark Mondays).
'SO YOU THINK YOU CAN DANCE TOUR' WILL STOP AT ORLEANS ARENA
Audience favorites from the fifth season of the popular television program "So You Think You Can Dance" will appear live on stage at the Orleans Arena for a one-night-only event, Nov. 14 at 7:30 p.m. as part of the "So You Think You Can Dance Tour 2009." Tickets are $38.50, $48.50 and $56.00, call 702-284-7777.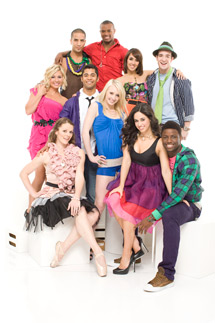 Ade Obayomi, Brandon Bryant, Evan Kasprzak, Janette Manrara, Jason Glover, Kayla Radomski, Kupono Aweau, Melissa Sandvig, Randi Evans, and America's favorite dancer Jeanine Mason are the Top 10 finalists from the hit television show. The dancers and their routines encompass several dance genres and styles including Hip-Hop, Contemporary, Ballroom, Tango, Broadway and Salsa, among others.
THE KING's RANSOM MUSEUM EXHIBIT WILL OPEN AT IMPERIAL PALACE
The King's Ransom Museum, an exhibit of Elvis Presley artifacts and priceless personal treasures, will open at the Imperial Palace on Oct. 21. The multi-million dollar collection will be on display in Las Vegas for the first time on the third floor in the Imperial Palace's Royal Halls. The exhibit will be open daily from 10 a.m. to 6 p.m. until April 2010. Admission will be $10, call 888-777-7664.
Objects being showcased will be from Elvis' personal life and his acting and singing careers. Items will include: Elvis' 1977 Lincoln Continental, clothing and wardrobe, jewelry, guns, badges, personal artifacts from Graceland and a lot more memorabilia.
NEW YORK-NEW YORK HAS NEW HAUNTED HOUSE, 'ZOMBIE PRECINCT'
New York-New York has a new haunted house – "Zombie Precinct" that is built along the resort's Brooklyn Bridge. It's open daily through Oct. 31 from 6 p.m. until late. Admission is $20 with a discounted ticket price of $10 for hotel guests. For information, call 702-740-6969.
The legend of "Zombie Precinct" states that, while awaiting death in the electric chair, inmate No. 13 murmured this curse: "Tonight, on my final night alive, all who dwell in this prison will turn to darkness and live as creatures of the night forever!" At the exact moment of the execution, a huge bolt of lighting struck the prison and everyone in the building was transformed into zombies. Since that night, New York-New York has closed the precinct to the public. This Halloween, the precinct gates are open.
THE SMOTHERS BROTHERS BRING LAUGHS TO THE ORLEANS SHOWROOM
Enduring comedy twosome the Smothers Brothers, who have been entertaining Las Vegas audiences for more than 45 years, will bring their seamless blend of comedic and musical talents to The Orleans Showroom, Nov. 5 - 8. Tickets start from $34.95, call 702-365-7075.
Tom and Dick Smothers made their first professional appearance together at the Purple Onion in San Francisco in February 1959, and their first national television debut on "The Tonight Show with Jack Paar." The comedic siblings have made 12 top-selling albums; however, they are best known for their controversial and influential comedy series, "The Smothers Brothers Comedy Hour."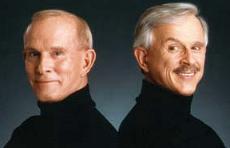 TOP OF NEXT COLUMN
PARIS LAS VEGAS PREPARES FOR 3RD ANNUAL WINE CELEBRATION
Paris Las Vegas has announced the return of the annual Beaujolais Nouveau celebration and uncorked a room package with tastings and special events for the ultimate wine enthusiast. As regulated by French law, Beaujolais Nouveau is released no sooner than the third Thursday in November – six weeks after the grapes are harvested, this wine is ready to drink. Huge celebrations take place worldwide at one minute after midnight to taste the latest wine of the harvest, with 65 million bottles to be consumed in the following months.
The Beaujolais Nouveau package is available Nov. 18 - 22 and can be booked online at www.parislasvegas.com/wine.
QUICK CLIPS
This year through Oct. 31, Fright Dome at Circus Circus has welcomed back nationally recognized Lizardman, who has undergone approximately 650 hours of tattooing, covering him from head to toe with reptilian scales and black markings. His eyelids and lips are tattooed and he has a surgically split tongue. Implanted Teflon horns form ridges over each eye and his teeth have been filed to sharp points.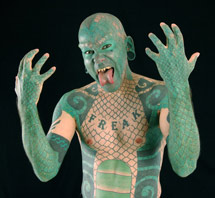 The "76 Trombones + 4 25th Anniversary Concert" will be held Sunday, Nov. 8, at 2 p.m. at Artemus Ham Concert Hall at the University of Nevada Las Vegas campus. The musical extravaganza features about 100 trombone players. Tickets are $10 and $5 for students, seniors and military; day-of- tickets are $12 and $7. For information, call 702-895-2787.
Harrah's afternoon comedy-magic headliner, Mac King has been selected to perform at this year's 53rd Annual "It's Magic" event on Sunday, Nov. 8 at the Kodak Theatre in Hollywood, Calif. The event highlights performances from the best illusionists in the world of magic and will commemorate the 100th anniversary of the legendary Magic Castle. Tickets are available for purchase at www.ticketmaster.com.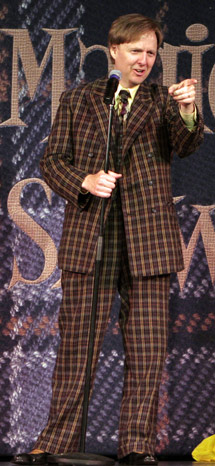 On Friday, Oct. 23, the Comedy Stop in the Congo Room at the Sahara, will host a fundraiser to benefit the Las Vegas Rescue Mission. Last week, the mission held a ribbon cutting ceremony for the opening of its new $2.5-million, two-story dining and training facility. Headlining the special night will be wacky comedian and impressionist, Steve Shaffer, joined by dieting specialist (not really), Chrissy Burns, and veteran Patrick O'Donnell. Tickets are $35.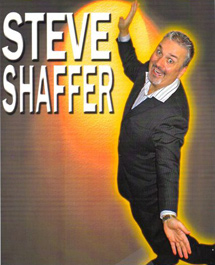 The Village at Lake Las Vegas and Action Sports United (ASU) will host free "Tricks & Treats" on Halloween. BMX athletes will perform the "tricks" from 5 to 7 p.m. while the shops and restaurants throughout The Village give out the "treats." In addition, there will be a haunted house, piñatas full of candy, games, raffles, pumpkin patch and prizes. JV All Starz will perform at 7 p.m.
The last outdoor Rock 'n Roll Wine event will be held at the Pond at Green Valley Ranch on Friday, Oct. 23 from 7-10 p.m. with 15-20 wines and music by Peter Love. Tickets are $35 in advance and $40 at the door. The following wine event will be at the Foundation Room at the House of Blues on Friday, Nov. 6.
The Calling All Dead Musicians event being held on Thursday Oct. 29 from 8 to 11 p.m. in the Liberace Museum parking lot at 1775 E. Tropicana Avenue will be a fundraiser for the Creative Therapeutic Arts with a costume contest asking folks to come as their favorite dead musician, artist or composer. There will also be a hand-crafted musical contest, psychic readings, drumming circle, magician and prizes. Admission is $12 in advance, call 702-363-8166.
Cy Curnin, lead singer of The Fixx, award-winning singer/songwriter, Karla Bonoff, and rising country music starlet, Whitney Duncan, will be the featured performing acts for Henderson's ArtBeat cultural arts series presented by Target in November. The free 7 p.m. Friday shows will be Curnin Nov. 6, Bonoff Nov. 13 and Duncan Nov. 20 and take place at the Henderson Events Plaza with pre-show activities at 6:30 p.m.
Broadway show, "Jersey Boys," the story of Frankie Valli and The Four Seasons, has a new award. The "Original Cast Recording" has been certified platinum by the Recording Industry Association of America (RIAA). The album won the Grammy for Best Musical Show Album in 2006 and continues to be a sales juggernaut.
RESTAURANT NEWS
The Mexican restaurant and bar Tacos & Tequila (T&T) located at the Luxor has started a Mariachi Brunch that takes place every Sunday from 11 a.m. until 3 p.m. The dining experience features a high-energy Mariachi band, two-for-one margaritas and "Bloody Marias," and a variety of authentic menu selections. For information, call 702-262-5225.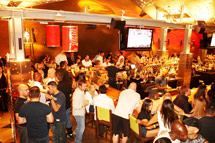 Society Café Encore, the innovative American restaurant located inside Encore at Wynn Las Vegas, has been named one of the "Best New Restaurants in America" by "Esquire" magazine's in the November 2009 issue. The eatery opens daily at 7 a.m. has signature dishes and guests start with fresh pretzel bread and house-made grainy mustard butter.
Fine Entertainment Inc., which owns the Rockhouse Bar & Nightclub on the Strip, has assumed management of Las Vegas' first Asian-themed 24 hour, 4,000-square-foot tavern, Little Macau located in the heart of Chinatown just one block from the Las Vegas Strip at 3939 W. Spring Mountain Road. The upscale restaurant features a candlelit room with cozy curtained booths. Little Macau offers an atmosphere reminiscent of both the traditional and modern culture of Macau."
HOT ROD DRIVERS PLAY POKER FOR CHARITY
Some of the top names in the NHRA will be kicking off the NHRA Las Vegas Nationals weekend at Las Vegas Motor Speedway by hitting the poker table for Speedway Children's Charities' Sixth Annual Cards for Kids Texas Hold 'em Poker Tournament on Wednesday, Oct. 28, at the Cannery.
Fans will have the opportunity to see how long they can outplay and outlast their favorite NHRA drivers at this annual charity event. Entry fee (buy-in) is $250 and players will receive $1,000 in tournament chips and complimentary hors d'oeuvres and drinks. A total prize purse of $5,000 will be up for grabs. For information, call 702-632-8242.
Column Continues Below Advertisement
CONTINUE ON TO...:

>THIS WEEK'S LAUGHLIN NEWS
>LAST WEEK'S LAS VEGAS NEWS
>VEGAS VIEW FULL NEWS ARCHIVES
>Return to "Heard Around Town"
>Return to Las Vegas Leisure Guide