BRET MICHAELS WILL VISIT RIVERSIDE AMPHITHEATER

PetSmart will present Bret Michaels in concert at the Riverside Amphitheater Saturday, Oct. 26 at 8:30 p.m. Tickets range from $35 to $65.

Michaels is an American musician, actor, director, screenwriter, producer and reality television superstar. He first gained fame as the lead vocalist of the glam metal band Poison selling more than 30 million records worldwide. Michaels inspired by the breakup with his longtime girlfriend wrote the hit ballad "Every Rose Has Its Thorn," which was released in December 1988.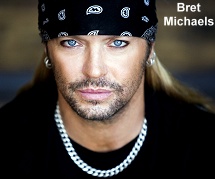 After Poison, Michaels has added several solo albums to his credit including a soundtrack album to the movie in which he starred, wrote and directed "A Letter from Death Row" plus a classic rock-styled album "Songs of Life," which featured the singles "Raine" dedicated to his daughter and "Bittersweet." Today, Michaels is supporting his newest album, "Jammin With Friends." In addition, Michaels was recently presented the Patriotic Award by members of the U.S. Military.
Currently, this legendary rocker is hosting the all-new "Rock My RV with Bret Michaels" series on the Travel Channel. Although Michaels is known as a rock star and for his reality programs such as "Celebrity Apprentice" and "Rock of Love," he is passionate about RVs. In addition, Michael's brand of pet toys, the "Pets Rock" collection, can be found exclusively at PetSmart.
GLADYS KNIGHT HEADLINES HARRAH'S OUTDOOR AMPHITHEATER
Seven-time Grammy Award®-winner Gladys Knight will perform at Harrah's Outdoor Amphitheater on Friday, Oct. 25 at 7 p.m. Tickets range from $42 to $82.
Very few singers over the last 50 years have matched her unassailable artistry. Georgia-born Knight has earned number one hits in Pop, R&B and Adult Contemporary, and has triumphed in film, television and live performance. In addition to dozens of live performances each year, Knight currently stars in the syndicated sitcom "The First Family" on BET/Centric, where she plays the mother of the President. This fall, Knight will lend her musical expertise again for the second season of Centric's original series "Apollo Live." Joining judges Doug E. Fresh and Michael Bivins, the legendary songstress will give guidance to hopeful contestants each week.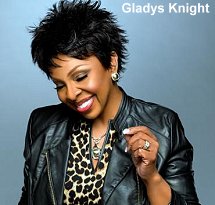 Other recent television and film credits include the Tyler Perry film "I Can Do Bad All By Myself," a cameo on the Emmy Award-winning NBC hit comedy "30 Rock," and the holiday-themed "Holidaze," her first animated project to which she also contributed a track, among others. Knight also appeared as a guest judge on FOX's smash hit "American Idol" and performed in the show's always star-studded finale.
A humanitarian and philanthropist, Knight is devoted to various worthy causes, including the American Diabetes Association, for which she is a national spokesperson. Knight helps oversee her busy personal entertainment corporation.
RED CUP PARTY CELEBRATES TOBY KEITH'S LAUGHLIN CONCERT
The Golden Nugget's Red Cup Party on Friday and Saturday, Oct. 18 and 19 will continue the celebration for Toby Keith's Laughlin concert. This parking lot party will feature Beer Trucks and a Shot Saloon, food and drink specials, games, giveaways and prizes. There will be free entertainment by a DJ as well as live performances from Scott Haggard on Friday and Saturday from 4-7 p.m., and the Tony Marques Band on Friday from 9 p.m.-midnight and Saturday from 7 p.m.-midnight.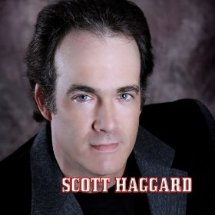 Scott Haggard, son of Merle Haggard, was playing guitar and singing as a teenager and went on to learn drums and saxophone. After he graduated, Haggard found himself struggling to make ends meet in a poor economy, like so many others. So, he set music aside and began a career as a professional truck driver and worked hard raising his family. In 2006, Haggard decided to return to his music. In May 2008, he won the Horizon Award from the Mobile Alabama Country Music Association. To date, Haggard has headlined with Mark Wills, Jeff Bates, Charlie McCoy, and many other country music notables. Haggard emerged from the significant shadow of his father when he wrote and recorded his own composition "Living In The Shadow Of Merle," which was released on his debut CD recorded in Nashville in April 2012.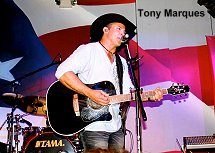 Tony Marques is a self-taught singer, songwriter and acoustic guitar player who located to Las Vegas, Nev., during his junior high school year. Marques has opened for many national recording artists during events such as NASCAR, National Finals Rodeo, and Pro Bull Riders Association. He has opened for artists such as Charlie Daniels, Jason Aldean, Neal McCoy, Sawyer Brown, Darryl Worley, Asleep At The Wheel, Phil Vassar, Keith Anderson, Ricky Skaggs, and played opposite of Chuck Wicks at the 2009 Academy of Country Music Awards pre-awards party. Marques and his band have backed up Toby Keith numerous times when he stopped unannounced at his own Toby Keith's I Love This Bar and Grill inside of Harrah's. Marques was handpicked by Keith to perform nightly as the House Band from August of 2005 through the end of January 2009. Marques still performs at Keith's establishment in Las Vegas at least once a month, was the first band to perform at Toby Keith's in Mesa, Ariz., and will also debut at the new Toby Keith's in Denver, Colo.
INAGURAL BEER AND BBQ FESTIVAL PLANNED AT COLORADO BELLE
The "Boots, Beer & BBQ Country Festival" will take place at Center Circle in the front parking lot of the Colorado Belle Oct. 18-20. There will be a BBQ and beverages for sale and free live music live music by Freddie Way and Aaron Owens. Hours are 2-10 p.m. Friday, noon-10 p.m. Saturday, and noon-7 p.m. Sunday.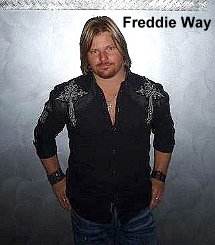 Freddie Way who was born and raised in the mountains of Northeast Georgia has gone from being an 18-year-old talent show winner to a rising star in the country music scene. Recently, Way has been writing songs and working on a new album titled, "Who I Am" that he's recording in Nashville with John McBride at his world renowned Blackbird Studios. With a new band and his soon to be released album, Way is on his way to fulfilling his musical dreams.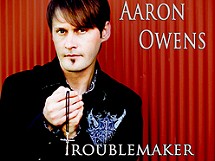 Aaron Owens was born and raised in LA (Lower Arkansas). His mother toured regionally in the country band ATOC in the mid-80s, which spurred his musical aspirations. Owens was the "2011 Arkansas Country Artist of The Year." In the summer of 2011, Owens debuted his self-released CD "Troublemaker" recorded at EMI Nashville and produced by Nashville's hit songwriter Robert Arthur. The EP includes songs penned by mega writers and four of Owen's original works. Owens performs throughout the country and has accumulated opening credits with many major artists such as Willie Nelson, Blake Shelton, Billy Currington, John Michael Montgomery, Aaron Tippin, and many others.
TOP OF NEXT COLUMN
RIVERSIDE GOES RETRO WITH MOTOWN AND RAT PACK SHOWS
"Legends of Motown" featuring the music of The Spinners, The Four Tops and The Temptations is scheduled at Don's Celebrity Theatre at the Riverside, Oct. 22-27 at 8 p.m. This old school tribute show captures the look, the sound and the feeling of being at a Motown concert with each talented group recreating their renditions of the Motown era. Tickets are $34.50.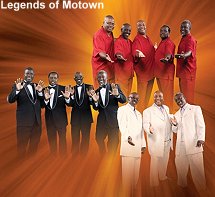 "The Rat Pack Is Back!" show highlighting the swinging music era ruled by Frank Sinatra, Dean Martin, Sammy Davis, Jr. and Joey Bishop will come to life at the Riverside Oct 29-Nov 3. The touring tribute act is a satisfying trip back in time with each performer delivering a solo set and numbers with the friendly foursome assemble. Tickets for the 8 p.m. shows are $32.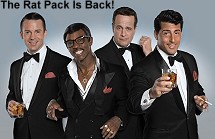 RIVERSIDE HOSTS STATE BBQ CHAMPIONSHIP AND MUSIC FESTIVAL
Don Laughlin's Riverside Resort is again hosting "Smoke on the Water BBQ & Music Festival" Nov. 1-2. Music fans and championship barbecue teams will descend upon Laughlin for the world's premier barbecue competitions. In addition to the $100,000 Smoke on the Water USA BBQ Championship grand prize, the winner will also receive a 2014 Chevrolet Silverado twin cab pickup truck. For information, visit www.smokeonthewaterbbq.com.
EVENTS ON THE HORIZON
For one day only on Saturday, Oct. 19 from 10 a.m.-3 p.m., the annual "Girls Day Out" shopping event sponsored by Cameron Broadcasting will feature more than 70 booths stocked with gifts, jewelry, clothing, accessories, etc.
The second Laughlin International Film Festival (LIFF) will be held Oct. 17-20 with film screenings spanning over four days in conjunction with networking social events, filmmaker workshops and panels. For information, visit www.laughlinfilmfestival.com.
The three-day "Rumble by the River" special event will be held Oct. 18-20 in the South Parking Lot at the Avi. This outdoor event will feature rockabilly bands, car and bike show, a "Pinup Girl Contest" with $1,750 in cash prizes, vendors and a fashion show. Admission is free.
The family-friendly annual "Halloween Haunt & Glow Car Show" will be held in the Tropicana's North Parking Lot Oct. 25-27 throughout the day. It will be free for the pubic to view the vehicles, which will include all makes and models of cars, trucks and motorcycles. There will also be vendors, a light show and Halloween costume contest.
The Grammy Award winning Tejano/Norteño musical group Intocable from Zapata, Texas, will perform Saturday, Oct. 26 at the Edgewater's E Center. Tickets start at $25. The band has 10 No. 1 albums, 11 No. 1 singles, and more than 14 million albums sold.
The sixth annual Psychic Fair will be held at the Aquarius Pavilion on Saturday, Oct. 26 from noon to 8 p.m. and Sunday, Oct. 27 from 11 a.m. to 6 p.m. This event will feature 35 different psychics who will provide psychic, tarot card, tea leaf and palm readings, aura photography, clairvoyance, as well as classes in various psychic genres such as basic numerology, dream interpretations, astrology, etc. The Psychic Fair is free. Classes are $20 each and can be purchased in advance at the ace | PLAY center or at the door.
Grammy Award winning Latin band Intocable, a Tejano/Norteño musical group from Zapata, Texas, will perform at the indoor Edgewater's E Center on Saturday, Oct. 26 at 8 p.m. Tickets start at $25.
The "4th Annual Monster Mash Dance Party" will be held at the Avi Grand Ballroom on Saturday, Oct. 26 from 6-9 p.m. There will be live entertainment and a costume contest with $200 Xtra Bucks Bonus going to each winner in Scariest, Funniest and Most Original categories. Note that no masks are allowed. Charge is $5 with proceeds going to the Boys and Girls Club of Aha Macav.
County Red will be appearing in the ArrowWeed Lounge at the Avi Oct. 29-Nov. 2 from 6:30 p.m. to midnight Tuesday through Thursday and 4 - 8:30 p.m. on Friday and Saturday.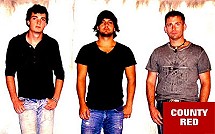 The "Indian National Finals Rodeo" Nov. 1-3 at Mojave Crossing across the river from the Avi will be the kick-off rodeo for the 2014 INFR season. The 2013 finals will be held in Las Vegas, Nov 5-9, so all the best Indian riders will be at the Avi event. The rodeo is 6 p.m. on Friday and Saturday and Sunday at 11 a.m. Admission is $10 and free for ages 5 and under.
The "26th Annual Fast Past Car Show" will be held in the North Parking Lot at the Golden Nugget, Nov. 7-10. Cars will be on display daily and viewing is free. The annual, crowd-pleasing car show features a show n' shine, music, ladies poker walk, welcome reception and all kinds of awards.
EDGEWATER STARS COMEDIANS ON A WEEKEND BASIS
Every weekend the Edgewater books two comedians in the showroom at 7 p.m. Admission is $10 and veterans with a military ID and ACCESS Club card receive a $2 discount. The future lineup includes: Nov. 1-3 - Travis Howze and Chino LaForge; Nov. 8-10 - Steve Kramer and Gabe Dinger; Nov. 15-17 - Lori Callahan and Sean McBride; Nov. 22-24- Ron Josol and Jeremy Greenberg; and Nov. 29-Dec. 1- Cash Levy and Steve Mazan.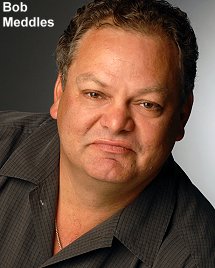 Bob Meddles will be headlining with Chris Dunham Oct. 18-20. After more than 12 years working as a newspaper editor and freelance writer, Meddles has honed his comedic take on contemporary culture, relationships and life in general for the stage. He is the founder of the Slap the Stupid People campaign with tens of thousands of Facebook fans. Appealing to a wide range of audiences, Meddles unravels many mysteries during his show including: why razors have five blades; why monks brew beer; and what makes corn dogs nature's perfect food.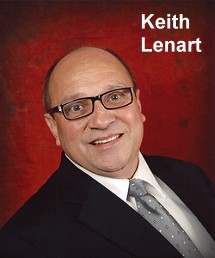 Keith Lenart and Andrew Rivers will appear Oct. 25-27. National touring comedian Lenart has been around the comedy scene for more than a decade. He's been seen on "Last Comic Standing," the "Las Vegas Comedy Festival," NBC's "So You Think You're Funny" and "Comcast Comedy Spotlight." Lenart has also appeared in many feature films, such as "American Wedding," Billy Crystal's "61*" and the upcoming film "Vamps" starring Alicia Silverstone and Richard Lewis. He has worked with John Pinette, Jim Gaffigan, Bobby Collins, Bobby Slayton, Caroline Rhea, Bobcat Goldthwait, Judy Tenuta, Pauly Shore, Leo Dufour and more.
FRANK MARINO'S DIVAS WILL VISIT HARRAH'S
"Divas-Direct from Vegas!" starring Frank Marino and a cast of female impersonators will visit Harrah's Fiesta Showroom Oct. 31-Nov. 9. The 75-minute 8 p.m. spectacle has been headlining in Las Vegas for years, first at the Riviera and now at The Quad (formerly Imperial Palace). Tickets are $27.50 and $38.50.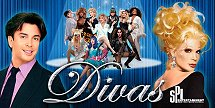 The all-star cast of superstar female impersonators recreate with uncanny likenesses stars ranging from Britney Spears to Cher, Diana Ross to Beyoncé, and Madonna to Dolly Parton. More recently, Pop's newest sensations Lady Gaga, Rihanna, and Katy Perry make an appearance. As the show's host, Marino is most widely known for his impersonation of Joan Rivers. He has been seen on "Millionaire Matchmaker" and with Sandra Bullock on "Miss Congeniality II."


CONTINUE ON TO...:

THIS WEEK'S >LAS VEGAS NEWS
LAST WEEK'S >LAUGHLIN NEWS
>VEGAS VIEW FULL ARCHIVES
Return to >"Heard Around Town"
Return to >Las Vegas Leisure Guide