GOLDEN NUGGET INTRODUCES NEW GOLD RUSH VILLA!

The Golden Nugget has introduced its newest deluxe accommodations along the Colorado River with the stylish 2,900-square-foot Gold Rush Villa located next door to the resort and adjacent to the hotel pool. The Gold Rush Villa has been designed with contemporary furnishings and color schemes and accented with modern art fixtures and high tech amenities. The three-bedroom spacious retreat features floor-to-ceiling windows overlooking the Colorado River, a full kitchen, bar and expansive living area as well as a private garage and courtyard.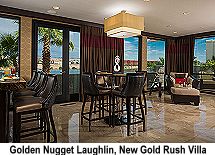 Gold Rush Villa is completely different for the Laughlin market. It provides an ideal location to host a wedding ceremony, reception, small meeting, intimate parties or just a weekend getaway with someone special. To check availability or make reservations, call 800-950-7700.
KIP MOORE VISITS E CENTER
ACA & CMT-nominated singer/ songwriter Kip Moore, who is one of country music's up-and-coming stars, will perform at the E Center at the Edgewater on Friday, Oct. 4 at 8 p.m. He released his first single in 2011 and his first album, "Up All Night" in 2012. His hit single "Somethin' 'Bout a Truck" hit No. 1 on the country charts a month after his album was released. Tickets range from $25 to $85.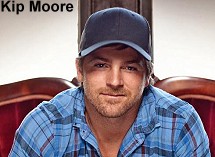 Moore grew up in a small town, Tifton, Ga., and was one of six children. He was the youngest boy who had three younger sisters. During high school, he began playing his brother's guitar, but his focus largely remained on athletics. His father was a pro golfer and his mother was a painter who used anything handy for a canvas, taught piano and played the church organ. Moore played point guard for Wallace State's basketball team and also played on its golf team in Hanceville, Ala., for two years and then transferred to Valdolsta State University on a golf scholarship. But music became a growing passion. He wrote songs daily and joined a band that performed throughout the South, providing him with an income. After graduation, he moved to Hawaii on a whim with just a backpack, a surfboard and a friend. After six months he moved to Nashville to pursue songwriting as a living.
'THE ROY CLARK SHOW' STOPS AT THE RIVERSIDE
"The Roy Clark Show" featuring "Hee Haw" friend Jana Jae will visit the Riverside Sept. 25-29 with 8 p.m. shows. Tickets are $33.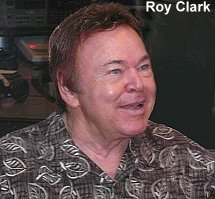 Clark's big break came in Las Vegas when he was asked to open for Wanda Jackson. His first hit was "The Tips Of My Fingers," and more than 20 more top twenty hits followed. Clark became a Grand Ole Opry member in 1987 and starred in the popular television show "Hee Haw," which premiered in 1969 and continued to play until 1992. He had a recurring role on the television sitcom "The Beverly Hillbillies," which spawned several acting roles. Clark was the first country music artist to guest host "Johnny Carson's Tonight Show."
BOB GULLEY BAND RETURNS TO TROPICANA IN SEPTEMBER
The Bob Gulley Band will perform in the Caboose Lounge at the Tropicana, Sept. 24-25 and Oct. 8-9 from 6-10 p.m. They will also play the Tropicana Block Party during the Haunt and Glow Car Show Oct. 25-26 from 7 to 11 p.m. in Victory Plaza.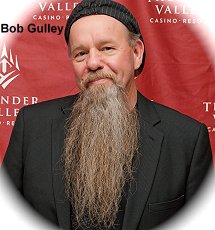 Gulley has been a singer/musician since the mid-1960s and has opened for legends like "The Who," "The Temptations," "Buffalo Springfield" and "Sonny & Cher." He performed at "The Hop" owned by The Righteous Brothers for eight straight years in the 1980s and created an award-winning show in Branson, Mo., for which he was nominated for "Best New Show of the Year" and awarded "Best Male Newcomer" for 1995.
Most recently, Gulley has been touring the USA and Canada singing and playing bass for Bill Medley, as well as performing locally in his hometown of Topock, Ariz., and surrounding areas with drummer Oscar Vildosola.
WEEKENDS AT THE EDGEWATER BELONG TO COMEDIANS
Every weekend, Friday - Sunday, two comedians take over the showroom stage at the Edgewater at 7 p.m. Shows are a steal at $10 and veterans with a military ID and ACCESS Club card receive a $2 discount. Upcoming comedians include: Oct. 4-6 - Eric Hunter and Robby Wagner; Oct. 11-13 - Ron Osborne and Brandon Vestal; Oct. 18-20 - Bob Meddles and Chris Dunham; and Oct. 25-27 - Keith Lenart and Andrew Rivers.
Michael Goudeau and Tom Myers will appear Sept. 20-22. Goudeau is a longtime Las Vegas entertainer who for 34 years has performed more shows than any juggler in Las Vegas history. From July 3, 1991, until Sept. 4, 2010, Goudeau appeared as the comedy act in the "Lance Burton, Master Magician" performing 5,508 shows at the Monte Carlo Hotel. Before that, he had extended runs in other famous Las Vegas productions including the "Folies Bergere," "Melinda: First Lady of Magic," "Luck Be a Lady," "Hitz" and "Splash." Goudeau received 10 Emmy nominations as writer and executive producer for "Penn and Teller: BullShi#!," and from January 2006 to March 2007 was co-host of the daily Penn Jillette Radio Show."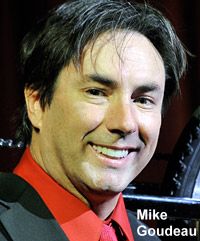 Andy Beningo is paired with Nate Armbruster. Sept. 27-29. Beningo's hilarious observations about daily life from Chinese restaurants, dogs and cats, and life as a college student to his brief career as a middle school teacher are wholesome and original. He has opened for Greg Giraldo, Bobby Lee, Emo Phillips, Chili Challis and Bill Dwyer.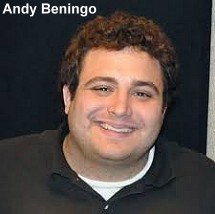 Beningo is a regular guest on the nationally syndicated "Bob and Tom Radio Show" and has been heard on XM Sirius Radio and overseas on the American Forces Network. He was a final four finalist on CMT's "Next Big Comic" and has appeared on the NBC affiliate show, "Night Shift with Kevin Ferguson." Now, Beningo continues to be a touring work horse, performing in some 250 shows a year in corporate events, colleges, theaters and casinos.
TOP OF NEXT COLUMN
EDGEWATER ENGAGES 'JOEY & MARIA'S COMEDY ITALIAN WEDDING'
"Joey & Maria's Comedy Italian Wedding" will put on an unforgettable wedding of sorts at the E Center at the Edgewater on Saturday, Sept. 28 at 6 p.m. Joey, Maria, and their two crazy families will celebrate for a night with singing, dancing, dinner, drinks and a few surprises. Participants are real guests at an anything but a traditional Italian wedding with two of the wackiest families this side of Little Italy. Must be 21 to attend. Tickets are $75.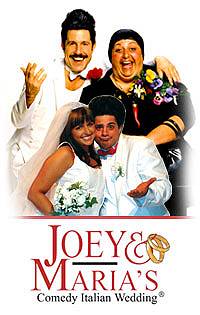 TROPICANA IS SITE OF CLASSIC CAR SHOW
The "Viva Tropicana Classic Car Show" will be held in the Tropicana's North Parking Lot Oct. 4 and 5. This event will feature low riders, muscle cars, American made motorcycles with vehicles on display Friday and Saturday. Viewing is free. There will be DJs providing music, vendors and in Victory Plaza live salsa bands Ru Crew and New Voice on Friday and Saturday from 6:30 p.m. to 2:30 a.m. Car registration with dash plaque and T-shirt included is $25, call Happy Times Events at 800-243-6847 or email loucyndasdream@hotmail.com.
LAUGHLIN HONORS VETERAN'S WITH FESTIVAL
The second Laughlin Veteran's Festival will honor military veterans from Nov. 8-10. The festival will feature a concert as well as live band and DJ entertainment throughout the weekend. There will be veteran tributes, displays and exhibits; a Memorial Tribute Wall; "Flotilla of Flowers" Memorial; custom motorcycle/car show and parade; vendor village with a Kids' Zone; interactive displays; a Workout Warriors military fitness competition; Gold Angels Motorcycle Drill Team demonstration; and much more. For more information, visit http://www.laughlinveteransfestival.com.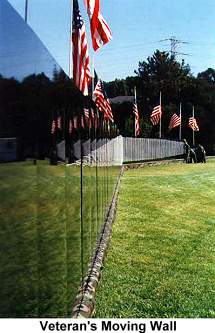 TROPICANA HOLDS ANNUAL VETERANS WEEKEND CELEBRATION
The Tropicana has a tradition of honoring those who have served in our nation's military and this year is the Third Annual Veterans Day Celebration, Nov. 8-13, filled with hotel discounts, food, fun, and huge thank you to our military heroes. American Veterans staying at the Tropicana Laughlin Nov. 8 -12 will receive a 15 percent discount on their hotel stay, call 800-343-4533 and request promo #T-2334.
Beginning Saturday, Nov. 8 through Monday, Nov. 11, the Tropicana will be holding outdoor food fests in Victory Plaza from 3 to 7 p.m. with live country music by the Sedona Band. On Saturday, Nov. 9, the celebration will include a "Big Burger BBQ" for $7.49, featuring a three-quarter pound BBQ burger, Buffalo Fries and a chocolate chunk brownie. The Tropicana will once again throw its signature $9.99 Pig Roast on Sunday and Monday, Nov. 10 and 11, featuring roast pig, flame broiled corn on the cob and strawberry shortcake. Guests can receive a free plate by earning 450 base points on their Trop Advantage® Card.
American Veterans Traveling Tribute (AVTT) and Traveling Vietnam Memorial Wall will be exhibited at the Tropicana, Nov. 8-11, and will be available for viewing and rubbing a loved one's name 24 hours a day in the North Parking Lot of the hotel. The Traveling Wall is a 370-foot long replica of the Vietnam Memorial Wall in Washington, D.C. The 80 percent scale reproduction, which stands 8-feet tall at its apex, contains all 53,253 names as inscribed on the original wall. Memorabilia will be available for purchase. The AVTT is a veteran-owned project and an authorized donation station for Operation Gratitude (www.operationgratitude.com, and collects donations of monies, letters and items to place into packages.
On Sunday, Nov. 10, veterans are invited to participate in Trop Knock Out at 5 p.m. to possibly win up to $1,000 in Free Play. Members of the Trop Advantage® Club with Veteran Edition cards receive a drawing ticket for every 25 points earned on their card beginning at midnight. Participants will have up to three chances to "knock out" a space on the game board and will receive the free play amount in the last space chosen. Veterans who are not members of the Trop Advantage® Club or who do not have a Veterans edition player's card can join free by showing proof of service at the Players Club booth.
AVI FEATURES 38 SPECIAL
The Avi Grand Ballroom will feature 38 Special in the Grand Ballroom on Friday, Oct. 4 at 9 p.m. After more than three decades together, 38 Special continues to bring their signature blast of Southern Rock to more than 100 cities a year. With recording sales in excess of 20 million, most associate the band with their arena-rock pop smash hits. Their timeless hits remain a staple at radio and are immediately recognizable Tickets are $35-$45.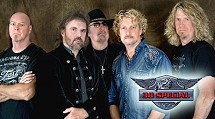 AQUARIUS TEAM MEMBERS COLLECTED SUPPLIES FOR TWO SCHOOLS
Last month, Aquarius team members from five divisions wanted to give back to area students preparing to start the new school year. For the entire month of July, they collected 7,627 new school supplies such as pens, notebooks, markers, folders, pencils, crayons and more for two local elementary schools. Bullhead City Walmart aided the effort by generously donating $500 so that additional school supplies could be purchased and Bullhead City Office Max also supported this year's school supply drive. Aquarius team members personally visited both schools to drop off the school supplies.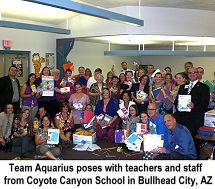 AQUARIUS PROMOTES 'SPOOKTACULAR' SLOT PLAY GIVEAWAY

Aquarius will hold its "Spooktacular" Free Slot Play Giveaway from Oct. 7-13 where players earn $20 in free slot play by using an ace | PLAY card when playing their favorite slot games. There is no cap on the amount of free slot play a player can earn and they keep the points. To participate, guests must swipe their ace | PLAY card at an ace | PLAY kiosk to activate the promotion after midnight on Monday, Oct. 7.

QUICK TIDBITS

The 5th Annual Italian Festival will take place on the Riverwalk between the Edgewater and Colorado Belle, Sept. 27-29. The area will be transformed into Little Italy with great Italian cuisine, beverages and free live entertainment featuring Lena Prima as well as the Bada Bing Band. Hours are Friday 4-10 p.m., Saturday noon-10 p.m. and Sunday, noon-6 p.m. Food and beverages are sold separately. For information, visit http://www.coloradobelle.com/.

The 2013 Community Achievement Awards will be held on Saturday, Oct. 5 at the Aquarius Pavilion. Tickets are $75 each, call 702-298-2214, ext 20 or visit the Laughlin Chamber.

The one-man play, "Defending the Caveman," about the ways men and women communicate is playing in the Fiesta Showroom at Harrah's through Sept. 29 at 8 p.m. Tickets are $25 and $35.

The "Talent Quest National Karaoke Singing Contest" is taking place at the Tropicana this week through Sept. 21.

CONTINUE ON TO...:
THIS WEEK'S >LAS VEGAS NEWS
LAST WEEK'S >LAUGHLIN NEWS
>VEGAS VIEW FULL ARCHIVES
Return to >"Heard Around Town"
Return to >Las Vegas Leisure Guide