TOBY KEITH APPEARS IN CONCERT AT LAUGHLIN AMPHITHEATER!

Toby Keith will headline at the Laughlin Amphitheater Oct. 19 at 7 p.m. He is one of the top-earning musicians in the entertainment industry and has had more than 75 million airplay performances. That number puts him among the top songwriter/artists of all time in any genre. Keith has released 16 studio albums, two Christmas albums and three compilation albums. He has also charted more than 40 singles, including 19 Number One hits and 16 additional Top Ten hits. Keith has sold more than 40 million albums worldwide. Tickets range from $20 to $125.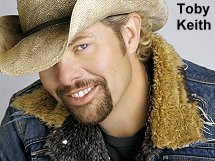 BILL MEDLEY VISITS RIVERSIDE
Bill Medley will perform in Don's Celebrity Theatre at the Riverside, Oct. 9-13. Medley is part of American music history and perhaps best known as half of the unmistakable duo, The Righteous Brothers. Their raw emotional rhythm and blues sound essentially created the genre "blue-eyed soul." In the mid-1960s, The Righteous Brothers became a fixture on Top Forty radio with hits like "You've Lost That Lovin' Feelin," "Just Once in My Life," "Unchained Melody," and "(You're My) Soul and Inspiration," creating an ultra-dramatic take on Sixties pop romance. Medley shows no signs of slowing down anytime soon. Tickets for his 8 p.m. shows are $35.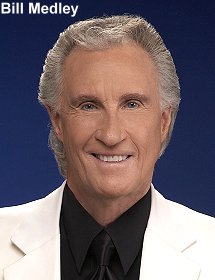 THE LETTERMEN SING THEIR HITS AT THE RIVERSIDE
The Lettermen is a famous trio that through the 1960s and 1970s scored 20 chart-topping hits with songs like "Goin' Out of My Head," "Can't Take My Eyes Off of You," and "Hurt So Bad." Through more than 40 years of performing, The Lettermen's music still has its classic sound. Tickets are $30.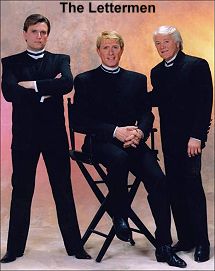 AQUARIUS HOSTS 6TH ANNUAL PSYCHIC FAIR
The Aquarius is hosting the sixth annual Psychic Fair at the Aquarius Pavilion on Saturday, Oct. 26 from noon to 8 p.m. and Sunday, Oct. 27 from 11 a.m. to 6 p.m. This year's fair will feature 35 talented psychics who will provide medium amenities such as tarot card readings, aura photography, tea leaf reading and much more. Admission to the Psychic Fair is free.
New to the fair this year are daily classes on various psychic topics, such as basic numerology, dream interpretation and basic palm reading. Cost for the classes are $20 each and can be purchased in advance at the ace | PLAY center or at the door.
EDGEWATER E CENTER PRESENTS INTOCABLE
Latin band Intocable will perform at the 27,000-square-foot indoor Edgewater's E Center on Saturday, Oct. 26 at 8 p.m. Grammy Award winning Intocable is a Tejano/Norteño musical group from Zapata, Texas. The band rose to the top of the Tejano and Norteño fields with signature music that has fused Tejano's robust conjunto and Norteño folk rhythms with a pop balladry. The group's Tejano/Norteño fusion has become the blueprint for dozens of Tex-Mex groups. Tickets start at $25.
COMEDIANS MAKE PEOPLE LAUGH AT THE EDGEWATER
Weekends at the Edgewater are reserved for laughter when two comedians appear in the showroom at 7 p.m. Tickets are $10 and veterans with a military ID and ACCESS Club card receive a $2 discount. Comedians lined up in the future include: Oct. 18-20 - Bob Meddles and Chris Dunham; Oct. 25-27 - Keith Lenart and Andrew Rivers; Nov. 1-3 - Travis Howze and Chino LaForge; Nov. 8-10 - Steve Kramer and Gabe Dinger; Nov. 15-17 - Lori Callahan and Sean McBride; Nov. 22-24- Ron Josol and Jeremy Greenberg; and Nov. 29-Dec. 1- Cash Levy and Steve Mazan.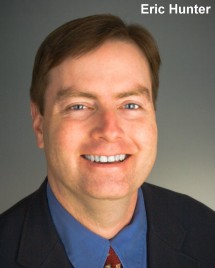 Comedians Eric Hunter and Robby Wagner will headline Oct. 4-6. Hunter jokes sarcastically about various topics, including his friends and Irish Catholic family, education, sports and relationships. He's best known for his deadpan attempt to impress the women in the audience. Hunter has performed with a wide range of comedians, including Louie Anderson, Brian Regan, Ray Romano, Tom Papa, Jake Johannsen, Blake Clark, Kevin Nealon, Bobcat Goldthwaite, Kevin Pollak, Frank Caliendo, Nick DiPaolo, Wendy Liebman, John Witherspoon, Todd Glass, Dom Irerra, Pam Stone and John Pinette.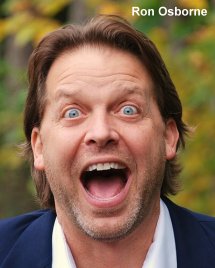 Ron Osborne will be teamed with Brandon Vestal Oct. 11-13. Winner of the Seattle International Comedy Competition, Osborne has worked with Drew Carey, Sam Kinison, Joan Jett, the Beach Boys, Ron White and more. His blend of stand-up comedy and improvisation keep the audiences in stitches. His show has been described as "Sheer Lunacy Wrapped in a Charismatic Shell."
'DAS BEER FEST' IS OKTOBERFEST CELEBRATION
Laughlin will celebrate Oktoberfest Oct. 11-13 at the Riverwalk between the Colorado Belle and Edgewater with the 5th Annual Das Beer Fest. This outdoor festival will feature German cuisine and beverages, and lively toe-tapping Oompah music by a live band. The Dummkopfs will perform nightly. There will be beer from Pints, the Colorado Belle's microbrewery, and other great beer. Admission is free. Event hours are: Friday 2-9 p.m.; Saturday noon–10 p.m.; and Sunday noon-7 p.m.
TOP OF NEXT COLUMN
TROPICANA HOSTS 'INK MAYHEM MUSIC AND TATTOO FESTIVAL'
The Tropicana will hold the "Ink Mayhem Music and Tattoo Festival" Oct. 11-13 in the North Parking Lot and the Laughlin Tattoo Convention with top name artists in the Pavilion Theater. There will be tattoo contests, a Burlesque Biker Babe Contest, imports car show, motorcycle run, live music, Mad Girls Go Go Lounge, vendors, and more activities. Admission is free to most events, $10 to Go Go Lounge, $20 for advance car registration and $25 at event. For more information, call 808-699-0060 or visit dermalknowledgeproductions.net.
LAUGHLIN HOLDS SECOND INTERNATIONAL FILM FESTIVAL
The second Laughlin International Film Festival (LIFF) will be held Oct. 17-20. This event operates as a platform to attract passionate filmmakers to showcase their films from all around the world and offers networking opportunities for filmmakers. Films will play in three state-of-the-art movie theaters at the Laughlin Stadium 9 Cinemas. The event's film screenings span over four days in conjunction with networking social events, filmmaker workshops and panels.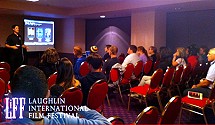 The 2013 Film Festival will be kicked off with the Thursday afternoon champagne reception gala, Thursday night opening red carpet arrivals and film screening with filmmaker Q&A, followed by a sponsored after party at Casa Serrano in the Riverside. Social events throughout the weekend will include: LIFF's Halloween Cosmic Bowl and October-Fest on Friday night; Saturday filmmaker workshops, awards ceremony and after party; and a Sunday breakfast and filmmaker panel. For additional information, visit www.laughlinfilmfestival.com.
BELLE HOLDS 'BOOTS, BEER & BARBECUE COUNTRY FESTIVAL'
The Colorado Belle will host its first Boots, Beer & Barbecue Country Festival at the Center Circle Event Area Oct. 18-20. This new event will feature an all-American feast with live entertainment, barbecue food and beer. Admission is free. Event hours are: Friday 2-9 p.m.; Saturday noon-10 p.m.; and Sunday noon–7 p.m. For information, visit www.coloradobelle.com.
SURROUNDING AREA LAND TOURS ARE A NICE DIVERSION
You can see the Black Mountains east of Bullhead City in the distance but imagine getting up close. Dirt Road Tours has three adventure tours in UTVs that afford that opportunity with a guide leading the way pointing out landmarks and wildlife along the way.
The three approved trails include: Mount Nutt that skirts the Mount Nutt Wilderness Area; Black Mountain that parallels Union Pass; and Thumb Butte which goes through jagged rock formations around Finger Rock and traverses a twisty mountain goat road through historic mining country and leading to a tri-state area panoramic view.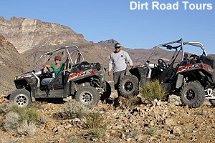 These tours, which will get you dirty, run Tuesdays through Saturdays with morning tours suggested during the summer. You can call for an appointment 702-420-3808 or visit dirtroadfun.com. Customers are picked up at Harrah's, the Pioneer and the Edgewater/Colorado Belle and driven by van to a "jump off" spot near the base of the Black Mountains where you get your two- or four-passenger Polaris UTV.
Tours are priced at $275 per UTV (one driver and one passenger). If you don't want to drive, you can ride with the guide for $100. The tour company supplies helmets, drinking water, and transport from the Laughlin hotels listed. You need to wear closed toe shoes, eye protection like sunglasses, and have a valid driver's license. Customers must be at least 25 years old to drive or at least 12 years old to ride along.
AVI HOLDS SPECIAL OUTDOOR EVENTS
On Saturday, Oct 12, the Avi will hold the "Monster Trucks & Extreme Freestyle Motocross" sponsored by Monster Energy in the Outdoor Arena north of the casino at 7:30 p.m. Tickets are $20 for adults and $15 for kids.
Later in the month, Oct. 18-20, the Avi will hold the three-day "Rumble by the River" special event in the South Parking Lot. This outdoor event will feature rockabilly bands, car and bike show, a "Pinup Girl Contest" with $1,750 in cash prizes, vendors, a fashion show. Admission is free.
RANDY ANDERSON BAND PERFORMS AT AVI
The Randy Anderson Band will be appearing at the Avi in the ArrowWeed Lounge Oct. 8-12. For Anderson, he got started with the Kentucky Fried Chicken Songwriting Contest. The song "I've Got a Thing for You" took runner up out of 40,000 songs by professional and amateur songwriters. Since then, Anderson has worked with or opened shows for Kevin Sharp, Reba McEntire, Restless Heart, Waylon Jennings and more. Based in Las Vegas, Nev., the popular coed country troupe has worked in almost every hotel and casino in town.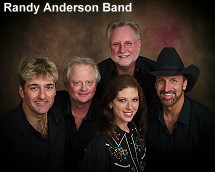 NEIL MORROW BRINGS ROCK 'N' ROLL TO AVI
Neil Morrow & Memphis 54 will be appearing in the ArrowWeed Lounge at the Avi, Oct. 15-19. The group's music is rooted from early American rock 'n' roll, rockabilly and country. Neil Morrow leads the band with powerful vocals and a driving piano style.
GRAPEVINE CANYON AND SPIRIT MOUNTAIN ARE CLOSE BY
About 10 miles west of Laughlin is a graded dirt road off highway NV State 163, an unmarked side road that leads to Grapevine Canyon, which is part of Lake Mead National Recreation Area. The area with lush plant growth is in sharp contrast to the start, surrounding hillside. A short hike up Grapevine Canyon, visitors find a small desert spring that flows almost year round. This spring not only allows certain plants to grow here, but also provides a water source for bighorn sheep and other animals.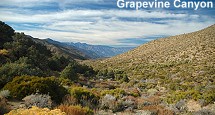 The petroglyphs on the canyon's sheer rock walls also indicate the presence of ancient inhabitants as early as A.D. 1100. Spirit Mountain, the highest peak in the Newberry Mountain range, rises to an elevation of 5,639 feet and looms above the canyon. This mountain, considered the beginning of creation, is a sacred place to Indian tribes in Southern Nevada and has become the first Indian land in the state to be placed on the National Register of Historic Places.

BOB GULLEY BAND APPEARS AT TROPICANA AGAIN

The Bob Gulley Band will again perform at the Tropicana in the Caboose Lounge Oct. 8-9 from 6-10 p.m. and will return to work the Tropicana Block Party during the Haunt and Glow Car Show Oct. 25-26 from 7 to 11 p.m. in Victory Plaza.

A long-time friend of Bill Medley, who will be in town performing Oct. 9-13, Gulley is featured on a compilation album entitled "Classic Country Duets" in which he sings with Medley. Gulley has two CDs released on the Netrock Records label entitled "Everybody's Love Song" and "Yippi-yi-o," produced by Medley.

Gulley toured with Alabama in 1995, was awarded Best Male Newcomer in Branson, Mo., and later, wrote, produced and starred in the "Bob Gulley At The Hop Show," which was nominated for the Best New Show in its first year in Branson.

CONTINUE ON TO...:
THIS WEEK'S >LAS VEGAS NEWS
LAST WEEK'S >LAUGHLIN NEWS
>VEGAS VIEW FULL ARCHIVES
Return to >"Heard Around Town"
Return to >Las Vegas Leisure Guide