WAYNE NEWTON PLANS CELEBRATION SHOW AT TROPICANA
At a recent press conference at the Tropicana Las Vegas, Tropicana Chairman and CEO Alex Yemenidjian made the announcement that Wayne Newton aka "Mr. Las Vegas" will celebrate his 50th year of entertaining audiences on The Strip with an all-new limited-engagement production, "Once Before I Go," that will open on Oct. 14.
The show will be a rare opportunity to experience an iconic career from the entertainer's own point of view and an intimate journey through a life spent on stage since Newton was a shy 15-year-old and the new kid on the block back in 1959. "Once Before I Go" will feature Newton with a full orchestra, photos and video, and surprises. Show times will be Tuesday – Saturday at 8:30 p.m. in the Tiffany Theatre. Tickets are $79.99, $99.99 and the exclusive VIP Package is $149.99 with a meet-and-greet, call 702-739-2411 or 800-829-9034.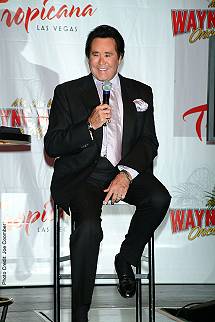 Column Continues Below Advertisement
'X' BURLESQUE SIGNS THREE YEAR EXTENSION AT FLAMINGO
The sexy "X" Burlesque topless show is extending their contract at the Flamingo for three years into August 2012. The adult show opened in February 2007 and is performed nightly at 10 p.m. Earlier this year new costumes and a few set changes were made. Tickets are $44.95 and $55.95.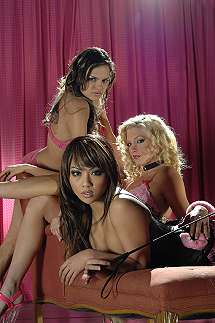 PUSCIFER KICKS OFF TOUR AT THE PEARL AT THE PALMS
Maynard James Keenan from the band Tool and A Perfect Circle returns for the official tour kick off of Puscifer's Western U.S. fall tour on Thursday, Oct. 29, at 8 p.m. inside The Pearl at the Palms. Keenan with musicians and comedians held the first trio of Puscifer shows in Las Vegas last February. Tickets are $39 and $49, call 800-745-3000.
While the concept for Puscifer came to Keenan in 1995, it wasn't until 2007 that the collective released their debut album, "V is for Vagina," which was followed by a remix album fittingly titled "V is for Viagra." Puscifer features a rotating cast of players.
'ZOWIE BOWIE VINTAGE VEGAS SHOW' OPENS AT MONTE CARLO
In the past several years, a sexy duo called Zowie Bowie has been mesmerizing Las Vegas audiences and after several casino moves they have finally made it to the Strip as headliners. The popular twosome features the musical talents and glamorous energy of Chris Phillips and Marley Taylor.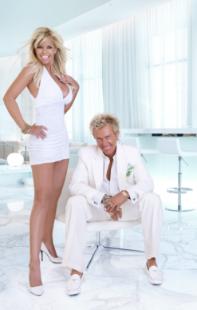 "Zowie Bowie Vintage Vegas Show" began a three-month Sunday night engagement in the beautifully ornate, custom-built Lance Burton Theatre on Sept. 13. Backing up the varied and vintage song selection is a 15-piece orchestra with nine horn players and two back up singers. Phillips and Taylor each sing solo and together and make wardrobe changes with Taylor wearing full-length revealing gowns. Tickets for their 7:30 p.m. show are $29.95, call 702-730-7160.
In addition, Zowie Bowie is also performing every Friday and Saturday night at 11 p.m. in The Pub at Monte Carlo and admission is free.
MADAME PERFORMS A FUNDRAISER FOR AFAN
The Stage Door Theatre at Town Square will present an evening of cabaret with an appearance by the infamous bawdy and raunchy Madame at 8 p.m. Wednesday, Oct. 28 that will benefit Aid for AIDS of Nevada (AFAN). The show will also feature a musical performance by singer Hilary Boyd. Tickets are $20, visit www.afanlv.org.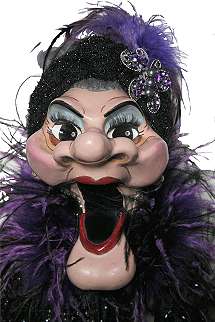 Madame rose to fame in the 1970s and 80s as the puppet creation and alter ego of well-loved ventriloquist, Wayland Flowers. Appearances on shows including, "Laugh In," "Solid Gold" and "Hollywood Squares" led Flowers and Madame to headline engagements from Caesars Palace to Radio City Music Hall. Flowers passed away from AIDS in 1988, but his estate will bring Madame out of retirement for this occasion.
PETE's DUELING PIANO BAR WILL OPEN AT TOWN SQUARE
Pete's Dueling Piano Bar will open at Town Square Las Vegas on Friday, Nov. 13. Each night, four piano entertainers take the stage in two-person rotations to perform hits from every era imaginable on two baby grand pianos. In addition, all four players join together on stage multiple times throughout the evening. Several times an evening there will be "Showtime," where the spotlight turns to the waitresses and bar staff to dance, sing and clap along. The place will be open Tuesday – Saturday, 4 p.m. – 3 a.m. with Dueling Piano's beginning at 7 p.m. Tuesday – Thursday and 8 p.m. Friday - Saturday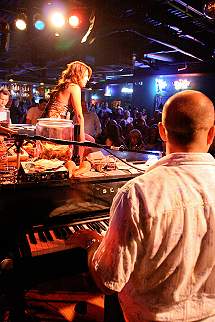 What started as a one-man show at Pete's Peanut Bar & Piano Emporium in Austin, Texas, in 1992 went on to become Pete's Dueling Piano Bar in 1998. There are four locations in Texas.
CLINT HOLMES SINGS MODERN AMERICAN SONGBOOK AT THE SUNCOAST
Returning to the Suncoast Showroom Oct. 23-25 is Las Vegas legend Clint Holmes with a new show, "Clint Holmes Sings the Modern American Songbook," musically directed by Bill Fayne. Tickets start from $29.95, call 702-636-7075.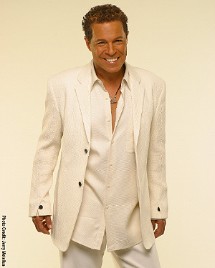 In this show, Holmes will sing a variety of songs from those he considers the greatest contemporary songwriters—Paul Simon, Billy Joel and Stevie Wonder, among others and also from his own songbook. This show has inspired Holmes to work on a new CD based on selections from the Modern American Songbook. In his career, Holmes was Joan Rivers sidekick and announcer on "The Late Show." He was also the voice of Lowenbrau Beer for four years.
TOP OF NEXT COLUMN
COMEDY CLUBS PROVIDE LAUGHS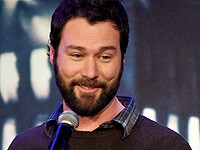 The Comedy Stop at the Sahara has a stellar lineup Oct. 5-11 with Jon Dore, Al Romas and Ruben Paul. Dore is a co-host on "Canadian Idol" and had his own sitcom mockumentary for two seasons on The Comedy Network. Romas has 16 years experience as a stand-up comedian and numerous television appearances. Paul has toured extensively with Jamie Foxx, George Lopez, Cedric The Entertainer and the late Barry White.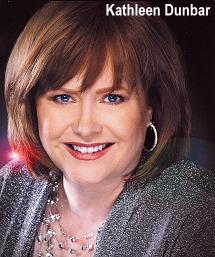 Kathleen Dunbar, fresh off a Midwestern comedy club circuit, will headline the Riviera Comedy Club, Oct. 5-11, and be joined by fellow comedians D'Lai and Stanley Ullman. Dunbar is a single mom, which has helped her to have a sharp tongue and a sarcastic wit and not be dirty. D'Lai was the winner of Las Vegas' 2004 Star Search. Television fans will recognize Ullman from his commercial appearances for Campbell's Soup, Meister Beau, Wagner Paint Rollers, Wendy's and Federal Express. Show times are 8:30 and 10 p.m.
QUICK CLIPS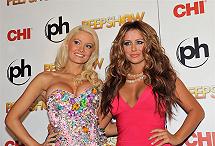 The striptease production "Peepshow" at Planet Hollywood has welcomed pop starlet Aubrey O'Day to the cast. She joins Holly Madison, who is in the show for another year.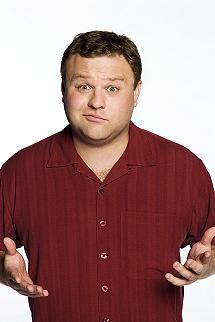 Las Vegas' newest headliner, comedian and impressionist Frank Caliendo will begin his 10-year run at the Monte Carlo on Oct. 12 in the Lance Burton Theater. His show will be a mix of high-energy comedy and fast-paced impressions enhanced by live music, video sketches and much more. His schedule will be 9:30 p.m. Monday, Tuesday, Friday and Saturday. Prices range from $59 to $95, call 702-730-7160 or 877-386-8224.
The first Minus 5 ice lounge in the country recently celebrated its first year anniversary by crowning the first "Ice King and Queen," "Peepshow" star Holly Madison and Luxor headlining comedian Carrot Top. They bundled up in faux fur coats to accept their new titles at the 2,000-square-foot ice lounge located at The Shoppers at Mandalay Place.
Due to poor economic conditions, the film festival CineVegas will not be held in 2010.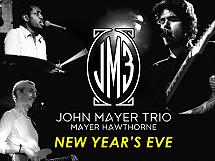 For New Year's Eve The Joint at Hard Rock has selected The John Mayer Trio featuring lead vocalist Mayer, Steve Jordan and Pino Palladino with special guest soul singer and songwriter Mayer Hawthorne to work on Thursday, Dec. 31. The band formed in 2005 has released one live album titled "Try!" Tickets for the 9 p.m. show start at $96.
The world's longest-running celebrity tribute show "Legends in Concert" at Harrah's has added Michael Jackson to its latest tribute lineup that also includes portrayals of Bette Midler, Jerry Lee Lewis, Tina Turner and Elvis. This is the first time since April 2002 that The King of Pop has been in the show.
The Justin Timberlake Shriners Hospitals for Children Open Championship Pro-Am will be held on Wednesday, Oct. 14, at the TPC Summerlin. Some of the celebs who will be participating include: saxophonist Kenny G, rock 'n' roll icon Alice Cooper, LPGA star Natalie Gulbis, Motown wonder Smokey Robinson, and professional poker player Daniel Negreanu, among others.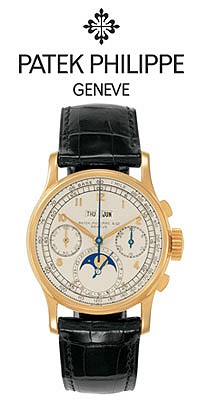 At the Wynn resort, world-renowned Swiss watchmaker Patek Philippe will hold a rare exhibit, "American Faces," Thursday, Oct. 15 from 10 a.m. to 5 p.m. in the Alsace ballroom. The display will showcase the illustrious 170-year history of Patek Philippe and a glimpse of rare and unique timepieces on loan from the Patek Philippe Museum in Geneva. Owner of Patek Philippe, Thierry Stern, will be on hand. For information, call 702-770-3520.
The Andre Agassi Foundation for Education (AAFE) raised nearly $8 million at the 14th Grand Slam for Children benefit concert held at Wynn Las Vegas and separately announced it has received a commitment of $7.5 million, spread over five years, from the Engelstad Family Foundation.
Marionettes will come to life under the hand of master puppeteer Joseph Cashore on Tuesday, Oct. 13, at 2:30 p.m. at the Historic Fifth Street School, 401 S. Fourth St. Cashore and his troupe will perform "Simple Gifts," a series of touching portrayals and poignant scenes from everyday life, set to classical music. Tickets are $3 or $10 for a family four-pack; call 702-229-3515.
Heaven Can Wait Animal Society will hold a mile-long pet walk at 10 a.m. and a day of activities including paw painting, pet psychics, mobile dog grooming, live music, food, prizes, vendor booths and the infamous "poop toss" on Sunday, Oct. 18 at Bunker Family Park. Pre-registration is $25 per entry, visit www.hcws.org for more information.
Children's Heart Foundation will present its annual signature event, Light up the Heart of a Child on Wednesday, Nov. 11 from 6 to 9 p.m. at Sunset Park. This holiday stroll is the second year the award-winning Gift of Lights now in its ninth year will open for pedestrian access one night only. Tickets, which include a gift bag, are $10 in advance and $15 day of the event, visit www.chfn.org or call 702-967-3522.
RESTAURANT NEWS
Dia de los Muertos or Day of the Dead is a Mexican holiday to remember deceased loved ones with the offerings of favorite food and drink. Dos Caminos at The Palazzo will celebrate the holiday with a post-Halloween hangover brunch on Sunday, Nov. 1 from 11:30 a.m. to 4 p.m.
Like dinner show mysteries? The company A Touch Of Mystery has two shows planned this month. On Oct. 14, it's "Death By Chocolate" at the Mona Lisa Restaurant inside the Artisan Hotel. On Oct. 29, it will be "Twice Baked" where someone will fall flatter than their soufflé at Lawry's Prime Rib. For reservations, visit www.atouchofmystery.com.
CHEFS OFFERS COOKING CLASSES
At the Palazzo, Dos Caminos Corporate Executive Chef Scott Linquist and Executive Chef of Dos Caminos Las Vegas Roberto Hernandez will hold a cooking demonstration featuring the restaurant's signature dishes on Saturday, Nov. 7 from 11:30 a.m. to 2:30 p.m. The class is $65 inclusive and includes a continental breakfast, signed copy of Mod Mex cookbook by Chef Linquist, cooking demo with Q&A, followed by a tasting, call 702-577-6550.
Nove Italiano at the Palms will host an intimate holiday cooking class on Nov. 21 from noon to 3 p.m. Executive Chef Geno Bernardo will dish up Nana's Thanksgiving Menu, his great grandmother's favorite holiday menu, featuring five courses and cuisine from the region of Emilia Romagna. Cost is $110 per person, call 702-942-6856.
Column Continues Below Advertisement
CONTINUE ON TO...:

>THIS WEEK'S LAUGHLIN NEWS
>LAST WEEK'S LAS VEGAS NEWS
>VEGAS VIEW FULL NEWS ARCHIVES
>Return to "Heard Around Town"
>Return to Las Vegas Leisure Guide