JABBAWOCKEEZ WILL OPEN AT MONTE CARLO OCT. 7
Jabbawockeez, the famous dance crew, will return to Las Vegas with their groundbreaking show "MÜS.I.C.," at the Monte Carlo beginning Thursday, Oct. 7 with performances at 9:30 p.m. Tuesday through Saturday. Tickets are $49, $59 and $79, call 877-386-8224.
Column Continues Below Advertisement
Jabbawockeez has developed a one-of-a-kind style dressed in expressionless white masks and white gloves. The troupe guides the audience's attention away from individual identities and toward a unified group that creates a canvas of artistic imagery provided by intricate moves.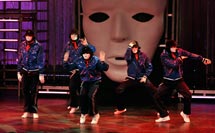 After being crowned the original champions of MTV's "Randy Jackson Presents America's Best Dance Crew," their captivating style quickly won them international fame. Through their coveted title, they have appeared on numerous television shows including "Dancing With The Stars," "So You Think You Can Dance," "The Ellen DeGeneres Show," "Regis & Kelly" and "The TODAY Show," to name a few.
LIBERACE MUSEUM WILL CLOSE ITS DOORS OCT. 17
After 31 years of operation, the Liberace Museum will close its doors Sunday, Oct. 17 to focus its monetary contributions on the Liberace Foundation. Since the inception of the foundation 34 years ago, more than $6 million in scholarships have been awarded to 2,700 students.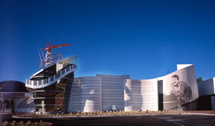 The memorabilia at the Liberace Museum will be maintained. A national touring exhibit is planned, and details will be announced at a later time. The board will also continue to research options for a possible new location.
SAHARA OPENS 'STRIPTEASE THE SHOW'
The Sahara is opening "Striptease The Show," a sexy 11 p.m. topless revue with beautiful women, elaborate costuming, large stage props and seductive choreography starting Sept. 28. Tickets start at $49, call 866-830-0287.
Performing six nights a week, the show's cast consists of 11 performers and four headliners that include host Taya Parker (2009 Penthouse Pet of The Year and winner of VH1's Brett Michaels' Rock Of Love), Nina Mercedez (former XXX Vivid Starlet), Aspen Reign (the only 4x Miss Nude World) and burlesque artist Tali DeMar. The supporting cast will include six trained dancers and one guy.
The show's choreographer, Enrique Lugo has enjoyed 27 years as a dancer, choreographer, teacher and performer, and has worked with many names such as Debbie Allen, Tracy Ullman, Angela Lansbury, and Stevie Wonder. He won the prestigious "Best Choreography Award" for the Las Vegas show, "Fashionistas."
MAC KING EXTENDS HIS HARRAH's CONTRACT THROUGH 2015
Harrah's comedy-magician Mac King, who is currently celebrating his show's 10 year anniversary at the resort, has extended his afternoon headlining contract for another five years through 2015.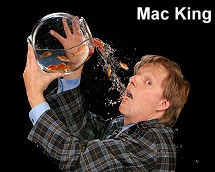 "The Mac King Comedy Magic Show" has entertained more than 1 million audience members in more than 5,200 shows since opening in 2000. King takes the stage at 1 and 3 p.m., Tuesday through Saturday. Tickets are $24.95, call 800-392-9002 ext. 5111.
King, a past NBC-TV "The World's Greatest Magic Shows" regular, has also been decorated as Magic Magazine's "Funniest Act in Magic," the World Magic Awards' "Best Comedy Magician," and the Magic Castle's "Magician of the Year."
DIANA ROSS PERFORMS TWO NIGHT AT CAESARS PALACE
Diana Ross is bringing her "More Today Than Yesterday" tour to The Colosseum at Caesars Palace for two nights, Nov. 12 and 13. The legendary icon's show will feature her greatest hits, costumes and stage designs, as well as a live string and horn section. Tickets range from $49.50 to $99.50, call 800-745-3000.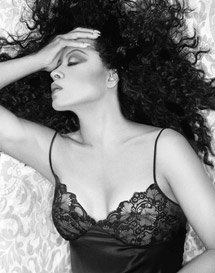 Ross is an Academy Award nominated actress for her role as Billie Holiday in "Lady Sings The Blues," a Tony and Golden Globe winner, a bestselling author, winner of eight American Music Awards and a recipient of The Kennedy Center Honors. Ross has sold more than 100 million records and recorded 18 No. 1 hits. Her music became the sound of young America in the '60s soon after she signed with Motown Records in 1961 with The Supremes. She embarked on her solo career in 1970.
COMEDIAN KEVIN HART DEBUTS AT THE MIRAGE
Comedian and actor Kevin Hart will debut his stand-up routine at The Mirage at 10 p.m. on Friday and Saturday, Oct. 8 and 9. Tickets are $59 and $69, call 800-627-6667.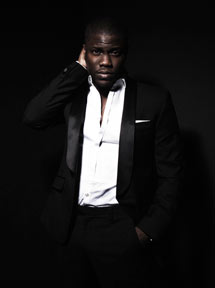 Hart made his comedic debut on amateur night at a Philadelphia comedy club almost a decade ago. In January 2009, Hart premiered his one-hour comedy special, "I'm a Grown Little Man," on Comedy Central. He recently took over as host of BET's classic stand-up comedy series "Comic View: One Mic Stand" and has had recurring roles on "Love, Inc.," "Barbershop," "Undeclared" and ABC's "The Big House," which he also executive produced and wrote.
Hart also has appeared in several feature films including his most recent piece of work "Death at a Funeral" alongside Chris Rock, Tracy Morgan and Martin Lawrence. His other work includes roles in "Along Came Polly," "Scary Movie 3," "Epic Movie" and "The 40 Year Old Virgin."
'AMERICAN SUPERSTARS™' ANNOUNCES NEW LINEUP
"American Superstars" at the Stratosphere has announced a new lineup. The show's newest artists are Autumn Belanger as today's biggest recording star Lady Gaga and Katie Dix as country's darling Carrie Underwood. Also returning to the lineup is Johnny Potash as Charlie Daniels, who first wowed Stratosphere audiences with his Charlie Daniels tribute in 1996.
Belanger is a Las Vegas native and a graduate of the Las Vegas Academy of the Performing Arts. She has been in production shows such as "FEVER" and "Scarlett: Princess of Magic." Belanger has modeled and performed as other glam fashionistas such as Katy Perry, Ke$ha and members of the Pussycat Dolls.
Dix won her first vocal performance award at age 7. Among her awards, she's been the recipient of the Thelma Ray Self Music Scholarship and performed with legendary country artist Buck Owens and local bands.
Rounding out "American Superstars™" tribute artists are Corey Melton as Michael Jackson and Darren Lee as Elvis Presley along with the Superstars Band and Dancers. Show times are Sunday through Tuesday at 7 p.m. and Wednesday, Friday, and Saturday at 6:30 and 8:30 p.m. Tickets are $39.99 and $29.99, call 800-99-TOWER (998-6937).
TOP OF NEXT COLUMN
'WORLD STARS OF MAGIC' APPEAR AT SUNCOAST
A five-act cast of award-winning magicians and masters of illusion from around the world will appear together at the Suncoast Showroom in "World Stars of Magic" on Oct. 9 and 10. Tickets for the 7:30 p.m. shows start from $19.95, call 702-636-7075.
The cast includes 23-year old international champion magician Jason Andrews, a Las Vegas who recently earned a new title presented by the prestigious International Brotherhood of Magicians. He won first place in their International Stage Competition and was also voted People's Choice. A Boyd Gaming employee, Andrews also came in first place at a Boyd Talent Show.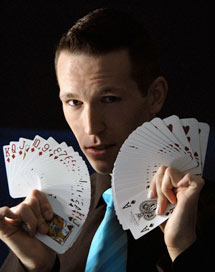 The show also stars two magicians from the United Kingdom – Mel Mellers and Mark Raffles. Mellers, a professional magician with more than 25 years, will travel next to China to perform. Raffles, age 91, has been performing magic for more than 75 years; however, his Suncoast appearance marks his first time playing in the United States.
Rounding out the "World Stars of Magic" cast are Sonny Fontana and Circe with their "Magical Hands" act of hand shadows, Arron Sparks with his Guinness World Record breaking yo yo magic act, and dancer Nathalie Enterline.
RTC VIVA BIKE VEGAS FEATURES NEW COURSES
RTC Viva Bike Vegas 2010 taking place Saturday, Oct. 9 will feature a new course for all three rides: 115 Mile Century Ride; 50 Mile Ride; and 23 Mile Ride. The Regional Transportation Commission of Southern Nevada hosts this fundraiser that will benefit Greater Las Vegas After-School All Stars and Nevada Cancer Institute. Registration through Oct. 6 is $75, $85 and $100, visit www.rtcsouthernnevada.com.
STRATOSPHERE HOLDS NASCAR® DRIVER AUTOGRAPH SESSION
The Stratosphere will host a free NASCAR® Camping World Truck Series Driver autograph session Friday, Sept. 24, from 7 to 8:30 p.m. Topping the list of drivers and making his first Las Vegas driver appearance will be Jeffrey Earnhardt, grandson of seven-time NASCAR® Cup Series Champion Dale Earnhardt and son of veteran driver Kerry Earnhardt.
Joining Earnhardt will be more than 20 drivers including Todd Bodine, Matt Crafton, David Starr, Ricky Carmichael, and Johnny Sauter.
A live KKLZ 96.3 radio remote will begin at 6:30 p.m. and the first 200 fans in line will receive tickets to Saturday's race and NEON garage passes.
QUICK CLIPS
The Plaza Hotel downtown has announced that it will close 1,000 hotel rooms for remodeling while keeping open the restaurants and showroom. Dick Feeney, producer of "The Rat Pack Is Back!" at the Plaza, has signed a three-year contract to continue to relive the days of the famous Rat Pack nightly at 7:30 p.m. in the Copa Room.
Former *NSYNC member Joey Fatone took in the "Human Nature" show at Imperial Palace. He is in town as celebrity host for "The Price is Right – Live" stage show at Bally's through Sept. 25.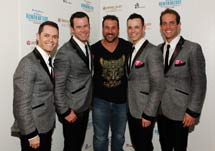 Las Vegas likes national exposure especially when it is Dr. Phil welcoming showgirls from Donn Arden's "Jubilee!" at Bally's to his TV show for his 60th birthday celebration. "Jubilee!" recently celebrated its 29th anniversary.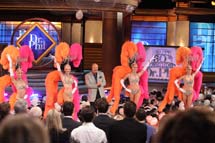 CSI: The Experience, the attraction based on the hit CBS show, is celebrating its first year at the MGM Grand. Honoring the occasion, CSI: The Experience will donate $1 to the Nevada Victims of Crime Program from every ticket sold, Sept. 20-26.
"V - The Ultimate Variety Show" at the V Theater in the Miracle Mile Shops at Planet Hollywood recently celebrated its eight-year anniversary. The show features variety acts that have starred in other Vegas shows and toured the globe.
Showman "Wes Winters – The Vegas Showman" will be performing a new show on Sunday, Sept. 26 at 2 p.m. at the Clark County Library Theatre, 1401 E. Flamingo Road. Tickets are $15, call 702-658-6741. On Friday and Saturday nights from 6-10 p.m. Winters plays at his new 88 key Supper Cub at Sam's Town, call 702-454-8185.
A popular Norwegian accordion group, Lindesnes Trekkspillklubb, will perform Monday, Oct. 4 at 7 p.m. at Community Lutheran Church, 4720 East Tropicana Ave., as part of a five-stop tour across the United States. They will be accompanied by nearly two dozen accordionists, three guitarists, vocalists, a washboard player and a repertoire of mostly Scandinavian music. Tickets are $10 each and $5 for children under 12.
As part of Agave's celebrations for Mexican Independence Day and Mexico's Bicentennial, the restaurant at 10820 W. Charleston Blvd. hosted the official State of Nevada mural to commemorate the Bicentennial. Painted by noted local artist Gushsan, the mural on display through Sept. 30 is approximately 28 feet long and depicts representations of Mexico's history.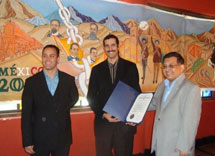 On Thursday, Sept. 30 Panevino Ristorante will feature cuisine of the Abruzzo region of Italy during its monthly wine dinner series. The five-course, prix fix, 7 p.m. gourmet wine dinner costs $99; call 702-222-2400.
'FANTASY' AT LUXOR INTRODUCES VOCALIST LORENA PERIL
In celebration of its 11th anniversary, "Fantasy" at the Luxor is revealing 17 scenes, brand new choreography, special guest performers and powerhouse vocalist and beauty Lorena Peril. The adult revue includes favorite numbers and brand new performances including "Desnudate," the opening act showcasing Peril's Latina flair, "Hips Don't Lie," a flirtatious belly dance number and duet featuring Peril and comedic celebrity impersonator Sean E. Cooper, and "Lady Marmalade."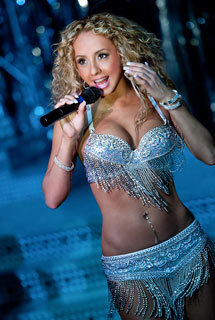 Tickets range from $39 to $59, call 702-262-4400 or visit www.Luxor.com.
CHEFS RICK MOONEN AND ANDRÉ ROCHAT HOST DINNER
Rick Moonen's rm seafood will hold a dinner in honor of famed chef, culinary genius and mentor, Jean-Louis Palladin on Sunday, Oct. 17. As is tradition, Chefs Rick Moonen and André Rochat have invited chefs and friends of the late Chef Jean-Louis to create a magnificent meal.
The evening will begin with a cocktail reception and auction preview at 5 p.m. followed by dinner at 6 p.m. in the upstairs dining room of Rick Moonen's rm seafood. Celebrity journalist Robin Leach will emcee alongside hosts Chefs Moonen and Rochat.
Tickets are $295 with proceeds benefiting the Jean-Louis Palladin Fund of the James Beard Foundation, call 702-632-9300 or melissa@rmseafood.com and reference the Jean Louis Palladin dinner.
Column Continues Below Advertisement





CONTINUE ON TO...:
>THIS WEEK'S LAUGHLIN NEWS
>LAST WEEK'S LAS VEGAS NEWS
>VEGAS VIEWS FULL NEWS ARCHIVES
>Return to "Heard Around Town"
>Return to Las Vegas Leisure Guide