The innovative team behind the unbelievably successful Tao Las Vegas will be opening LAVO, a new dining and nightlife concept, this month at The Palazzo. Latin for "to bathe or cleanse," LAVO is an AvroKo designed space that derives inspiration from the bathhouses of ancient Mediterranean culture with a menu highlighting the region's cuisine.
The journey from lounge to restaurant to nightclub begins with an entry into the lounge surrounded by worn tile walls and water stained plaster. Twenty-foot ceilings of old wood and low chandeliers crown an area featuring a curved bar, leather seating and Moroccan tables. The restaurant is highlighted by a glass and wood screened bridge and is bordered by a grand carved stone wall.

Column Continues Below Advertisement


Turkish water basins flank the bridge that leads to the second floor nightclub and the bridge itself becomes a gathering perch from which guests can observe the action below. The nightclub features vaulted glazed tile arches opening to a domed ceiling above the dance floor. Revelers can enjoy an elevated VIP area with posh banquettes, embossed leather walls and mirrored mosaic tile niches.
The 300-seat restaurant includes a 180-seat main dining room, a 20-seat private dining room and 100 seats on the outdoor patio overlooking the Strip. The restaurant will be open daily for lunch and dinner, with late night dining until 2 a.m.
The 4,500-square-foot nightclub features 40 bottle service tables and resident DJs Vice, Reach, Galleano and Berrie. The nightclub will be open six nights a week from 10 p.m. to 5 a.m.
Kid Rock, the infamous rocker with the bad ass attitude, will return to The Pearl Concert Theatre on Saturday, Sept. 20, at 8 p.m. Tickets are $100, $150 and $200, call 702-474-4000.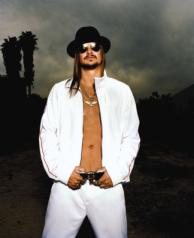 Grammy award-nominated Rock released several successful albums including Devil Without A Cause in '98 which became Diamond Award certified by RIAA with more than 10 million copies sold.
The History Of Rock album released in 2000 hit number two on the Billboard Album Chart and received triple platinum certification by RIAA. Cocky, quickly released one year later, included a Top Ten hit Rock sang with Sheryl Crow entitled, Picture - showing a softer, country influenced side of Rock. The album received outstanding reviews, went platinum four times and continued to stay on the Billboard 200 Album Chart for more than 100 weeks.
In 2003, Rock released a self titled album followed by a tribute album to Bob Seger entitled Live Tucker (2006) and another album Pickin' On Kid Rock: A Badass Bluegrass Tribute (2007) to show his down home bluegrass side with guitars, banjos, mandolins and harmonica sounds. In late 2007, Rock released Rock n Roll Jesus which has held steady on the charts and recently had a 27 percent increase in sales due to the hit single All Summer Long crossing genres and hitting both adult contemporary and hot country play lists.
Ron White, best known as the cigar smoking, scotch drinking funnyman from the Blue Collar Comedy Tour, will perform his stand-up comedy inside the Danny Gans Theatre at The Mirage on Dec. 5 and 6 at 10 p.m. Tickets for White's first time engagement at The Mirage are $70, call 702-792-7777 or 800-963-9634.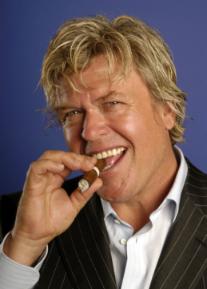 Texas native White is known for his performances with fellow Southern comedians Jeff Foxworthy, Bill Engvall and Larry the Cable Guy during the highly acclaimed Blue Collar Comedy Tour. The tour, filmed by Warner Bros., was later released in theaters as the major motion picture Blue Collar Comedy Tour: The Movie in March 2003.
He has since established himself as a star in his own right with his multiple solo comedy CDs and DVDs including Drunk In Public, They Call Me Tater Salad and You Can't Fix Stupid. White's special, You Can't Fix Stupid was filmed in January 2006 at the Majestic Theater in Dallas and aired on Comedy Central to 4.5 million viewers making it the third largest audience in Comedy Central's history.
In June 2006, Penguin Books released White's Tater Salad' White: I Had The Right To Remain Silent... But I Didn't Have the Ability. The book, which perfectly sums up White's life and his comedy, debuted on the New York Times Best Seller List.
He also reunited with the Blue Collar boys in June 2006 for Blue Collar Comedy Tour, One for the Road which was filmed in Washington, D.C. at the Warner Theater. Both Blue Collar Comedy Tour: The Movie and Blue Collar Comedy Tour, Rides Again, have sold more than five million copies combined.
Larry Carlton will perform at 7:30 p.m. at the Suncoast in northwest Las Vegas Aug. 15-17 in the resort's 450-seat venue. Tickets are priced from $29.95, call 702-636-7075.
His musical story began in Southern California when he picked up his first guitar age 6. He was introduced to jazz in junior high school after hearing The Gerald Wilson Big Band album, Moment of Truth.
In 1968, he recorded his first LP, With A Little Help From My Friends. The enthusiastic industry response garnered him a place among jingle singers The Going Thing, recording on-camera and radio commercials for Ford. Mid-season in his second year, he segued to Musical Director for Mrs. Alphabet, an Emmy-nominated children's show on the same network. It was here that Carlton showcased his acting skills, performing as the show's co-star, Larry Guitar.
Shortly thereafter, Carlton broke new ground with his now trademark volume pedal technique eloquently displayed in his featured performance on Crusader One with legendary jazz/rock groups The Crusaders in 1971. During his tenure with The Crusaders, he performed on 13 of their albums.
Scaling back his session work, Carlton began arranging and producing projects for Barbra Streisand, Joan Baez and Larry Gatlin, as well as producing and co-writing the theme for the hit sitcom Who's The Boss and co-writing and arranging the acclaimed move soundtrack for Against All Odds.
Between 1978 and 1984, Carlton recorded six solo albums. His self-titled album was released hot on the heels of his debut session with rock super group Steely Dan. Rolling Stone Magazine lists Carlton's tasty accent on Steely Dan's Kid Charlemagne as one of the three best guitar licks in rock music.
With more than 3,000 studio sessions under his belt by the early 1980s, Carlton picked up four Grammy nominations. In addition, he won a Grammy in 1981 for the theme to Hill Street Blues (a collaboration with Mike Post). Carlton's latest CD release is Fire Wire.
Air Supply will appear at the intimate 827-seat Orleans Showroom at 8 p.m., Aug. 28-31. Tickets are priced from $24.95, call 702-365-7065.
Some would say, destiny was at Melbourne, Australia, in April 1975. The two young lads would meet for the very first time. Englishman, Graham Russell and Australian, Russell Hitchcock met as cast members in the stage production Jesus Christ Superstar. Working closely together, a friendship began to evolve. Later that year, the duo formed Air Supply as a five-man group, and released their first Australian hit single, Love and Other Bruises. It was followed by a self-titled debut album that reached gold in Australia. Their first international exposure came in the late 70s when they were invited to open for Rod Stewart during his tour in Australia and then his United States trip.
The Australian soft rock group became a staple of early 80's radio, scoring a string of seven straight Top Five singles. Air Supply's international breakthrough came about after they signed a distribution deal with Arista Records in 1980. Their album Lost In Love, contained three U.S. Top Five singles. It was quickly followed by three more hit albums.
In 1995, Air Supply became popular in south-eastern Asian countries, culminating in the release of Now and Forever: Greatest Hits Live, a CD and DVD recording of a live concert in Taipei, Taiwan, which stayed at the top of the Chinese album charts for 16 weeks.
In 2006, Air Supply released an acoustic album entitled, The Singer and the Song that features the duo's familiar cavalcade of hits including All Out of Love and Lost In Love. The album is their very first all-acoustic project.
The Hard Rock has opened Wasted Space, a rock lounge that is part of the resort's $800 million expansion and renovation and represents the ultimate depiction of the decadent rock n' roll lifestyle. The first anti-club of its kind, Wasted Space melds the high-end rock n' roll culture with fashion, art and design.
The 5,000-square-foot nightclub can hold 400-500 people, has 17 tables/booths in the club itself, and five more in the 24-hour Wasted Lounge.
Wasted Space is open Tuesday through Sunday from 8 p.m. to 4 a.m. with live music two nights a week and DJ's spinning the other four nights. Cover charges vary based on talent from about $10-$25.
A Los Angeles artist was hand picked to create a 30-foot hand-made mural of vintage rock show posters and flyers with the signature Wasted Space winged microphone logo stenciled over them. The striking piece is hung above the bar area to add a personal element to the space.
The venue offers two signature drinks: Hart Attack" - named after Carey Hart's famous record-breaking mid-air handstand on a 250cc motorcycle and "Sunday Bloody Sunday" - named after the legendary U2 song.
Comedy impressionist Gordie Brown will be closing his show at the V Theater on Aug. 9. Then, he will be touring with Celine Dion on the North American leg of her Taking Chances tour that will end in Sunrise, Fla., on Jan. 30.
The Real Deal will be an interactive show in The Venetian's theater that will open with previews on Oct. 1. Six audience members will be selected to sit at a table and play with two pros. The entire audience will participate in the final round with touch-screen technology. The formal debut is set for Oct. 14. Plans are calling for eight shows per week: 4 p.m. afternoon shows, and two evening performances on the nights Wayne Brady doesn't take the stage.
Siegfried & Roy have announced the names of their two 3-month-old, snow-white tiger cubs that were born on April 29 and named through contests. Star and Celestial have taken residence at Siegfried & Roy's Secret Garden at The Mirage where they join their golden brother Svengali and sisters Chakra and Cosmo.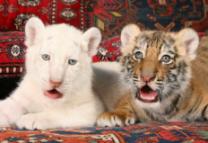 Rosanne Barr has closed at the Sahara and cut short her scheduled engagements at the hotel.
Dick Feeney's Viva Las Vegas afternoon revue at the Plaza downtown will reopen on Sept. 15 after a summer break.
The Tropicana has introduced happy hour drink specials Monday through Friday from 5-7 p.m. Guests can enjoy half price drinks in all casino bars as well as poolside exclusively during the "Mint Monday" pool party events.
At the Gold Coast, the Noodle Exchange is now open. Noodle Exchange is the newest restaurant from Kevin Wu, the chef behind the ever popular Ping Pang Pong.
Las Vegas resident and 83-year-old film star Tony Curtis will be coming out with his memoirs titled American Prince: a Memoir on Oct. 14. Curtis has appeared in more than 100 films.
Sultry brunette socialite and reality show star Kim Kardashian will make a special appearance with the Las Vegas Pussycat Dolls on Friday, Aug. 15 at Caesars Palace
Barry Manilow, who will return to the Las Vegas Hilton Aug. 27, 29-30, just released another song from his vault of rare and unreleased material. Fans can access it for free at www.manilow.com and clicking on Barry's letter. The song, Holdin' Out For You, was written in 1980 with Barry's friend, Marty Panzer.
For nearly three decades, Frankie Beverly & Maze have been creating original and innovative music. In 1977, the group released the first of a string of non-stop gold albums. They will headline at the Las Vegas Hilton Aug. 8-9.
On Aug. 26, an exclusive multi-course wine dinner featuring Chateau St. Jean wines will take place at Spiedini's restaurant at the J.W. Marriott in northwest Las Vegas. Cost is $68, call 702-869-8500.
July 31 marked 27 years for Donn Arden's Jubilee! at Bally's. To commemorate the anniversary, Bally's is offering a special $27 ticket price to Nevada residents through Friday, Aug. 15.
The 2008 Star Trek Convention will take place at the Las Vegas Hilton, Aug. 6-10, and offer attendees four days of celebrities, events, parties, food functions, autographs, photo ops, vendors, auctions, contests, music and comedy.
The Food Court that includes the Ice Cream Shop, Pizza Hut, and Perk Place (Seattle's Best) at the Las Vegas Hilton has re-opened after remodeling.
Many cultures consider 8/8/08 to be the luckiest day of the century. In celebration at the Gold Coast, there will be a traditional Lion Dance weaving through the casino at 8 p.m. and 11 p.m. to chase away evil spirits and bring good luck.
The Chinese Kitchen Buffet at the El Cortez downtown will offer guests a lucky 8s buffet dinner for $18.88 on Friday, Aug. 8 from 4 p.m. to 10 p.m. to celebrate the number eight, commemorate the 8-8-08 date and kick off the official start of the Beijing 2008 Olympic Games. All guests who take advantage of this special dinner will also receive $8 in free slot play.
Defending the Caveman at the Golden Nugget has announced that eight million people worldwide have enjoyed the Broadway smash hit about the relationships between men and women. On 8-8-08, Las Vegas locals can celebrate this milestone by enjoying tickets priced at $8.88 for the 8 p.m. show, call 866-946-5336.
CONTINUE ON TO...:
>THIS WEEK'S LAUGHLIN SEGMENT
>LAST WEEK'S LAS VEGAS SEGMENT
>VEGAS VIEW FULL ARCHIVES
>Return to "Heard Around Town"
>Return to Las Vegas Leisure Guide