MICHAEL JACKSON TRIBUTE SET FOR THE PALMS


A special "Las Vegas Celebrates the Music of Michael Jackson" benefit performance on what would have been his 51st birthday will take place on Saturday, Aug. 29, at 3 p.m. in The Pearl Concert Theater at the Palms. The multi-artist production celebrating Jackson's songbook will include cast members from "Jersey Boys," "The Lion King," "Peepshow" and "Phantom: The Las Vegas Spectacular" plus more TBA. Acts will be backed by a 10-piece band.

Funds raised will benefit Music Education programming in Clark County Public Schools. Tickets are $29, $54, $79, $104 and $129, plus VIP package is $504, call 800-745-3000.

Column Continues Below Advertisement



DREW CAREY AND THE IMPROV ALL STARS WILL PERFORM AT THE MIRAGE

Stand-up comic, producer and writer Drew Carey will bring his comedy adlib show to The Terry Fator Theatre at The Mirage on Aug. 28 and 29 at 10 p.m.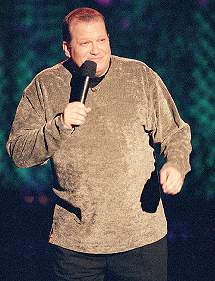 Carey is best known for his self-titled series "The Drew Carey Show," the innovative improv show "Whose Line is it Anyway?," and for hosting the CBS television show "The Price is Right." Joining Carey is "The Improv All Stars" cast: Ryan Stiles, Kathy Kinney, Chip Esten, Jeff Davis, Sean Masterson, Julie Larson and Laura Hall on piano. Tickets are $79, $69 and $59, call 800-627-6667 or 702-791-7111.

TEAMING WITH MILLER LITE LUDACRIS PERFORMS AT PALMS POOL

In a special Miller Lite promotion, Grammy Award-winning artist Chris "Ludacris" Bridges, a hip-hop superstar, will perform a special concert at the Palms Pool & Bungalows on Friday, Aug. 21 at 8 p.m. Complimentary tickets will be given away with specially marked packaging of 18-packs of Miller Lite.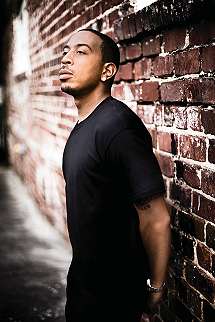 Now through Aug. 20 or while supplies last, concert goers can stop at any Food 4 Less, 7Eleven, Rebel, Green Valley Grocery or wherever you buy beer and look for specially marked 18-packs of Miller Lite to acquire a sticker redeemable for one free concert ticket at The Pearl Box Office along with the proof-of-purchase receipt.
Ludacris' latest album "Theater Of The Mind" (2008) continues to push the Atlanta-based entertainer to the top of the charts. His latest venture is a collaboration album with Disturbing Tha Peace member Shawnna called "Battle of the Sexes" due out this summer.
'JERSEY BOY' RICK FAUGNO SHOWCASES HIS TALENT AT SOUTH POINT
Actor, singer, dancer and Broadway theatre veteran Rick Faugno, who currently plays the Frankie Valli role in "Jersey Boys" at the Venetian, will debut his first-ever solo performance for an afternoon of "Songs My Idols Sang (And Danced)" on Sunday, Aug, 23, at 3 p.m. at the South Point Casino Showroom.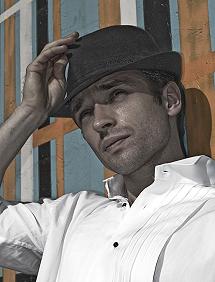 The 80-minute show is based on Faugno's life story and will feature a seven-piece band. Tickets are $20, $25 and $30, call 702-797-8055 or 866-796-7111.
QUICK CLIPS
It's rather a shock but Wolfgang Puck's Chinois restaurant in the Forum Shops at Caesars that opened in the mid-1990s has closed.
Comic impressionist Rich Natole has moved his act from the Harmon Theater to a 2 p.m. spot daily except Monday in the Bobby Slayton Showroom at the Tropicana. Also sharing the room now is Penny Lane, a tribute group focusing on the Beatles early rock years, at 4 p.m.
It's been reported that Donny and Marie Osmond have been extended at the Flamingo for another two years through 2012.
Grammy Award winner Larry Hart's Concert of "Praise" will make its third appearance at the South Point on Sunday, Aug. 9 at 2 p.m. This time The Las Vegas Mass Choir directed by James R. Smith will appear in the show's finale and Hart will again do his tribute to Michael Jackson. In addition, discounts have been added for seniors, military and church folk.
Better than purchasing television advertising, comedy magician Nathan Burton, who holds down an afternoon show at the Flamingo where he's signed a three-year extension, keeps auditioning for "Americas' Got Talent." He gained fame on the talent show's first season and went on to be a guest performer on the show. Not getting that offer again, Burton made a trek to Los Angeles to again audition and garner valuable exposure.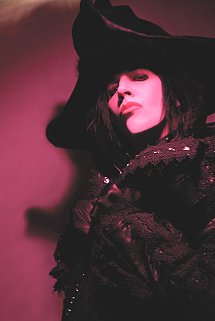 Marilyn Manson will headline at the Hard Rock's new Joint on Friday, Aug. 21 at 9 pm. Tickets start at $49.50, call 800-745-3000.
Multi-talented comedy impressionist Stephen Sorrentino has his creative juices flowing again as producer of his new game show called "Liar's Limo." By hosting the show with actress/model Hillary Crouse, "Even Stephen" shows off his improv skills. Two episodes can be seen online at www.liarslimo.com with Robin Leach being the celebrity guest in the first show and comedian Marty Allen in the second.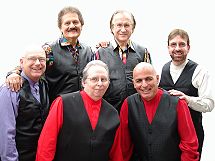 The New Jersey pop band, The 1910 Fruitgum Company, which rose to fame in the late '60s, will play at the Eastside Cannery in Marilyn's Lounge at 8 p.m. on Aug. 21 and 22. The group's name came from a dated candy wrapper. Tickets are $5 at the front desk before the show.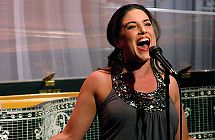 Los Angeles Ovation-nominated singer and actress, Ali Spuck has premiered her Sunday afternoon show "Here I Am!" at The Cabaret at the Liberace Museum. The perky beauty with the big voice musically takes you on a journey of her life with song selections that include classic Broadway, new contemporary cabaret hits, and romantic Gershwin tunes. Shows in the tiny venue are every Sunday and 2:30. Tickets are $15 and well worth the intimate experience, call 702-798-5595.
The Comedy Stop August lineup includes: Aug. 3-9 - Eric O'Shea, Tina Giorgi and Kevin Knox; Aug. 10-16 - Harry Basil, Scott Angrave and Drew Thomas; Aug. 17-23 - Tim Walkoe, Manny Oliveria and Glen Jensen. Tickets for the nightly 9 p.m. shows in the Sahara's Congo Room are $24.95 and $29.95, call 702-737-2515.
The Stratosphere has a "Cloud 999 Wedding Package" available for 99 couples who want to be married at 9:09 pm. on the Indoor Observation Deck on 9/9/09. Guess what the package costs... $99.09.
KC & THE SUNSHINE BAND RETURN TO THE ORLEANS
KC & The Sunshine Band will visit The Orleans Showroom Aug. 14-16. Tickets start from $54.95, call 702-365-7075.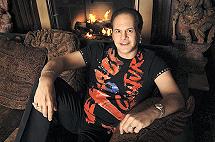 The group made their debut in 1973, when lead singer Harry Wayne "KC" Casey and bassist Richard Finch released their first single, "Blow Your Whistle," which quickly rose to the Top 15 on the R&B charts. Their 1975 self-titled album made them a household name and the first act to score four No. 1 pop singles in a 12-month period.
KC & The Sunshine Band struck triple platinum again with their 1976 release, "Part 3." In addition to a long string of No. 1 hits, KC has received three Grammy Awards for his work and his music has been featured in more than 75 movies, including "Saturday Night Fever," "Forrest Gump," and "Boogie Nights."
FORMER PLATTER SONNY TURNER PERFORMS AT THE SUNCOAST
Legendary vocalist Sonny Turner, former lead singer of The Platters, will headline at the Suncoast Showroom, Aug. 14, 15 and 16. Tickets are $19.95, call 702-636-7075.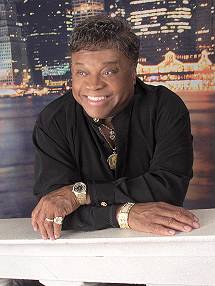 Turner burst onto the national music scene in 1959, when he was chosen from among 100 prospects to replace The Platters' original lead singer Tony Williams. Starting at the young age of 19, Turner toured the world with The Platters. In 1970, he left The Platters to pursue a solo career and lent his voice to such films as "Nutty Professor II" starring Eddie Murphy, and "Hearts in Atlantis" starring Anthony Hopkins.
FORMER TEENAGE IDOL BOBBY RYDELL PERFORMS AT THE SUNCOAST
Bobby Rydell, the international teenage sensation of the "Baby Boomer" era, will perform his chart toppers at the Suncoast Showroom, Aug. 21, 22 and 23. Tickets are $19.95, call 702-636.-7075.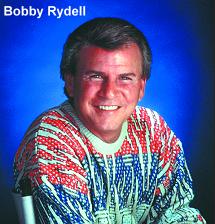 Robert Ridarelli - better known as Bobby Rydell - is considered an original American idol. After a teenage gig as drummer for Rocco and the Saints, where he played with trumpet player Frankie Avalon, Rydell launched his successful solo act. Rydell recorded 34 Top 40 hits and is recognized by "Billboard" as one of the Top Five Artists of the early '60s.
Rydell also enjoyed fame as a regular on such television shows as "American Bandstand," "The Red Skelton Show" and "The Milton Berle Show" and also with a part in the classic film "Bye Bye Birdie" as Ann-Margret's boyfriend, Hugo Peabody.
'THE COUNTRY SUPERSTARS TRIBUTE SHOW' HAS OPENED IN PRIMM
The Country Superstars Tribute show that was at Fitzgeralds downtown for two years has opened in the Whiskey Pete's Showroom in Primm, Nev., which is about a 25-minute drive from Las Vegas. The 75-minute production features four or five acts backed by a live band paying tribute to a varying combination of the following acts: Brooks & Dunn, Reba McEntire, Tim McGraw, Willie Nelson, Garth Brooks and Charlie Daniels. There is no lip syncing.
Show times are 8 p.m. Thursday through Saturday. After each Friday and Saturday show, the Country Superstars Tribute band hosts an after party in the Whiskey Pete's Lounge from 10 p.m. to midnight. Show tickets are $21.95, call 800-FUN-STOP.
CANNERY REVIVES SIXTIES SOUL MUSIC
Two groups from the '60s, Tommy James and The Shondells, and Felix Cavaliere's Rascals with the Hammond organ trademark sound, will perform Saturday, Aug. 29 at 8 p.m. at The Club inside the Cannery in North Las Vegas.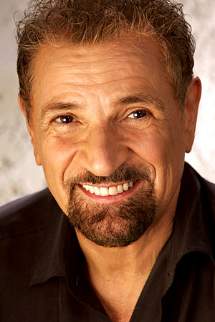 To date, James has sold more than 100 million records and been awarded 23 gold singles and nine gold and platinum albums.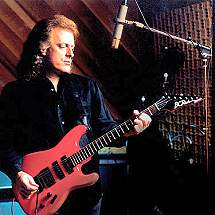 A couple top of their ten hits are "Mony Mony" and "Crystal Blue Persuasion." Tickets start at $19.95, call 702-507-5757 or 866-999-4899.

STATION CASINOS PROMOTES HEADLINERS

With seven properties around Las Vegas, Station Casinos has plenty of showrooms for headliners. Some names on the August roster include: country superstar Toby Keith at Red Rock on Aug. 29 ($47-$97.75); '70s pop artist B.J. Thomas at Santa Fe Station on Aug. 15 ($22-50-$32.50); followed by Dave Mason at Santa Fe on Aug. 21 ($24.50-$34.50). For tickets, call 702-547-5300.

EXTRA TIDBITS

The Las Vegas show, "The Amazing Johnathan" at the Harmon Theater at the Miracle Mile Shops at Planet Hollywood will return to Australia to perform in Melbourne Sept. 4 and. 5, and in Sydney Sept. 11 and 12. This is the eighth consecutive year that the Amazing Johnathan has headlined a resident show in Las Vegas. Johnathan continually adds new material but always showcases the same impulsive, bizarre humor and abrasive wit that has earned him widespread critical acclaim.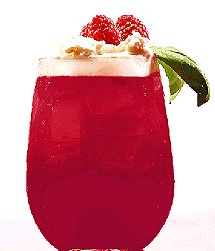 RHUMBAR at The Mirage has introduced "Pink Sugar Mondays," a weekly evening patio party from 8 p.m. until it's time to party at JET Nightclub. In honor of Susan G. Komen for the Curer, RHUMBAR has created the signature Pink Sugar cocktail. Until the end of 2009, RHUMBAR will donate $2 from each sale of the drink.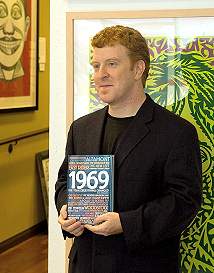 Fremont Street Experience recently hosted a meet and greet with critically acclaimed author Rob Kirkpatrick at Hippie Nation Gallery & Records. Kirkpatrick signed copies of his book, "1969: The Year Everything Changed."
On Aug. 13 from 6 to 10 p.m., the Ritz-Carlton at Lake Las Vegas will present its third "Chefs Wine & Spirits Too" event. Award-wining chefs from the Ritz-Carlton, Intimate Dining, Morton's Steakhouse, the Bistro and Bradley Ogden's at Caesars Palace will donate their time, talents and creativity in preparing a six-course gourmet dinner with wine pairings and exotic cocktails for the attendees. There will be live entertainment and a gift including a keep-sake cookbook. Reservations for the fundraiser are $145 for one and $125 for two or more, call 702-968-2055.

Column Continues Below Advertisement



CONTINUE ON TO...:

>THIS WEEK'S LAUGHLIN SEGMENT
>LAST WEEK'S LAS VEGAS SEGMENT
>VEGAS VIEW FULL ARCHIVES
>Return to "Heard Around Town"
>Return to Las Vegas Leisure Guide