'CSI: THE EXPERIENCE' WILL OPEN AT THE MGM GRAND
The popular "CSI: The Experience" interactive exhibit will open this summer at the MGM Grand. EMS Exhibits, Inc., under a license from CBS Consumer Products, will produce the attraction in the hometown of the top-rated CBS series.
Originally developed by the Fort Worth Museum of Science and History with a grant from The National Science Foundation (NSF) for a tour of U.S. science museums, "CSI: The Experience" gives guests the opportunity to play the role of a crime scene investigator, learning scientific principles and real investigative techniques as they try to solve one of three crime scene mysteries. Two state-of-the-art crime labs will help guests piece together the evidence. With input from investigators from the television show, guests will formulate a hypothesis, validate their findings based on scientific evidence and try to crack the case. For additional information, visit www.csiexhibit.com.
"CSI: The Experience" also continues to tour around the United States and Europe and will open this summer in Dublin, Ireland, and Budapest, Hungary.

Column Continues Below Advertisement


HOTEL32 AT MONTE CARLO WILL OPEN AUG. 10
The exclusive boutique HOTEL32 located on top floor of the Monte Carlo will open on Aug. 10 and offer a collection of five room types, ranging from studios to two-bedroom penthouses.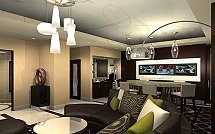 Each room's sleek, uncluttered architecture has been paired with contemporary furnishings and luxurious amenities. The rich colors of chocolate and cream are accented with citrine, turquoise, amethyst, ruby and orange. Sophistication continues with comfy, oversized custom furnishings and a variety of hand-selected stone surfaces, including marble, onyx and granite.
The experience begins with a limo ride from the airport, private express elevator ride, private check-in service in your room, and a tour showing the room's features, amenities and services. All HOTEL32 guests will have exclusive access to a dedicated Suite Assistant and lounge 32. Rates begin at $250 per night; call 877-576-3232.
HYPNOTIST ANTHONY COOLS IS EXTENDED FOUR MORE YEARS AT PARIS
Comedic hypnotist Anthony Cools whose interactive stage show started as a limited engagement four years ago at Paris Las Vegas has been extended another four years. In addition, Cools has transformed a hotel lobby into the cutting-edge Anthony Cools Experience showroom with a new 3-D movie introduction.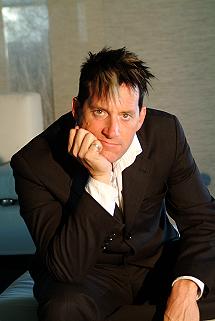 Cools has been performing for more than 17 years and plays upon the unpredictability of his guests who end up in a trance on stage. The venue accommodates up to 220 people. Shows are Thursday-Sunday and Tuesday at 9 p.m. Tickets start at $57.75 for general admission, call 877-374-7469.
SEAN HANNITY HOSTS FREEDOM CONCERT AT ORLEANS ARENA
Talk radio and television personality Sean Hannity will headline the Freedom Concert at the Orleans Arena on Aug. 8 at 8 p.m. All proceeds from the concert series, now in its sixth year, will go toward the Freedom Alliance Scholarship Fund for dependents of U.S. military personnel who have been killed or permanently disabled in an operational mission or training accident. Tickets are $50, $75, $100 and $125 call 702-284-7777.
The concert will feature performances by country music sensations Billy Ray Cyrus and the Charlie Daniels Band, contemporary artist Michael W. Smith, and Lee Greenwood. Also scheduled to appear is Lt. Col. Oliver North, USMC (Ret.), the founder and honorary chairman of Freedom Alliance and host of "War Stories with Oliver North" on the Fox News Channel, along with other guests.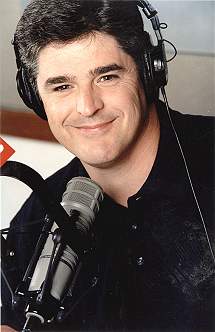 Known for his provocative commentary on politics and the American agenda, Hannity is the second-most-listened-to talk show host in America and hosts the No. 1-rated 9 p.m. primetime cable show on the Fox News Channel. National syndication began in 2001 by Premiere Radio Networks. "The Sean Hannity Show" is heard on more than 500 radio stations nationwide.
'MARRIAGE CAN BE MURDER' MAKES FITZGERALDS ITS NEW HOME
Sleuthing can be fun and "Marriage Can Be Murder," now celebrating 10 years in business in Las Vegas, is certainly a fabulous testimonial to that idea. For years the show was at the Egg & I restaurant on West Sahara and last year had a stint at the Four Queens downtown. The interactive whodunit dinner show now has a new downtown home at Fitzgeralds inside a small showroom on the second floor. The show's concept was created more than 20 years ago by the husband and wife team Erick and Jayne Post.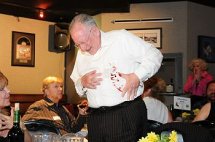 Mayor Oscar Goodman recently played a cameo role. After giving the show a proclamation, he was unceremoniously shot to death and carried off. That's when a law enforcement officer arrived in a Boy Scout-type short outfit and took over the investigation. The show is jam-packed with adlibs, audience interaction and clever repartee. You have a form to name each of the victims, their killers and the deadly motives. A winner is picked at the end of the night when awards are presented.
Shows are nightly at 6:30 p.m. Dinner show packages are $54.95 and $69.95, call 702-388-2111.
THE ALAN PARSONS LIVE PROJECT TO PERFORM AT CANNERY
British progressive rock band, The Alan Parsons Live Project will perform at 8 p.m. on Saturday, Aug. 8, and open with Paramount's Original Laser Spectacular choreographed to Pink Floyd's "Dark Side Of The Moon." The band will continue the show with live performances of the hits of the Alan Parsons Project. Tickets start at $24.95, call 702-507-5757 or 866-999-4899.
The Alan Parsons Project has released 10 albums, 14 compilation albums and 28 singles. Paramount's Original Laser Spectacular debuted in 1986. The 90-minute production features digital sound, elaborate lighting, colors and animated special effects using high tech laser technology synchronized to the legendary music of Pink Floyd.
'OBAMA MAN' GREG MORTON WILL HEADLINE THE COMEDY STOP
Three million plus hits on You Tube for "Obama Man" are for stand-up comedian Greg Morton's latest musical creation, singing to the tune of "Candyman." Morton will be at the Comedy Stop inside the Sahara, along with Butch Bradley and Chrissy Burns, July 27 through Aug. 2. Shows are nightly at 9 p.m. Tickets start at $24.95, call 702-737-2515.
Morton can be heard on the nationally syndicated radio program, "The Bob & Tom Show," as well as at their live concerts. He's known for his two-minute rendition of the "Star Wars Trilogy" and his finale of pop star impersonations. Bradley was an original member of the Boston Improv troupe and can be seen in the documentary film "Open Mic." Burns is a storyteller who looks at the world as one big buffet.
GLADYS KNIGHT RETURNS TO THE ORLEANS AUG. 7-9
Gladys Knight, who has a five-decade show biz career, will appear at The Orleans Showroom, Aug. 7-9. Tickets start at $74.95, call 702-365-7075.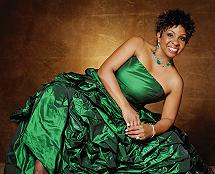 Knight made her solo singing debut at age 4 in a Baptist church in Atlanta. In 1952, shortly after winning a prize for her performance on the televised "Ted Mack Amateur Hour," 8-year old Knight formed The Pips with her brother, sister and two cousins. The group went on to achieve icon status, recording some of the most memorable songs of the '60s, '70s and '80s especially "Midnight Train to Georgia."
In 1986, Knight produced and starred in the Cable Ace award-winning "Sisters in the Name of Love," an HBO special co-starring Dionne Warwick and Patti LaBelle. She starred on Broadway in the musical "Smokey Joe's Caf' published her autobiography, "Between Each Line of Pain and Glory."
LITTLE RIVER BAND WILL REMINISCE AT THE CANNERY
The Australian rock group, Little River Band, will perform at The Club inside the Cannery inside North Las Vegas on Saturday, Aug. 1 at 8 p.m. Tickets start at $9.95, call 702-507-5757 or 866-999-4899.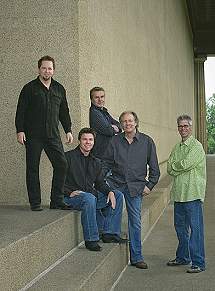 Little River Band was the first Australian band to maintain commercial success in the United States. In 1976, after the release of their self-titled debut album, the long grind of 13 U.S. tours in eight years began. By 1982, Little River Band became the only act to have a top 10 U.S. single for six consecutive years.
JERRY PRESLEY RETURNS TO EASTSIDE CANNERY AND SINGS ELVIS' HITS
Jerry Presley will pay tribute to his cousin Elvis, who was 15 years older, at the Eastside Cannery inside Marilyn's Lounge on Boulder Highway with shows at 8 p.m. on Aug. 14 and 15, and 4 p.m. on Aug. 16. Admission is free.
Jerry and Elvis had many similarities from having an identical twin to singing gospel music at church. Performing for more than 36 years, Jerry first gained attention for his tribute to the King when he performed at his own theater, "The King's Mansion" in Branson, Mo. A singer in his own right, he has performed with many famous artists including Jackie Wilson, The Drifters, The Platters, The Coasters, Lou Rawls, Tanya Tucker, Barbara Mandrell, Billy Dean, George Jones, Tammy Wynette, and former members of The Stamps Quartet.
DINING NEWS
Sammy Hagar is ready to rock Vegas - Cabo style. The Rock and Roll Hall of Famer will open his world famous Cabo Wabo Cantina this fall inside the Miracle Mile Shops at Planet Hollywood. The two-level, 15,000-square-foot nightclub and restaurant will replace the highly visible location previously occupied by Trader Vic's. Cabo Wabo Cantina transformed Cabo San Lucas from a sleepy Mexican town into a major tourism and party destination. The venue will offer a blend of live music and coastal Mexican fare.
The 24-hour family dining Coco's Bakery Restaurant has opened its fourth Southern Nevada location at the Santa Fe Station near the Feast Buffet. Johnny Rockets, the all-American classic hamburger place, has opened two outlets situated next to the race and sports book and inside the bowling center. There are more than 200 Johnny Rockets locations throughout the world.
The El Cortez downtown will reward active duty U.S. military personnel with a $15 dining credit valid at The Flame Steakhouse and Caf' Cortez every day in August. Eligible individuals will receive their Certificate of Appreciation that can be redeemed at the property's restaurants and they are limited to one dining credit per day during August and no minimum purchase is required.
Here's an interesting promotion. Go figure, but July 29 is National Lasagna Day, and to celebrate the family-style Italian restaurant chain Buca di Beppo is offering free lasagna. Valid at all 87 nationwide locations, guests who purchase any Buca small or large-sized pasta or entr'e will receive a free lunch-sized portion of lasagna. The Buca chain was recently acquired by Planet Hollywood International, Inc.
Mon Ami Gabi, a French bistro located inside Paris Las Vegas, will host a special wine dinner featuring a five-course dinner paired with the classic wines of California's Rodney Strong Vineyards on Thursday, July 30 at 7 p.m. Cost is $85, call 702-944-4224.
QUICK CLIPS
Hallelujah, the Boulder Dam Hotel found an anonymous benefactor who provided the money for the iconic historic landmark to reopen.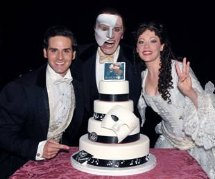 "Phantom - The Las Vegas Spectacular" is extending its third anniversary, which was in June, special offer through Labor Day. Fans who purchase a ticket at regular price will receive a second ticket for $30.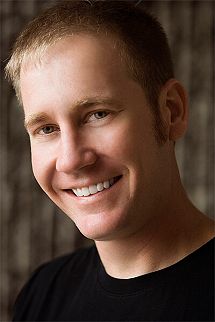 The Backyard Comedy Show at the Beauty Bar downtown will feature stand-up comedian Bryan Bruner on Aug. 8 at 10 p.m. Comedians Brandt Tobler and Matt Markman will join Bruner, who was raised in Las Vegas and currently lives in New York City. Tickets are $10 in advance at Ticketmaster.com, $15 at the door.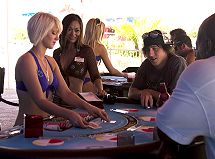 The Stratosphere has added summer bikini blackjack, Friday-Sunday from noon to 7 p.m., to its newly renovated luxurious pool area on the 8th floor.
Motown great Smokey Robinson will participate in the Justin Timberlake Shriners Hospitals for Children Open Pro-Am event in Las Vegas on Wednesday, Oct. 14 at TPC Summerlin. The 2009 tournament is Oct. 12-18, visit www.jtshrinersopen.com or call 702-873-1010 for more information.
Peace Frog, the acclaimed act that pays tribute to Jim Morrison and The Doors, will return to the Cannery on Friday, Aug. 7 at 8 p.m. in The Club. Admission is $5 at the door.
The Professional Bull Riders (PBR) Built Ford Tough World Finals is scheduled from Oct. 30 to Nov. 8 this year at the Thomas & Mack Center.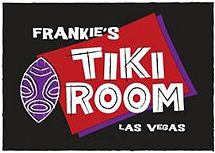 Late night movie enthusiasts are gathering at Frankie's Tiki Room at 1712 W. Charleston Blvd. for exclusive back-to-back films and popcorn at 4 a.m. every Thursday. The July 30 flicks will be "Wayne's World" and "Toxic Avenger, Part II."

Column Continues Below Advertisement



CONTINUE ON TO...:

>THIS WEEK'S LAUGHLIN SEGMENT
>LAST WEEK'S LAS VEGAS SEGMENT
>VEGAS VIEW FULL ARCHIVES
>Return to "Heard Around Town"
>Return to Las Vegas Leisure Guide