BALLY's HOSTS FIRST WORLD FOOD CHAMPIONSHIPS!

The World Food Championships (WFC) is partnering with Bally's as the official host of the four-day food festival and cooking competition, Nov. 1-4, with additional events taking place at Paris and Caesars Palace. Television's Adam Richman, star of the Travel Channel's "Adam Richman's Best Sandwich in America" and "Man v. Food: Nation," and author of "America the Edible" and the upcoming "Quest for the Best," will play host to the festivities. The WFC will have a total prize pot of $300,000 and feature seven categories: BBQ, Chili, Burger, Sandwich, Champion's Challenge, Side Dish and Chef's Challenge.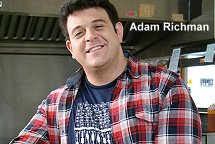 Each of the seven category competitions will take place at Bally's on Nov. 2 and 3. Throughout the competitions, several People's Choice and VIP opportunities will occur near the Strip and at Paris. On Nov. 4, the ultimate food battle, where each of the champions from the seven categories will go head-to-head for the main prize purse, will occur at a Final Table in front of Caesars Palace.
Column Continues Below Advertisement
BRET MICHAELS PERFORMS FREE CONCERT DOWNTOWN
The Fremont Street Experience's "Rock of Vegas" summer concert series will feature Bret Michaels free concert "Get Your Rock on Tour 2012" on Saturday, Aug. 4 at 9 p.m. on the 3rd Street Stage. Jizzy Pearl, who has fronted several rock bands including Love/Hate, Ratt, and L.A. Guns, will open the show.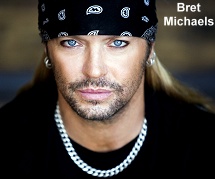 Rock star, reality TV star, spokesperson, businessman, and philanthropist, Bret Michaels first rose to fame as the frontman of Poison. His reality TV series, "Rock of Love" is one of the most successful in VH1's history. The summer's final two concerts are Survivor on Aug. 18 and Dee Snider – Legendary singer of Twisted Sister on Sept. 1 at 9 p.m.
'COYOTE COUNTRY FEST' STARS RONNIE DUNN
"Coyote Country Fest," featuring country music star Ronnie Dunn and "American Idol" finalists Lauren Alaina and Bucky Covington, will return to the Orleans Arena for one night, Saturday, Aug. 18. Tickets are $15, $50 and $65.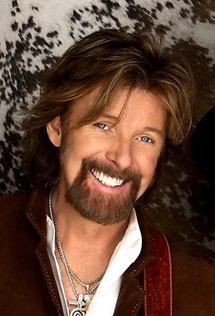 Dunn, half of the legendary duo Brooks & Dunn, released his self-titled debut solo album in June 2011. In 1988, Dunn's big break came when he won the Marlboro Country Music Contest in Nashville by performing "Boot Scootin' Boogie" and "She's Not the Cheatin' Kind" – two future No. 1 singles for Brooks & Dunn.
In May 2011, at age 16, Alaina was the runner-up for season 10 of "American Idol." She released her debut album "Wildflower" in October 2011, which reached No. 2 on the "Billboard" country charts.
Covington's self-titled debut album was released in April 2007, reaching No. 1 on the "Billboard" country charts. Covington appeared on season five of "American Idol" in 2006.
'FREQ THE BLOCK' WILL BE A MASSIVE DOWNTOWN DANCE PARTY
"Smash Magazine" and Frequency Events will present Freq the Block on Saturday, Aug. 11 at 7 p.m. outside downtown in the Fremont Street East Entertainment District and feature a massive downtown dance party with DJs Craze, AC Slater and Flinch along with special Las Vegas-based guests Mike Attack and Teen Wolf. An online contest is determining the opening DJ act. Tickets are $15 in advance at www.ticketfly.com and $20 day of show.
LAS VEGAS HARVEST FESTIVAL® CELEBRATES 25 YEARS IN VEGAS
The Las Vegas Harvest Festival® Original Art and Craft Show, which is returning to Cashman Center, Sept. 7-9, is celebrating its 25th year in
Las Vegas and its 40th year touring the Western United States. The show features more than 250 exhibitors, and more than 24,000 handmade arts and crafts including jewelry, woodturnings, art and photography, specialty foods, clothing, décor and more. There is also entertainment, food and activities for children. Opening at 10 a.m. both days, admission is $9 for adults and less for kids.
MARTINA MCBRIDE PERFORMS AT GREEN VALLEY RANCH
Following a sold-out show in 2011, country music icon Martina McBride will return to the Grand Events Center inside Green Valley Ranch on Friday, Aug. 3. Tickets range from $42.50 to $75.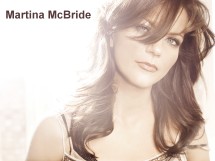 Dubbed the "Céline Dion of country music," the four-time Academy of Country Music's "Top Female Vocalist" recipient is one of the world's most successful musicians with five platinum-certified albums. She began her claim to fame with her breakthrough 1997 album, "Evolution."
BLUE MAN GROUP HOLDS AUDITIONS FOR NEW SHOWBOT
Blue Man Group in Las Vegas is holding an open casting call on Thursday, Aug. 9 for performers interested in playing the role the show's futuristic and interactive Showbot. Described as part human and part robot, Showbot will be a new character making its debut in the new show debuting Wednesday, Oct. 10 at Monte Carlo.
SUNCOAST IS 'CUPCAKE HEADQUARTERS'
The Suncoast will be "Cupcake Headquarters" on Aug. 18-19 when it hosts two cupcake-themed competitions — the Miss Cupcake USA Pageant on Saturday, Aug. 18 in the Madrid Room and the Las Vegas Cupcake Bake-Off on Sunday, Aug. 19. Tickets are $15 for adults at the door. Crowning and for multiple age divisions, from 3 months to 9 years old, begins at 9:30 a.m. with overall crowning at 3 p.m. Six queens will be crowned and winners of optional categories will be determined, including photogenic, best party dress/formal wear, best fun fashion runway, best hair and best personality. A contestant registry and additional information are available at www.fitforthecrown/miss-cupcake-usa.
The Bake-Off will bring 100 bakers to the Grand Ballroom from noon to 3 p.m. to compete for the title of "Best Cupcake Baker in Las Vegas" and to win a portion of $2,500 in cash prizes. The grand prize winner will receive $1,500 and have their cupcake featured at both Gigi's Cupcakes locations in Las Vegas. For the non-baking general public, tickets are $20 for adults and $10 for children 12 and under.
10,000 MANIACS MAKES SOUTH POINT DEBUTS
Alternative pop band, 10,000 Maniacs, will be making its South Point debut, with a rare appearance Friday, Aug. 3, through Sunday, Aug. 5, in the main showroom. The band is winding down its 30th anniversary with a summer tour throughout the United States. Tickets are $35, $40 and $45.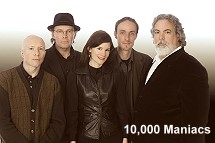 A staple of college rock in the '80s, and the darlings of the MTV era, 10,000 Maniacs have sold more than 10 million records worldwide. Steven Gustafson, bass player, and keyboardist, Dennis Drew, are the only two surviving members of the original group still touring.
The Maniacs just completed recording their first album in 13 years that is scheduled to be released in January 2013 on the band's own label, Ruby Wristwatch Records. The album was recorded this year in their hometown of Jamestown, N.Y., where the band originated in 1981.
DJ HOLLYWOOD HOSTS CHATEAU GARDENS INDUSTRY NIGHT
New resident DJ Hollywood will host an outdoor rooftop party at Chateau Gardens at Paris every Wednesday with the launch of the nightclub's new industry night Wednesday, Aug. 1. This spin master was named "Best Emcee" at the 2012 Las Vegas DJ Awards and is the owner and operator of The Beatclan Artist Management.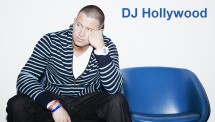 MONTHLY ART AND WINE PAIRING AT BELLAGIO GALLERY
Bellagio Gallery of Fine Art holds an "Art & Wine: A Perfect Pairing" on the second Wednesday of each month pairing wines from Bellagio's cellar with artwork featured in the gallery's exhibition "Claude Monet: Impressions of Light." On Aug. 8, Jasmine Hirsch and wines from Hirsch Vineyards will be highlighted from 5-7 p.m. Tickets are $30 for members and $38 for non-members, call 702-693-7871.
TOP OF NEXT COLUMN
VANILLA ICE HOSTS POOL PARTY AT FLAMINGO GO POOL

Rapper and television personality Vanilla Ice will host a party at the Flamingo GO Pool from 2 – 4 p.m. on Saturday, Aug. 4. A cover charge may apply. In the evening, he will put on a special summer concert at Harrah's outdoor Carnaval Court and perform his hit song "Ice Ice Baby," as well as tracks from his newest album, "WTF – Wisdom, Tenacity & Focus."

ECO.LOVE WINES FOUNDERS GIVE KEYNOTE AT CONFERENCE

Long lost sisters and eco.love Wines co-founders, Andrea and Robin McBride, will deliver a keynote address at the Women's Leadership Conference taking place at the MGM Grand Aug. 14 - 15. The entrepreneurial duo, who are the first African-American sisters to own a wine company, will share their inspiring story on Thursday, Aug. 14 at 4 p.m. They join author and "CBS This Morning" contributing reporter Lee Woodruff and American Red Cross President and CEO Gail J. McGovern on this year's roster of speakers.

Separated by geography but united through their love of wine, the sisters were raised on separate continents, not even knowing of each other's existence and thinking they were only children—Andrea in New Zealand and Robin in the United States.

The non-profit MGM Resorts Foundation is the conference's presenting sponsor and proceeds after costs will be donated to one or more local nonprofit agencies devoted to women's welfare. To register, visit www.mgmresorts.com/ womensleadershipconference

. Cost is $350 or $150 for a specific luncheon.

RESTAURANT WEEK RETURNS AND HELPS THREE SQUARE

Las Vegas Restaurant Week, which began in 2007, will return – Aug. 27 – Sept. 2, and provide the opportunity to dine at many of the city's best restaurants and have an affordable multi-course, prix fixed priced menu while helping to support Three Square Food Bank. Each restaurant will create their own menu at price points ranging from $20.12 to $50.12, with a fixed portion of the proceeds benefiting Three Square. Visit www.helpoutdineoutlv.org for a restaurant list.

VENETIAN-PALAZZO HOLD MONTH-LONG 'CIBO-VINO' CELEBRATION

The finale of the three-month Carnevale celebration at The Venetian and The Palazzo, will kick off "Cibo-Vino" Month on Wednesday, Aug. 1. The food and wine celebration will host a plethora of stellar events that include

demonstrations, wine tastings, exclusive dining experiences and the fifth annual food festival, Carnival of Cuisine on Saturday, Aug. 25 from noon to 4 p.m. in The Venetian Ballroom. Tickets are $60 and $85.

There will be one-hour 5 p.m. complimentary events in the scenic Waterfall & Atrium Gardens at The Palazzo. Every Tuesday in August, there will be a complimentary wine tasting. Every Wednesday, there will be cheese, fruit, sugar and ice carving demonstrations. Every Thursday, it will be sushi demonstrations and tastings.

There will be a five-course Solaia Dinner at 7 p.m. on Aug. 3 featuring Antinori Family Wine at the Cibo-Vino Room at The Palazzo. Cost is $250. The next night will be a $25 wine tasting from 6-8 at Waterfall & Atrium Gardens at The Palazzo.

Executive Chef Tom Maloney at Aquaknox will host an "oyster shooting" with Pinot Grigio wines for $35 on Friday, Aug. 10, from 5 to 7 p.m.

TAO and LAVO will host chef demos in St. Mark's Square on Fridays, Aug. 10 and 17 from 1-2 p.m.

On Aug. 11 from 7-10 p.m., celebrity restaurateur and vineyard owner, Joe Bastianich, will sign copies of his bestselling memoir "Restaurant Man." That same night will be a $200 five-course wine dinner at his award-winning restaurant Carnevino.

Famed Emeril Lagasse will hold a complimentary meet and greet at Lagasse's Stadium at The Palazzo on Aug. 15 from 5:30 – 6:30 p.m.

There will be a grand wine tasting with winemaker Michael Mondavi, the founder of Folio Fine Wine Partners, on Friday, Aug. 17 from 6-8 p .m.

James Beard Award Winning Chef Luciano Pellegrini will host a complimentary pasta making class at Valentino at The Venetian on Saturday, Aug. 18 from 3 to 5 p.m.

James Beard Award Winning Celebrity Chef Alex Stratta will host a five-course dinner paired with the wines of Banfi to benefit the Larry Ruvo Center for Brain Health on Friday, Aug. 24 in the Cibo-Vino Room. Tickets are $200.

CHICAGO TRIBUTE SHOW BOOKED AT CANNERY

Kenny Cetera's Chicago Experience, a tribute to Chicago, will take place at the Cannery on Aug. 17 and 18. Tickets for the 8 p.m. performance are $10 at the door.

Brother of the legendary Chicago frontman Peter Cetera, Kenny Cetera was a vocalist on "Chicago 17," which is the supergroup's bestselling album. Cetera will lead an eight-piece band with a prominent horn section and recreate the group's classic hits.

Kenny Cetera has sung backup for prominent names in music, such as Celine Dion and Garth Brooks and recorded with Hollywood heavyweights including David Foster and Kenny Rogers.

SHOWMAN EARL TURNER RETURNS TO THE SUNCOAST

Multi-talented entertainer and showman Earl Turner, who has worked many Las Vegas resort showrooms, will return to the Suncoast Showroom Sept. 1 and 2. Tickets start from $15.95.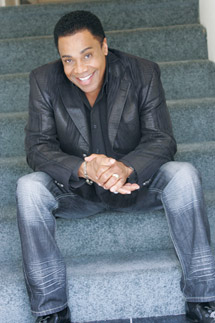 Turner began performing at age 13, and by age 19, was traveling the country as a frontman with various show bands. As a solo artist, Turner scored a Top 40 dance hit in Europe in the mid-1980s with "Love Caught You By Surprise." In 2004, Harrah's New Orleans transformed the Mansion Ballroom into The Earl Turner Theatre, where he performed for two years.
QUICKIE ITEMS
The Pearl at the Palms has the following lineup for August: Seal with special guest Macy Gray – Aug. 4; "Rock 'N' Blues Fest" – Aug. 5; and YES with special guest Procol Harum – Aug. 19. Multi Grammy award-winning artist Beck reunites with his Mutations Tour band mates for this current tour and visits on Aug. 8. Having spent the last few years working non-stop on projects ranging from producing albums for Stephen Malkmus, Thurston Moore and Charlotte Gainsbourg, to curating and performing in Record Club, Beck continues to be an alternative music mainstay.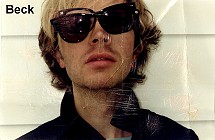 Reggae band Fortunate Youth will perform poolside at the Silverton on Aug. 11 at 7 p.m. Fortunate Youth is currently on "The Summer of Sweet Love Tour 2012" to promote the band's latest album "One Love." Tickets are $10 in advance and$15 at the door.
The Chocolate Lounge & Wine Bar inside Sugar Factory American Brasserie at Paris is continuing its chocolate and wine pairings through the end of August featuring five pairing options starting with "A Taste" at $8.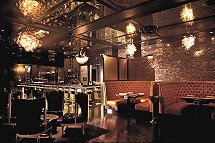 Ranch House Kitchen at Town Square will celebrate National Best Friends Day by offering complimentary mechanical bull rides to all guests who donate $1 to the Best Buddies organization on Wednesday, Aug. 15.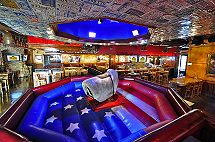 Marché Bacchus French Bistro and Wine Shop located in Desert Shores will host a five-course David Arthur Vineyards wine dinner created by Master Chef Alex Stratta and Executive Chef David Middleton on Thursday, Aug. 16. Cost is $95.
"Capture Downtown!," the 2012 Las Vegas Nevada Photo Competition, ends on Aug. 16. Contest categories are Modern Places, Modern People and Vintage Places and it's free to enter. New this year is a social media scavenger hunt.
There will be classic swing, blues, and sounds of vintage Vegas with "Art Vargas – Vintage Vegas Bandstand" at the House of Blues at Mandalay Bay on Tuesday, Aug. 7 from 9 p.m. to midnight. Vargas is also appearing in Roxy's Lounge at Sam's Town on Aug. 12 and 26 from 7 - 11 p.m.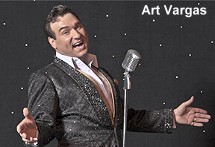 Celebrated Chef Kerry Simon and new Chef du Cuisine, Ben Halley, have added new flavor to the Simon Restaurant & Lounge menu inside Palms Place with a savory selection of dishes and creative pastry offerings.
Column Continues Below Advertisement
CONTINUE ON TO...:
THIS WEEK'S >LAUGHLIN NEWS
LAST WEEK'S >LAS VEGAS NEWS
>VEGAS VIEW FULL NEWS ARCHIVES
Return to >"Heard Around Town"
Return to >Las Vegas Leisure Guide