BLUE MAN GROUP DEBUTS NEW SHOW AT MONTE CARLO!

Blue Man Group will unveil its newest production at the Monte Carlo on Wednesday, October 10. After the show debuts, 45 minutes prior to the first show, a Blue Man groove described as a "Pecussipede," a musical centipede of percussion instruments, musicians, robots and puppets co-created with world-renowned 3-D designer Michael Curry will weave through the casino. Tickets are on sale for performances through April 30, 2013, and range from $59 to $215.

The creative forces of Blue Man Group have been working for two years to create a mega-enhanced show. The new journey will include the introduction of an assembly-line robot and a sassy humanoid Showbot, as well as an exploration of the human brain. During one of the show's most electrifying moments, a giant Brain Drum is played, illuminating a neurological pathway high above the crowd. The audience will also experience the joy of a set of giant Smoke Drums that emit mystical, ethereal smoke rings out into the world and a Neuronulum, a newly crafted pipe-instrument worn by the Blue Men, which provides musical and visual pulses of energy across a theatre-wide neural landscape.


Column Continues Below Advertisement



"CEELO GREEN IS LOBERACE" PREMIERE POSTPONED TO 2013

Due to the filming schedule of TV's "The Voice," the premiere of "CeeLo Green is LOBERACE" at Planet Hollywood has been postponed until early 2013 starting Feb. 27-28. Tickets range from $49.50 to $149.50.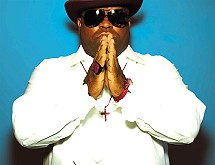 'ICANDY BURLESQUE THE SHOW' IS NEW SHOW AT SAXE THEATER
"iCandy Burlesque THE SHOW," will open at the Saxe Theater inside Miracle Mile Shops at Planet Hollywood on July 26. The show will star three nationally-renowned headliners, Jaime Lynch from "X Factor," Felice Garcia of "The Voice," and international touring artist Elisa Furr, along with talented singers, dancers, and aerialists. The sultry show will showcases the style, music and dance moves that made burlesque famous.
"iCandy Burlesque" is produced and choreographed by Nannette Barbera, a Las Vegas showbiz veteran with more than 300 shows to her credit. She created iCandy in 2005 beginning with "iCandy Country," then "iCandy Rock & Roll." The 70-minute show will have almost 30 burlesque numbers and more than 100 costume changes.
PH LIVE" DEBUTS THIS SUMMER AT PLANET HOLLYWOOD
This summer, Planet Hollywood's 7,000-seat Theatre for the Performing Arts venue will become "PH Live." The new title coincides with the announcement of several popular events set to christen the location, including Nicki Minaj's "Pink Friday World Tour" on Saturday, August 4, Peter Gabriel's "Back to Front" tour on Friday, October 5, and the eighth-annual LGBT OUTMUSIC Awards Dec. 14 – 16.
'SURF THE MUSICAL' IS UNDERWAY AT PLANET HOLLYWOOD
"Surf the Musical" recently held its star-studded world premiere at Planet Hollywood. On the order of "Mamma Mia" with ABBA tunes, the show weaves a simple plot together using in this case all Beach Boys tunes. Naturally the influence creates a love triangle plot around a 1960s Southern California beach community.
The back drop is an ever changing floor-to-ceiling lighted background making for bright sets that take you to the ocean, an auto garage, Ferris wheel ride, surfing, etc. Costumes captures the casualness of a beach setting as well as the 60s period. The show is simply fun, which is a good thing. Tickets range from $64 to $144,
VENETIAN-PALAZZO HOLDS FIFTH ANNUAL CARNIVAL OF CUISINE
The Venetian® and The Palazzo® will hold their fifth annual Carnival of Cuisine food festival on Saturday, August 25 from noon to 4 p.m. in The Venetian Ballroom with more than 15 eateries including five James Beard Award winners participating. There will also be specialty drinks and prizes. This event has been moved to August to coincide with Food & Wine Month, part of the resort's new summer-long Carnevale celebration. Tickets are $60 and $85 with discounts for Grazie members. A portion of the proceeds will benefit Three Square Food Bank.
GRIMALDI's PIZZERIA OPENED IN THE SHOPPES AT THE PALAZZO
Grimaldi's Pizzeria known for its hand-tossed, coal-fired brick oven pizzas and calzones has opened inside The Shoppes at The Palazzo for lunch and dinner daily from 11 a.m. to 2 a.m. This opening is the beginning of a major expansion planned for the restaurant group that currently operates more than 26 restaurants. This new store is the sixth in Nevada and second on the Strip.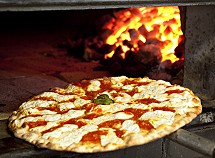 It's believed the secret to the award-winning pizza is the water so a chemist analyzed the water used in the Brooklyn pizzeria location and has duplicated it to ensure the dough made in Las Vegas tastes the same. The signature 25-ton oven is heated daily by 100 pounds of coal that reaches a temperature of up to 1,200 degrees to evenly bake the pies.
'MYTHBUSTERS: BEHIND THE MYTHs' DEBUTS AT PALAZZO
The all-new live show "MythBusters: Behind the Myths," starring Jamie Hyneman and Adam Savage, co-hosts of the Emmy-nominated Discovery series "MythBusters," will debut at The Palazzo for six performances, August 17 – 19 and August 31 – Sept. 2. Ticket prices range from $60 to $130.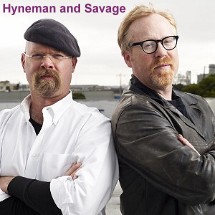 The show presents a fantastical evening of on-stage experiments, audience participation, rocking video and behind-the-scenes stories. With this show, for the first time, fans join the duo on stage and assist in their approach to science.
One of the Discovery Channel's most highly regarded and watched series, "MythBusters" is now in its ninth season. Hyneman and Savage have become spokespersons at large for applying science to real life – most recently as hosts of the Discovery Channel special "iGenius: How Steve Jobs Changed the World." They serve as guest editors for "Popular Mechanics" and produced and starred in an H1N1 Public Service Announcement for the White House.
BARENAKED LADIES VISIT HARD ROCK
The Last Summer on Earth Tour featuring Barenaked Ladies will make a stop at The Joint at the Hard Rock with Blues Traveler, Big Head Todd & The Monsters and Cracker on Saturday, July 28. Barenaked Ladies released its long-awaited rarities album "Stop Us If You've Heard This One Before!" on May 8. The album features 12 rare and previously unreleased tracks.
HIP HOP DANCE CHAMPIONSHIP BEING HELD AT ORLEANS
The 11th annual finals for the World Hip Hop Dance Championship will be held at the Orleans Arena on Sunday, August 5 at 7:30 p.m. The contest is organized by Hip Hop International, the creators of "America's Best Dance Crew" and attracts more than 2,000 of the world's top street dancers from 40 nations and they compete for $25,000 in cash and prizes.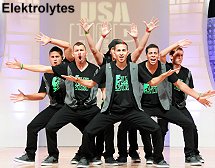 The event will also include appearances by "Jabbawockeez," judge D-Trix, Elektrolytes and Les Twins. Tickets are $25, $39.50 and $59.50.
DWIGHT YOAKAM VISITS EASTSIDE CANNERY
Two-time Grammy Award winner, Dwight Yoakam will perform at the Eastside Cannery on Saturday, July 28. Yoakam has sold more than 25 million albums worldwide and has 12 gold albums and nine platinum albums including the triple platinum album "This Time." Tickets start at $39.95.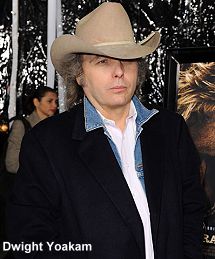 Yoakam is also an actor appearing in a variety of films including: "Red Rock West;" the Academy Award winning "Sling Blade" where he played the villainous Doyle Hargraves; "Panic Room;" "Four Christmases'" with Reese Witherspoon and Vince Vaughn; and the sequel "Crank 2: High Voltage."
VENETIAN-PALAZZO LAUNCH NEW MOBILE 'WAYFINDING' APP
The Venetian | The Palazzo has launched the Pocket Concierge™ with indoor "wayfinding" turn-by-turn direction technologies. It's downloadable for free at Apple App Store for Apple and Google Play for Android smartphone users. This is the first of four Las Vegas Sands resorts mobile apps being created.
TOP OF NEXT COLUMN
PAULA POUNDSTONE RETURNS TO ORLEANS SHOWROOM
Comedienne, writer, actress and author Paula Poundstone will return with her with stand-up act to the Orleans Showroom August 17 and 18. Tickets start from $19.95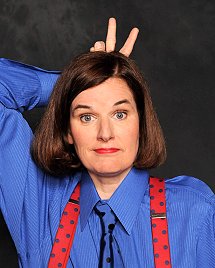 Poundstone began in 1979 on the Boston comedy scene before moving to San Francisco and then Los Angeles. She starred in multiple HBO comedy specials and appeared on "Saturday Night Live." Poundstone was the first woman to receive a Cable ACE Award for a comedy special for her one-hour HBO special "Cats, Cops, and Stuff." She received her second Cable ACE Award for her self-titled HBO talk show series.
FAST TRACK CLIPS
Guest host Tony Dovolani from August 1-5 will be among the final cast members in "Dancing with the Stars: Live in Las Vegas: at the New Tropicana.
The D (formerly Fitzgeralds) downtown as part of its transition is taking the Fitz chips off the floor for good on August 14.
The final performance for "Phantom Las Vegas" at the Venetian will be Sept. 2 and Holly Madison's final appearance in "Peepshow" at Planet Hollywood will be Dec. 30.
Virtuoso pianist Vernell Brown Jr. will bring his jazz quintet to Lake Las Vegas for Jazz Under The Stars on Saturday, August 11 at 7 p.m. Brown began as a child prodigy playing at age 4. His latest CD, "World Peace, New World" is scheduled for release in November.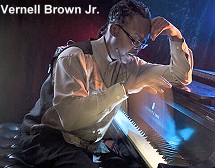 Rodin's masterpiece "The Thinker" has been unveiled at Martin Lawrence Galleries inside The Forum Shops at Caesars where another recent acquisition, Calder's "The Spiral" also debuted. From the late sixties until the late nineties "The Thinker" was exhibited at the Smithsonian Institution in Washington D.C.
The mega-platinum recording artist T-Pain will be bring the "Good Life" to Ditch Fridays with a special performance at Palms Pool & Bungalows at the Palms on July 27 at 3:45 p.m.
The Leeds-born DJ and producer who ascended with the original U.K. dubstep movement, Rusko, is launching his first-ever residency at the Palms. The August month-long residency will be every Saturday starting August 4. Rusko will bring 90 minutes of his signature sound to Rain Nightclub.
"The Lalas Burlesque Show" combining beauty, brains, bustiers and classic rock music will appear at The Lounge at the Palms on July 27 and 28 at 8:30 and 11 p.m. Admission is $30.
Ranch House Kitchen at Town Square will host a viewing party with food and drink specials to kick-off the World Football Challenge game in Las Vegas on Sunday, August 5.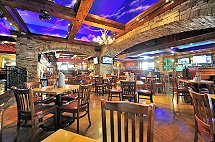 Tivoli Village is celebrating the Aloha spirit this July 28 with the free event Hot Hawaiian Night from 7 – 11 p.m. Festivities will include live music from Hawaiian Soul, dancers, craft and retail vendors, authentic food and a chance to be entered to win two tickets on Allegiant's new flight to Honolulu.
Miss January 2011, Playmate Anna Sophia Berglund, will appear at Crazy Horse III's "Bikini Beach House" bash on Saturday, July 28. A former girlfriend of Hef, the beach bunny recently appeared in the motion picture, "Project X" and has also been featured on the E! television series "The Girls Next Door" and "Holly's World."
Pastry Chef Hank Sbraccia will serve up decadent s'mores gelato to celebrate National s'mores Day at TREVI inside The Forum Shops at Caesars on Friday, August 10. Price will be $4.50 per scoop.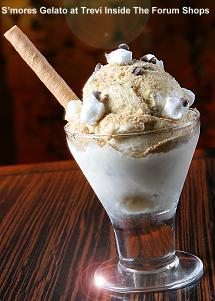 PBR Rock Bar & Grill inside Miracle Mile Shops at Planet Hollywood will celebrate National s'mores Day with a special $7 price on their s'mores Bread Pudding on Friday, August10.
The 2013 Miss Nevada Junior High, High School and Collegiate America pageant will take place on August 5 at the Suncoast Showroom at 6 p.m. Tickets are available from $19.95.
The Gallery at the Garden inside the Hilton Garden Inn, 1340 W. Warm Springs Road, is Henderson's first off-site children's art exhibit showcasing artwork from Henderson elementary and middle school students for a year.
The first exhibit features 15 pieces though October 27. It's open daily from 9 a.m. – 9 p.m.
FOREVERLAND FEATURED AT SILVERTON's SWAY POOL LOUNGE
The 14-piece tribute band to Michael Jackson, Foreverland, will play at the Silverton's Sway Pool Lounge on Saturday, August 18. Foreverland was formed in March of 2009 in San Francisco to honor Jackson. The group has four lead vocalists, four horns, and a six-piece rhythm section. Tickets are $10 in advance and $15 day of show.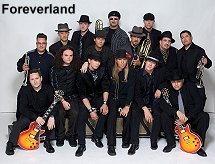 REGGAE MUSICIANS, SOJA, VISIT HARD ROCK CAFÉ
SOJA (Soldiers Of Jah Army), who were childhood friends, has been relentlessly touring and recording for the past decade. Their fourth full-length album "Strength to Survive" is their first release on ATO Records. The album theme is about whether we, as humans, have the Strength to Survive. They will appear at the Hard Rock Café on the Strip on Thursday, August 23. Tickets are $22 in advance and $25 day of show.
COMME ÇA CONTINUES 'LE BARBECUE' GRILLING SERIES
Comme Ça, the modern French brasserie by acclaimed Chef David Myers at The Cosmopolitan, will continue its "Le Barbecue" summer grilling series on the patio on Saturday, August 11, from 4-8 p.m. prior to the Block Party and Santigold concert. The menu is $49 and libations $25. Additional dates are Sept. 2 and 30.
CHAPEL OF THE FLOWERS STARTS PERSONAL WEDDING WEBSITES
Chapel of the Flowers on the Strip has launched personal wedding websites for its destination couples to share their Vegas wedding story from start to finish with pre-wedding photos and blogs, a live video broadcast during the ceremony to be viewed on the custom sites, and uploaded ceremony photos. There are links to the couple's and Chapel of the Flowers registries, unlimited blogs, social media links, and more.
TAO HOLDS FACEBOOK FAN CONTEST
As TAO Las Vegas nears 100,000 Facebook fans, the club is holding an online Facebook sweepstakes with the grand prize to include an all-expense paid trip for the winner and three friends to Las Vegas to host TAO's industry night– Worship Thursday. Sign up on the TAO Facebook page by August 31.
SOUTH POINT DEBUTS NEW GAMING TECHNOLOGIES
Michael Gaughan's South Point has become the first casino in Las Vegas to implement Bally Technologies, Inc.'s award-winning iView Display Manager (DM) and Elite Bonusing Suite (EBS) solutions to enhance its gaming experience.
To launch the technology, South Point is hosting weekly Virtual Horse Racing events in which players on the casino floor who have earned 25 points within two hours of each race through their players club card can enter and choose a virtual horse on which to wager. The players then watch the race unfold on an in-game screen located on their slot machine. Starting Thursday, July 26, there will be four Virtual Races nightly at 4, 6, 8 and 10 p.m. Players will split a guaranteed prize pool of $30,000 in bonus credits daily. Additionally, the casino is introducing multi-tiered bonus wheel promotions on multiple manufacturers' games.
CHARLESTON HEIGHTS ARTS CENTER STARTS TEA DANCES
The Charleston Heights Arts Center near Decatur and Charleston will begin hosting afternoon tea dances that will include demonstrations and instruction by Loy Au each Thursday from 1:30 to 3:30 p.m., starting August 2. Admission is $5.
The center also offers Scottish Country Dancing on Friday evenings, folk dancing on Wednesday evenings, plus ballroom and contra dancing each month. The next Contra Dance is August 4. A Summer Square Dance Hoedown is scheduled August 18 and the next USA Ballroom Dance is set for August 25. For information, visit www.artslasvegas.org.
Column Continues Below Advertisement
CONTINUE ON TO...:
THIS WEEK'S >LAUGHLIN NEWS
LAST WEEK'S >LAS VEGAS NEWS
>VEGAS VIEW FULL NEWS ARCHIVES
Return to >"Heard Around Town"
Return to >Las Vegas Leisure Guide