DANIEL TOSH RETURNS TO THE MIRAGE JULY 23 – 24
Funnyman Daniel Tosh will bring his stand-up comedy back to The Mirage for two nights, July 23 and 24, at the Terry Fator Theatre at 10 p.m. Tickets are $39, $49 and $59, call 800-627-6667.
Column Continues Below Advertisement
Named as one of the "10 comics to watch" by "Daily Variety," Tosh currently hosts "Tosh.0," a video clip show on Comedy Central. He made his network debut on "The Late Show with David Letterman" and his big-screen debut when he was featured in "The Love Guru" starring Mike Myers. He's also hosted "Live At Gotham" for Comedy Central.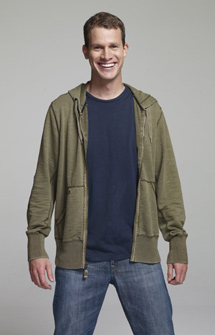 IMPERIAL PALACE OPENS NEW QUESADILLA RESTAURANT
Minus any fanfare, a Mexican restaurant called Quesadilla opened on the fifth floor at the Imperial Palace in a spot formerly occupied by the Cockeyed Clam and before that a seafood eatery.
The new place is named after a cantina the hotel's food and beverage vice president frequents in Cabo San Lucas, Mexico. The interior is casual with chandeliers made from Corona bottles. The food is very affordable with food served from11 a.m. to 10 p.m. daily.
CHINA GRILL's BATHROOM IS FINALIST IN 2010 BEST RESTROOM CONTEST
Cintas created the Best Restroom award in 2002 to honor businesses across America that place high value on hygiene and exceptional style in their public restrooms. China Grill at Mandalay Bay is a finalist this year. The 2010 winner being announced in September will receive a plaque of recognition and a coveted place in America's Best Restroom "Hall of Fame" section of the program's Web site. The public is invited to vote online through Aug. 31 at www.bestrestroom.com. The site takes visitors on a photographic tour of each facility. It's fun to vote!
'LE RÊVE' OFFERS ULTIMATE SCUBA EXPERIENCE
One thing about Las Vegas, a lot of thought goes into providing unique experiences. The newest is the Diver's Dream Package at Wynn that offers certified Scuba divers the opportunity to dive during a live performance of "Le Rêve."
The Diver's Dream Package offers a weekend's two-night stay at Wynn or Encore, VIP Indulgence tickets to "Le Rêve," a private backstage tour, SDI Certified SCUBA training session with the Le Rêve diving team, and a dive during the live show. Packages are priced from $2,000 for one diver and from $3,000 for two divers, call 702-770-SWIM (7946).
BLOODLESS BULLFIGHTING RETURNS TO THE SOUTH POINT
Don Bull Productions will again present bloodless bullfighting with all the pageantry at the South Point Arena on Saturday, July 17 at 8 p.m. The event uses specially designed adhesive Velcro pads instead of traditional banderillas, rejones and steel harpoons. Tickets are $29, $30 and VIP $99, call 702-797-8055.
DEANA MARTIN PAYS HOMAGE TO HER DAD AT THE SUNCOAST
Entertainer Deana Martin will perform "Deana Martin in a Tribute to Her Father Dean Martin" at the Suncoast Showroom on July 24 and 25. Showtime is 7:30 p.m. with tickets starting from $24.95, call 702-636-7075.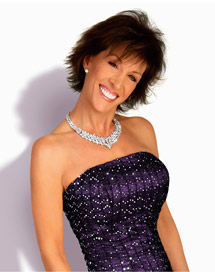 For two evenings, Martin, who grew up surrounded by the Hollywood elite, will sing songs from the Great American Songbook. In 2004, Martin became a best-selling author with her book, "Memories Are Made of This: Dean Martin Through His Daughter's Eyes."
In 2005, Martin toured the world with her "Deana Sings Dino" show. A year later, she released a top-selling album "Memories Are Made of This" that remained on the Top-10 charts for more than 40 weeks. Later she founded Deana at Capitol Studios where she recorded her most recent album "Volare" In 2009.
FIRST MMA SPORTS PERSONALITY IMMORTALIZED IN WAX
Celebrity athlete and UFC sports legend Chuck Liddell made a personal appearance to see his wax figure for the first time at the unveiling hosted at Madame Tussauds at the Venetian. The 40 year-old athlete is the first Mixed Martial Arts athlete to be inducted into Madame Tussauds.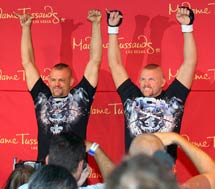 Since taking up martial arts at the age of 12, Liddell has transformed himself into a superstar athlete. He's famous for his seven fight win streak in which he was pitted against Randy Couture and Tito Ortiz, among other popular MMA stars. Liddell has been a part of UFC for more than a decade.

JERRY LEE LEWIS WILL RESCHEDULE AT RIO's CROWN THEATER

The Jerry Lee Lewis concert originally scheduled for June 30 at the Rio's Crown Theater is being rescheduled to a date this fall to coincide with the release of Lewis' latest studio album "Mean Old Man" coming out Aug. 31. Ticket holders can get refunds or use the ticket on the rescheduled date and get a free drink as well.

Upcoming events at the Crown Theater are: Queensryche Cabaret – July 24; Squeeze with guests English Beat – July 27; Level 42 – Aug. 1; and The Swell Season – Aug. 16.

There is also weekly night themed entertainment at the Crown Theater: The Movement, Asian - Wednesdays; Rumba, Latin – Thursdays; special guest DJs on Fridays and Saturdays; and Roller Boogie with DJ's Hollywood and Frankie and special old school guests – Sundays.

REGGAE FEST HAPPENING AT THE PALMS

The Palms Pool & Bungalows, in partnership with Cruzan Rum, will present the first Reggae Fest as part of the Cruzan Campfire Concert Series. Local reggae favorites, Lady Reiko and the Sin City Prophets, ForTwentyDaze, HaleAmanO and One Pin Short are set to perform Thursday, July 29 at 9 p.m. Tickets are $10 and $30, call 702-942-6832.

'FANTASY' PACKAGES A SPECIAL DEAL WITH A SECOND SHOW OFFER

This summer, you can get a ticket to the 10:30 p.m. adult revue "Fantasy" starring Angelica Bridges from "Baywatch" at the Luxor and catch an additional show at the Luxor or Excalibur for $75. This special offer includes a second ticket to "Criss Angel Believe™" from Cirque du Soleil, Carrot Top, "Menopause the Musical®," "Thunder From Down Under," "Tournament of Kings" or "Defending the Caveman." For information on the FANTASY Two for $75 offer, visit www.Luxor.com or call 702-262-4400.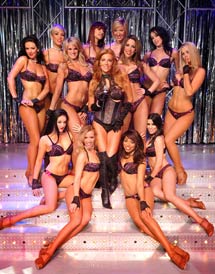 TOP OF NEXT COLUMN
QUICK CLIPS
"Frank Marino's Divas Las Vegas" at the Imperial Palace has announced an earlier show time and discounted ticket price. The new ticket pricing begins at $39 with show times at 10 p.m. through July 15 and 7 p.m. from July 17-Aug. 5. The show is six nights a week with Marino emceeing the production as comedienne Joan Rivers.
Remaining celebrity guests scheduled to participate in Matt Donnelly's Executive Monkeys improv comedy shows in The Lounge at the Palms on Wednesday nights will include: Randy Couture - July 14; Hot Babes of Reality TV featuring Tiffany Michelle ("Amazing Race") and Trishelle Cannatella ("Real World Las Vegas") - July 21; and TBA for July 28. Tickets are $25, call 702-944-3200.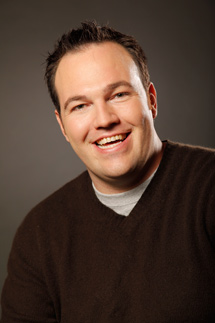 For the second year, the Orleans Arena will host 102.7 Coyote CountryFest on Saturday, Aug. 14, at 6 p.m. Performers will include country music recording artists Blake Shelton, Uncle Kracker, Jaron and the Long Road to Love, The Band Perry, Matt Kennon and Jerrod Niemann. Tickets range from $15 to $65.
One Thursday per month through September, there is a free 6 p.m. outdoor summer concert poolside at the VooDoo Beach at the Rio. The Aug. 19 show will feature Crash Kings and Vertical Horizon and the Sept. 30 band is TBA. Entrance is free with tickets printed from www.1079thealternative.com.
The Mandarin Oriental, Las Vegas is holding a monthly showcase series highlighting a different artist, photographer or performer. The third Monday monthly events, hosted in Mandarin Bar on the 23rd floor, provide guests with an intimate experience and personalized access to the talented individuals.
La Martina, the official supplier in the world of polo, has opened at The Forum Shops. The store's concept includes leather outfits, polos and shirts for men, women and kids, as well as accessories.
The Forum Shops has a special offer for the month of July. Shoppers can bring their receipts to the concierge as their entry to win a shopping gift card that will be drawn on Monday, Aug. 2. The prize money will be whatever the temperature is on Saturday, July 31, and the winner doesn't need to be present.
The NBA Summer League's 58-game tipped off on July 9 and continues through July 18 with 22 NBA teams competing at the Thomas & Mack Center and the COX Pavilion on the University of Nevada Las Vegas campus. Tickets are $25 for the day, call 702-739-FANS.
A FEW HAPPY HOURS
CUT by Wolfgang Puck inside The Palazzo offers a "Summer Stimulus" Happy Hour, Sunday through Thursday from 5-7 p.m., with signature appetizers plus creative cocktails and wines for $7 each, which is a fraction of the regular price.
Twin Creeks Steakhouse at the Silverton Casino Lodge has Happy Hour from 6 to 8 p.m. with a half-priced tapas menu and specialty drinks.
Nu sanctuary at Town Square has a Happy Hour from 3-7 p.m. daily with half-priced drinks and appetizers available for under $10.
TOM STEVENS PERFORMS TRIBUTE SHOW AT LAS VEGAS ROCKS CAFÉ
Tribute artist Tom Stevens will perform his one-man "The Ultimate Tribute Show" in the Embassy Theatre at the Las Vegas Rocks Café downtown on Sunday, July 18 at 4 p.m. Tickets for the special performance are $19.95 for the show only and $39.95 for dinner and show. For reservations, call 702-227-5872 or visit reservations@lasvegasrockscafé.com.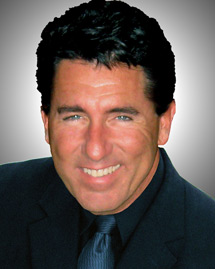 Stevens "tributizes" legendary singers, incorporates comedy routines with other celebrities, and does a comedic eight-minute "Karaoke Party." The native New Yorker has a likeness to Dean Martin and when he performed at the fourth annual Dean Martin Festival in Martin's hometown, Steubenville, Ohio, he was such a hit that he's been making appearances ever since.
SUNCOAST GOES 80s THIS SUMMER WITH TWO BANDS
Celebrating the '80s music scene, the Suncoast has added two popular local bands, The Whip Its on Friday nights and Loveshack on Saturdays from 10 p.m. – 1 a.m., to the summer's entertainment lineup. Starting Aug. 4 and throughout the remainder of the summer, both groups will move poolside from 8 to 10 p.m.
The Whip Its are an ensemble of performers including vocal duo Dieter inspired by "Sprockets" on "Saturday Night Live" and Ivana Hump, a Euro dominatrix that commands the stage with a whip and leather ensemble. Completing the retro vibe, the singers are backed by a full band dressed as "Devo drones."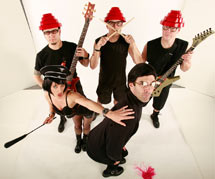 Formed in 1995, the five-member '80s tribute band Loveshack takes on physical and costumed characteristics of recognizable '80s singers such as Devo, Adam Ant, Slash, Madonna and Mike D. from the Beastie Boys, offering a visual and musical representation of the decade.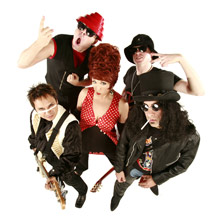 JULY CHARITY EVENTS HELP AFAN AND JDRF
Aid for AIDS of Nevada (AFAN) will host its first Pig Out event at Paymon's Mediterranean Café & Lounge, 4147 S. Maryland Pkwy., from 5 – 9 p.m. on Wednesday, July 14. In conjunction with Paymon's weekly customer appreciation night, guests will receive 25 percent off their entire bill, and AFAN staff members will assist guests with adopting personalized five-inch ceramic piggy banks to "fatten up" with coins in support of World AIDS Day on Wednesday, Dec. 1, 2010.
In addition, guests will be able to purchase discounted $30 tickets to this year's 24th Annual Black & White Party taking place inside The Joint concert venue at the Hard Rock Hotel on Saturday, Aug. 21.
The Juvenile Diabetes Research Foundation (JDRF) will host its inaugural Rockin' Vegas for the Cure concert at B.B. King's Blues Club at The Mirage on Thursday, July 15, at 6:30 p.m. There will be music featuring nine bands, entertainment with comedian Frank Zhaborsky, balloon figures and face-painting by Steve-N-Kids, magic by Houdini's Magic Shop, food and fundraising. Tickets at the door are $5 and $35 ($30 in advance) for VIP, which includes a special area and specialty cocktails and passed hors d'oeuvres from 7 to 10 p.m., visit www.ticketweb.com.
Column Continues Below Advertisement



CONTINUE ON TO...:
>THIS WEEK'S LAUGHLIN NEWS
>LAST WEEK'S LAS VEGAS NEWS
>VEGAS VIEWS FULL NEWS ARCHIVES
>Return to "Heard Around Town"
>Return to Las Vegas Leisure Guide