HERSHEY'S CHOCOLATE WORLD OPENS JUNE 3 AT NEW YORK-NEW YORK!

Hershey's Chocolate World Las Vegas will open at New York-New York by giving away one million Hershey's Kisses chocolates following a ceremonial ribbon cutting on June 3 at 9 a.m. On display inside the store will be a custom 11-foot, 800-pound replica of the Statue of Liberty carved from Hershey's Milk Chocolate and a statue of the Empire State Building made of 1,800 Hershey's Milk Chocolate bars.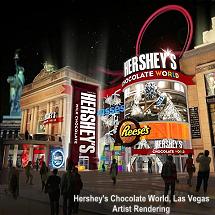 Hershey's Chocolate World is an experiential retail store, occupying two floors and boasting an eye-catching 74-foot façade, that will immerse visitors in the iconic candy brands: Hershey's, Hershey's Kisses, Reese's, Ice Breakers, Twizzlers and more.
Column Continues Below Advertisement
CLAIM JUMPER OPENS INSIDE GOLDEN NUGGET
Landry's, Inc. has opened a new Claim Jumper location inside the Golden Nugget downtown making it the fourth location for the casual dining concept in the Las Vegas area. Replacing Carson Street Café in the Carson Tower, the Gold Rush-themed eatery is open 24-7, serves breakfast all day, and works with the hotel's room service. Claim Jumper Restaurants opened its first location in Los Alamitos, Calif., in 1977. Today, there are 42 restaurants nationwide, including 24 in California. Claim Jumper is a 100 percent trans-fat free restaurant offering vegetarian items and a gluten-free menu.
BLT STEAK OPENS AT BALLY'S AND BRINGS BACK STERLING BRUNCH
Bally's premier and legendary Sterling Brunch returned on May 24 and is now offered on Saturdays and Sundays at BLT Steak, which is now open after a remodel and replacing Bally's Steakhouse. The international BLT Steak chain run by ESquared Hospitality also operates BLT Burger at the Mirage.
BOB SAGET HOSTS 'COOL COMEDY-HOT CUISINE' AT HOUSE OF BLUES
In its 26th year, "Cool Comedy - Hot Cuisine" (CCHC) will visit Las Vegas for the first time, bringing the Scleroderma Research Foundation's (SRF) signature fundraiser event to the House of Blues inside Mandalay Bay on Thursday, June 5. Comedian and SRF board member Bob Saget will host an evening of comedy with Jay Leno, live music with special guest Ben Folds and cuisine prepared by celebrated Vegas chefs and Top Chef Masters personalities Susan Feniger, Mary Sue Milliken and Rick Moonen.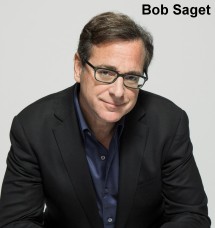 To complement the entertainment, the event will also include a cocktail reception and four-course dinner experience. Tickets start at $150, call 1-800-441-2873 or visit www.srfcure.org.
ICONIC CHICAGO EATERY THE WIENER'S CIRCLE TO OPEN IN LAS VEGAS
The Wiener's Circle, Chicago's famed hot dog stand, will make its Las Vegas debut this summer with locations at Red Rock Resort and Santa Fe Station. Both outposts will be nestled between the sports book and poker room while Santa Fe will also include a satellite stand at the bowling center. Offering authentic Chicago-style char-grilled hot dogs and hamburgers, fresh-cut fries and milkshakes, the 31 year-old landmark has been featured on the Travel Channel and Food Network's "The Best Thing I Ever Ate." In addition to the classic menu offerings, the new locations will reveal exclusive only-in-Vegas items, including an all-day breakfast nosh and will serve Krispy Kreme donuts.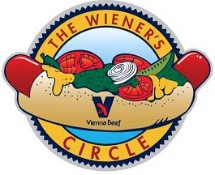 DJ TIËSTO CELEBRATES DEBUT OF HIS MADAME TUSSAUDS WAX FIGURE
GRAMMY-nominated DJ and producer Tiësto posed side-by-side with his Madame Tussauds wax figure before taking the stage for his "Club Life" residency at Hakkasan Las Vegas nightclub at MGM Grand. Tiësto's recent crossover successes include dance-pop hits, and his biggest hit "Red Lights" is still climbing on the U.S. Billboard Hot 100. The idolized DJ has worked and collaborated with numerous superstars including Kanye West, Coldplay and Katy Perry. The DJs wax figure will be on display at Madame Tussauds at The Venetian through the summer. Each figure requires more than 20 skilled artists and three months to create at an average cost of $300,000.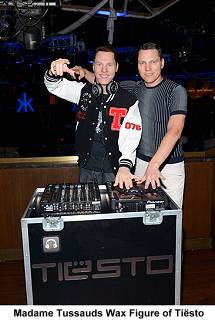 HEALTH HEALING HAPPINESS CONFERENCE SET AT SPRINGS PRESERVE
Belsandia.com is presenting the third Health, Healing & Happiness conference at the Springs Preserve starting at 8 a.m. on June 7 and 8 covering natural solutions that embrace the whole body, mind and spirit. Twenty-two world-class speakers will offer presentations about nutrition, fitness, spirituality and personal development plus there is a vendor marketplace.
The conference with Whole Foods Market as a sponsor will have many authors helping with topics such as getting rid of cancer naturally; the secrets of "winning at the (weight) losing game;" plant-based nutrition; living a "should-free" life; preventing dementia; combating common diseases with food; detoxing; the "happiest life seminar," etc. One of many keynote speakers is author, comedian and plant-based celebrity Chef AJ along with eight more chef/nutrition experts including some with dining places in town: Mayra Trabulse - Pura Vida Bakery & Bystro; Sharynne Frazer - Raw Food Express Health & Wellness Café; Stacey Dougan - Simply Pure; Shane Stuart - Grass Roots; and Kenny Chye - Veggie House.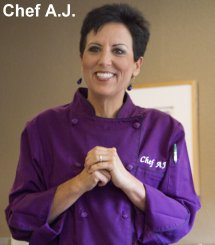 Cost for the full weekend is $99 ($139 at the door) and a day pass is $65 ($75 at the door.) For information, visit www.health-healing-happiness.com or call 702-772-9401.
BLOWOUT DOLLHOUSE EXPANDS WITH CONTAINER PARK LOCATION
Blowout Dollhouse, the on trend blow-dry bar and hair styling salon at the Market LV at Tivoli Village is expanding to the 3rd floor of Downtown Container Park in the Fremont East Entertainment District. Scheduled to open in July, the life-sized dollhouse with stylists called "Dolls" will bring its pastel, candy-striped charm to downtown. This whimsical shop specializes in blowouts, and does not offer cuts or color; however, for $35 guests receive a wash, head massage with essential oils, and a blow dry and styling.
JIM JEFFERIES BRINGS 'DAY STREAMING' TOUR TO HARD ROCK
Actor, writer, producer and comedian Jim Jefferies will bring his first full North American tour "Day Streaming" to The Joint at Hard Rock Saturday, May 31. Jefferies is the creator and star of "Legit," an edgy, controversial original comedy series. In "Legit," Jefferies portrays a heightened version of himself as a comedian from Australia who realizes there's more to life than the rock and roll lifestyle of stand-up comedy. Prior to "Legit," Jefferies appeared on numerous TV shows in England. Tickets start at $42.50.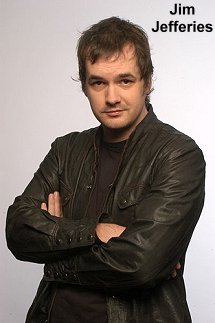 THE CENTER HOLDS 'ARTrageous VEGAS' JUNE 14
The Gay and Lesbian Community Center of Southern Nevada (The Center) will present ARTrageous Vegas featuring music, culture and art on Saturday, June 14 from 5:30 to 10:30 p.m. Themed "Artists in Wonderland" and curated by historian and art enthusiast Brian "Paco" Alvarez, this year's event will feature a juried art show and sale, fashion shows, live entertainment, and photographer Cameron Grant unveiling a new three-foot by eight-foot photograph. The Center inside and out will carry the theme with a Mad Tea Party area, glitzy Queen of Hearts Cabaret area, etc. Interested artists may still apply by May 30 to have their work featured. Event tickets are $35 in advance at artrageousvegas.org/tickets/ and $40 at the door.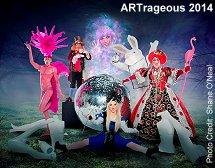 13TH REGGAE FEST RETURNS TO CLARK COUNTY AMPHITHEATRE
The 13th Annual "Reggae in the Desert," Las Vegas' largest Reggae festival showcasing both the unifying power of Reggae music and the Caribbean lifestyle, will be held Saturday, June 14 at the Clark County Amphitheatre from noon to 11 p.m. The all-ages music festival features: Barrington Levy, who is a big star out of Jamaica; Collie Buddz; Tarrus Riley - son of veteran Reggae singer Jimmy Riley; Morgan Heritage; Don Carlos; Fortunate Youth; Las Vegas' own Barry Black; the Senzuals; and more.
Advance tickets are $25 visit www.ticketfly.com and $30 cash day of show. Children ages 5 or younger are free. VIP tickets are $100 and include an event t-shirt, poster, meet-and-greet with select artists and an air conditioned VIP Lounge with free wine tasting and appetizers (while supplies last). Blankets for lawn seating are permitted.
TOP OF NEXT COLUMN
THREE NEW TENANTS DEBUT AT TIVOLI VILLAGE
Three new retail stores are joining the list of tenants at Tivoli Village. Recently opened d'annata is a one-of-a-kind comfy home, clothing and accessory boutique offering all things vintage, delicate, elegant and organic. The theme of the store is "all things girly."
PacSun will offer the latest trends for men and women from top brands including Brandy Melville, Roxy, Billabong, Nike SB, Vans, Hurley, Crooks and Castles, DGK and more.
Opening in June, Paper Source will be a premier paperie and online retailer offering a unique selection of fine and artisanal papers, invitations and announcements, personalized and distinctive gifts, gift wrap, greeting cards, and more.
45TH ANNUAL WORLD SERIES OF POKER BEGINS AT THE RIO
Play begins Tuesday, May 27 at noon for the 45th Annual World Series of Poker being held again for the tenth year at the Rio. On Saturday, May 31, the Millionaire Maker $1,500 Buy-In No-Limit Hold'em Event begins with two starting flights at 11 a.m. and 5 p.m. The 65-event schedule runs May 27 - July 14.
A CAPPELLA GROUP MO5AIC CURRENTLY PERFORM AT LVH
The five-member all-vocal group MO5AIC (Mosaic) is performing their family-friendly, 70-minute show in the Shimmer Cabaret showroom at the LVH at 8:30 p.m. on select nights through July. MO5AIC consists of founding member Josh Huslig and pals Heath Burgett, Jake Moulton, Corwyn Hodge and Roopak Ahuja. Together they blend R&B, pop, rock, jazz, big band and Top 40 songs with a twist. MO5AIC was the winner of MTV's"Top Pop Group" competition in 2008 and semi-finalists of NBC's "America's Got Talent" in 2009 and has since opened for Prince, Stevie Wonder, Taboo of the Black Eyed Peas and Jay Leno. General admission tickets are $39.
INTERESTING NEWS
Hotel owner Steve Wynn has acquired his second Jeff Koons' sculpture... a life-size Popeye. He paid $28.2 million for the cartoon character that will go on display in the lobby of his Wynn Hotel. In 2012, he bought Koons' Tulips sculpture for $33.6 million and put it on display.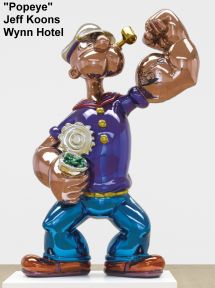 Due to increased demand, Australia's "Thunder From Down Under" at the Excalibur has added a 7 p.m. performance on Saturday nights effective until Aug. 31 bringing the weekly number of performances to 13.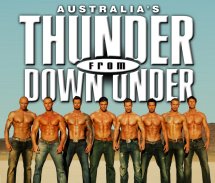 Zowie Bowie celebrated eight years in Las Vegas last week with a special performance at Rocks Lounge inside Red Rock Resort. Zowie Bowie features lead singer Chris Phillips, violinist Lydia Ansel, vocalists Nieve Malandra and Christina Amato and a high-voltage band.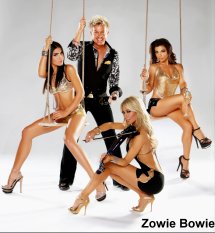 The farm-friendly eatery and bar, WILD located downtown on the first floor of downtown high-rise residential building, The Ogden, features local indie acoustic performer, ManArchy, every Friday night, 9 p.m. to midnight.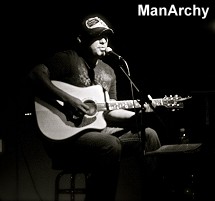 Elixir in Green Valley and Distill in Summerlin are inviting all people with the variation of "ham" or "burger" such as Hamilton or Berger in their legal name to feast on a free gourmet burger to celebrate National Burger Day on Wednesday, May 28 from 11 a.m.-6 p.m.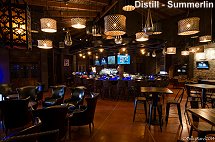 World champion boxer Floyd Mayweather hosted his daughter Iyanna's 14th birthday party recently at Sugar Factory in Town Square with 30 guests and topped the occasion off with the famous King Kong Sundae.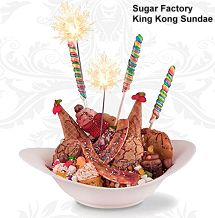 Guns N' Roses band members are stopping by Nellis Air Force Base on May 27 to thank local service men and women. The legendary band is currently headlining its second residency, "An Evening of Destruction. No Trickery!," at The Joint at Hard Rock through June 7.
The Charity Foundation for Prostate Cancer Invitational Poker Tournament is set for Sunday, June 1 at Sapphire Las Vegas and will be followed by the Golf Tournament on Monday, June 2 at Bali Hai Golf Club. The poker tourney will have Mike "The Mouth" Matusow hosting. His successes include being a four-time in The World Series of Poker bracelet winner, and the winner of the 2005 World Series of Poker Tournament of Champions
The largest annual education event in fire, life and electrical safety, the National Fire Protection Association Conference & Expo, returns to Las Vegas June 9-12 at Mandalay Bay. One notable presentation will be Life Safety for the Vegas High Roller Observation Wheel.
Bobby Flay's Mesa Grill at Caesars Palace took home the Gold Plate donor award for selling the most covers for the fifth time in a row during Three Square's Restaurant Weeks. Over the course of five years, Mesa Grill has raised more than $52,000 through the Restaurant Week program, contributing more than 10,000 meals.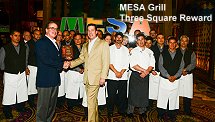 THE D HAS WORLD'S FIRST CASINO PROPERTY BITCOIN ATM
After becoming the world's first casino property to accept Bitcoin, the D downtown is doubling down on the virtual currency with fellow Vegas-based company Robocoin by installing the first Bitcoin ATM at a casino property. Robocoin, which debuted the first Bitcoin ATM in October, allows the buying and selling of Bitcoin from freestanding kiosks that integrate user-friendly software, bank grade hardware and security, and 100 percent Federal compliance capabilities. The ATM allows customers to deposit cash into their Bitcoin wallets as well as exchange Bitcoin for dollars. The D accepts Bitcoin as payment at the hotel's front desk, restaurants, in the D's gift shop but not for gaming.
RX BOILER ROOM CELEBRATES NEGRONI WEEK JUNE 2-8
Rx Boiler Room in the Shoppes at Mandalay Place invites cocktail connoisseurs and culinary aficionados to enjoy the restaurant's creative, barrel aged "Gibroni Negroni" created by Lead Barman Eric Smith during Negroni Week, June 2-8. Rx Boiler Room will join bars and restaurants nationwide mixing up their favorite Negroni variations and donating a portion of proceeds from each one sold to a charity of their choice. This year will benefit Scleroderma Research Foundation.
'SENIOR IDOL SHOWCASE' SET FOR JUNE 12
Tickets are now on sale for the city of Las Vegas' "Senior Idol Showcase" Thursday, June 12, at Charleston Heights Arts Center, 800 S. Brush St. Talented individuals and groups age 50 and older will take the stage starting at 3 p.m. to perform a variety of acts, including singing, dancing, playing musical instruments and comedy. Tickets are $5. Last year, 24 acts took the stage for a sold-out show; call 702-229-6454.
SPECIAL SCREENING FOR FIRST FRIDAY FILM WINNERS ON MAY 28
First Friday Las Vegas held the short (three-five minute) film competition during the March 2014 "Cinema Paradiso" monthly event. There were 20 entries and three winners whose films will air on Las Vegas' KCLV-TV throughout June. Plus, there is a special reception and screening in their honor on Wednesday, May 28 in conjunction with the new Wednesdays Downtown event. Open to the public, arrivals begin at 7 p.m. at the Wayfarer Bar followed by screenings of the three winning short films at 7:45 p.m. at the Inspire Theater. There is no cost to attend the event.
MORE UPCOMING EVENTS
The Backstreet Boys will host their official post-concert parties at Chateau Nightclub & Rooftop located at Paris following their May 30 and 31 sold-out concerts. Admission is $30.
Jimmie Vaughan and the Tilt-A-Whirl Band will present a free dt3 Street Concert at 7 p.m. on Friday, June 6 downtown.
The National Atomic Testing Museum is holding Family Fun Day from 10 a.m.-3 p.m. on Saturday, June 7 focusing on the 1950s-'60s Civil Defense & Emergency Safety. Activities will incudes a Create-Your-Own Fallout Shelter crafter station, Geiger Counter activity, Duck & Cover Game, etc. Fee is $20 for families of four and $5 each additional person up to 10.
MCCARRAN AIRPORT UNVEILS REFRESHED TSA SECURITY VIDEOS
The Las Vegas Convention and Visitors Authority, McCarran International Airport and the Transportation Security Administration (TSA) have released eight new pre-checkpoint security videos featuring well-known Las Vegas entertainers, including Carrot Top, Blue Man Group, Terry Fator, Louie Anderson, etc. that can be seen by travelers visiting McCarran International Airport. In October 2004, Las Vegas became the first destination to create tailored, fun and informative pre-checkpoint videos. The videos were created through the Traveler Information Pre-Screening Series program (TIPS). Since the creation of the original videos more than 10 years ago, many TSA practices have been adjusted, which sparked creating new updated messages.
Column Continues Below Advertisement
CONTINUE ON TO...:
THIS WEEK'S >LAUGHLIN NEWS
LAST WEEK'S >LAS VEGAS NEWS
>VEGAS VIEW FULL NEWS ARCHIVES
Return to >"Heard Around Town"
Return to >Las Vegas Leisure Guide