HUMAN NATURE WILL HEADLINE NEW IMPERIAL PALACE MOTOWN SHOW

Motown legend Smokey Robinson is presenting Australia's hit recording artists Human Nature and their show "The Ultimate Celebration of Motown." The show will open at the Imperial Palace on May 23 and be the first new production in the showroom in 26 years since earlier this year "Legends in Concert" moved next door to headline at Harrah's.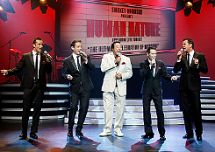 While unknown to America, Human Nature, made up of brothers, Andrew and Michael Tierney, and high school friends, Toby Allen and Phil Burton, has toured with top names in the music business including Celine Dion and Michael Jackson. They have 23 platinum records and five No. 1 albums.
Human Nature's clean cut young men have been together for 20 years and met Robinson in Los Angeles a couple years ago when they recorded "Get Ready" with the legend.
The Imperial Palace's 653-seat showroom was remodeled during the few months that it was closed. The room boasts a new sound system, while the stage has a new set and lighting designs. Human Nature has signed a one-year contract.

Column Continues Below Advertisement


HOLLY MADISON JOINS "PEEPSHOW" AT PLANET HOLLYWOOD
"Peepshow," the new striptease spectacular at Planet Hollywood, has announced blonde bombshell Holly Madison will join the cast on June 22 and be replacing "General Hospital's" Kelly Monaco, a "Dancing with the Stars" champion.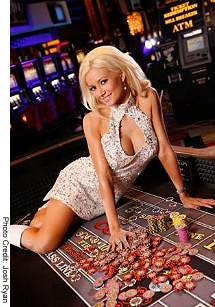 With a plan to feature rotating headliners, Madison, who appeared on this season's "Dancing with the Stars," will be strapping on her dancing stilettos and taking over the role of "Bo Peep," a modern woman who has yet to find her own confidence and sexuality.
Model Madison is best known for appearing as one of Hugh Hefner's girlfriends on the reality TV series "The Girls Next Door" and modeling for "Playboy."
'XTREME MAGIC STARRING DIRK ARTHUR' MOVES TO EVENING TIMESLOT
The Tropicana's afternoon show in the Tiffany Theater, "Xtreme Magic Starring Dirk Arthur" has moved into a new evening 7 p.m. timeslot while keeping a 4:10 p.m. show. In addition, Arthur has added five enormous illusions, new music, updated choreography, costumes, set pieces and more.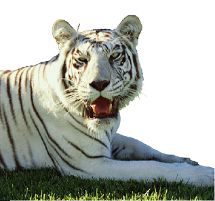 "Xtreme Magic" remains the only show on the Las Vegas Strip to feature a variety of exotic cats including white striped tigers, black African leopards, a pure white snow tiger and an actual liger. The show features a minimum of nine animals per performance. Tickets start at $25 for afternoon shows and $35 for evening performances, Wednesday - Sunday, call 702-739-2411.
THE SMITH CENTER FOR THE PERFORMING ARTS BREAKS GROUND
The Smith Center for the Performing Arts will celebrate its groundbreaking with a ceremonial carillon bell casting and ringing on Tuesday, May 26. A 4.75-acre complex will house the Nevada Ballet Theatre and the Las Vegas Philharmonic. The Smith Center will become a cultural hub when it opens in the Union Park 61-acre development in downtown Las Vegas in early 2012.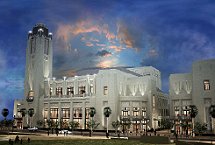 To celebrate the beginning of construction, The Smith Center is working with The Verdin Company and Mobile Bell Foundry to cast a commemorative bell on-site beginning May 24. The brass bell will be poured and polished at the construction site during a series of celebrations set for Memorial Day weekend. This will be Mobile Bell Foundry 100th bell creation and the first made in Nevada.
The public is invited to the Ingot Ceremony at 11:30 a.m. on May 24, the Bell Pouring at 6:30 that same day, and the Bell Breakout at 10 a.m. on May 25.
ROD STEWART WILL HEADLINE AT THE MGM GRAND GARDEN
Rod Stewart will perform on the MGM Grand Garden Arena stage on Saturday, Aug. 1 as part of a limited engagement North American tour. Fans will hear memorable hits from Stewart's four-decade career. Tickets are $50, $100 and $150; call Ticketmaster at 800-745-3000.
MANDALAY BAY FEATURES YANNI, KEITH URBAN AND GLEN CAMPBELL
Multi-platinum recording artist Yanni will visit the Mandalay Bay Events Center on Saturday, June 27. This will be his first United States tour in four years and his "Yanni Voices" will feature four special singers. Tickets are $45, $89.25 and $131.25; call Ticketmaster at 800-745-3000.
On July 18, "Escape Together" will star Keith Urban and Glen Campbell at the Mandalay Bay Events Center. Tickets are $20, $74.50 and $94.50.
COMEDIAN CHELSEA HANDLER SET TO PERFORM AT THE NEW JOINT
Taking a break from her E! Entertainment show, "Chelsea Lately," stand-up comic Chelsea Handler will bring her hot topic humor to The New Joint at the Hard Rock on Saturday, June 20. Tickets range from $45 to $89.50; call 800-745-3000.
In July 2007, Handler broke into the world of male-dominated late-night talk shows with "Chelsea Lately," which has been picked up through 2012. The daily program offers a tongue-in-cheek look at entertainment news, celebrity truths and rumors that just won't die, and other hot topics of the day.
CANNERY WILL PRESENT TWO ROCK 'N' ROLL LEGENDS
Chuck Negron, lead singer and founding member of Three Dog Night, and Bobby Kimball, former lead-singer of Toto, will bring their crowd-pleasing anthems to the Club at the Cannery on Saturday, June 6 at 8 p.m. Tickets start at $14.95, call 866-999-4899.
Three Dog Night is a band responsible for top 20 hits such as "One (Is the Loneliest Number)," "Old Fashioned Love Song." Negron's legendary vocals were showcased on the multi-million selling song, "Joy to the World," as he turned the simple lyric "Jeremiah was a Bullfrog" into one of the signature lines of pop music history.
Kimball's distinct vocals brought Toto into the mainstream rock spectrum with the release of their first single, "Hold the Line." In 1982, the group reached superstardom with the release of its fourth studio album, "Toto IV," which was awarded six Grammy Awards including "Record of the Year."
LARRY REEB HEADLINES AT THE RIVIERA COMEDY CLUB
Known as Uncle Lar, Larry Reeb, who plays the wisecracking black sheep, politically incorrect relative everyone knows, will take center sage at the Riviera Comedy Club, June 1-7. Reeb conveys his concepts with rapid-fire one-liners. He's made many television appearances and has worked with Jay Leno, Tim Allen, Kenny G., Elvis Costello, Joy Behar and Michael Bolton. Show times are 8:30 and 10:30 p.m. Tickets are $24.99, call 702-794-9433.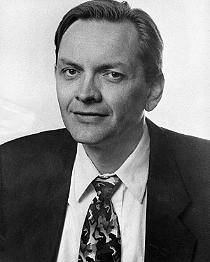 Reeb will be joined by Jim Colliton, who talks about life as a family man in the suburbs, and Vinnie Mark, who fuses comedy and magic.
BONKERZ COMEDY CLUB PRESENTS THE IRISH COUMEDY TOUR
Bonkerz Comedy Club at Palace Station has booked The Irish Comedy Tour, a trio of comedians for three nights, June 4 - 6. Tickets are $29.95, call 702-547-5300.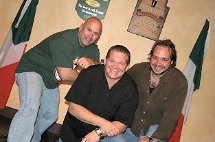 The show takes the party atmosphere of a Dublin pub and combines it with the clever wit of three comedians whose ancestors hail from the Emerald Isle. The trio is made up of Detroit native Derek Richards, Boston-born Mike McCarthy, and New Yorker Jim Paquette, who is also a dueling piano performer and opens the show by playing original songs on his guitar. Paquette has released two of his own comedy albums and the irreverent trio has just released a DVD titled "Dublin' Over."
QUICK CLIPS
Richard LeFevre of Henderson has qualified for the 93rd Annual Nathan's Famous International Hot Dog Easting Contest on July 4 in Coney Island, N.Y.
The Rampart Casino has unveiled a brand new high-tech electric vehicle technology in the valet parking area, making it the first-ever casino property to provide customers with a low-cost, alternative fueling source for electric vehicles. The Coulomb electric vehicle (EV) charging system, installed by EV-Charge America, offers electric vehicle drivers a place to plug-in. There's no service cost for casino guests.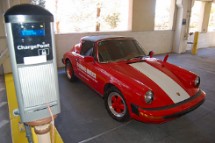 Master Illusionist David Copperfield recently took in the 9:30 performance of "Phantom - The Las Vegas Spectacular" and visited the cast backstage afterwards. He took photos with "Phantom" Anthony Crivello and "Christine Daae" Kristi Holden.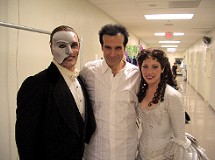 Performers from around the globe grace the Midway Stage at the Circus Circus' Big Top, the world's largest permanent circus. New artists include Maria, a solo contortionist; Nina & Nikolai, a close-up magic duo from Russia; and aerial ballet daredevil, Brazilian-native Danila.
Individual movie tickets as well as festival passes and packages for the 11th Annual CineVegas Film Festival, June 10-15, at the Brenden Theatres at the Palms are on sale now, visit www.cinevegas.com or call 888-8VEGAS8. All movie tickets are $10 per person, except for the June 10 opening night world premiere of "Saint John of Las Vegas," which costs $25 and includes entry into the after party at Privé. The special screening of "Attack of the 50 Foot Woman," at an outdoor drive-in theater downtown on Monday, June 15, are also $10 with entry into the after party at Sidebar included.
One of the largest amateur mixed martial arts events will take place on Saturday, May 30, with more than 100 fighters from 14 states registered to fight in the Tuff-N-Uff Open Invitational at the Orleans Arena. Tickets are priced from $25, call 702-284-7777.
Henderson's Green Valley High School Marching Band will be an attraction at the Macy's Thanksgiving Day Parade in 2010. The band's previous biggest performance was marching for President Barack Obama's inauguration last January.
HOTEL CALIFORNIA EAGLES SALUTE PLAYS THE SUNCOAST
"Hotel California, A Salute to the Eagles" will reproduce the Grammy Award-winning sounds of the legendary band at the Suncoast Showroom, June 12, 13 and 14. Tickets start from $19.95, call 702-636-7075.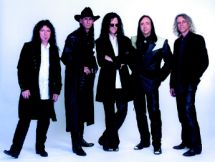 For more than two decades, "Hotel California, A Salute to the Eagles" has traveled the world replicating a showcase of Eagles' mega hits. Band members have shared billing or played with such artists as Peter Frampton, Smokey Robinson, Van Halen,
ANNUAL REGGAE IN THE DESERT CONCERT SET JUNE 13
The eighth annual outdoor Reggae in the Desert concert will return on Saturday, June 13 with a collection of well-known reggae acts including Ky-Mani Marley, Gregory Isaacs, Third World, Yellowman, and local acts One Pin Short and Jah Fusion. DJ Rhamma will spin tunes throughout the day and in between sets and Steve Edwards will host. The concert will be held downtown at the Clark County Government Center Amphitheater, 500 S. Grand Central Parkway. Doors open at 2 p.m. Tickets are $22 through Ticketmaster in advance and $25 the day of the show.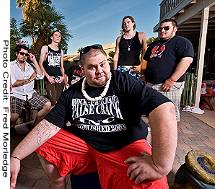 Ky-Mani Marley, the second youngest of Bob Marley's 11 children, carries on his father's tradition of timeless, message-filled music. The singer, songwriter and guitarist first appeared as a musician in 1996 at age 20 when he recorded "Like Father Like Son." In 2001, his album "Many More Roads" was nominated for a Grammy in the Best Reggae Album category.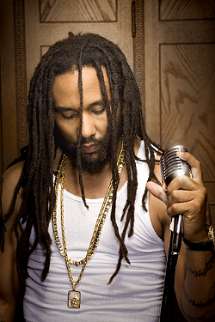 After owning his own label and shop in Jamaica and recording extensively in the '70s and '80s, Jamaica-born Gregory Isaacs released the studio album "Brand New Me" last year.
Third World was conceived in 1973 by teenage guitarist, cellist and singer Stephen "Cat" Coore, opened for the Jackson Five, and debuted on vinyl in 1976. For more than 30 years, the group has traveled the world and released 22 albums.
As an albino, Yellowman had a rocky start in life and the music industry. Yellowman was deserted by his parents, shunned at stage shows for his appearance, and told he only had three years to live. That was 1983. He has more than 45 recordings and has appeared on more than 88 compilation albums.
KWNR COUNTRY SUMMER BASH FEATURES COUNTRY HEADLINERS
The third annual KWNR (95.5 FM) Country Summer Bash at The Club inside the Cannery will feature country stars including Jimmy Wayne, Jessica Andrews and Julia Burton on Saturday, May 30 at 6 p.m. Tickets are $25 and there will be exhibitor booths and food, call 866-999-4899.
American singer-songwriter Wayne made his debut in 2003 with his self-titled album that had two top-ten hit singles. Wayne's second album "Do You Believe Me Now" released in 2008 gave him his first No. 1 hit single.
Andrews has been on the country music scene since age 15 after the release of her first album, "Heart Shaped World," in 1999. In 2001, Andrews released her second studio album with her first No. 1 hit "Who I Am," which earned her a Top New Female Vocalist award from the Academy of Country Music (ACM).
Up-and-coming country music starlet Burton started her career after moving to Nashville, Tenn., and performing at The World Famous Tootsie's Orchid Lounge. Shortly after Burton began touring with big names like Jo Dee Messina, Wynonna, Kool and the Gang, and The Commodores. Her debut album is slated for release in June with her first single, "What a Woman Wants."

CONTINUE ON TO...:


>THIS WEEK'S LAUGHLIN SEGMENT
>LAST WEEK'S LAS VEGAS SEGMENT
>VEGAS VIEW FULL ARCHIVES
>Return to "Heard Around Town"
>Return to Las Vegas Leisure Guide