THREE POPULAR SHOWS ARE GETTING NEW HOMES

"Menopause" that was a hit show at the Las Vegas Hilton for four years will open on May 26 at the Luxor in a new time slot with 5:30 p.m. shows daily. Paige O'Hara of "Beauty and the Beast" fame will be on board playing the Soap Star role she has been performing since the show opened.

"The Comedy Stop" that was at the Tropicana 19 years will soon announce a new location and so will "Society of Seven," which has headlined at numerous locations around town.

Column Continues Below Advertisement



'PEEPSHOW' AT PLANET HOLLYWOOD DELIVERS

The new "Peepshow" at Planet Hollywood is delivering Tony award-winning director/choreographer Jerry Mitchell's dream of a burlesque show with a "today flair" of a Donn Arden Spectacular. "Jubilee!" at Bally's is an Arden masterpiece.

"Peepshow" has beautiful women, energetic dancing, an incredible sexy cast, dynamic singers, music by a live band and six new songs, plus innovative and superb production value.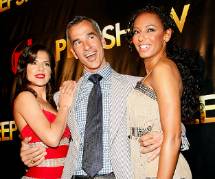 The loose fantasy theme has "Spice Girl" Mel B. originating the mistress of ceremonies role, the "Peep Diva." "General Hospital" star Kelly Monaco, who was the first season champion on "Dancing with the Stars" plays "Bo Peep," a timid girl who the Diva guides in her transformation into a confident, sensual woman while passing through numerous fairy tales such as the Big Bad Wolf, Peter Peter Pumpkin Eater, Little Boy Blue, Georgie Porgie, etc., but with erotic twists.
The whole show focuses on the art of tease with plenty of eye candy for both men and ladies and features a different take on many traditional routines like the bathtub and pole dance. While the costumes are primarily skimpy with all the ladies wearing glittery pasties, they are still top-notch.
The show is performed at 8 p.m. on Sunday, Monday, Tuesday and Friday and at 7 and 9:30 p.m. on Thursday and Saturday. Tickets range from $65 - $100 , with a VIP package available at $165. For tickets, call 702-785-5000 or 877-333-9474.
TRENT CARLINI OPENS 'ELVOLUTION™' AT STEVE WYRICK THEATRE
Trent Carlini has returned to the Strip with the launch of his "ELVOLUTION™" show at the Steve Wyrick Theatre in the Miracle Mile Shops at Planet Hollywood. The show is Carlini's take on the evolution of Elvis' musical life highlighting multiple years including the movie and Army years, the years of the '68 Comeback, and the Las Vegas years of the '70s. He performs more than 20 of Elvis' greatest hits in eight separate acts. Each break allows for a costume change that is made as a video of Trent is played.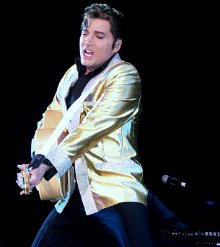 Carlini has performed in "Legends in Concert," headlined his own show, "Trent Carlini - The Dream King" at the oldl Boardwalk Casino, the Riviera, Sahara and Las Vegas Hilton. Carlini has performed more than 6,500 shows worldwide and appeared on such shows as "Entertainment Tonight," "The Tonight Show with Jay Leno," and "The Oprah Winfrey Show," in addition to his big win on ABC's "The Next Best Thing."
Show times are 9 p.m. Sunday through Thursday and 7 and 9 p.m. on Friday. Tickets are $70, $92 and $150, call 702-650-5081.
DEMI LOVATO AND DAVID ARCHULETA WILL STOP AT ORLEANS ARENA
Hollywood Records recording artist and Disney Channel star Demi Lovato has announced her first 43-city headline tour featuring special guest "American Idol" runner-up David Archuleta, with a an appearance on July 18 at the Orleans Arena. Tickets are $39.50 and $49.50, call 702-284-7777.
COMEDY IMPRESSIONIST RICH NATOLE OPENS SHOW AT HARMON THEATER
Comic impressionist Rich Natole will open his show "Voices of a Generation" on May 15 at 2 p.m. at the Harmon Theater. Dozens of celebrity voices will be showcased. The comic impressario will blaze through as many as 85 impressions from his 300-voice repertoire during a show that will change daily.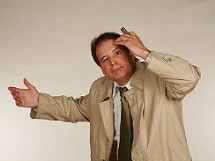 Natole comes to Las Vegas from Orlando, where he entertained corporate audiences for years before making his move last October. Tickets are $29.95 and $39.95 for the 70-minute daily show, call 702-836-0836.
MADAME TUSSAUDS UNVEILS HUGH JACKMAN 'WOLVERINE' CHARACTER
Popular antihero, "Wolverine," as portrayed by superstar Hugh Jackman in "X-Men Origins: Wolverine," was unveiled this week at Madame Tussauds, two days before the film opened across the world. It's the only Madame Tussauds-made "Wolverine" figure in the world and visitors have a "limited engagement" opportunity to see it in Las Vegas.
POKER TRADITION CONTINUES AT BINION'S DOWNTOWN
Binion's downtown will hold the 3rd Annual Binion's Poker Classic beginning on May 25 and culminating with a two-day No Limit Hold 'em main event on July 7 and 8. Over 45 straight days, Binion's will seat players for 45 different events.
The ever-popular No Limit Hold 'em is the most featured with 29 events scheduled including Ladies Only on June 4. New to the schedule this year are Crazy Pineapple and a second H.O.R.S.E event.
The Championship Event in July will have the highest buy-in of the Poker Classic at $1,000. Some events are as little as $100 buy-ins, while most fall within $150-$300 range with three $500 events. To participate in any of the events, players simply register the day of the event. Last year, 8,400 people played in the Poker Classic.
Binion's unparalleled legacy in the game of poker opened the brand new Hall of Fame Poker Room in October 2008. The new poker room features 10 tables and offers a max rake of $3 on all live games, $2 comps per hour of live poker play, tableside food service and features historic photos spaced around the room with eleven 42 and 50-inch plasma televisions.
PALMS PROMOTES 'BONES' ADAMS AND 'KID DIAMOND' FIGHT
Former world champion Clarence "Bones" Adams and title contender Almazbek "Kid Diamond" Raiymkulov will headline a "Sterling Night of Fights" presented by Sterling Promotions of Las Vegas on Friday, June 12, at 6:30 p.m. at The Pearl inside the Palms. The evening will feature a six-bout card with Anthony Napunyi fighting outside of Kenya for the first time. Tickets are $29, $54 and $79, call 800-745-3000.
HOME SHOW EXTRAVAGANZA HAS NEW LOCATION
The 9th annual Home Show Extravaganza will take place at the Las Vegas Convention Center, May 29-31, and feature more than 450 exhibitor booth spaces. Hours are Friday noon to 7 p.m., Saturday 10 a.m. to 7 p.m., and Sunday 10 a.m. to 6 p.m. Admission is $6 general, $5 for seniors 62+ and free for kids 18 and under.
Some highlights will include Richard Sterns' "Natural Touch Silks" as seen in many Strip resorts, The Home Depot's "How To Clinics," Interior Design Kitchens complete with appliances, working cook-tops and celebrity chefs, gourmet pottery created on the spot by feature artist Patrick Tutt from Contemporary Pottery, and a virtual information center.
QUICK CLIPS
The Disco Ball will be held at the Orleans Arena on Saturday, July 11 at 8 p.m. Paying homage to the anthems of the '70s, the audience will be able to "shake their grove thang" when the headliners, the Village People and Gloria "I Will Survive" Gaynor take center stage. Tavares will also perform, as well as The Trammps, which will add to the evening's disco inferno. General admission tickets are $45, call 702-284-7777.
The new ONE SIX Sky Lounge at the top of the Eastside Cannery on Boulder Highway has new summer hours. It is now open Thursdays from 5 to 10 p.m. The lounge with a Strip skyline view has floor-to-ceiling glass windows with a 1,700-square-foot, three-sided balcony. ONE SIX is also open on Fridays and Saturdays from 5 p.m. to 3 a.m. Happy hour is each night from 5 p.m. to 8 p.m. featuring half-priced martinis and a free sampling from the menu. For information, call 702-856-5457.
Downtown's Fremont East Entertainment District is now the newest Las Vegas Farmers Market location for buying fresh regionally grown food from more than 20 vendors every Friday, from 4 to 8 p.m. The event is located between Las Vegas Blvd. and Sixth Street and the El Cortez is among the sponsors.
TMG Films and ElevenSpa Vegas that opened last February at Town Square have announced plans to launch a brand new television show, "Meet at Eleven," to air locally on FOX. The 30-minute celebrity lifestyle talk show will feature high-profile celebrities and prominent socialites talking exclusively with the "Meet at Eleven" host as they experience luxurious treatments and decadent pampering at ElevenSpa Vegas. In addition, ElevenSpa Vegas plans to donate $1,000 to the featured guest's charity of choice in lieu of an appearance fee.
The Fifth Annual Las Vegas Rescue Mission Charity Golf Tournament will be held at 7 a.m. at the Siena Golf Club, 10575 Siena Monte Ave, on Friday, June 12. The $159.99 entry fee includes: morning coffee service, post tournament barbeque, a gift bag and various contests at different holes. To register, call 702-382-1766 or e-mail Christal@vegasrescue.org. Proceeds will help fund the new three-story shelter and dining renovation, which is already under construction. At present, 50 men can be housed and 25,000 to 30,000 people are fed each month.
Another fundraiser "An affair of the Heart... to Italy with Love" will be held on Sunday, May 17, in the Orleans Showroom from 1 to 4:30 p.m. This star-studded event, featuring many nationally and internationally known performers and Nelson Sardelli as master of ceremonies, will be held to raise funds for relief of victims of the recent tragic earthquake in central Italy. For information, visit (without spaces): www.lasvegasitalian earthquakerelieffund.com. Tickets are $35.
The MonteLago Village at Lake Las Vegas is holding its free weekly Saturday night jazz concert series from 7-10 p.m. this summer. This month's lineup is: May 9- Ronnie Foster; May 16- Rocky Gordon; May 23- Brothers Ali; and May 30 - Darrin Michaels.
At the Forum Shops at Caesars, the 7 for all Mankind has opened.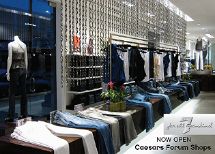 Rock band Everclear will perform at LAX Nightclub in the Luxor on Friday, May 15. For information and table reservations, call 702-262-4LAX.
'WORLD STARS OF MAGIC' SET TO PLAY AT THE SUNCOAST
Illusionists Mark Kalin and Jinger Leigh will appear with comedy magician Jeff Hobson for "World Stars of Magic" at the 500-seat Suncoast Showroom for three 7:30 p.m. performances May 29, 30 and 31. Tickets start from $19.95, call 702-636-7075.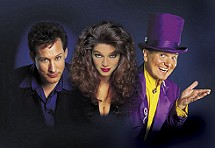 These magicians made a name for themselves in the '90s when they starred in "Spellbound" on the Strip. They later starred in "Carnival of Wonders" in various Reno showrooms. The entertainers will introduce a talking-head illusion for arriving audience members, who will encounter the living, breathing and talking head - with no body - as they find their seats.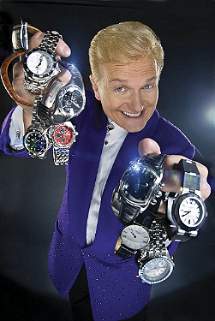 Kalin and Jinger's signature illusions are Fire Spiker, Circle of Fire, and Sawing-in-Half. Hobson is a perfect "chameleon-esque" master of ceremonies and entertainment.
KEN ROGERSON WILL HEADLINE RIVIERA COMEDY CLUB
Ken Rogerson will headline the Riviera Comedy Club with fellow funnymen Jim McCue and Matt Morales, May 18-24. Show times are 8:30 and 10:30 p.m. and tickets are $24.99, call 702-794-9433.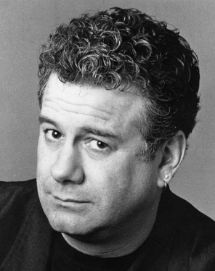 Rogerson started his career at Second City in Chicago and then toured with the improve troupe, The Comedy Rangers. He moved east and became a central part of the now famous exploding Boston comedy scene in the 1980s. McCue, who is noticeably six-foot-six, blends thought-provoking material and improv skills with a style that encourages audience participation. Most recently, McCue has entertained our troops in Iraq. Morales has narrative style and started his comedy career in 2002.
POOLSIDE CONCERT SERIES RETURNS TO VOODOO BEACH AT THE RIO
Voodoo Beach at the Rio will feature its summer concert series with free poolside shows at 9 p.m. taking place one Thursday each month from May through September. The Spin Doctors are scheduled on May 21. Alternative rock bands Cracker first and then Toad the Wet Sprocket are set for June 11 and July 30. Nine Days and Marcy Playground will take center stage on Aug. 27. The last performance on Sept. 24 will highlight The Presidents of the USA, which is an alternative rock band that received two Grammy nominations, and The Ataris, which is slated to release a new studio album this summer.
NEW WALL MURAL UNVEILED AT RAINBOW CLUB IN HENDERSON
The City of Henderson will reveal its fifth public art display, "Promise" by Henderson artist Ozzy Villate on Friday, May 8, at 7:30 p.m. at the Rainbow Club Casino. "Promise" is a colorful fresco that celebrates the history and future of Henderson standing 50 feet by 19 feet on the east wall of the Rainbow Club. The unveiling event from 6 to 9:30 p.m. will kick off the ArtFestTM of Henderson weekend. Admission is free.
A Mother's Day weekend tradition for 12 years, ArtFestTM of Henderson attracts more than 40,000 attendees. The two-day event will feature more than 100 select artisan booths, other family-friendly activities, food booths and live entertainment.

CONTINUE ON TO...:


>THIS WEEK'S LAUGHLIN SEGMENT
>LAST WEEK'S LAS VEGAS SEGMENT
>VEGAS VIEW FULL ARCHIVES
>Return to "Heard Around Town"
>Return to Las Vegas Leisure Guide