SAXE THEATER SET TO OPEN THIS JUNE AT MIRACLE MILE SHOPS
In June, the Saxe Theater will open in the space formerly known at the Steve Wyrick Theater at the Miracle Mile Shops at Planet Hollywood. Entertainment mogul David Saxe has acquired the $34 million, 435-seat theater and 22,000-square-foot entertainment facility that will be home to the first major talent-driven Las Vegas stage production in more than a decade.
Column Continues Below Advertisement
Saxe became the youngest producer in Las Vegas' history at 17 when he launched his sister's show "Melinda – First Lady of Magic." He opened the highly successful V Theater inside Miracle Mile Shops in 2004, which currently features nine shows, more than any other venue in Las Vegas. Among V Theater's unique entertainment options are "V The Ultimate Variety Show," "Gregory Popovich's Comedy Pet Theater" and the popular pole dancing class– "Stripper 101." Saxe is also the owner of the new Stripper Bar built right outside of the V Theater.
COSMOPOLITAN ANNOUNCES CHEFS AND RESTAURANTS
The Cosmopolitan of Las Vegas, a new hotel casino opening in late 2010, has announced a diverse list of culinary partners and restaurant brands. To date, the roster will include Blue Ribbon by restaurateurs Bruce and Eric Bromberg; Comme Ca by acclaimed Los Angeles chef David Myers; New York City's Estiatorio Milos by restaurateur Costas Spiliadis; Scarpetta and a new casual wine bar by award-winning chef Scott Conant; and popular steakhouse STK from The One Group.
HARD ROCK HOTEL AND DOLCE GROUP DEBUT JOHNNY SMALLS
Hard Rock Hotel & Casino and The Dolce Group have opened a new restaurant Johnny Smalls, which is the second collaboration following Rare 120. It's located near Vanity nightclub on the first floor of the new HRH Tower. Johnny Smalls is open for lunch and dinner on Saturday and Sunday starting at 11 a.m. and for dinner at 5 p.m. Wednesday-Friday.
Johnny Smalls offers small plates with a menu of more than 50 shareable dishes representing different origins and cultural boundaries. Prices range from $6-12. The restaurant's center bar serves as the social setting and features an eclectic selection of beers with more than 20 varieties on tap or by the bottle.
PBR ROCK BAR TO OPEN AT MIRACLE MILE SHOPS
Fine Entertainment will bring PBR Rock Bar to the Miracle Mile Shops at Planet Hollywood this summer. Located directly on Las Vegas Boulevard, the 13,000-square-foot PBR Rock Bar will be open daily for lunch, dinner and late-night and feature a ruggedly contemporary atmosphere with authentic Professional Bull Riders regalia, American comfort food and barbeque, an extensive beer and cocktail menu, and a retail store with signature merchandise.
LAS VEGAS TO HOST 2011 GLOBAL TRAVEL & TOURISM SUMMIT
The 11th Global Travel & Tourism Summit will be held May 15-19, 2011, at Aria in CityCenter. The travel and tourism industry generates US$30 billion for southern Nevada and employs 235,000 people, and for the United States, it is 9.9 percent of the total employment and a US$1,375.9 billion industry. The Global Travel & Tourism Summit allows tourism industry leaders to have direct, informal dialogue with public sector leaders plus the international media and academia.
TACOS & TEQUILA HOLDS 'MISS T&T HOT TAMALE' CONTEST
Tacos & Tequila (T&T) at the Luxor will be hosting the "Miss T&T Hot Tamale" pageant sponsored by Hennessy Black with contestants wearing T&T's signature apparel and having a question-and-answer round. Preliminary rounds will be held Tuesday, April 27 and Wednesday, April 28, culminating in a finals competition on Wednesday, May 5. Erik Estrada, joined by Angelica Bridges from "Fantasy" and other guest celebrities, will judge the finals competition. The winner will receive $5,000 in cash and a one-year contract as spokes-model for T&T and Hennessy Black. To enter, register online at www.tacosandtequilalv.com through April 25.
CALIFORNIA HOLDS ANNUAL LEI DAY POLYNESIAN FESTIVAL
The California Hotel and Casino downtown will hold its 13th Annual Lei Day Polynesian Festival in the parking venue adjacent to the resort and celebrate May Day on May 1 and 2. The free festival brings together musicians, dancers, artists, craftsmen and food and beverage vendors to showcase the very best of Hawaii and begins at 9 a.m. both days. Traditional Hawaiian dishes will be available for purchase. On Sunday, May 2, the free annual "Island Fever Block Party" will be held featuring local bands and non-stop entertainment.
A special concert on Saturday, May 1 at 7:15 p.m. will feature Hawaiian recording artists Darren Benitez and Eric Lee, along with singer, television personality and "American Idol" Season 2 Top 36 Finalist Jordan Segundo. Tickets are $15 in advance, call 702-388-2705 and $20 at the gate.
TREASURE ISLAND HOSTS 3RD ANNUAL 'A CHOREOGRAPHERs' SHOWCASE'
Nevada Ballet Theatre and Cirque du Soleil will hold their 3rd annual "A Choreographers' Showcase: A Project Designed to Stimulate and Encourage Artistic Growth" on Sundays, April 18 and 25 at 1 p.m. in the Mystère™ Theatre at Treasure Island. The production will include 11 originally choreographed works by artists from the various resident Cirque du Soleil shows as well as professional dancers from Nevada Ballet Theatre. Tickets are $20 and purchasing a $40 preferred seating ticket will afford one student to attend the school matinee on Friday, April 23, call 866-241-2833.
LAS VEGAS TENORS WITH NEW MEMBER RETURN TO THE SUNCOAST
The Las Vegas Tenors will bring their diverse repertoire of Broadway, R&B, opera and pop numbers to the Suncoast Showroom April 23, 24 and 25. Originally formed in 2005, the Las Vegas Tenors were Bill Fayne, Bobby Black and Teddy Davey, The current incarnation of the trio includes original members Black and Davey, along with new addition Chris Coyne. Tickets start from $19.95, call 702-636-7075.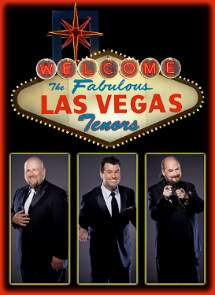 The trio has an impressive history. Bobby Black, an internationally acclaimed vocalist and self-taught trombone player, travels the world sharing his musical talents. Teddy Davey, who began singing solos at 4 years old, has received numerous awards working as a performer all over the world. Locally, he has been known as resident singer at Maggiano's Little Italy restaurant and lead player in the "Ba Da Bing" musical dinner party.
Newest Las Vegas Tenors member Chris Coyne has performed in a number of musicals including the World Tour of "Hair." In Las Vegas, Coyne appeared as a lead in Don Arden's "Jubilee!" at Bally's and as Host/ MC of "Les Folies Bergere" at Tropicana Las Vegas.
SERENDIPITY 3 CELEBRATES ONE-YEAR AT CAESARS PALACE
With more than 50 years of history at its flagship New York location, Serendipity 3 at Caesars Palace celebrates its one-year anniversary this month with Pastry Chef Randy Sebastian creating a custom dessert "Holly's Pink Peppermint Sundae" in Holly Madison's name for guests to enjoy throughout the month of April for $10.
In addition, the 100,000th Frrrozen Hot Chocolate will be sold by the end of the anniversary month. The guest that purchases the renowned dessert will receive a $1,000 Gold Opulence Sundae, donned the "most expensive dessert ever created" by Guinness World Record.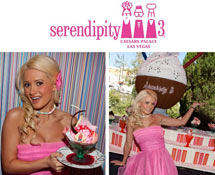 TOP OF NEXT COLUMN
QUICK CLIPS
The Siegel Group that owns the Gold Spike, the new Oasis at Gold Spike, the Artisan, and The Resort on Mount Charleston doesn't believe bigger is better and instead is reviving smaller properties into boutique hotels. Currently, the former St. Tropez on Harmon across from the Hard Rock Hotel is under remodel and will open in June as the 150-suite hotel Rumor with an ultra-lounge-inspired lobby.
Comedy-magician Mac King presents more than 50 amazing tricks and feats of illusion in his new book, "Mac King's Campfire Magic." King is set to do a free special magic show and book signing at Borders in Town Square on Sunday, April 25 at 2 p.m. King's book, suitable for ages 9-12, will be on sale for $12.95. For every book purchase, King will also offer a free pair of tickets to his afternoon "Mac King Comedy Magic Show" at Harrah's.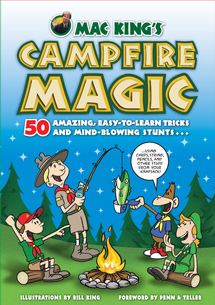 Men of "X," the sexy male revue at Hooters Casino Hotel celebrated its one-year anniversary by moving from the Night Owl Showroom into Dixie's Dam Bar. Men of "X" perform Wednesdays through Sundays at 8 p.m. Tickets are $34.99 and $44.99, call 866-LVHOOTS (584-6687).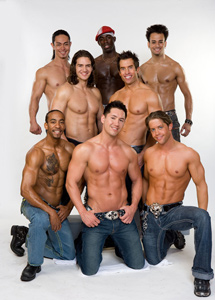 Eva Longoria Parker's Beso Steakhouse at Crystals at CityCenter features patio dining nightly from 5:30 p.m. until midnight. The 1,500-square-foot patio overlooks the bustling ARIA Porte Cochere at CityCenter.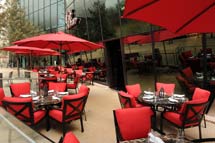 Pink Jeep Tours has introduced a new Las Vegas city tour that begins at the city's birthplace - the Springs Preserve. A professional tour guide informs visitors about the destination's history from the first settlers to today's popular landmarks.
Ferraro's Italian Restaurant and Wine Bar located across from the Hard Rock Hotel is offering "Food and Music" every Wednesday from 9 p.m. to 2 a.m. and a new outdoor dining lounge. "Food and Music" is featuring a local DJ and guests receive 50 percent off all food with a reservation at 702-364-5300 or www.ferraroslasvegas.com.
The Village at Lake Las Vegas has kicked off its 2010 Friday Night Live on the Lake free concert series. Concerts are from 7 to 10 p.m. Remaining acts this month are rock band The Wedge Brothers on April 23 and State of the Art, a mix of musicians and entertainers that showcase popular music from the past 40 years, on April 30.
"Black, White and Red: An Evening of Dance to Benefit Education" is being held at The Onyx Theater on Saturday, May 1 at 2 and 7 p.m. A handful of local choreographers/dancers will create and execute the program. Tickets are $15.
The public is invited to bring a lunch and celebrate Jazz Appreciation Month with a free lunchtime outdoor concert by the Rocky Gordon Jazz Quartet on Wednesday, April 28, from 11:30 a.m. to 1:30 p.m. in Centennial Plaza at 401 S. Fourth Street. Gordon is the son of renowned jazz tenor saxophonist Irv Gordon who accompanied famous singers such as Billie Holiday, Frank Sinatra and Tony Bennett.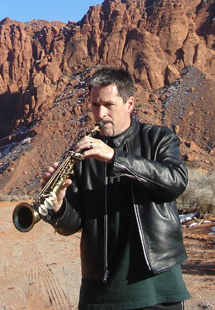 To commemorate National Volunteer Week, April 18 – 24, the Justin Timberlake Shriners Hospitals for Children Open is seeking volunteers for its 2010 golf tournament, Oct. 18-24, at TPC Summerlin. The cost to volunteer is $40 and includes a tournament jacket, golf shirt and hat, week-long badge, a ticket to the volunteer party and meals during the volunteer shift. Volunteers must be 18 or older and may register online or contact Donna Millwood at 702-589-4945.
This is an interesting promotion. You can test drive a 2010 Lexus at Lexus of Las Vegas, 6600 West Sahara Avenue, and receive a $50 gift card to Panevino Ristorante on Sunset Road, one block east of Las Vegas Boulevard.
BELLAGIO SETS RECORD FOR MOST MASTER SOMMELIERS
Bellagio recently announced the appointment of Darius Allyn, a distinguished member of the Court of Master Sommeliers, to the position of Sommelier for Osterio de Circo and Sensi. Allyn becomes the fourth member on the team of Master Sommeliers, joining Joseph Phillips of Michael Mina, Robert Smith of Picasso, and Director of Wine Jason Smith. This honor establishes Bellagio as the only hotel in the world with four Master Sommeliers at a single property.
CABO WABO CELEBRATES A ROCK 'n' ROLL CINCO DE MAYO
The Mexican Cantina Cabo Wabo at Planet Hollywood will celebrate Cinco de Mayo Sammy Hagar-style on May 5, with Cabo Wabo Tequila specials, prizes, and plenty of partying and rock 'n' roll music. Plus, one lucky partier will win a one-of-a-kind autographed Sammy Hagar guitar. Raffle tickets will be given to any customer purchasing a Cabo Wabo Tequila cocktail between Friday, April 30 and Wednesday, May 5.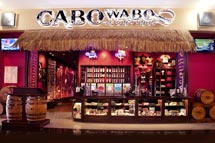 DOS CAMINOS LAS VEGAS CELEBRATES CINCO DE MAYO
On May 5, Dos Caminos inside The Palazzo will celebrate Cinco de Mayo with Efren Ramirez from the movie "Napoleon Dynamite" serving as master of ceremonies, overseeing the night's festivities of entertainment, food and drink. Mariachis will start at noon, and in the early evening magicians, models and luchadores will entertain while guests take in the sounds of DJ Lezlee accompanied by live musicians. DJ's Chonz and Cyber Kid take over the tables at 10:30 p.m. to usher the party into the next day.
Column Continues Below Advertisement

CONTINUE ON TO...:
>THIS WEEK'S LAUGHLIN NEWS
>LAST WEEK'S LAS VEGAS NEWS
>VEGAS VIEWS FULL NEWS ARCHIVES
>Return to "Heard Around Town"
>Return to Las Vegas Leisure Guide