LANCE BURTON BEGINS FINAL FIVE MONTHS AT MONTE CARLO
Master Magician Lance Burton will end his historic run at the Monte Carlo on Sept. 4, 2010. The final performance follows 14 years of headlining at the resort's Lance Burton Theatre. Voted the Las Vegas Review-Journal's "Best Magician" for a dozen years running, Burton has been with the Monte Carlo since its opening day on June 21, 1996. Burton performs at 7 p.m. Tuesday through Saturday.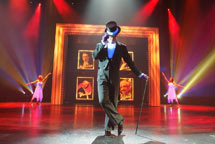 THE JOINT AT HARD ROCK CELEBRATES ONE YEAR ANNIVERSARY
On Saturday, April 17, The Joint at Hard Rock will celebrate its one year anniversary. To commemorate the milestone, The Joint will welcome rock group Them Crooked Vultures for an 8 p.m. performance. Comprised of Dave Grohl (Nirvana / Foo Fighters), Joshua Homme (Queens of the Stone Age) and John Paul Jones (Led Zeppelin), Them Crooked Vultures will hit the stage to perform songs from their self-titled debut album.
Column Continues Below Advertisement
The Joint made headlines by signing multi-Grammy winner Carlos Santana as Vegas' first rock 'n' roll resident artist with "Supernatural Santana: A Trip Through the Hits." Since opening its doors, The Joint has received national recognition for providing an unparalleled venue and concert experience and was voted "Best New Major Concert Venue" at the 21st Annual Pollstar Concert Industry Awards in February 2010.
Some upcoming acts include: " Supernatural Santana: A Trip Through the Hits, April 21 - May 2; Keith Urban, April 23; Kenny Chesney, May 14-15, July 2-3; and Paramore May 16. For tickets, call 800.HRD.ROCK or 800.473.7625.
CIRCUS CIRCUS WILL OPEN ROCK & RITA's IN JUNE
In June, Circus Circus will open Rock & Rita's, a new bar, restaurant and entertainment spot. Flair bartending, live music and festive signature dishes will be the focus at the 14,000-square-foot rock-inspired venue that is being developed by partners David Z. Tuttleman and Mark Green, who specialize in flair bartending hot spots and hosting competitions around the world. Their first Las Vegas venture was Kahunaville at Treasure Island and this is their spot. Rock & Rita's will showcase flair competition winners at bartending stations equipped with stage controls for both impromptu and scheduled shows.
Master Chef Alfonso Contrisciani, a status shared with less than 100 other chefs in the country, will bring his intriguing food presentations to the menu, including appetizers served atop flowing fog and spectacular-sized portions of America's favorite party foods.
The All-American décor by award-winning designer Mark Tracy of Chemical Spaces will set the mood for drinking, dining and live-band karaoke. Recently named Best Designer at the 2008 HEIDI Awards, Tracy will integrate patriotic touches with technology to create an interactive atmosphere. From the monster truck-inspired bar and custom beer-pong tables to astounding visuals, every detail will ooze a party vibe.
Rock & Rita's will be open for breakfast, lunch, dinner and late-night dining serving reasonably priced entrees with sandwiches starting at $6 and up, dinner entrees starting at $12. For more information, visit www.RockandRitas.com.
FIRST TODD ENGLISH P.U.B. OPENS AT CRYSTALS AT CITYCENTER
Three-time James Beard Award-winning celebrity chef Todd English has opened his latest culinary eatery, Todd English P.U.B. inside Crystals at CityCenter. Todd English P.U.B. (an acronym for Public Urban Bar) is a modern interpretation of an authentic English pub. A prominent menu feature is The Carvery, a selection of rotisserie-cooked meats. At the head of the bar is a Raw Bar complete with oysters. The venue also features bar games including magnetic dartboards and beer pong tables.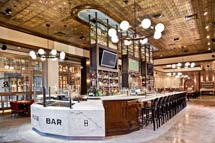 FREMONT STREET EXPERIENCE HOSTS ALL-STAR COUNTRY CONCERTS
The Academy of Country Music (ACM) is hosting two days of all-star concerts at the Fremont Street Experience during The Week Vegas Goes CountryTM. ACM will feature top newcomer category winners, Luke Bryan, Joey + Rory and Gloriana, and headliners Lady Antebellum and Miranda Lambert performing on two different stages. The weekend-long party leading up to the 45th Annual Academy of Country Music Awards will highlight Emily West, The Band Perry, Danny Gokey, David Nail and Lady Antebellum on April 16 and Joey + Rory, Gloriana, Randy Rogers Band, Luke Bryan and Miranda Lambert on April 17.
The 45th Academy of Country Music Awards will be broadcast live from the MGM Grand Garden Arena on Sunday, April 18, at 8 p.m. live ET/delayed PT on the CBS Television Network.
LUXOR's TITANIC EXHIBIT COMMEMORATES THE SHIP's 98TH ANNIVERSARY
The famous ship perished on April 15, 1912, and to honor the legacy, Titanic: The Artifact Exhibition at the Luxor will hold a series of events April 12-18.
From April 12-15, visitors can receive a more in-depth understanding of the ship's account and the passengers' stories with complimentary guided tours at 5 and 8 p.m. with paid admission. On April 13, Tacos & Tequila (T&T) is offering a complimentary drink or appetizer to exhibition guests who show their boarding pass. On April 15, T&T will host a survivor's party and feature specialty drinks and dining discounts to guests who show their boarding pass. On April 16, visitors who receive John Jacob Astor's and Madelyn Astor's boarding passes win a private tour, Titanic gift basket, complimentary dinner at T&T, free entrance and a drink at Minus5 Ice Lounge, and VIP card for Luxor nightlife. Ending the week on April 18, Fusia on the Atrium Level will hold an afternoon high tea from 11 a.m. to 2 p.m. The cost is $49, which includes entry to the exhibit.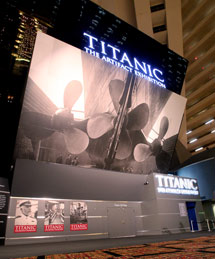 Tickets for Titanic: The Artifact Exhibition are $27 for adults, $20 for children, and $25 for seniors.
HENDERSON ARTFEST AGAIN FALLS OVER MOTHER's DAY WEEKEND
The 13th annual ArtFest of Henderson is set for May 8 and 9 from 10 a.m. – 5 p.m. at the Henderson Events Plaza, 200 S. Water Street. Admission is free. The event will feature more than 100 select artisan and crafter booths displaying and selling a variety of artwork including paintings, ceramics, jewelry and photography. There will also be live entertainment, food vendors and an interactive Kids' Gallery. Additionally, a new section, entitled Made in Nevada, has been added to support the local arts community. Suzanne Quincey is this year's featured artist. She will be presenting her original designs of hand-crafted wind chimes, sun catchers and sculptures. Her collection is created out of recycled glassware and pottery.
The Rotary Club of Green Valley will return for a second year with Piazza Colori, a version of an Italian street painting festival. Local artists will draw colorful and intricate masterpieces using chalk as their paintbrush and the Henderson Events Plaza as their canvas. Prizes will be awarded for best amateur, professional and people's choice categories and proceeds will benefit Henderson. For additional information, visit www.HendersonLive.com or call (702) 267-2171.
TOP OF NEXT COLUMN
ROCK GROUP DAUGHTRY TO PLAY ORLEANS ARENA
As part of its current US tour, popular rock group Daughtry is making a stop in Las Vegas to play the Orleans Arena on Thursday, April 29 at 7:30 p.m. Singer Chris Daughtry, bassist Josh Paul, drummer Joey Barnes, and guitarists Brian Craddock and Josh Steely will be joined by special guests Lifehouse and opening band Cavo. Tickets are $29.50 and $39.50, call 702-284-7777.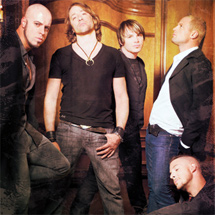 Daughtry launched its first-ever arena tour last fall, making stops all over the American heartland. The current tour coincides with Daughtry's latest single "Life After You."
FRANK CALIENDO RELEASES MAKES IMPRESSIONS FOR ITUNES
Comedian and impressionist Frank Caliendo, who is headlining at Monte Carlo, has made his most famous impersonations available at the touch of a button with the recent unveiling of the Frank Caliendo "Knuckleheads" bobblehead application now available on iTunes.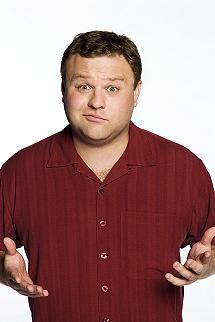 You can download the free version to get impressions of George Bush and John Madden or the full version for $2.99. Caliendo is known by millions for his dead-on celebrity impressions and myriad of television appearances and live stage performances. Caliendo is a regular on the pre-game show, "FOX NFL Sunday" with Terry Bradshaw and Howie Long, has starred in his own television show "Frank TV" on TBS, and spent five years on "MadTV."
Caliendo performs Sunday-Monday at 7:30 p.m. and Thursday-Saturday at 9:30 p.m. Ticket prices begin at $49, call 877-386-8224.
BULL RIDERS CONVERGE ON LAS VEGAS
The Professional Bull Riders (PBR) will bring their international event, the PBR World Cup, to Las Vegas April 16-18. Five countries - Australia, Brazil, Canada, Mexico and the United States - will converge at Thomas & Mack Center to find out which country will take home bragging rights as the best bull-riding nation in the world and a $200,000 grand prize. The 25 riders will compete in a total of six rounds, two rounds per night. For information, visit www.pbrnow.com.
COMEDY STOP AT SAHARA FEATURES MACIO
The Comedy Stop lineup at the Sahara for April 12-18 is Peaches Rodriquez as host, featured act Mike Burton and headliner Macio, who has had starring roles in the syndicated comedy series, the "Uptown Comedy Club," which he wrote and produced, hosting NBC's late night talk show "Later," and starring in his self-entitled television pilot, "The Macio Show," produced by Quincy Jones and David Salzman. Since 1994, Macio has written and starred in television ads for major corporations such as Burger King, Pepsi, Lincoln, and AT&T. He is responsible for the popular 1 800 CALL ATT ads starring DL Hughley, Marlon Wayans, and Charles Barkley.
FREE NHRA DRIVER AUTOGRAPH SESSION AT TOWN SQUARE
Town Square Las Vegas located at 6605 Las Vegas Boulevard South will host a free NHRA driver autograph session on Thursday, April, 15 from 7-8 p.m. NHRA Full Throttle Drag Racing Series stars scheduled to appear include: Jack Beckman, Morgan Lucas, Shawn Langdon, Brandon Bernstein, David Grubnic, Melanie Troxel, Bob Bode, Gary Densham, Jeff Arend, Larry Morgan, Greg Anderson, Jason Line, Allen Johnson, Johnny Gray and Shane Gray.
The festivities also will include live music, race car displays and activities for fans of all ages. The autograph session will kick off the annual NHRA SummitRacing.com Nationals at The Strip at the Las Vegas Motor Speedway, April 16-18.
BELLAGIO UNVEILS 2010 EPICUREAN EPICENTER SERIES
Bellagio, the recipient of nine consecutive AAA Five Diamond Awards for excellence, is presenting the palette-pleasing Epicurean Epicenter series that gives guests a firsthand look at how Bellagio's award-winning chefs and sommeliers create culinary magic.
The list of this year's future events are: April 22 - The Little Nell Dining Experience at Le Cirque; May 7 – Vegas Uncork'd events at Bellagio's Tuscany Kitchen; June 19 – Father's Day BBQ at Tuscany Kitchen; Sept. 25 – BOND Estate Winery at Tuscany Kitchen; and Dec. 29 - Dom Perignon Celebration at Tuscany Kitchen.
KRISTI HOLDEN FROM 'PHANTOM' SINGS A BENEFIT PERFORMANCE
Kristi Holden, who plays Christine in "Phantom: The Las Vegas Spectacular" at the Venetian, will be starring in "Singing Outside The Lines" on Saturday, May 2, at 2 p.m. at the Clark County Flamingo Library Theater at 1401 E Flamingo Road. "Singing Outside the Lines" will be an afternoon of Holden's legit soprano songs varying from opera to jazz to Broadway to pop. Holden will be joined by fellow cast members of "Phantom" and "Jersey Boys" as special guests for an afternoon of song and dance. This one day concert event will benefit Family Promise of Las Vegas, a local non-profit organization that assists homeless families. Admission is a $20 donation. For reservations, call 702-245-0992.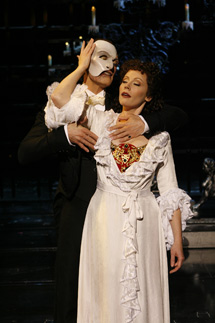 Column Continues Below Advertisement


CONTINUE ON TO...:
>THIS WEEK'S LAUGHLIN NEWS
>LAST WEEK'S LAS VEGAS NEWS
>VEGAS VIEWS FULL NEWS ARCHIVES
>Return to "Heard Around Town"
>Return to Las Vegas Leisure Guide