CAESARS PALACE AND NOBU HOSPITALITY PLAN BRANDED HOTEL
Caesars Palace and Nobu Hospitality have signed a non-binding letter of intent to develop the world's first Nobu Hotel, an innovative concept that will integrate an exclusive hotel tower with the first Nobu restaurant and lounge on the Las Vegas Strip.
Column Continues Below Advertisement
Under the plan, the interior of the Centurion Tower at Caesars Palace will undergo a multi-million dollar renovation to create the Nobu Hotel within the resort. The 180-room Nobu Hotel will feature 16 suites and a penthouse with a stylish interior design that showcases natural materials, fused with Nobu's signature Japanese elegance. Nobu Hotel guests will enjoy private check-in and the unique benefit of room service from Nobu's acclaimed culinary team.
The centerpiece of the renovation will be the Nobu Restaurant and Lounge. Classically trained in Tokyo, world renowned chef Nobu Matsuhisa has leveraged his life abroad in South America and around the world to create a culinary and hospitality brand with universal appeal. The restaurant and lounge will span 9,500 square feet at the base of the Nobu tower.
DECEMBER MARATHON WILL RUN AT NIGHT ON THE STRIP
The 2011 Zappos.com Rock 'n' Roll Las Vegas Marathon and 1/2 Marathon to Benefit the Crohn's & Colitis Foundation of America will be moved from morning to night on Sunday, Dec. 4. It will become the World's Largest Nighttime Running Event™ with more than 30,000 runners expected. Runners will span across all eight lanes of the Strip and begin at 4 p.m. The half-marathon will follow at dusk around 5:30 p.m.; visit Stripatnight.com.
DIG THIS WILL BE A CONSTRUCTION THEME PARK
Dig This will be a new five-acre construction equipment playground for regular folk. The site where the former Scandia Amusement Park was located at 3012 S. Rancho Drive will let patrons drive 15-ton heavy construction machinery: a midsized bulldozer or excavator.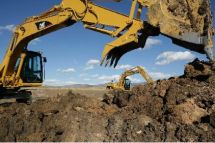 The pilot Dig This started in 2008 in Steamboat Springs, Colo., and operated for three years. The Las Vegas operation, which will have a Caterpillar merchandise component, will open on April 2 and offer three-hour packages costing $400. The park hours will be 8 a.m. to 5 p.m. daily.
GREG LONDON IS A GOOD FIT AT THE HILTON
Singing impressionist Greg London recently celebrated his move from the Riviera where his show made its debut last summer in Las Vegas to the Shimmer Theater at the Las Vegas Hilton with a media/VIP night. His show "Impressions That Rock!" is a much better fit in his new showroom that provides more intimate seating and better sound.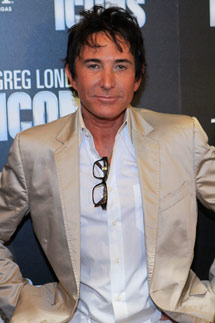 London jams his show with impressions from Tom Jones to Ozzy Osbourne and Kermit The Frog to ZZ Top and gives a few glimpses into the struggles in a performer's life. He does a segment where he's desperately auditioning for Capitol Records and getting turned down with each impression. Finding nowhere to turn, he resigns himself to his fate as a cruise ship entertainer.
London performs with a live band and three eye-appealing lady dancers who have lots of fun colorful costumes changes. There's one point where he sings in his own voice and he's very good. London is upbeat and his 8:30 p.m. show Saturday – Wednesday is energizing. Tickets range from $39.99 to $69.99.
BARRY MANILOW PERFORMS TWO BENEFIT SHOWS FOR NPR
Nevada Public Radio listeners and members have the rare chance to support public radio and experience Barry Manilow's production at Paris on March 25 and 26. A limited number of benefit tickets for the 7:30 p.m. performances are priced from $50 to $200 and must be purchased through NPR; visit www.knpr.org or call 702-258-9895.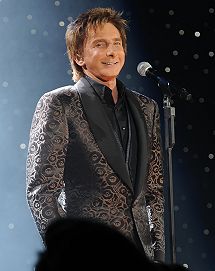 CANNERY HOLDS CLASSIC ROCKERS MOPARS EVENT
"Hit Men All Stars" is an outstanding, all-star lineup of former members of many of the greatest classic rock bands, including: Aerosmith, Boston, Dire Straits, Journey, Fleetwood Mac and Night Ranger.
Hit Men All Stars will perform at The Club inside the Cannery, the official MOPARS at the Strip party location, on April 9 at 7:30 p.m. The show is free with a MOPARS at the Strip wristband and some extra tickets will be available at the door for $20.
MOPARS at the Strip is a three-day event for classic car owners and fans and takes place at the Las Vegas Speedway. The Quarter Mile of MOPAR classic cars will be on Aerojet Parkway adjacent to the casino.
FIRST FIVE GUYS RESTAURANT OPENS IN THE VALLEY
Five Guys, a franchise-driven company, has opened its first Nevada store in a Henderson strip mall at Eastern Avenue and Siena Heights drive. Their burgers and fries business only relies on world-of-mouth and got a boost when President Barack Obama visited an outlet near the White House a couple years ago. The plan is to open 15 outlets in the Las Vegas Valley in the next four to seven years.
BRIO TUSCAN GRILLE OPENS SECOND LOCATION
With the success of the BRIO Tuscan Grille's first Las Vegas location in Town Square, a second location will open inside Tivoli Village at Queensridge at 420 S. Rampart on Thursday, April 28. The new 8,000-square-foot upscale restaurant will feature indoor seating for 240 guests and al fresco dining for 100 guests on its outdoor terraces with a full-service bar. For information, visit www.BrioItalian.com.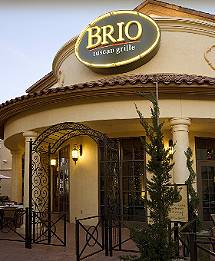 ST. PATRICK's DAY EVENTS
In honor of St. Patrick's Day, The Forum Shops at Caesars will turn the Triton fountain located outside on the Strip green. In addition, on March 17 the new P.J. Clarke's saloon and eatery located near the spiral escalator on Level One will feature the chance to win a 2011 Ural (Russian sidecar motorcycle), a bi-coastal celebration with a live broadcast feed from the iconic P.J. Clarke's in New York, a fife and drum marching band, corned beef and cabbage and Guinness. In celebration, P.J. Clarke's will make a $10,000 donation to the Andre Agassi Foundation for Education in Las Vegas and donate 20 percent of all T-Shirt sales from March 17 –20.
J.C. Wooloughan Irish Pub at JW Marriott will feature six days of celebrations from March 11 – 17 and highlight Irish Happy Hour, brunch, and entertainment by The Wild Celts and Martin Percival School of Irish Dance.
McFadden's Restaurant and Saloon at the Rio will celebrate St. Patrick's Day with five days of food, drinks and plenty of green. Visitors can enjoy traditional Irish breakfasts, live music and green beer beginning March 12 with "St. Practice" Day and continuing with daily themed activities through Saturday, March 19 with McFadden's annual St. Recovery Day.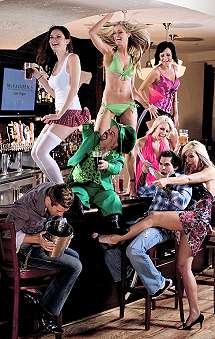 The Southern Nevada Sons of Erin selected the St. Baldrick's Foundation, a non-profit organization committed to raising money for childhood cancer research, as the honorary grand marshal for this year's St. Patrick's Day Parade, Saturday, March 19 at 10 a.m. in Henderson. In addition to this year's St. Patrick's Day festivities, which will be held March 17-20, St. Baldrick's will host one of its signature head-shaving events, Sunday, March 20 at 3:30 p.m. at the Henderson Events Plaza.
The 45th annual Southern Nevada Sons of Erin St. Patrick's Day Parade & Festival is a four-day celebration. In addition to the parade, the event includes a carnival, car show and two stages of entertainment with local favorites, Killian's Angels and Finnegan's Wake performing at the Henderson Events Plaza. Admission and parking is complimentary.
WET REPUBLIC OPENS AT MGM GRAND
Wet Republic at the MGM Grand opened its adults-only summertime playground on Friday, March 11. The fourth season's celeb lineup will feature A-list celebrity and DJ appearances including Sean "Diddy" Combs, Jay-Z, Rihanna, Eva Longoria, Avril Lavigne, Ashlee Simpson, Jessica Simpson, Kim Kardashian, Kendra Wilkinson-Baskett, and many more.
Also at Web Republic on Friday, April 29, the annual SpyOnVegas.com Hot 100 contest will return with a total of $100,000 in cash prizes awarded to the most beautiful ladies. The top 100 women will be selected by a panel of local socialites over the course of several weeks, until the search is over and a winner is crowned at the end of the series.
TOP OF NEXT COLUMN
VEGAS UNCORK'D BY 'BON APPÉTIT' RETURNS MAY 5-8
The fifth annual four-day Vegas Uncork'd by "Bon Appétit" will be held May 5-8. The Mother's Day weekend roster of events will include returning favorites such as Masters' Series Dinners by Bradley Ogden and Guy Savoy and the Garden of the Gods Grand Tasting at Caesars Palace; Better by the Bay featuring Chefs Alain Ducasse, Charlie Palmer and Rick Moonen at Mandalay Bay Beach; Wine Immersion at Bellagio; and the Celebrity Chef Blackjack Tournament at Wynn | Encore.
DOWNTOWN CLIPS
The Verdict's Inn is a new restaurant downtown at 801 Las Vegas Blvd. South that is open for breakfast and lunch Monday through Saturday. The café's name and décor reflect its location in the heart of the legal district with large black and white photos of famous courtroom movie scenes on the walls. The menu plays with the legal theme by identifying items as "guilty" or "not guilty."
Another new spot downtown in the 18b Arts District is the Bar+Bistro at 107 E. Charleston Blvd. The Bar hosts events nearly every night of the week, including half-off drinks from 5-7 p.m. on Thursdays, Camp 107 cult classic cinema on Fridays and Painters and Poets live mic and improv jazz on Saturdays.
At Binion's, a Tasti D-Lite offering frozen desserts will open in April and have a patio on Fremont Street.
The Emergency Arts is located at 520 Fremont St. in the Fremont East Entertainment District. The facility houses 39 creative spaces including the Burlesque Hall of Fame and The Beat Coffeehouse and Records. The center's name was inspired by the former occupant, a medical clinic.
Downtown's first urban market, Resnicks Grocery Store, is located on the ground-floor level of Soho Lofts at 900 Las Vegas Blvd.
Trivia tidbit - The El Cortez is playing up the fact that notorious gangster "Bugsy" Siegel was one of the owners of the property before he opened the Flamingo on the Strip.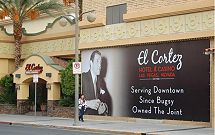 QUICK CLIPS
The Sahara will close its doors on May 16. The owner Sam Nazarian, CEO of SBE Entertainment Group, said, "The continued operation of the aging Sahara was no longer economically viable."
Wynn Resorts has a $99 million room remodel under way. The complete remodel expected to be finished in the second quarter or this year is being done on 2,700 rooms and suites even before the resort's sixth anniversary. The work is being done with a silencing buffer of eight floors between the work and guests.
Brazilian steakhouse Fogo de Chao plans to open later this year in
the former Cozymel's Mexican restaurant space in the Hughes Center business park. Fogo de Chao, named one of America's top restaurants by the Zagat Survey, will have 17 U.S. locations and six in Brazil.
Did you know that more than 250 blood donors are needed every day to meet the need of hospital patients throughout Southern Nevada? CSI: The Experience located at MGM Grand along Studio Walk will hold a blood drive on March 26 and April 9 from 10 a.m. – 3 p.m. Donors will receive one free CSI exhibit admission. United Blood Services is the only blood collection organization in Las Vegas and serves more than 21 hospitals.
"Disney's THE LION KING" at Mandalay Bay is offering a special deal to see a weekend 4 p.m. matinee show and have breakfast or lunch before at the Bayside Buffet for $75, call 702-632-7580 and mention "BUFFET."
Regis Philbin will be headlining at the Star of the Desert Arena at Buffalo Bill's in Primm, Nev., on Saturday, March 19. Tickets are $40.45 and $52.45.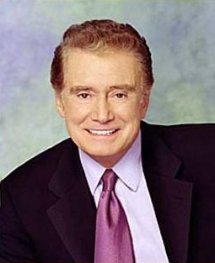 Executive Chef Geno Bernardo will celebrate his birthday by hosting a special cooking class, Geno's Favorite Dishes, at Nove Italiano inside the Palms at noon on Saturday, April 9. For $75, the class includes the meal paired with wines and the recipes to take home, call 702-942-6800.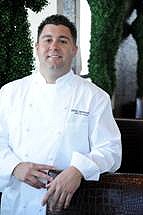 Cantor Gaming's fourth Las Vegas sports book is opening at The Cosmopolitan on the second floor adjacent to the Marquee nightclub. The company's other operations are at M Resort, Tropicana and Hard Rock Hotel and their investment in Las Vegas has been $125 million. The sports book will offer Cantor's In-Running wagering technology to place bets throughout live events and its mobile gaming system, eDeck.
An HBO documentary, "Runnin' Rebels of UNLV," debuted March 12 at the Brenden Theaters at the Palms and will run throughout the month. The film revisits the period from 1973 to 1992 and is about the UNLV Runnin' Rebels men's basketball team and their controversial coach, Jerry Tarkanian on the eve of college basketball's March Madness. The screenings coincide with the 2011 NCAA tournament.
Family patriarch and fourth generation, Carlos Fuente Jr., will return to Las Vegas to spend March Madness with cigar lovers at Casa Fuente inside The Forum Shops at Caesars Palace on Saturday, March 19 from 3 – 6 p.m. Fuente will be on hand to meet and greet guests as well as sign autographs.
The 2011 Billboard Music Awards will air on ABC live from MGM Grand on Sunday, May 22. Top artists will be recognized in a variety of genres including R&B, Rap, Pop, Country, Rock, Latin and Alternative.
A third Las Vegas Sugar Factory has opened at Paris. The other two sweet-lovers' outlets are at The Mirage and Miracle Miles Shops at Planet Hollywood.
The retro-swing band the Royal Crown Revue that debuted in 1991 will perform at midnight in The Lounge at the Palms during the Viva Las Vegas rockabilly convention, April 21-23 and be open to the public. Cost will be $19.
Nove Italiano inside the Palms will hold a five-course wine dinner by Executive Chef Geno Bernardo and feature selections from Twomey Cellars and Silver Oak Cellars and presentation by David Duncan, president and CEO on Thursday, March 24 at 7 p.m. The dinner is $175, call 702-942-6800.
Caesars Palace headliner Matt Goss has signed to do a documentary film of his life. The former British boy band star is still a big deal in the UK.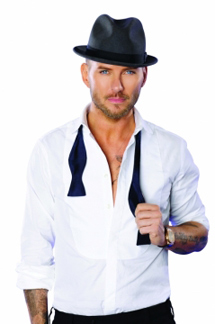 Now B.B. Kings Blues Club in The Mirage can be added to the list of bankrupt Las Vegas restaurants and nightclubs. It has filed Chapter 11.
The Charlie Palmer boutique 426-room, nongaming hotel designed by the celebrity chef at downtown's Symphony Park is on hold until the economy recovers.
The Henderson Space and Science Center has opened the "It's a Gas!" exhibit at the Galleria at Sunset. The interactive display with live demonstrations underscores the importance of 11 atmospheric gases from the periodic table. The exhibit will run daily though May 15. Tickets are $6 for adults, $4 for children ages 5-17, seniors, and military.
"BODIES... The Exhibition" at the Luxor for Alcohol Awareness Month is hosting a lecture about the effects of alcohol on the body on Saturday, April 16, from 9:30 to 10 a.m. The talk and early entrance to the exhibit will cost $16. On April 17 from 11 a.m. to 4 p.m.in partnership with Medical Reserve Corps, free blood pressure screenings are being offered to anyone purchasing a ticket to the Exhibition Sunday, April 17, from 11 a.m. to 4 p.m. On April 27, ticket holders can get a free chair massage. For info, call 702-262-4503.
Rock The Block will present Ganja Daze 420 Celebration with Kottonmouth Kings, Everlast, Big B and Ekoh on Saturday, April 23 at 5 p.m. at the Las Vegas' Fremont East Entertainment District. Tickets are $25 in advance, $30 day of show visit ticketfly.com. After more than a decade and millions of albums sold, the Kottonmouth Kings have been reborn with the release of their 11th studio album, "Long Live The Kings," that added motor-mouth rapper the Dirtball.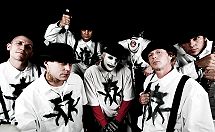 The Henderson Symphony Orchestra will feature winners of this year's 14th annual Young Artists Competition during the ensemble's Concert Series II performance on Sunday, March 27 at 2 p.m. at the Henderson Pavilion. Admission is complimentary.
The next Barrick Lecture will feature internationally acclaimed author, reporter, and columnist Thomas L. Friedman speaking about his book "Hot, Flat and Crowded: Why We Need a Green Revolution--and How It Can Renew America." The three-time Pulitzer Prize winner will appear on March 28 at Artemus Ham Concert Hall on the campus of UNLV. Tickets are free (limit 2), call 7-3-895.2787.
The 8th Annual Float Like A Duck™, a major public awareness campaign created by Paragon Pools with an emphasis on water safety, is scheduled for Saturday, May 21, from 1-4 p.m. with Duckie the mascot at the Heinrich YMCA Water Sports Park on Meadows Lane.
The M Resort will open its Villaggio de Sole main pool deck on Friday, April 1 and its DayDream adult-only pool on April 16. Both areas will offer a series of pool parties and signature events throughout the pool season.
The Rainbow Company Youth Theatre will perform Mary Zimmerman's "Metamorphoses," a contemporary re-telling of best-known Greek myths, April 1-10 at the Reed Whipple Cultural Center, located at 821 N. Las Vegas Blvd. Tickets are $7 for adults, $5 for teens and seniors, and $3 for children age 12 and under, call 702-229-6553.
Column Continues Below Advertisement
CONTINUE ON TO...:
>THIS WEEK'S LAUGHLIN NEWS
>LAST WEEK'S LAS VEGAS NEWS
>VEGAS VIEWS FULL NEWS ARCHIVES
>Return to "Heard Around Town"
>Return to Las Vegas Leisure Guide