RAVELLA OPENS AT LAKE LAS VEGAS
Dolce Hotels and Resorts' newest property Ravella, formerly the Ritz Carlton, has opened its doors at Lake Las Vegas. The Mediterranean-themed resort's name is based on the picturesque coastal town of Ravello in southern Italy and inspired by the word "revel," meaning "to take great pleasure or delight."
Column Continues Below Advertisement
Ravella is a sprawling 349-room-and-suite resort situated on the shores of the largest privately owned man-made lake in the country. Located 17 miles from the Strip, Ravella offers a beach, kayaking, boating, fly fishing, golf, hiking, jogging trails and a 30,000-square-foot spa, salon and fitness center. Highly geared for meetings, special events and weddings, the property offers 39,000 square feet of meeting and social event space; Vegas' only over-water chapel; and multiple lounge and dining experiences. The totally redesigned lobby serves as a social gathering spot with The Firenze Lobby Lounge spanning three distinct areas for guests to relax, dine, plug in and socialize over coffee or cocktails.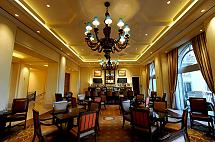 An immense perk is the fact that you can dine at any of the restaurants in the Village and actually charge it to your room. Ravella is all about convenience with many hidden areas for receptions, impromptu meetings and wedding celebrations including the La Capella de Amore wedding chapel.
CAESARS PALACE WELCOMES CELINE DION BACK
Superstar Celine Dion was welcomed back to Caesars Palace on Feb. 16 by 200 employees. She is making her triumphant return to begin rehearsal for her brand new show at The Colosseum. The new show will begin March 15 and kick off Celine's three-year engagement. It will feature 31 musicians, consisting of a full orchestra and band and include her biggest hits performed with a stunning visual presentation.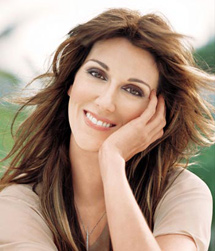 BLUE MAN GROUP PLANS MOVE TO MONTE CARLO
Blue Man Group started at the Luxor, they're at the Venetian now, and they will move their famous PVC tube instruments to the 1,200-seat Monte Carlo Theater in the fall of 2012. The mega-enhanced show will present an exciting iteration of the Blue Man experience and will feature new material. The new production will be fully loaded with creative and unique acts. Blue Man Group was founded in 1987 and over the past 11 years has built a very strong audience following in Las Vegas.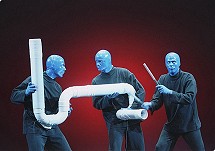 WILL SMITH FIGURE UNVEILED AT MADAME TUSSAUDS
Madame Tussauds kicked off Black History month on Feb. 16 with the unveiling of the newly created Will Smith superstar figure. Newsweek calls Smith, "the most powerful actor on the planet." Fourteen of his 19 feature films have each grossed more than $100 million. Through Feb. 25, African American wax figures are featured throughout the attraction, from Martin Luther King, Jr. and Whoopi Goldberg to President Barack Obama and the Oval Office Replica and Oprah Winfrey.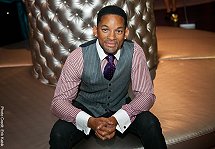 SHARAM BEGINS MONTHLY RESIDENCY AT LAX NIGHTCLUB
As his first nightclub residency in Las Vegas, the GRAMMY® award-winning producer, songwriter, recording artist and DJ SHARAM will debut his exclusive monthly residency, DESTINATION SHARAM at LAX Nightclub inside the Luxor on Wednesday, Feb. 23. Meanwhile, he is unveiling his new release single "FUN."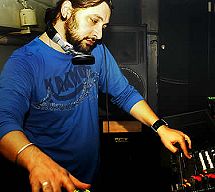 Sharam Tayebi was born in Tehran, Iran and has called our nation's capital his home since 1985. In the early Nineties, he met Ali "Dubfire" Shirazinia and formed the DJ duo Deep Dish. SHARAM became a solo artist in 2008.
'ONE TOO MANY AT MIDNIGHT' EXTENDS DATES AT PALMS
The Palms has announced additional performances of "One Too Many at Midnight" starring Joey McIntyre of New Kids on the Block and Emanuel Kiriakou on March 5 and 12 with an intimate meet 'n greet prior to the show in The Lounge. The camaraderie of the two artists allows a glimpse into an uninhibited jam session and the chance to see McIntyre before he embarks on the summer arena tour as super-group NKOTBSB featuring New Kids on the Block and Backstreet Boys. Tickets are $40 and $100.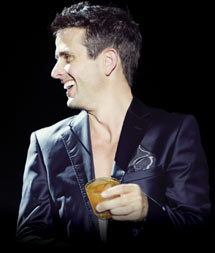 UNCLE KRACKER PERFORMS NASCAR WEEKEND
Multi-genre singer, songwriter and musician Uncle Kracker will perform during NASCAR Weekend on Saturday, March 5 at 8 p.m. at Sam's Town Live! inside Sam's Town, home of the Official Sam's Town 300 After Party. Tickets are priced from $20, call 702-365.-7075.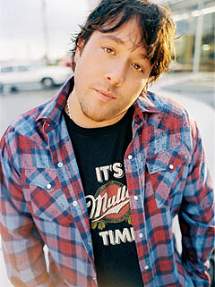 Uncle Kracker's 2009 release "Happy Hour" was the musician's first album in five years. In June 2010, he released a six song EP, "Happy Hour: The South River Road Sessions," including the Academy of Country Music Award nominated song "Good To Be Me," featuring Kid Rock. Uncle Kracker has been writing songs since age 11 and been friends with fellow musician Kid Rock since he was a teenager.
PLAYMATE CLAIRE SINCLAIR JOINS 'CRAZY HORSE PARIs'
Recently, Claire Sinclair, Miss October 2010 Playboy Playmate, debuted her moves alongside the renowned Crazy Horse Paris dancers at the MGM Grand and had special guests in the audience including Hugh Hefner and Holly Madison. Sinclair is the newest and youngest member of the cast. E!'s "Holly's World" showcases Sinclair's rehearsals with the classically-trained ballet dancers and features a behind-the-scenes look at the making of a Crazy Horse Paris dancer. The show will celebrate its tenth year in Las Vegas in June.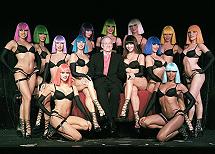 CLINT HOLMES RETURNS TO THE SUNCOAST
Clint Holmes will bring his powerful voice and captivating stage personality to the Suncoast Showroom March 19 and 20, at 7:30 p.m. Holmes is known for his six-year run headlining at Harrah's. Tickets start from $19.95, call 702-636-7075.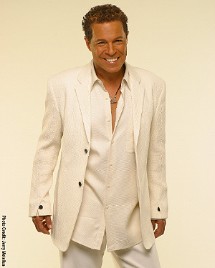 In a career that began with an invitation from Joan Rivers to be her sidekick and announcer on "The Late Show," Holmes even had the honor of being the featured performer at the Democratic National Convention on the evening of Bill Clinton's 1992 presidential nomination. He's also familiar as the voice of Lowenbrau Beer for four years. Among his many recordings is the Top 10 hit "Playground In My Mind (My Name Is Michael)."
TOP OF NEXT COLUMN
LITTLE AMERICA REUNITES AT CLUB FORTUNE
For the first time in 22 years, '80s rock band Little America will reunite at Club Fortune Casino in Henderson for a free special performance on Saturday, Feb. 26 at 7 p.m. The band was formed in 1985 and has performed with groups such as Aerosmith, Meatloaf and The Romantics. The band released a second and final album, "Fairgrounds," in 1989.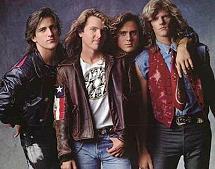 37TH UNLVino WINE FESTIVAL IS MARCH 31-APRIL 2
Southern Wine and Spirits will kick off the 37th Annual UNLVino® to benefit UNLV's hospitality student scholarship. UNLVino is comprised of three major events from March 31 to April 2 starting with Bubble-Licious at Crystals at CityCenter on March 31 from 7-10 p.m. Tickets are $75 in advance/ $100 at the door.
The second event is Catch the Fever! At the Pool at The Mirage and will be on Friday, April 1 from 7-10 p.m. This event highlights over 100 premium sakes. Tickets are $50/$75 at the door.
On Saturday, April 2 from 7-10 p.m. is The Grand Tasting at Paris Las Vegas. Tickets are $75/$100 at the door. For event tickets, visit UNLVtickets.com or call 702-739-3267.
At each event, UNLV students will present The Dom Pérignon Award of Excellence to an outstanding hospitality industry leader. This year, Chef and restaurateur Todd English, Felix Rappaport, president and COO of The Mirage, and former "Lifestyles of the Rich & Famous" host Robin Leach, will be honored.
STRATOSPHERE HOLDS EARNHARDT CELEBRITY POKER TOURNEY
On Wednesday, March 2, the Stratosphere will host the Dale Earnhardt Foundation Celebrity Poker Tournament in the Theater of the Stars Showroom at 4 p.m. Kerry Earnhardt, eldest son of Dale Earnhardt, will host the tournament. NASCAR® fans can support the foundation by playing in the poker tournament with some of their favorite drivers; a $150 entry fee into the tournament will be donated to the Dale Earnhardt Foundation. The Grand Prize winner will receive $2,500 in cash and Dale Earnhardt souvenir merchandise. Spectator tickets are a $20 donation to the foundation.
TANYALEE DAVIS OPENS ONE-WOMAN SHOW AT CLARION
Tanyalee Davis has opened her one-woman show at the Wolf Theater inside the Clarion on Wednesday, and Friday - Sunday at 8 p.m. As seen on "Last Comic Standing," pint size Davis standing 3'6" tall has been called "The Ferrari of comedy" – low to the ground and kind of racy. Tickets start from $47.97, call 702-990-1524
Davis has appeared in "Little People, Big World" and "Dave Attell's Insomniac Tour" and been part of "Abnormally Funny People," an ensemble show, performing throughout the United Kingdom. In 2007, she premiered her first one woman show called "Little Do They Know.
RUN AWAY WITH CIRQUE DU SOLEIL AT THE SPRINGS PRESERVE
You can join dozens of artists from Cirque du Soleil's Las Vegas shows and more than 1,000 community members for the 10th Anniversary of Run Away with Cirque du Soleil at the Springs Preserve, a ONE DROP World Water Day event on Saturday, March 19. Race day registration begins at 7 a.m. with the 5K Run ($35) and One Mile Fun Walk ($25) starting at 8:30 a.m. The day of the event is an additional $5. You can register at www.cirquedusoleil.com/5krun or call 702-352 0164. Participation fee includes one-day of access to the Springs Preserve museums and galleries redeemable through the end of April.
The first 1,200 participants to sign up receive an event t-shirt and free raffle ticket for a chance to win Cirque show tickets. There will be finisher prizes and a grand prize trip for four to Orlando to see "La Nouba" and Walt Disney World. Other prizes include Springs Preserve gift bags and there will be entertainment, a play area, plus food and beverages.
This event is the lead up to World Water Day on March 22 and is designed to complement the Springs Preserve programs. ONE DROP
is a non-governmental organization initiative of Guy Laliberté, Founder of Cirque du Soleil. ONE DROP operates in developed countries, where it strives to raise public awareness of water-related issues, and in developing nations, where it implements water-access projects.
CELEBRATE OSCAR NIGHT® AT THE PALMS
Variety, The Children's Charity of Southern Nevada, is sponsoring Oscar Night® America Las Vegas on Sunday, Feb. 27, at 3 p.m. at the Palms. The only official Oscar® viewing party in Vegas will feature red carpet celebrity arrivals; viewing of the live Oscars® telecast in the Brenden Theaters; an after-party at the Playboy Club; and a VIP reception at the 4,000-square-foot Brenden Celebrity Suite. Tickets vary and range from $50 to $500; visit www.ONALV.org or call 702-383-8466.
QUICK CLIPS
The hip-hop dance troupe Jabbawockeez at the Monte Carlo has had their show "MÜS.I.C." extend through November.

Magician David Copperfield, now 54, is booked for 40 weeks this year in the MGM's Hollywood Theatre. He'll be putting new illusions into the show throughout the year and will be doing promotional co-branding with the resort.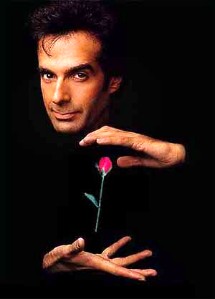 The eight teams competing in the Zappos.com West Coast Conference Championships at the Orleans Arena will play during the day, March 4-7. General seating tickets are $35, call 888-234-2334.
Eve Nightclub located above Beso Steakhouse inside Crystals at CityCenter is making it rain $5,000 in cash every Wednesday night.
Cabo Wabo Cantina located at the Miracle Mile Shops at Planet Hollywood will host the UFC Live: Sanchez vs. Kampmann viewing party Thursday, March 3. The awaited bout will feature American fighter Diego Sanchez take on Danish fighter Martin Kampmann. Admission is free and doors open at 6 p.m.
The Bellagio Gallery of Fine Art will presents a special discussion with "Figuratively Speaking: A Survey of the Human Form" featured artist, Nick Cave on Friday, Feb. 25 at 6:30 p.m. in the Gauguin 1 Ballroom at Bellagio. A fabric sculptor, dancer and performance artist, he is the creator of a series of full-body works titled "Soundsuits." Tickets are $10 and $15, call 702-693-7871. The "Figuratively Speaking" exhibit will run through March 27.
Hogs and Heifers downtown will kick off this year's BBQ season on Sunday, Feb. 27 from 2-6 p.m. The first "Blues, Brew, and BBQ" will feature the John Earl's Boggieman Band.
In conjunction with National Margarita Day, N9NE Steakhouse inside the Palms will reveal the newest addition to its cocktail menu, the Luxury Margarita, beginning Tuesday, Feb. 22. It's available for $39.
Henderson, in conjunction with the nation's largest touring children's theatre, Missoula Children's Theatre, will present "King Arthur's Quest," March 12, at 3 and 7 p.m. at the Henderson Convention Center, and March 19, at 11 a.m. and 2 p.m. at the Henderson Multigenerational Center. The musical set in medieval England puts an original twist on the historical legend of King Arthur and his knights. Tickets start at $5 at the door.
BELLAGIO HOSTS KEEP MEMORY ALIVE FUNDRAISER
The 15th Annual Keep Memory Alive charity gala to benefit Cleveland Clinic Lou Ruvo Center for Brain Health will be held Feb. 26 at Bellagio. The evening will feature entertainment, exclusive auction items, and a dinner prepared by master chefs José Andrés, Michael Mina, François Payard, Wolfgang Puck and David Robins. Celebrity guests will include "Desperate Housewives" actress Teri Hatcher, comedians Ray Romano and Brad Garrett, actors Danny DeVito and Steve Schirripa, celebrity columnist Robin Leach and others.
CSN HOLDS MUSICAL FUNDRAISER
The College of Southern Nevada (CSN) Performing Arts Center and the Ira Aldridge Theatre Company will present their 3rd "Hands Across the Arts" (HATA) benefit on Friday, Feb. 25, at the Nicholas J. Horn Theatre on CSN's Cheyenne Campus to celebrate Black History Month and raise funding for performing arts students.
The evening includes a 6 p.m. VIP reception and 7:30 p.m. show, "The Music of Duke Ellington Meets the Music of Count Basie." This musical tribute to the big band era spotlights the Jimmy Wilkins New Life Orchestra, singing and dance. Tickets are $25, call 651-LIVE (5483).
Additional performances are scheduled for Saturday, Feb. 26 at 7:30 p.m. and Sunday, Feb. 27 at 2 p.m. Tickets are $15 and $10.
Column Continues Below Advertisement
CONTINUE ON TO...:
>THIS WEEK'S LAUGHLIN NEWS
>LAST WEEK'S LAS VEGAS NEWS
>VEGAS VIEWS FULL NEWS ARCHIVES
>Return to "Heard Around Town"
>Return to Las Vegas Leisure Guide