HARLEY-DAVIDSON® BREAKS GROUND ON LAS VEGAS STRIP DEALERSHIP!

Las Vegas Harley-Davidson® broke ground on a full-line Harley-Davidson® dealership on the Las Vegas Strip just steps from the famous Welcome to Las Vegas sign. On five acres of land, the 50,000-square-foot space will be the brand's third location locally and will feature a dealership, motorcycle rentals and retail store.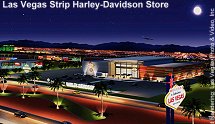 A custom Nevada Sesquicentennial-themed motorcycle celebrating the state's 150th anniversary was revealed as part of the event and Governor of Nevada Brian Sandoval signed it. One lucky rider will win it at the store's grand opening on Nevada Day in October 2014. Raffle tickets will be for sale shortly with monies collected benefitting Nevada 150 Foundation, Inc. Prior to the store's opening, the bike will make appearances throughout the year at events and activities honoring Nevada's Sesquicentennial celebration. Visit www.hdnv150.com or email nv150@lvhd.com to receive more information as soon as it is available.
Column Continues Below Advertisement
SHADES OF SINATRA PERFORMING SHOWCASE AT INSPIRE THEATER
"Shades of Sinatra" will be performing a showcase event at the new Inspire Theater at the intersection of Las Vegas Boulevard and Fremont on Jan. 28 at 8 p.m. Having done their Sinatra tribute featuring more than 30 of the legendary singer's biggest hits for more than nine years in town, the Shades let audiences experience the vibe of a classic Vegas show. Promotional tickets are $20 through www.tixdowntown.com.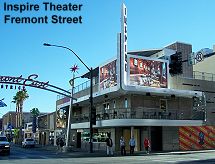 The auditorium-style 150-seat Inspire Theater operates in the former 7-Eleven store. It took more than $5.5 million to completely gut, rebuild and add a third level complete with rooftop bar and patio to the structure. The welcomed project includes the theater, a coffee shop and newsstand, four bars and myriad nooks and crannies. Closer to the street is the Wayfarer bar, a dark, mid-century style room with lots of leather and wood and sleek lighting.
GREAT WHITE AND SLAUGHTER VISIT EASTSIDE CANNERY
American hard rock band Great White and Slaughter will appear at the Events Center at Eastside Cannery on Saturday, Feb. 1 at 8:30 p.m. Tickets range from $14.95 to $26.95.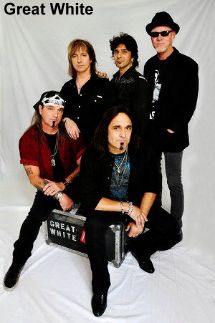 Five-member group Great White, which was formed in Los Angeles in 1977, is re-charged and re-focused with three of the group's veterans at the helm: founder Mark Kendall on guitar; 28-year-veteran Michael Lardie on guitar and keyboard; and an original Audie Desbrow on drums. While original member Jack Russell has another group out there, Lardie points out that he and Kendall have been Great White's primary writers and have played on every studio record, which is the "core and heart" of the band.
The band's 12th studio album "Elation" that came out in 2012 thrives on Great White's signature grit and blues-hued sound and was co-produced by Kendall and Lardie, who was struck by the band's teamwork in the studio. Everyone was completely present and contributed to the making of this album. "This is a new birth of the band," Desbrow said. "I wanted to call the album 'Tabula Rasa' which means rebirth, but we went for 'Elation' because of the euphoria in the atmosphere."
NEW SAMBALATTE COFFEE PLACE OPENED AND THIRD IS PLANNED
Founded in 2010 by Luiz Oliveira, Sambalatte is the local award-winning coffee-sanctuary that has gained recognition as one of the valley's premiere coffee restaurants. Last week the company opened its second Las Vegas location off Jones Road and the 215 freeway at 6555 S. Jones Blvd. A third Sambalatte restaurant is planned for Spring of 2014 within the new MGM Resorts International entertainment project, which is transforming the front facades of the Monte Carlo into an outdoor plaza experience featuring a series of casual bars, eateries and retail destinations.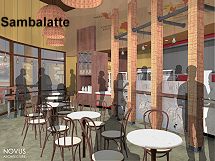 The new Sambalatte store features new menu items such as Italian and Spanish cold tapas, a drive-thru window, and a grab-and-go open food case. The location has a covered patio with a fire pit, fireplace, flat screen televisions and lounging for up to 60 guests, free Wi-Fi, available power sources and much more.
OSMOND HOME COLLECTION LAUNCHES IN LAS VEGAS
The family-friendly home décor Donny Osmond Home Collection by Donny and Debbie Osmond made its official debut this month at Americasmart Atlanta and they will be on hand for the launch and a meet-and-greet in Las Vegas on Jan. 28 at World Market Center Las Vegas. The collection blends transitional styling with eclectic accents in neutral tones popped with color. Offered in the moderate price-point range, the collection initially includes home décor, accent furniture, lighting, rugs, bedding, permanent botanicals, home fragrance, wall décor and home improvement products.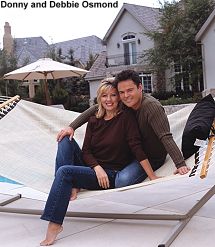 'PHANTOM' SONGBIRD KRISTEN HERTZENBERG SINGS AT SMITH CENTER
Classically trained singer Kristen Hertzenberg, best known for starring as Christine in Andrew Lloyd Weber's re-conceived production of "Phantom of the Opera" in Las Vegas, will have her own show in Cabaret Jazz at The Smith Center on Saturday, Feb. 1 at 7 p.m. Her new solo show is a glimpse into the influences outside of theatre and opera that have shaped her musical experience. Hertzenberg's versatile musical offerings include country, rock 'n' roll, folk, jazz, blues, and more. She has recorded her debut album "Holidays from the Heart" and boldly stepped into the role of gospel, folk, and pop singer. Tickets are $25.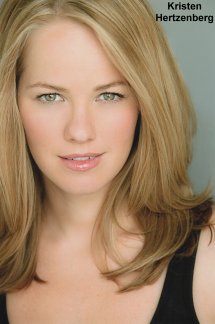 She'll share the stage with her seasoned six-piece band including on piano Martin Kaye, an award-winning British singer/songwriter and piano man who currently stars as Jerry Lee Lewis in "Million Dollar Quartet" at Harrah's and Benjamin D. Hale, currently portraying Johnny Cash in "Million Dollar Quartet" after a six-year run in "Phantom." He just completed his debut album with his Country/Blues/Rock band, The Crimson Balladeers.
GIMME SOME SUGAR BAKE SHOPPE OPENS IN HENDERSON
The custom patisserie Gimme Some Sugar Bake Shoppe has opened in Henderson at 19 S. Stephanie Street, Suite 150. From Jan. 28 to Feb. 2, Gimme Some Sugar, which Kristen LoVullo and Ashley Mastowski founded in Las Vegas in 2009, is donating 15 percent of all sales to the Three Square Food Bank. The owners have garnered national accolades for their custom designs for the likes of P. Diddy, Paris Hilton, Kim Kardashian and Kid Rock, among other celebrities. For information, call 702-882-2537.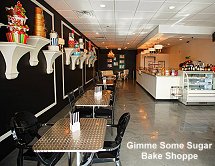 FORUM SHOPS AT CAESARS WILL HOLD A CHINESE NEW YEAR PARADE
Welcoming the "Year of the Horse" and Chinese New Year, 120 student singers and dancers from The Meadows School for the 18th year will perform the traditional dragon parade throughout The Forum Shops at Caesars with a performance stop in Fountain of the Gods on Friday, Jan. 31 beginning at 10 a.m. The school's founder who is Las Vegas Mayor Carolyn Goodman will be attending. The parade will begin at the mall's Strip entrance near Joe's Seafood, Prime Steak & Stone Crab and end at The Forum Shops lower valet area.
MOB MUSEUM PRESENTS 'AFRICAN-AMERICAN EXPERIENCE IN LAS VEGAS'
On Saturday, Feb. 1, The Mob Museum downtown will recognize the first day of African-American History Month with a special program at 1 p.m. titled "The African-American Experience in Las Vegas." A panel of four Las Vegas women including Sarann Knight Preddy, the first black woman to receive a Nevada gaming license and former owner of the Moulin Rouge, will share recollections and memories. This event is complimentary for Museum Members and included in the cost of admission for non-members. For tickets, call 702-229-2734.
TOP OF NEXT COLUMN
BONKERZ COMEDY CLUB BRINGS COMEDY NIGHT TO FOUNDATION ROOM
Bonkerz Comedy Club joined forces with House of Blues Foundation Room and presented a Comedy Night last week in the 63rd floor Shangri-La Room with a special performance by funny lady Kathleen Dunbar. Future Foundation Room Bonkerz Comedy performances will take place on Thursday, March 13 and Thursday April 10 with performers to be announced. All performances begin at 7 p.m. Tickets are $15, call 702-632-4803.
FORBES RATES VEGAS HOTELS-RESTAURANTS-SPAS FIVE-STAR
Forbes Travel Guide, formerly Mobil Travel Guide and originator of the prestigious Five-Star ratings and certifications, has provided the travel industry's most comprehensive ratings and reviews of hotels, restaurants and spas since 1958.
In Nevada specifically Las Vegas, Aria Sky Suites, Encore Tower Suites, Mandarin Oriental, Skylofts at MGM Grand and Wynn Tower Suites received the esteemed 2014 Forbes Travel Guide Five-Star Award, maintaining their status among the country's premier luxury hotel destinations. The 2014 Forbes Travel Guide Awards ceremony was held at Aria last week. Twelve Las Vegas resorts were recognized as Four-Star Hotels.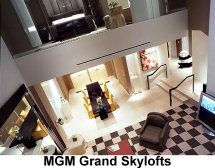 Forbes rated three restaurants as Five Star: Joël Robuchon at MGM Grand; Restaurant Guy Savoy at Caesars Palace; and Twist by Pierre Gagnaire at Mandarin Oriental. Eighteen restaurants were rated Four-Star and four garnered a recommendation.
Last but not least, four Spas were rated Five-Star and they are at Encore, Four Seasons, Mandarin Oriental and Wynn with six more receiving Four-Star status.
THE VEGAS ART SCENE
Acclaimed Los Angeles-based artist Jennifer Main is reuniting with her mentor Rod Maly at the new Art encounter™ gallery in The Forum Shops at Caesars. She will unveil a new collection of her distinctive artwork exclusively in Las Vegas, her hometown, at Art encounter beginning Feb. 7. Main got the keys to her own art studio before graduating from high school and has remained a successful full-time artist. Two of Main's pieces are in the permanent collection at The Smith Center for the Performing Arts with one of them being a large painted heart sculpture prominently displayed at the entrance.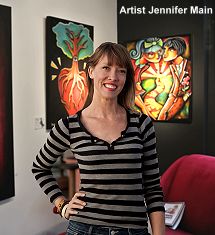 The public is invited to the dedication of the latest addition to the city of Las Vegas public art collection Thursday, Feb. 6 at noon, in the first-floor lobby of the Development Services Center, located at 333 N. Rancho Drive. The large $182,000 artwork composed of fabric, thread and steel, which measures 30 feet by 8.5 feet by 24 feet, is comprised of five colorful fiber sculptures by Las Vegas artist Cyd Bown. "Nephele," which means "cloudy" in Greek, is an Art in Public Places project of the Las Vegas Arts Commission.
GUITARIST JOE BONAMASSA UNVEILS MEMORABILIA AT HARD ROCK
American blues rock guitarist Joe Bonamassa unveiled his memorabilia case inside the Hard Rock Hotel & Casino. The display, located next to the Dragon Salon in the HRH Tower, includes a Versace suit, black leather shoes, sunglasses and a custom, limited-edition model of a Gibson Les Paul Gold Top guitar that was featured during his Royal Albert Hall sold-out show in London. During the legendary performance Eric Clapton hopped on stage for a special duet. The show was filmed and the DVD went platinum.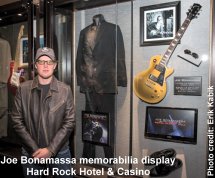 At the Hard Rock, Bonamassa was joined by his band members including drummer Anton Fig, also known as the drummer on "Late Show with David Letterman" and bassist Carmine Rojas. During his solo career, Bonamassa released 10 albums, four live CDs and three live DVDs, as well as two albums with rock band Black Country Communion.
"CHEFS TO THE MAX" DINNER AT RX BOILER ROOM WAS BIG SUCCESS
A group of the country's most acclaimed chefs collaborated on the first "Chefs to the Max" dinner this month at Chef Rick Moonen's Rx Boiler Room inside the Shoppes at Mandalay Place and raised $275,799. The seven-course dinner for 100 guests was the first of a series to directly benefit critically injured Las Vegas-based food journalist Max Jacobson who was struck by a car while in the crosswalk. Chefs in attendance included Megan Bringas, Kim Canteenwalla, Shirley Chung, John Church, Saipin Chutima, Barry Dakake, Susan Feniger, Bobby Flay, Hubert Keller, Thomas Keller, Rick Moonen, Grant MacPherson, Mary Sue Milliken, Bradley Ogden, Luciano Pellegrini, Vincent Pilon, Pino Posteraro, Vincent Pouessel, Joey Romano, Megan Romano, Angelo Sosa and David Walzog. For information, visit www.Facebook.com/ChefstotheMax.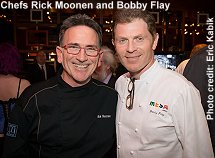 In addition, Rick Moonen challenged Bobby Flay to a "Kampachi Throwdown." Guests voted and Moonen won.
NEWSCLIPS
Last week, The D and Golden Gate downtown became the first casino properties to accept the digital currency Bitcoin. Hotel and restaurant purchases using the virtual currency will be processed through BitPay, a service that streamlines transactions using tablet and mobile interfaces.
"Divas" star Frank Marino had a surprise guest recently when Neil Patrick Harris turned up in the audience of his show at The Quad. The actor, who is preparing for his upcoming role in the Broadway production of "Hedwig and the Angry Inch," was at the show to do some drag research through Marino and his cast of fabulous female impersonators.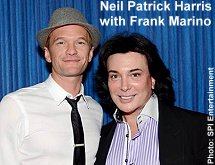 Tickets are now on sale for the eighth annual Vegas Uncork'd by Bon Appétit May 8-11.
On Feb. 9, the local Greenspun Media Group will launch a new, print product - The Sunday, a free weekly news publication serving the Las Vegas metropolitan area. In addition, the company's business publication, VEGAS Inc. will move inside The Sunday. Each week, 65,000 copies will be available for free at more than 1,500 locations across the valley.
"Rock Of Ages" at The Venetian is honoring the 48th Annual "Big Game" at the show by extending a $48 ticket offer for performances on Feb. 1 and 2. Guests must use SUPER48 when ordering. Tickets price is more than 50 percent off and available for rear and side orchestra seating only.
Rockhouse, located inside the Grand Canal Shoppes at The Venetian | The Palazzo, is introducing a new weekly lineup of events: Confession Sundays; Ladies Night Mondays; and Thirsty Thursdays that join the existing Tournament Tuesdays and Weiner Circle Wednesdays.
Smashburger is ranked number six on Forbes third annual America's Most Promising Companies list, which recognizes the nation's top 100 privately-held, high-growth companies. There are currently 255 Smashburger locations worldwide and eight are in Las Vegas. All Las Vegas locations offer craft beers from the locally-based Joseph James Brewing Company.
Nearly 70 ribbon-cutting ceremonies are taking place at the Winter Market, Jan. 26-30, signaling an expanding roster of exhibiting companies. The new showroom launches and expansions are taking place throughout the 5 million-square-foot World Market Center downtown.
The Nightclub & Bar Show will return to the Las Vegas Convention Center March 24-26.
Disney Theatrical Productions will hold an open call audition for 16 to 22-year-old male dancers for both the Broadway and upcoming North American touring productions of the Tony Award®-winning "Newsies," on Friday, Jan. 31 at 4 p.m. at Alexis Park.
MOTOR SPEEDWAY HOLDS ANNUAL OPEN NATIONAL ANTHEM AUDITION
For the sixth consecutive year, one local singer will have the opportunity to perform the national anthem before the start of the Boyd Gaming 300 at Las Vegas Motor Speedway on March 8. The first open Speedway Superstar audition with performers singing the national anthem a cappella will be conducted Saturday, Feb. 8 at The Orleans in Salons A-F at 10 a.m. The top 24 singers will advance to the next round on Saturday, Feb. 22. On that day, the local winner will be announced. For information, call 702-632-8252.
JOHN BARBOUR HOSTS FREE SCREENING AT UNLV OF JFK DOCUMENTARY
Dubbed the "godfather of reality television" for his work hosting and producing NBC's "Real People," John Barbour will present his award-winning documentary film "The JFK Assassination: The Jim Garrison Tapes" at UNLV's Greenspun Auditorium on Friday, Jan. 31 at 7 p.m. The film won the Documentary Award at the San Sebastián International Film Festival and received a Special Recognition Award by Werner Hertzog at the Vienna International Film Festival. The screening is free and open to the public.
Immediately following the screening, best-selling authors Dick Russell, Joan Mellen and Jim Marrs will present new findings about the assassination of JFK and answer any questions. The event will be broadcast live on the UNLV TV website at http://unlvtv.unlv.edu/live.
Column Continues Below Advertisement
CONTINUE ON TO...:
THIS WEEK'S >LAUGHLIN NEWS
LAST WEEK'S >LAS VEGAS NEWS
>VEGAS VIEW FULL NEWS ARCHIVES
Return to >"Heard Around Town"
Return to >Las Vegas Leisure Guide