Monty Python's Flying Circus first aired on BBC television in 1969. Now in 2007, the inspired lunacy of Monty Python will come to The Grail Theater at Wynn Las Vegas with the smash hit show "SPAMALOT," and it will star John O'Hurley, best known as J. Peterman on "Seinfeld." In addition, O'Hurley was the ultimate champion on season one of "Dancing with the Stars" and is the new face of "Family Feud." O'Hurley, who has worked on stage throughout his career, starred on Broadway in "Chicago" playing Billy Flynn.
"SPAMALOT" tells the legendary tale of King Arthur and the Knights of the Round Table, and their quest for the Holy Grail. The show features lusty maidens, dancing divas, a killer rabbit and the only leg-less knight appearing on the Las Vegas Strip.
Monty Python's "SPAMALOT" has been honored with dozens of awards, including the Grammy Award for Best Original Cast Recording and three Tony Awards, including Best Musical.

Column Continues Below Advertisement


Tickets for "SPAMALOT" are $99, $89, $69, $49. Tickets for preview performances from March 8 to 30 will be discounted 25 percent, call 888-320-7110 or 702-770-WYNN.
AOB Media Inc. is bringing together 14 of the hottest musicians from China and the United States for "FU·SION 2007," a two-night music spectacular on Tuesday, Feb. 13 and Wednesday, Feb. 14, at the Aladdin Theatre for the Performing Arts. Tickets are priced from $58 to $188; call Ticketmaster at 702-474-4000.
Coinciding with the celebration of Chinese New Year, legendary actor and singer Jackie Chan will perform exclusively at "FU·SION 2007" after flying directly from the set of "Rush Hour 3" to be a part of this one-of-a-kind concert experience. "FU·SION 2007" will be Chan's only Las Vegas performance in 2007.
Joining Chan on Feb. 13, a diverse group of Eastern artists will take the stage with performances by Taiwanese music sensation A-mei, rock groups Mayday and Shin Band, and rock artist Zhang Zhen Yue, known for his hip-hop collaboration with rapper MC HotDog. Adding to that lineup will be Supergirls™, top performers from China's hit version of "American Idol."
The next night, six-time Grammy Award-winning producer / rapper Kanye West will lead an all-star list of U. S. performers, including Gnarls Barkley, recent four-time nominee for the upcoming 49th Annual Grammy Awards, including Record of The Year for "Crazy." Other artists will include rapper Lupe Fiasco, hip-hop group Spank Rock, and up-and-coming mash-up DJ Girl Talk.
Pop newcomers Berko and Tigra will also perform during "FU·SION 2007." Both concerts will be televised on China's Hunan television network.
Comic magician Amazing Johnathan has announced that "The Amazing Johnathan Show" has extended its run at the Sahara for one more year. Showtimes are 10 p.m. nightly except Thursday in the Congo Room. Tickets are $44.95 and $54.95, call 702-737-2515.
Amazing Johnathan recently debuted his one-hour special "The Amazing Johnathan - Wrong on Every Level" on Comedy Central. The new material and special surprises he developed for the special have since been incorporated into his Las Vegas nightly act. The special will be released on DVD by early summer 2007.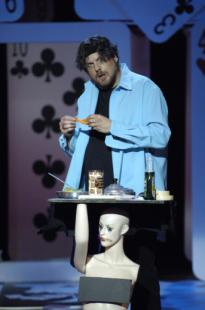 The Amazing Johnathan is an eccentric comic magician whose bizarre humor and unscripted antics have earned him widespread, international recognition as one of the most original and brave performers today. After touring across the globe for more than 25 years and gaining fans in the U.S., U.K., Europe, South America, Australia and more, Amazing Johnathan decided to let his fans come to him by settling on a permanent show room in Las Vegas.
The legendary rock band, Styx, will perform at the Luxor Theater Feb. 23 and 24 at 8 p.m. Tickets are $85, $70 and $45, call 702-262-4400 or 800-557-7428. Styx broke into the mainstream with their first hit "Lady," and went on to produce four consecutive triple platinum albums. Now, with more than 20 released albums, the band continues to perform everything from their classic hits to melodies from their latest release, "Big Bang Theory."
Comedian, singer and television star, Rodney Carrington, will perform at the Luxor on March 23 and 24 at 9 p.m. Tickets are $55.
For more than 15 years, Carrington has blazed comedy trails with his stand-up comedy tour across America, five chart-topping CDs selling more than 1.5 million copies, and a network sitcom. His most current CD on Capitol Records, entitled "Greatest Hits," recently earned Gold status from the Recording Industry Association of America.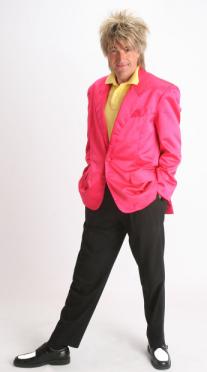 "Legends in Concert," the celebrity tribute show now in its 24th year at the Imperial Palace, has added two new acts, Rod Stewart and U2. John Anthony, who began his tribute in 1991, plays Rod Stewart. Billed as the "world's second best U2 show," 2U began performing its "Beatlemania-like production" of the Irish rock group nearly five years ago. The two acts replace Bobby Darin and the Temptations in the current lineup, which also includes Britney Spears, Marilyn Monroe, The Blues Brothers and Elvis Presley.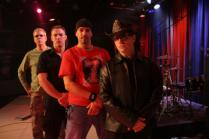 World-renowned photographer Peter Lik is presenting Lik Design, a new store located in Mandalay Place featuring Pacific Green furniture by Australian designer Bruce Dowse. Pacific Green crafts fine interior furniture, including chairs, tables and couches built of palm wood from old coconut palms earmarked for destruction.
Continuing its trend of recognizing the world's leading pop culture entertainers, Madame Tussauds Las Vegas has introduced a new interactive American Idol attraction that allows the public to perform in front of wax figures of Simon Cowell and Ryan Seacrest in its On Stage area.
The public's participation will be enhanced by Konami Digital Entertainment, Inc.'s new "Karaoke Revolution Presents: American Idol," an innovative karaoke video game that was launched nationally Jan. 2 for the PlayStation 2 computer entertainment system. Three judges in the video game, including Cowell and Randy Jackson, will judge players' performances with specific feedback.
"Karaoke Revolution Presents: American Idol" allows participants to sing and perform using a USB headset/microphone as they compete through a fully recreated virtual segment of America's No. 1 TV show.
Richard Minervini is the former owner of Long Island, New York's East Side comedy Club, where many of today's celebrities got their early starts. He is a seasoned entertainer and a proven headliner across the country. Minervini opens for seven nights at the Riviera Comedy Club, beginning Monday, Jan. 29. Ray Garvey and Steve Corvette, who is making his Riviera debut, will join him.
A married father of four, this explains Minervini's rapid-fire, squeaky-clean material for which he is so well known. He has performed with Jay Leno, Pat Cooper, Kevin James, Tony Bennett, Robert Klein, Tina Turner, Rosie O'Donnell, Jackie Mason, Eddie Murphy... and the list goes on. In addition, he has many writing credits including head writer for Kevin James as host of the 2001 and 2002 People's Choice Awards.
Garvey, a retired police officer, has many credits including appearances on "The Sopranos" and "NYPD Blue." He also has the distinction of appearing in every Woody Allen picture ever made.
De Beers diamond jewelry store will debut this month at The Forum Shops at Caesars. The Las Vegas store, at 1,186 square feet, will be the third store in North America following stores that opened in New York City and Beverly Hills. Since 1888, De Beers has been the world's leader in the discovery, evaluation and selection of diamonds. This expertise was the preserve of the professional trade until 1939 when De Beers introduced consumers to the concepts of the 4Cs (Carat, Color, Clarity and Cut). De Beers Diamond Jewellers is the only company allowed to market exceptional "De Beers" branded jewelry around the world.
Producer David Saxe is bringing a new show, "Mesmerized," to his V Theatre on Feb. 24 at the Desert Passage mall at the Aladdin / Planet Hollywood. The 10:30 p.m. show will star hypnotist Marc Savard.
Barry Manilow's groundbreaking double-DVD set, "First & Farewell," from Rhino and STILETTO New Media went platinum one month after its release in late October. Disc one of the two-DVD set features never-before-seen footage from Manilow's inaugural tour rehearsal at Carroll's Studio in New York City in 1974, which was the first time Manilow was ever recorded on videotape. The second DVD captures the final concert of the historic "One Night Live! One Last Time!" Farewell Tour in 2004 - recorded at The Pond in Anaheim, Calif. Manilow has been headlining at the Las Vegas Hilton since 2005 and will return on Feb. 13.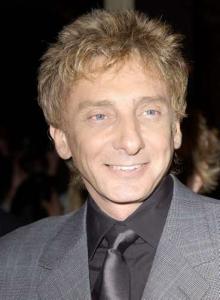 Las Vegan-celeb Robert Goulet will be featured in an ad pitching snack nuts during this year's Super Bowl telecast.
According to at least one survey of thousands of consumers, Las Vegas should continue its sizzling popularity in 2007. An annual "Brand Ranking" survey was released recently, tagging the city as the No. 2 brand - behind only Web goliath Google. The fourth annual survey rounded out the top 10 in the following order: the National Football League (No. 3), Sony (No. 4), Amazon.com (No. 5), eBay (No. 6), iPod (No. 7), DVR (No. 8), Yahoo (No. 9) and Target (No. 10).
The first-of-its-kind Nevada Passage reality television adventure competition and the Nevada Commission on Tourism (NCOT) are inviting the general athletic adventure-seeking public to audition as team participants in this year's week-long excursion, which will be the third year for the show.
"The Nevada Passage" will bring 20 hand-picked athletes to Nevada May 7-12, to compete in a series of adventure sports and visits to six outdoor destinations including Valley of Fire State Park near Las Vegas, Amargosa Dunes, Rhyolite, Tonopah and Goldfield, Carson City and Carson Valley and Mount Rose. The athletes will be paired by profession into 10 coed teams of two and their experiences will be filmed and edited into a one-hour television program to be syndicated in more than 80 U.S. markets between August 2007 and February 2008. This year, one team will be selected from the auditioning public. The competition will include a desert 10K run, ATV competition, back-roads cycling, back-country skiing.
To audition, download an application online and submit it with a short video stating why they should be selected as a competitor by March 15. Rules for "The Nevada Passage" can be found at www.nevadapassage.com.
Thanks to Las Vegas talent agency owner Jaki Baskow, this columnist had the honor of attending the annual Cannon Customer Appreciation Reception for the National Center for Missing and Exploited Children (NCMEC) held at the Bellagio's Grand Ballroom during the Consumer Electronics Show (CES). A silent auction raised lots of money for a great cause.
Josette's Bistro restaurant will hold its "First Golf Classique" on March 12, at the Las Vegas National Golf Club neat the Strip at 1911 East Desert Inn Rd, to benefit two charities, "The Shade Tree" and "Chef for Kids." The golf event is offering hole sponsorships for $1,250 that include four player positions, eight pre-tournament party tickets, exclusive golf prizes and gifts, sponsor recognition, hole signage and more. Single player positions are $250, call 702-466-2651.
Walk with the Heart of a Child is set for Saturday, Feb. 10, at the Fashion Show Mall.
The premier 3K walk event begins at 7:15 a.m. Registration fees are $20 for adults and $10 for students and seniors. For information or a registration form, call 702-967-3522.
"Strip Las Vegas" is a monthly publication that covers everything in Las Vegas from ultra lounges and gentlemen's clubs to shopping and showcasing adult pictorials of the women who make the city so sexy. The magazine will have sultry super vixen Jessica Drake, who was discovered during a Miss Nude Texas pageant, as the February 2007 cover girl. The magazine will also feature the newest Club Jenna Girl, Roxy Jezel and up-and coming starlet Michelle Maylene.
CONTINUE ON TO...:
>THIS WEEK'S LAUGHLIN SEGMENT
>LAST WEEK'S LAS VEGAS SEGMENT
>VEGAS VIEW FULL ARCHIVES
>Return to "Heard Around Town"
>Return to Las Vegas Leisure Guide