CHAYO MEXICAN KITCHEN + TEQUILA BAR IS OPEN AT THE LINQ!

Chayo Mexican Kitchen + Tequila Bar opened Jan. 1 as one of the first venues at Caesars Entertainment's development, The LINQ. This new concept in Mexican dining combines a DJ, mechanical bull, vast tequila and cocktail selection and a blend of authentic and innovative Mexican fare by Executive Chef Ernesto Zendejas.

With direct access from The Quad, Chayo is situated near the beginning of The LINQ corridor. The expansive ground-level patio is framed by trees and leads to the main dining room with floor-to-ceiling glass doors that open up to create an indoor-outdoor space. Once inside, a custom-made, highly-stylized mechanical bull nicknamed "Chayo" stands as Chayo's mascot and the centerpiece to the 12,000-square-foot room.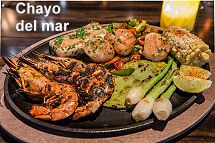 A granite-topped bar winds through half of the dining room. The overall design of Chayo blends the old with the new from exposed beams and distressed fixtures to contemporary lighting. Thick ropes strung tightly from floor to ceiling create abstract separations between booths, and ornate frames showcase classic Mexican photographs and artwork. The wall along the stairway leading upstairs is lined with green, white and red sombreros that reveal a Mexican flag, leading to a smaller, second level dining room with its own bar. A fire feature runs in a line through the entire length of the upper level patio.
A semi-private dining room is situated on the main floor and accommodates up to 40 for a seated meal while all of Chayo accommodates up to 320 guests.
Column Continues Below Advertisement
BORDER GRILL WILL MAKE FORUM SHOPS SECOND LAS VEGAS LOCATION
Border Grill is set to open a second Las Vegas location this summer and it will be inside The Forum Shops at Caesars, which will mark the company's seventh location in the United States.
Border Grill Chef/owners Mary Sue Milliken and Susan Feniger, of Bravo's "Top Chef Masters" and Food Network's "Too Hot Tamales," will again offer their critically acclaimed, modern Mexican cuisine including their famous, award-winning Border Brunch, with a variety of fresh innovations exclusive to Border Grill at The Forum Shops. The dining duo has authored five cookbooks, including "Cooking with Too Hot Tamales" and "Mesa Mexicana."
'RAIDING THE ROCK VAULT' SIGNS AGREEMENT TO CONTINUE AT LVH
"Raiding the Rock Vault" has signed a long-term agreement to continue through 2014 at the LVH. The show, which was born to take audiences down memory lane with an illuminating look at the history of classic rock, opened in March 2013 and will reopen on Jan. 24. Tickets range from $49 to $70.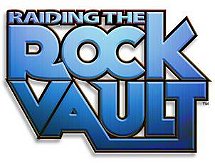 This amazing concert experience brings the history of rock 'n' roll to life with an all-star super group of musicians performing the legendary classic rock songs of the 60s, 70s and 80s that were anthems for a generation. Playing with stunning accuracy are: Rock and Roll Hall of Fame member guitarist Howard Leese (Heart); guitar player Doug Aldrich (Whitesnake); vocalists John Payne (Asia), Robin McAuley (MSG, Survivor), and Paul Shortino (Rough Cutt, Quiet Riot); guitar and vocals Andrew Freeman (Lynch Mob, The Offspring); drummer Jay Schellen (Badfinger, Asia); and keyboard whiz Michael T. Ross (Lita Ford Band). In addition, rotating special guests will continue to be a part of the show.
ROCKTELLZ & COCKTAILS PRESENTS THE JACKSONS
RockTellz & CockTails will present legendary musical group and Rock and Roll Hall of Fame inductees The Jacksons at Planet Hollywood as the critically-acclaimed series' next legacy artist. The Jacksons, including Jackie, Tito, Jermaine and Marlon, will perform 40 shows from Feb. 20 to April 27inside the PH Showroom. RockTellz & CockTails is comprised of a full-on concert, hit songs and intimate, personal stories of music's most celebrated and fascinating stars. The Jacksons redefined, reinvented and reinvigorated popular music with nine No. 1 hits and 14 top-10 hits, including "I'll Be There," which remains the group's most successful single to date. Tickets range from $54 to $129.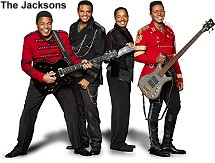 After raising more than $10,500 during RockTellz & CockTails' first series engagement, a portion of all tickets sold will once again benefit the GRAMMY Foundation's GRAMMY® Signature Schools Community Award program, which will directly benefit high school music programs in the Las Vegas community.
FLEMING'S OPENS NEW RESTAURANT IN TOWN SQUARE
Southern California-based Fleming's Prime Steakhouse & Wine Bar is opening a new restaurant in Town Square on Jan. 17 for lunch and dinner. The new restaurant showcases a large patio that wraps around one side of the building, an open-floor plan main dining room area and customizable private dining rooms.
The new restaurant will feature fresh and creative modern design elements including a new back bar design and soft lounge seating within the bar. The large wine room perpendicular to the back bar, which is a new feature, provides a dramatic backdrop while showcasing Fleming's rich wine offering. The exterior puts a Las Vegas spin on the Fleming's color palette and includes a neutral colored Venetian plaster in combination with a warm tan plaster color and copper awnings.
MULTI-PLATINUM ARTIST ZEDD JOINS WYNN LAS VEGAS VENUES
Multi-platinum artist Zedd has established an exclusive residency with Wynn Las Vegas daylife and nightlife venues Encore Beach Club, Surrender and XS in 2014. The GRAMMY nominated DJ/producer/songwriter will debut at XS on Friday, Jan. 31, launching a powerfully programmed weekend featuring Skrillex on Feb. 1, Lil Jon on Feb. 2 and R.L. Grime on Feb. 3 at the award-winning nightclub.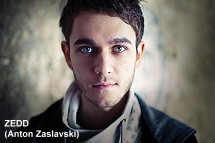 Zedd, born Anton Zaslavski, has separated himself in a crowded field by drawing from a diverse musical training and a background spanning from classical to post-hardcore/metal to electro house, creating detailed, carefully produced compositions that also appeal to audiences outside of the EDM realm. Zedd signed with Interscope records in 2012 and released his debut album "Clarity." Zedd wrapped his "Moment of Clarity" world tour last month while his current single "Stay The Night" climbs the charts.
BILL MAHER EXTENDS ENGAGEMENT AT THE PALMS
Following a successful run of shows in 2013, comedian Bill Maher will return to The Pearl inside the Palms for additional performances in 2014. Show dates are March 22-23 and Oct. 10-11 at 8 p.m. Tickets start at $50, call 702-944-3200.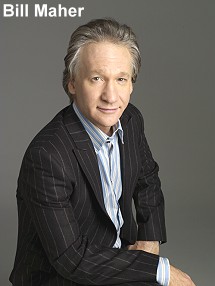 For the last 20 years, Maher has set the boundaries of where funny, political talk can go on American television. First on "Politically Incorrect" (Comedy Central, ABC, 1993-2002) and for the last 11 years on HBO's "Real Time." Maher has had 32 Emmy nominations. In 2008, Maher's documentary swipe at organized religion, "Religulous," directed by Larry Charles ("Borat") has gone on to become the eighth highest grossing documentary ever.
Maher has written five bestsellers: "True Story," "Does Anybody Have a Problem with That? Politically Incorrect's Greatest Hits," "When You Ride Alone, You Ride with Bin Laden," "New Rules: Polite Musings from a Timid Observer," and most recently, "The New New Rules: A Funny Look at How Everybody But Me Has Their Head Up Their Ass."
VINYL AT HARD ROCK EXTENDS ANDREW DICE CLAY'S RESIDENCY
Vinyl at the Hard Rock is extending comedian Andrew Dice Clay's residency with 15 additional 9 p.m. shows through March 2014. Dates include: Jan. 30-31; Feb. 1, 13, 15-16; and March 6, 8-9, 13, 15-16, 26-27, 29. Tickets start at $59.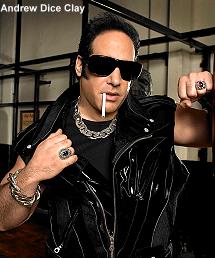 Clay's scandalous comedy has fueled his career for more than 35 years. He has starred in numerous feature films including "The Adventures of Ford Fairlane." Over the last few years, Clay has experienced resurgence with a critically-acclaimed recurring role on the final season of HBO's "Entourage," and on Dec. 31, 2012, for his Showtime special "Indestructible," his first in 17 years. In July 2013, Clay co-starred alongside Cate Blanchett and Alec Baldwin in Woody Allen's feature "Blue Jasmine." And to this day, Clay remains the only performer banned for life from MTV.
COMMONWEALTH STARTS NEW WEDNESDAY AND SUNDAY EVENTS
Every Wednesday, art and alcohol will fuse together during Ladies and Gents Night at Commonwealth located downtown. The cocktail bar will join forces with the ISI Group (industry supporting industry) to kick-off the new weekly promotion on Wednesday, Jan. 15 at 8 p.m. Art enthusiasts will watch 10 local artists paint throughout the night and then bid via a silent auction.
Commonwealth's Sunday Sound event serves-up drink specials and live music starting at 8 p.m. Until 11 p.m., guests can also receive half-priced cocktails by presenting their "Birds of a Feather" card. Partygoers can sign-up for a "Birds of a Feather" card to enjoy half-off cocktails every Sunday and Wednesday. Commonwealth was recently named one of the "7 New Reasons to Hit Las Vegas" by the "New York Post."
TOP OF NEXT COLUMN
COMEDIENNE RITA RUDNER RETURNS TO THE SANDS
Comedienne Rita Rudner will return throughout 2014 to headline in the Sands Showroom at The Venetian for limited engagements. Known for her trademark clever observations, sharp timing and soft-spoken humor, and one-liners, Rudner will take the mic for her special residency 8:30 p.m. shows. Rudner holds the distinguished honor of having the longest-running, most successful one-person comedy show in the history of Las Vegas. Her upcoming performance schedule is: Jan. 19, 26; Feb. 9; March 16, 30; April 13; and May 11, 25. Tickets are $59, $79 and 109, call 702-414-9000.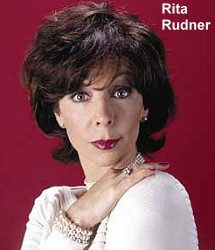 DENNIS BONO SHOW AT SOUTH POINT SIGNS ONE-YEAR EXTENSION
Dennis Bono, recording artist and radio music-variety show host of "The Dennis Bono Show from Las Vegas" has signed a one-year extension to continue his weekly national variety/radio show at Michael Gaughan's South Point. "The Dennis Bono Show" has been running in Las Vegas for more than 14 years. His show is recorded before a live audience every Thursday at 2 p.m. in The Showroom. Complimentary tickets to attend the live taping are available Wednesday and Thursdays at South Point's Box Office.
WILLIAM SHATNER AND LAINIE KAZAN VISIT THE SMITH CENTER
Television and movie legend William Shatner will bring his one-man show "Shatner's World: We Just Live In It" to Reynolds Hall in The Smith Center, Jan. 20 at 7:30 p.m. The 90-minute show takes audiences on a voyage through Shatner's life and career, from Shakespearean stage actor to internationally known icon and raconteur, known as much for his unique persona as for his expansive body of work that spans more than 50 years. In 1966, Shatner originated the role of Captain James T. Kirk in the television series "Star Trek." In addition, Shatner has been successful in another area - horse breeding. Tickets range from $29-$150.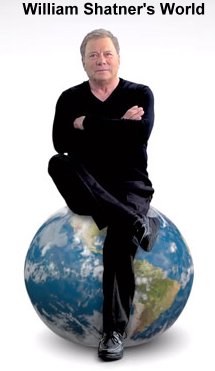 Multi-talented Lainie Kazan will perform two 7 p.m. shows in The Smith Center's Cabaret Jazz club on Friday and Saturday, Feb. 28 and March 1. Her acclaimed cabaret show takes audiences on a journey through the highlights of her long career from her start as Barbra Streisand's understudy in Broadway's "Funny Girl" to appearing on "The Dean Martin Show" television show a record 26 times. Many know her as the beloved Maria Portokalis in the hit film, "My Big Fat Greek Wedding." Tickets are $39 and $49.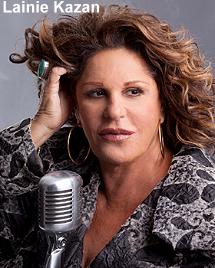 GALAXY GREEN VALLEY LUXURY+ THEATRE HOSTS CINEMA SOCIETY
Galaxy Green Valley Luxury+ Theatre on Sunset Road in Henderson will host the 2014 Inaugural Half Season of Cinema Society of Las Vegas, which is making its Las Vegas debut. Las Vegans will soon be able to experience prestige motion pictures by top major and independent studios on a monthly basis from the comfort of a Luxury+ theater. Each showing will feature a pre-show cinema chat with Cinema Society of Las Vegas Director Andrew Friedenberg and key members from the film (directors, producers, cast, cameramen, etc. based on availability), along with an open forum for informative discussion following the screening. Season tickets can be purchased at www.cinemasociety.com for $55 and include admission to all four movies. Screenings for the following movies begin at 4 p.m.: "Spinning Plates" Jan. 27; "Marcello, Marcello" Feb. 10; Award Winning Short Film Night March 10; and "Touch of the Light" April 7.
Celebrating its 30th Anniversary, The Cinema Society was founded in San Diego, Calif., in 1983 by director Andrew Friedenberg and has now grown to include membership in Scottsdale and West Valley, Ariz., and most recently Las Vegas, Nev. To register, visit www.cinemasociety.com.
ILLUMINATING TIPS
Jimmy Hopper, former Las Vegas "Entertainer of the Year" is back in town and appearing every Friday and Saturday night at The Bootlegger Bistro with dinner shows at 9 p.m. and cocktail shows at 11 p.m.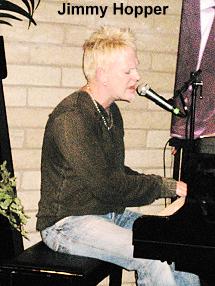 Four-time GRAMMY Award-winning R&B vocal group Boyz II Men will perform in the Terry Fator Theatre at The Mirage on select weekend dates through 2014. Formed in 1990, Boyz II Men is the best-selling R&B group of all-time with more than 60 million albums sold worldwide. Upcoming dates include: Jan. 17-19; Feb. 7- 9, 21-23, 28; and March 1-2, 8-9, 14-16 and 21-23.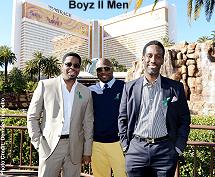 This month's convention update includes: the Shooting, Hunting, Outdoor Trade Show (SHOT Show) with approximately 61,000 attendees at the Sands Expo Jan. 14-17; returning World of Concrete at the Las Vegas Convention Center with 50,000 attendees Jan. 20-24; and the World Market Center hosting 50,000 attendees at the Las Vegas Winter Market Jan. 26-30.
Just weeks prior to competing in the 2014 Winter Games in Sochi, 12 international teams will play in the WFG Continental Cup of Curling making its debut at the Orleans Arena Jan. 16 – 19. The Ryder Cup-style format will involve 11 draw-sessions over four days and will be broadcast live on TSN, Canada's highly watched sports network.
The Smith Center for the Performing Arts offers free, one-hour guided walking tours of the world-class campus on Wednesdays and Saturdays at 10:30 a.m. Limited to 20 patrons, the tour highlights the center's architectural accomplishments and artwork and gives a historic overview. To register, visit www.TheSmithCenter.com.
The Chandelier at The Cosmopolitan is a three-level wonder created by 2 million luminous beaded curtains of light and houses three bar experiences. San Francisco's Slim Jenkins will play an old school mix of hot jazz and blues Jan. 16 and 17 and the classic Jennifer Keith Quintet will follow Jan. 23-26.
Taste & Learn is returning to Ferraro's on Saturday, Jan. 25, from 4 to 6 p.m. Guests will taste four specially selected Italian wines paired with small bites and learn from the sommelier and Chef Mimmo. Cost is $50, call 702-364-5300.
From Jan. 31-Feb. 2, the interactive wax attraction Madame Tussauds located in front of The Venetian will have an open bar out in front of the attraction.
JERRY'S NUGGET CASINO COMMEMORATES 50 YEARS
Jerry's Nugget Casino, a family-owned and operated establishment since 1964 in North Las Vegas, is celebrating its 50-year anniversary on Wednesday, Jan. 15. Owned by the Stamis family, the casino has two casual restaurants, slots and video poker, live table action, a race and sports book, keno lounge, an entertainment venue and a 200-seat bingo hall.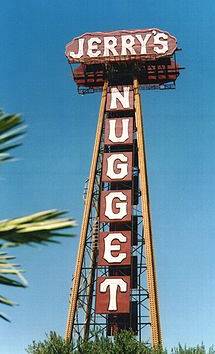 Property celebrations will include: a free éclair to first 50 customers at the Jerry's Nugget Coffee Shop beginning at 10:30 a.m.; free bakery treats to players on the casino floor and Bingo Hall beginning at 1 p.m.; and 50-cent "Jerry's Nugget celebratory punch" at the Main Bar. In addition, slots and video poker players who earn 50 MoreClub points can swipe for prizes at The MoreClub Kiosk to include $50 cash, 50,000 MoreClub points, commemorative jackets and more from 2 – 6 p.m.
AUREOLE'S WINE DINNER AND TASTING MENU
Proprietor Jermey Nickel will host an exclusive wine dinner with elite selections from his family's award-winning wineries Far Niente, Nickel & Nickel, The Vineyard House and Dolce at Aureole in Mandalay Bay on Thursday, Jan. 16. Cost is $225, call 702-632-7401.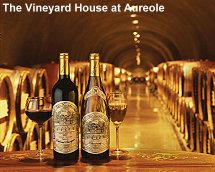 Chef Vincent's renowned Parallel Tasting Menu limited to the entire table is a rendition of the traditional tasting menu with two like ingredients offered in two very different, complementary presentations. This month its lobster in the form of a Ricotta Cheese & Lobster Ravioli paired with a Butter Poached Maine Lobster. Cost is $85 in the Main Dining Room and $95 in the Swan Court. Additional Wine Pairing is $55.
Column Continues Below Advertisement
CONTINUE ON TO...:
THIS WEEK'S >LAUGHLIN NEWS
LAST WEEK'S >LAS VEGAS NEWS
>VEGAS VIEW FULL NEWS ARCHIVES
Return to >"Heard Around Town"
Return to >Las Vegas Leisure Guide