'PAWN STARS' PARODY, 'PAWN SHOP LIVE!,' OPENS AT GOLDEN NUGGET!

The Broadway-style comedy "Pawn Shop Live!," a parody of the story behind History Channel's reality smash hit "Pawn Stars, " is set to open at the Golden Nugget downtown on Tuesday, Jan. 21. Tickets are $24.95, $29.95 and $39.95.

Created by Emmy® award-winning producer Derek Stonebarger, the production is based on the story of the famous and beloved pawn shop, Gold & Silver Pawn. This production includes story contributions from Rick Harrison and the Harrison family. The break-out stars of the TV show have fully endorsed the production, which will run Tuesday through Saturday at 4 p.m.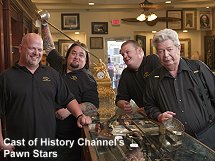 With seven live actors and dancers, as well as a puppet, "Pawn Shop Live! " will feature celebrity guests and surprises - even the real "Pawn Stars " will appear on stage as often as their filming schedule permits. The on-stage characters will be lampooned versions of Rick Harrison, Austin "Chumlee " Russell, Corey "Big Hoss " Harrison and Richard "The Old Man " Harrison - better known as Slick, Chump, Lil Boss and Old Fart.
Directed and co-written by Troy Heard, the show begins with a young Slick Garrison struggling with a debilitating illness which forces him out of school and into a world of home schooling. Slick grows into a book- and street-smart genius using his experiences and life lessons, often taught from his father - a puppet named Old Fart - to eventually influence the world with his knowledge and art of the deal. Working the family business, Slick is joined by his son, Lil Boss, and his son's dim-witted friend, Chump, who become international superstars in the process.
Column Continues Below Advertisement
'CRISS ANGEL MAGICJAM' MAKES DEBUT AT LUXOR
Criss Angel, headliner of his own magic show "CRISS ANGEL BeLIEve " for the past five years at the Luxor, will debut a new, limited-engagement show, "CRISS ANGEL MAGICjam, " to occupy the CRISS ANGEL BeLIEve theater for the months of February and March while Angel rehabilitates from shoulder surgery. Angel is inviting the World's Greatest Magic!ans and specialty acts to be a part of his newest production. "MAGICjam " will present an anthology of the greatest acts and will spotlight select cast members from Angel's current hit SPIKE TV show, also "Criss Angel BeLIEve, " including top female magician Krystyn Lambert, comedian-illusionist Nathan Burton, and Banachek, the world's premier mentalist. The lineup will also include grand master manipulators Jason Byrne and Tony Clarke, the hilarious Russ Merlin, and the world's best close-up artist Armando Vera. Angel will play host to his friends onstage.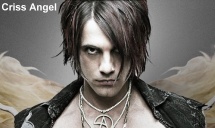 GOLDEN NUGGET HOSTS FIRST TIME AMERICAN CRAFT DISTILLERS FESTIVAL
The Golden Nugget will host the American Craft Distillers Festival Feb. 7-9, a Landry's Inc. Signature Event. The three-day event will feature whiskey, rye, bourbon, vodka, gin and moonshine brands and bring together consumers, whiskey masters and brand ambassadors with tasting experiences, mixology classes, dinner and more.
The festival's Grand Tasting Experience will be held in the Grand Event Center from 7-11 p.m. on Friday, Feb.7 and from 2-6 p.m. on Saturday, Feb. 8. Hosted by Masters of Whiskey Kevin Loser, Sean O'Rourke and Dr. Thomas Turner, guests will be able to sample tastings of artisan whiskies and barrel aged barley beers throughout the timeframe. Tickets will also include mixology classes, pot still demonstrations, educational seminars, culinary delights and live entertainment. Tickets are $49.
Sunday, Feb. 9, will be the "Turn of the Century Whiskey Dinner " at 6 p.m. The decadent dinner will be hosted by a Jack Daniel's Whiskey Ambassador and feature courses accompanied by the Jack Daniel's portfolio. Tickets are $85.
Other options are: a two-day Grand Tasting Experience pass for $79; the "Turn of the Century Whiskey Dinner " and one Grand Tasting Experience ticket for $115; or the big dinner and two-day Grand Tasting Experience tickets for $135, call 866-946-5336.
ZAC BROWN BAND DOES TWO PERFORMANCES AT THE JOINT
GRAMMY award winning country/folk megastars Zac Brown Band will return to The Joint at the Hard Rock for two shows Saturday and Sunday, Jan, 11 and 12. Tickets start at $99.50.
Their third studio album "Uncaged " debuted at No. 1 with the band's best first-week sales of 234K copies and followed the band's triple-platinum major label debut "The Foundation " and platinum No. 1 follow-up "You Get What You Give. " Together these albums have produced a historic series of 10 No. 1 hit singles.
MAGICIAN SPENCER HORSMAN GUEST STARS IN 'ILLUSIONS' AT RIVIERA
Acclaimed comedy magician and former "America's Got Talent " contestant Spencer Horsman will guest star in "ILLUSIONS " inside the Starlite Theatre at the Riviera from Jan. 6-Feb. 24. Show is dark on Fridays. Tickets start at $59.
A contestant on the seventh season of "Americas Got Talent, " Horsman was born into the entertainment business. His parents, Ken and Mary Horsman, were both former Ringling Bros. Barnum & Bailey Circus clowns, as well as Ronald McDonald performers, for more than 20 years. Horsman was introduced to magic at four years old and performing nationwide at a young age. By 15, he made appearances network talk shows and performed with David Copperfield and Lance Burton on the Las Vegas Strip.
'RON WHITE'S COMEDY SALUTE TO THE TROOPS' WILL BE AT THE MIRAGE
The Mirage will host the sixth annual "Ron White's Comedy Salute to the Troops " Wednesday, Feb. 19 at 8 p.m. The one-night show will take place at the Terry Fator Theatre with proceeds benefiting the Armed Forces Foundation. Tickets are $79.99, $99.99 and $109.99.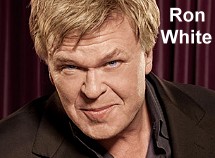 White's friends for the show will include Gabriel Iglesias, Kathleen Madigan, Josh Blue and Roy Wood. Jr. The show will be recorded in front of a live audience and will air on Country Music Television (CMT) at a later date. This is the fourth year White and CMT have partnered to air the special.
White is best known as the cigar-smoking, scotch-drinking funnyman from the "Blue Collar Comedy Tour. " Iglesias is known as the "Fluffy " comic in a Hawaiian shirt. He stars in the upcoming films, "The Nut Job " and "A Haunted House 2 " and his previous film credits include feature roles in "Magic Mike " and "Planes. " Madigan is recognized for appearing on NBC's "Last Comic Standing. " Blue first appeared on Comedy Central's "Mind of Mencia " before gaining the attention of the country as a favorite on NBC's "Last Comic Standing. " Wood Jr. co-stars on the TBS' series "Sullivan and Son. "
SLS LAS VEGAS ANNOUNCES CLEO AS LATEST CULINARY ADDITION
SLS Las Vegas, now under construction on the site of the former Sahara Hotel and Casino, has announced that Cleo will join the property's mix of culinary offerings. Made famous in Hollywood following its debut at The Redbury Hotel in 2010, Cleo will showcase Chef Danny Elmaleh's acclaimed contemporary Mediterranean cuisine alongside other planned dining offerings including The Bazaar by José Andrés, Katsuya, Umami Burger, 800 Degrees, The Griddle Café and other brands yet to be announced.
ROCKTELLZ & COCKTAILS HAS MEAT LOAF RETURNING
Following a successful 18-show run in late 2013, RockTellz & CockTails has announced Grammy Award-winning musician and acclaimed actor Meat Loaf will return to the RockTellz & CockTails stage at the PH Showroom. He will perform 24 dates, beginning Feb. 13, kicking off the 2014 series. Details for the series' next legacy artist will be announced soon.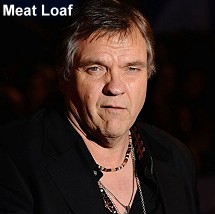 "RockTellz & CockTails Presents Meat Loaf " is comprised of a full-on rock concert, hit songs and intimate, personal stories of Meat Loaf's celebrated and fascinating 47-year music, stage and film career. His 7 p.m. shows will be performed every Thursday, Saturday and Tuesday from Feb. 13 to April 8. Tickets range from $64 to $149.
A portion of all tickets sold will once again benefit the GRAMMY Foundation's GRAMMY® Signature Schools Community Award program, which will directly benefit high school music programs in Las Vegas.
JW MARRIOTT/RAMPART BOOKS VENTRILOQUIST AND TRIBUTE SHOW
Ventriloquist-comedian Kevin Johnson recognized for his appearances in the 2006 season of NBC's "America's Got Talent " will bring his family-friendly show to Rampart Casino's Grand Ballroom Saturday, Jan. 18 at 4 p.m. Johnson made it to the semi-final round of the competition. Tickets are $15, call 702-507-5980.
On Jan. 18 at 7 p.m. and Jan. 19 at 4 p.m., a tribute music revue "Oh What A Night! " written by Motown producer George Soloman will feature songs by the powerhouse award-winning group Frankie Valli and the Four Seasons including fan favorites "Big Girls Don't Cry, " "Walk Like a Man, " "Can't Take My Eyes Off You " and many more. Tickets are $15, 702-507-5980.
TOP OF NEXT COLUMN
DRESSING AS ELVIS ON HIS BIRTHDAY MAY EARN FREE TICKET TO SHOW
The first 100 guests who dress as The King of Rock 'n' Roll will receive a complimentary ticket to the evening's 7 p.m. performance of "Million Dollar Quartet " at Harrah's on Elvis' birthday Wednesday, Jan. 8. Guests must appear in person dressed as Elvis beginning at 5 p.m. at the Harrah's Las Vegas box office to receive their ticket, must stay in costume for the duration of the show, and also agree to a photo on stage following the performance.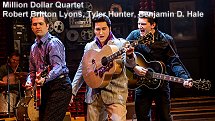 GALLUP CEO JIM CLIFTON IS 'PREVIEW LAS VEGAS' SPEAKER
It's time for the annual "Preview Las Vegas " on Friday, Jan. 24 presented by the Las Vegas Metro Chamber of Commerce. This year's forecasting and relationship-building event will have more than 120 exhibitors and feature speakers from 7 a.m. - 1p.m. at the Thomas & Mack Center. One keynote speaker will be Jim Clifton, Chairman and CEO for Gallup, a leader in organizational consulting and public opinion research, and author of "The Coming Jobs War. " Under Clifton's leadership, Gallup has expanded from a predominantly U.S.-based company to a worldwide organization with 40 offices in 30 countries and regions. Cost is $60 for chamber members and $80 for non-members.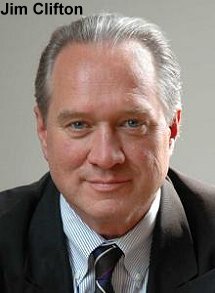 Other impressive speakers include: Richard Florida, author of "Rise of the Creative Class " and senior editor of the "Atlantic; " Steve Leavitt, author of "Superfreakonomics; " Bill Taylor, co-founder of Fast Company; Dr. Robert Lang, director of Brookings Mountain West; Jeremy Aguero, principal analyst at Applied Analysis; Rossi Ralenkotter, president and CEO of the Las Vegas Convention and Visitors Authority; Robert B. Reich, former Secretary of Labor; Guy Kawasaki, Apple Fellow and co-founder of Alltop.com; Marcus Buckingham, bestselling author of "First, Break All the Rules; " Jon Wellinghoff, American energy expert and current chairman of the Federal Energy Regulatory Commission; and Jim Murren, chairman and CEO of MGM Resorts International.
'LAS VEGAS ROCKS VARIETY SHOW' FEATURES DARREN DOWLER
Darren Dowler, lead singer for Paul Revere and the Raiders and the cast of upcoming "A Love Story " at the Starbright Theater are host Tony Sacca's talented guests on his "Las Vegas Rocks Variety Show " in The Railhead at Boulder Station on Friday, Jan. 10. The show will be backed by the Michael T Band and taped before a live audience. The following taping date will be Jan. 17.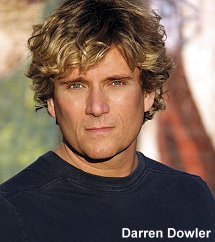 Multi-talented Dowler, who is a musician, actor, impressionist, comedian, author, feature film producer, director and songwriter, also has his own show, "Rockin' America, " featuring a patriotic celebration of music from the last 40 years, plus original music. He's worked a co-bill with Righteous Brother Bill Medley stepping into tenor Bobby Hatfield's spot. His first novel is "The War Of Angels. "
Mistinguett Productions will be presenting "A Love Story " at the Starbright Theater on Sunday, Jan. 12, at 3 p.m. The show will star amazing singers Bill Fayne, Tara Palsha, George DeMott and Anne Martinez/Barr. The production will be looking at love through the journey of four people: a 30-something married couple; a young single entertainer; and an older divorced friend and confidant. The story will unfold with song favorites from the last 60 years.
The complimentary hour-long "Las Vegas Rocks Variety Show " tapes before a live audience on arranged Fridays at 2 p.m. Doors open at 1:30 p.m. For guaranteed seating, call 702-364-8669.
LAS VEGAS WELCOMES INFLUX OF BETTER HOME DÉCOR RESOURCES
International Market Centers announced the expansion of better home décor resources with 24 industry-leading home décor suppliers opening showrooms or temporary presentations for the Winter 2014 Las Vegas Market running Jan. 26-30 at World Market Center downtown.
Highlights of the Winter 2014 Market will include the addition of 12 leading home décor vendors to the roster of permanent showroom tenants: Curations Limited; Gabby; Glassisimo; Interlude Home; Jamie Dietrich/Grace & Blake; Jamie Young Company; JLA Home; area rug manufacturer Kaleen Rugs; Karen Robertson Collection; Lo Forti Fine Prints; OLY; and Tufan Rugs.
In addition, several current showroom tenants, including Chandra, a leading supplier of floor coverings, rugs, decorative accessories and contemporary furniture, are planning substantial expansions for Winter Market. Chandra will expand into a 9,000-square-foot space on B3 - an increase of 110 percent; and SilkRoute, importer of antiques, hand woven rugs, furniture, and accessories from Afghanistan, Africa, India, Nepal, Pakistan and Tibet, is relocating into a new 8,191-square-foot space.
IMAGINE DRAGONS DEDICATED MEMORABILIA AT HARD ROCK HOTEL
Las Vegas' hometown rockers and GRAMMY-nominated Imagine Dragons unveiled their first memorabilia case inside Hard Rock Hotel & Casino on Dec. 30. Before addressing fans, Imagine Dragons band members Dan Reynolds, Ben McKee, Daniel Platzman and Wayne Sermon ripped off the covered case to reveal a full display of signature memorabilia from the band's career. The special display, located right inside of the property from the main valet, features iconic items from the band's music video "On Top of the World " including all four custom-made astronaut suits, an American flag, an Earth decorated beach ball, a small satellite dish and more.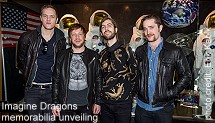 JOAN JETT AND THE BLACKHEARTS PERFORM AT EASTSIDE CANNERY
Rock and roll 1980s band Joan Jett and The Blackhearts will rock the stage in the Eastside Events Center at the Eastside Cannery Saturday, Jan. 18 at 8:30 p.m. Tickets start at $34.95. The band is best known for their No. 1 hit record on the Billboard Hot 100 for nearly three months in 1982, "I Love Rock 'n' Roll. " Jett is a feminist icon as well as an American rock guitarist, singer, songwriter, producer and occasional actress.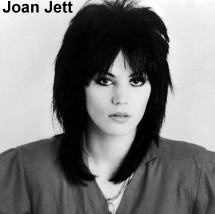 FAST TIPS
The disco dance show, "Dancing Queen " closed in the showroom at Planet Hollywood.
Frank Marino, star of "Divas " at The Quad, has been on hiatus recovering from surgery since December. He celebrated New Year's Eve by taking in Britney Spears' new show, "Piece of Me " in The Axis at Planet Hollywood Resort & Casino.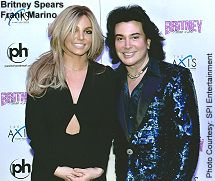 "Jubilee! " at Bally's, the longest-running show on the Strip and the last remaining showgirl production of its kind, is holding auditions for female and male dancers and singers. The show will undergo a major transformation early this year under the direction of one of the most celebrated creative directors and choreographers Frank Gatson, Jr.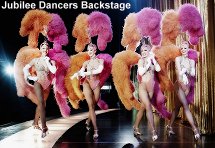 The newly named Galaxy Cannery Luxury+ Theatre has opened at the Cannery in North Las Vegas with amenities including, cushioned leatherette reclining seats with powered footrests, extra wide rows, reserved seating, stadium seating, a Digital Fusion Experience (DFX) auditorium and Dolby Atmos sound, as well as a signature gourmet sausage bar to pair with the selections of beer and wine on tap.
The Las Vegas Convention and Visitors Authority unveiled four electronic vehicle charging stations to serve visitors and convention delegates at the Las Vegas Convention Center. The stations were made possible through a $50,000 grant by the Consumer Electronics Association, owner and producer of the annual January International CES show in Las Vegas.
MGM Resorts International is reinforcing the company's commitment to healthy living with the addition of Smart Plate, a new program providing guests and visitors with healthy menu items at 700 calories or less per dish. The exclusive calorie-conscious items are available on select in-room dining menus and at participating cafes and will be updated frequently. Smart Plate selections are designated on menus with a specialized logo.
The M Resort has introduced new M Experience Rooms with 14 added amenities and services in each room such as aromatherapy and mood lighting to help improve sleep and advanced water system that infuses Vitamin C into the shower water to neutralize chlorine to promote healthy hair and skin.
On Jan. 3, STRIPTEASE, a state-of-the-art gentlemen's club, opened at 3750 S. Valley View Blvd.
Column Continues Below Advertisement
CONTINUE ON TO...:
THIS WEEK'S >LAUGHLIN NEWS
LAST WEEK'S >LAS VEGAS NEWS
>VEGAS VIEW FULL NEWS ARCHIVES
Return to >"Heard Around Town"
Return to >Las Vegas Leisure Guide