Beatty, known as the Gateway to Death Valley, makes a perfect home base for exploring this unique and breathtaking national park. Beatty, a 30-minute drive from the park's valley floor, offers excellent and affordable accommodations. Beatty also has great proximity to Scotty's Castle, Furnace Creek and the scenic drives within Death Valley. More details on a visit to Death Valley National Park can be found at www.nps.gov/deva. Beatty offers a milder climate than Death Valley, as it sits at a higher elevation, and is not subject to the extreme heat.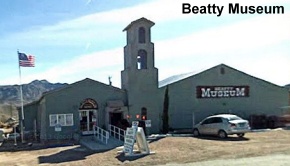 There are other fun things to do and see around Beatty. Around town, you can enjoy a great historic museum, antique shops, casinos, restaurants and the largest candy and nut store in southern Nevada.
Just minutes from Beatty is the fascinating ghost town of Rhyolite. Unlike many ghost towns constructed entirely of wood, Rhyolite was home to many structures built of stone. Some of the structures still standing today are the train depot, bottle house, and bank, which offer a glimpse into its prominent past. There were three different railroads that served the area in its heyday. A most unique characteristic of this ghost town is that visitors can actually take pictures of ghosts. The Goldwell Open Air Museum has amazing white ghost sculptures that make an ideal setting for self-portraits or souvenir photos.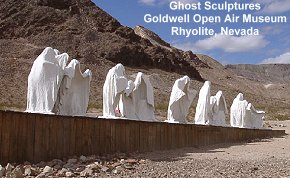 TOP OF NEXT COLUMN
This area was booming 100 years ago, when Rhyolite, swelled to a population of over 10,000 due to the discovery of gold. When the gold ran out, the town quickly dwindled as the residents moved away to other strikes.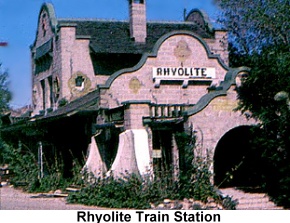 Bailey's Hot Springs, just five miles north of Beatty, offers private bath houses to enjoy the naturally warm springs, which feed the partially underground Amargosa River. Bring your RV and really take the time to enjoy the hot springs.
The Beatty Dunes, west of US 95 and accessible by dirt road, offer the movie set where Melanie Griffith starred in the cult film Cherry 2000. It is a unique landscape which presents peaceful scenery and solitude as you enjoy the dunes.
Beatty offers a number of affordable and surprisingly good choices for accommodations, many quite a bit lower than lodging within Death Valley. To see a list of lodging options in Beatty, look up www.travelnevada.com.
Whether you are looking for the eye candy of mother nature, windows to history, relaxing and peaceful surroundings, or all of the above, you will find it in Beatty, just a short two-hour drive north on US 95.
CONTINUE ON TO...:
>TERI'S VEGAS TRAVEL TALK MAIN MENU
>Return to "Las Vegas Leisure Guide"
>Return to "Las Vegas Tours"