Northwest Las Vegas
New Homes and Housing Developments
Las Vegas land is in limited supply and new home construction has been on the rise for several years. Property values are at a premium. Depending on the lifestyle you wish to maintain, Las Vegas has the home for you. The northwest area is close in to downtown and the Strip. Womderful suburan life is found on the west side including master planned communities with parks and schools as well as private gated communities.
Now is the time to buy Las Vegas property, while land is still available and the prices haven't reached California standards.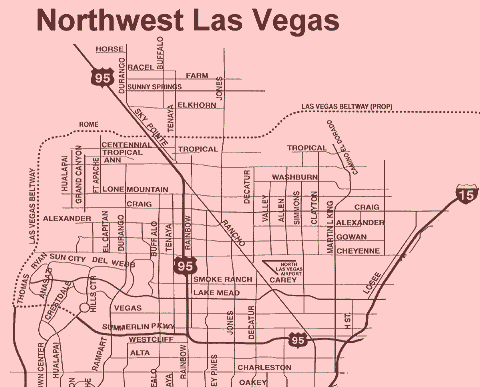 Northwest
Aliante - 26 neighborhood communiteies featuring 9 builders
I-215 on Aliante Parkway - 866-860-4584
Antelope - Energy star rated homes with everything included by Lennar
I-95 at Durango - 702-395-9161
Club Aliante - Del Webb community for all ages adjacent to 18 hole public golf course
I-215 on Aliante Parkway - 800-580-0624
Cornerstone - 4-5 bedroom homes by Astoria Homes
Cliff Shadow at Gowan - 702-340-7101
Courts At Turtle Creek - Luxury homes with large yards by US Home
Jones at Azure - 702-395-1543
Elk Ridge - Up to 7 bedrooom houses with a 4 acre community park by Avante Home
Jones at Azure - 702-395-1543
Fields at Aliante - 4-5 bedroom homes by Astoria Homes
Elkhorn at Aliante Parkway - 702-845-6604
Geyser Peak - 2030 sq ft to 3082 sq ft house by Meritage Homes
Tropical at Donna - 702-638-2700
Lamplight Glen at Centennial Springs - by Carina Homes
- 702-604-1488
Prominence at Aliante - 4-5 bedroom homes by Astoria Homes
Elkhorn at Aviary Way - 702-845-6604
Providence - by Ryland Homes
- 888-768-7838
Rancho Martillo - Limited Edition Estate homes by Signature
Hammer at Allen - 702-617-4854
Silverstone Ranch - 6 collections of houses by Pulte Homes
Buffalo at Grand Teton - 702-396-9476
Summerlin - by Ryland Homes
- 888-768-7838
Taos Estates - Gated community estate houses with attached Casitas by Distinctive Homes
Tropical at Jones - 702-658-5050
The Avenues - 2-3 bedroom homes by Astoria Homes
Fort Apache at Severence - 702-743-5464
The Courts - 3-4 bedroom homes by Astoria Homes
Fort Apache at Severence - 702-806-7062
The Lanes - 3-4 bedroom homes by Astoria Homes
Fort Apache at Severence - 702-845-6660
Torrey Pines Estates - Luxury gated community estates homes with up tp 1/2 acre by US Home
Rainbow at Azure - 702-395-4099
Turtle Rock - 2030 sq ft to 3082 sq ft house in a gated community by Meritage Homes
Farm Rd at Grand Canyon Dr - 702-896-5000