ARCHIVED PRE-OPENING INFORMATION
Steve Wynn, chairman of Mirage Resorts, has made a promise to Las Vegas and its visitors. He claims his new Bellagio Resort "will add an entirely new dimension" to the gaming capitol of the world, "A sophisticated gathering place for visitors from all over the world". Promising is easy, but delivering the most beautiful hotel in the world, with a planned unprecedented standard of excellence in service and accomodations is a monumental undertaking. (More below.)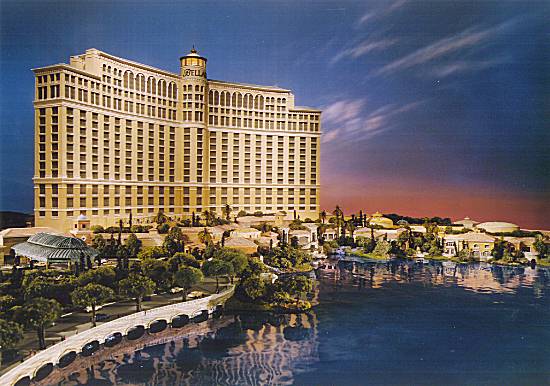 (Artist's conceptions courtesy of Mirage Resorts).
The inspiration for the design comes straight from the Italian city of Bellagio overlooking breathtaking Lake Como. Since Las Vegas doesn't have any natural lakes handy Bellagio will have to build its own. A 9 acre man-made lake encircling a substantial part of the property.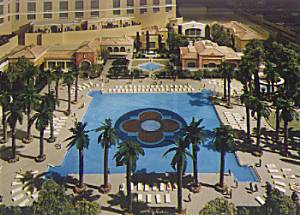 Just as Wynn's Mirage Hotel has a volcano and his Treasure Island has pirate ship battles, the Bellagio will feature periodic performances by a custom built, $30 million "choreographed water ballet on the lake", inspired by the fabulous light and fountain productions once very popular in Europe over the last century. To enhance the experience, particularly when weather is not entirely ideal outside, Bellagio is designed to utilize countless picture windows strategically placed to allow guests to enjoy the highlights of the lush landscaping, romantic vistas, soothing waterfalls and classical gardens planned for the grounds from the comfort of indoors.

Heading indoors, the resort will feature 3,000 luxuriously appointed guest rooms and suites, decorated with antiques and art characteristic of southern Europe with an extensive use of imported marble throughout. An enormous, tiled swimming pool will provide cooling relief from the Las Vegas summer heat.

Other attractions will include dining fit for a king, created by internationally acclaimed chefs, including possibly a selection of independently owned upscale restaurants. A variety of boutiques, including the self-titled "Bellagio Collection", will provide browsing potential before and after dinner and shows. Shows? Did we mention shows? Already in production is a brand new, $70 million, production show from those mysterious and crazy folks from Montreal known as Cirque du Soleil. Their show Mystere has enjoyed an extremely successful 3 year run at the nearby Treasure Island Hotel.

Of course quality of this extent takes time. Begun in 1995, the resort will not be available for occupancy until Labor Day Weekend (September) of 1998!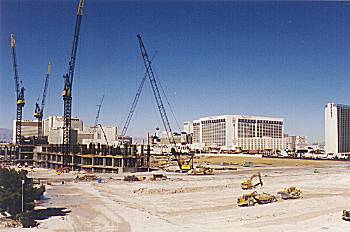 A photo from the south side shortly after groundbreaking

.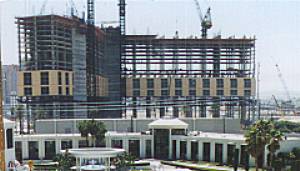 A later picture from Caesars Palace, at about the same angle as the artist model picture

.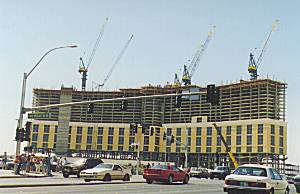 Here is a shot of the ongoing construction as of November 1996 from Flamingo and The Strip.

.

For more information, Mirage Resorts Public Relations may be reached at: (702) 650-7400. Be sure to mention you saw them on the internet in the Las Vegas Leisure Guide!

This article archived July 1997 - Click here for more current information about the Bellagio Hotel Resort and online reservation sources.



---
If your Las Vegas hotel, casino, restaurant or establishment has new major construction, public activities (sorry, slot tournaments and bingo night don't count) or other interesting tidbits to offer, send them to us on company letterhead and if we think LVLG readers will be amazed, astounded, or even slightly interested we'll publish it. Make sure to send LOTS of pictures! We love pictures!
---
Created by PCAP; © Copyright 1997
Last Updated: July 16, 1997