AYALA is the most famous Latin American magician in the world today! His magical charisma has propelled him to become a member of the elite of the magic world and left no doubt about his star quality!
The former star of "Spellbound" at Harrahs Las Vegas, Ayala returns to Las Vegas to perform his incredible magic at Caesars Magical Empire, in the Sultan's Palace Theatre November 13 through December 8, 2001
Ayala and Tanya just recently returned to Las Vegas after a seven month engagement at Harrahs Laughlin and a trip to France where they were selected Magician of the Year and presented the Mandrake d'or Award, France's highest magic award.
"AYALA, The Time Is Now!" tour kicked off in February of 2000 at the prestigious CASINO du LIBAN in Lebanon, followed by a tour of Mexico and Latin America, the Pacific Rim and followed by seven months at Harrahs in Laughlin, Nevada.
In his new show, Ayala uses aspects of ancient Mexican culture with state-of-the-art special effects to create a dramatic theatrical experience like no other. He has combined his Mexican heritage with new illusions he has created featuring his and Tanya's unique talents. Masks, spears, fire, comedy, dance and swords all play an integral part in the magic that is AYALA.
This show incorporates a smooth blend of fluid motion and Ayala's Latin good looks into one sensory appealing, spine tingling show. Ayala has mystified millions of television viewers on ABC, CBS, Fox, CNN and the NBC Specials "The World's Greatest Magic" originating from Caesars Palace. He has co-hosted and performed on shows on the UNIVISION, TELEMUNDO and TELEVISA networks and created his own television special "Ayala, The Time is Now" which aired in the Middle East, Mexico and South America. Ayala and Tanya performed the opening segment of the "Ritmo Latino Music Awards" which aired October 28th on the TELEMUNDO network.
Ayala's popularity is extended beyond his television and headliner status in Las Vegas to include audiences around the globe. Although magic is all about secrets, this talented young man was one secret that was too good to keep. His career has taken him to The Metropolitan Palace in Mexico, Japan, Portugal, New Zealand, Columbia, and even Broadway. Ayala's virtuoso talent has made him a captivating performer and one of Latin America's favorite heartthrob icons.
Ayala showcases his versatility and unique performance styles, as he combines his natural flair for drama, complimented by the lovely and talented Tanya Garofalo. Tanya is the choreographer and Ayala's magical partner in the show, where she gets to experience her other love ... MAGIC.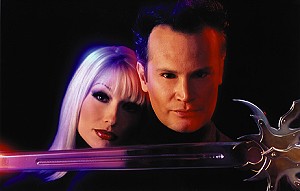 Originally from Alliance Ohio, Tanya began dancing at the age of three. She studied all forms of theater and dance and started to specialize in Belly Dancing at the very young age of 9. Tanya soon began to perform professionally, becoming the youngest belly dancer in the Eastern United States. At 18, Tanya was performing throughout the United States, working for Carnival Cruise Lines out of Miami and traveling the Caribbean.
In 1998, Tanya moved to Las Vegas to pursue her career in dance and performing starting in the Bacchanal Room at Caesars Palace. Moving on to other shows & numerous special events, Tanya also spent a year dancing solo at Neyla at the MGM Grand.
Since living in Vegas, Tanya has performed in "Splash" at the Riviera Hotel, became the Mimi Toussaud character at the Madame Toussaud Wax Museum at the Venetian Hotel and is featured on the TV commercial for the Rio Hotel. She has been a guest on TV shows for FOX and E! Entertainment Networks and is the featured "belly dancer" on the 2001 Aladdin TV commercial produced by Farrington Productions.
Ayala envisioned his dream early, but hailing from a prominent family of Doctors and Lawyers his family didn't always see his vision as clearly. Following the family tradition he began studying to become a Lawyer. Even so, AYALA found time to hone his magical skills and perform at small gatherings and theatres all over Mexico.
At the age of 17, he finally had the chance to perform in Las Vegas and was awarded the Olympic Championship of Magic, the first of the multitude of awards he has received over the years. It was then that Ayala's vision became crystal clear and he knew he must perform full time. He moved to Las Vegas and began to convince the entertainment directors, show producers and agents that he had the talent to match his charming good looks.
Each year the Academy of Magical Arts in Hollywood selects their "Magician of the Year." Past recipients have been David Copperfield, Siegfried and Roy and Lance Burton, among others. This year Ayala was chosen to receive this prestigious award, which is the first time a Latin magician has received this honor. The world is ready for AYALA, and AYALA is definitely read for the world! This is one magician whose time has come and whose universal appeal will win the hearts of audiences worldwide.
Seating begins at 4:30 p.m. Tuesday-Saturday (Dark Sunday-Monday). Tickets are $75.50 (excluding holidays and special events), which includes dinner, all entertainment, gratuity and tax. Free tours of the Magical Empire from 11 a.m.-3:30 p.m. Tuesday-Saturday.

CONTINUE ON TO...:
>Las Vegas Entertainment Today Home Page
>Article Archives
>LVLG "Heard Around Town"
>Las Vegas Leisure Guide