Dennis Wise is the ultimate Elvis Presley fan. His admiration for Elvis has spanned over forty years. It's only fitting that he would choose a career that pays tribute to the King of Rock and Roll. Dennis Wise is the ultimate fan and the ultimate Elvis performer, with more than 10,000 shows honoring the king.
His mother introduced Joplin, Missouri native Dennis Wise to the music of Elvis Presley. From as early as five years old, Dennis can remember listening to the recordings of Elvis on the family phonograph. Dennis's favorite song was "Heartbreak Hotel", and to his father's chagrin, he would play the song much too loudly and much too often. This tribute to Elvis was only the beginning.
Dennis began his professional tribute to Elvis in 1978, a year after the king's untimely death at the age of 42. His brother had arranged an audition for Wise as an Elvis Presley impersonator. Halfway through the first song, he got the job.
Dennis's television credits include appearances on "Good Morning America," "Today," "Oprah Winfrey," "The Mike Douglas Show," "48 Hours", "PM Magazine," "Jerry Lewis Labor Day Telethon" and "American Bandstand."
Dennis Wise has the honor of performing over 10,000 shows. This international record is an honor shared only by Las Vegas entertainers Siegfried & Roy, and Wayne Newton. Other honors bestowed upon Wise include being named by Dick Clark as one of the three best Elvis impersonators; a cover of TV Guide magazine; and presentation of keys from the cities of Augusta, Georgia and New Orleans, Louisiana.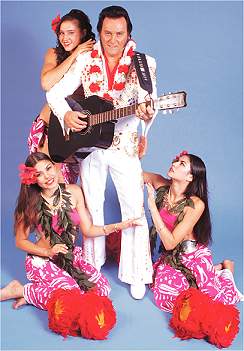 Each show is an electric, high-energy performance backed by a full ensemble. Dennis expertly recreates Elvis's movements, phrasings, and mannerisms. The requisite jumpsuits and jewelry are there too. During his performance, Wise imparts trivia about Elvis's music, as well as covering all phases of Presley's recording career, including rock `n' roll, gospel, pop, and country. With more than 600 Presley tunes in his repertoire, Dennis can answer most any request.
"We're not here to try to take his place. We just want to bring back some memories. We're dealing with a man who can never be replaced. He appealed to everybody. He was so popular because he was kind and down to earth and that separates a lot of entertainers", states Dennis.
You can see Dennis Wise on Friday, August 16 and Saturday, August 17 at 7:30 pm. in Roxy's at the Fiesta Rancho located at 2400 N. Rancho Drive. For more information, please call (702) 631-7000.

CONTINUE ON TO...:
>Las Vegas Entertainment Today Home Page
>Article Archives
>LVLG "Heard Around Town"
>Las Vegas Leisure Guide