Physical comedian Joe Trammel, aka "The Man of a Thousand Faces," has something to offer the ladies who come with their men to see "Crazy Girls" at the Riviera Hotel Casino as he comes on stage for 15 minutes of the highest energy you will ever see in Las Vegas.
Trammel said, "I've been in Crazy Girls,' `Splash' and `Showgirls of Magic' and this is my niche. I've loved all the shows that I've been in and my friends and colleagues have said, Joe! This is your showroom.' The people who come to Crazy Girls' are ready to party and have a good time. Lots of couples come to the show because I'm a physical comedian and play sex symbols and dance, too. I even appeal to the guys after a couple of minutes because I'm a man's man. I come on in the middle of the show."
He said, "If you like high-energy showmanship and have a passion for the media and celebs of today and yesteryear then I'm here to entertain you. It's really a fun gig for me. I just opened Wednesday, Oct. 3. If you've seen the show before please return it's a whole different game now and the `Crazy Girls' are sexier than ever. The bad news is they gave me a private dressing room. I've enjoyed my first two months in the show." The Phoenix native is from a show business family. His mother was a dancer in the "Folies Bergere" and entertained in a show in Hawaii. She was an act with Wayne Newton. She also performed as a dancer in the movie "Bus Stop." His mother Glenda Trammel ran a dance school in Phoenix, Arizona. He said, "I was weaned on dancing. She danced up until she was six months pregnant while she was carrying me. My older sister retired from dancing to have a baby and get married. She did the movie about the `Dallas Cowboy Cheerleaders' for TV. She was from the disco era and was a spotlight dancer on `Dick Clark's American Bandstand.'"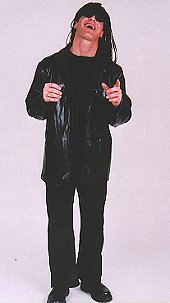 Trammel said, "What I do is visual comedy. He would spoof popular songs of that era and culture. I do that now in a more modern way. I come from the same school as Andy Kaufman. I like to try something different. Jim Carey is another one who does my kind of thing on a grand scale. Every producer that I've worked for has given me really good input. I've improved so much over the years. The LA Times said, "Look out Carrot Top,"
He said, "I put Rocky in the show with lots of patriotic colors to emphasize the America theme. I really feel like the act is better here. I'm more physical here than I've ever been. I reach the people in the back in this room. I haven't seen a small house yet." Trammel said, "I moved to Las Vegas in 1994 after working in Reno for a couple of years working in `Splash.' They moved me to Las Vegas' `Splash.' My act is pop culture and international. The movies I spoof are all over the world. `Crouching Tiger, Hidden Dragon' was in Mandarin but was a hit all over the world because it was visual."
"Crazy Girls" is Las Vegas' sixth longest running show. Show times are at 9 pm. Wednesdays thru Mondays. Tuesday nights are dark. Tickets are $24.95 plus tax. For more information call the Riviera Box Office at (702) 794-9433 or (800) 634-3420. Check out the Riv's website at www.theriviera.com. "Las Vegas' Sexiest Topless Revue" is the "Crazy Girls."

CONTINUE ON TO...:
>Las Vegas Entertainment Today Home Page
>Article Archives
>LVLG "Heard Around Town"
>Las Vegas Leisure Guide