THE OSMOND BROTHERS HEADLINE AT THE RIVERSIDE!

The Osmond Brothers, who five decades ago were flashed across national television with an appearance on the "Andy Williams Show" are still together and will be headlining at the Riverside, Jan. 2-6 with 7 p.m. shows. These multi-talented brothers and their close harmonies continue to entertain audiences. In 2003, the famous Osmond family was honored for their achievements in the entertainment industry with a star on the Hollywood Walk of Fame. Tickets are $32.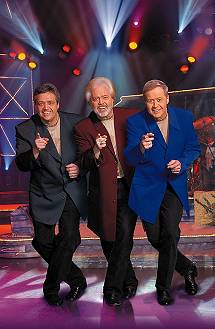 MAGICIAN DIRK ARTHUR APPEARS AT HARRAH'S
"Dirk Arthur – Wild Magic" show featuring magician Dirk Arthur will be appearing with his rare exotic cats in the Fiesta Showroom at Harrah's, Dec. 27 – 30. Arthur is a venerable magician who has performed his family-friendly show consistently in Las Vegas for almost two decades. He's been featured on NBC's "World's Greatest Magic," David Lettermen, and his own documentary "Big Cat Magic" on Animal Planet. Tickets for his show are $25 and $35.
Arthur's cat family includes White Striped Bengal Tigers, Orange Bengal tigers, spotted leopards and Black panthers. When he was a kid he got a magic set, which instantly became an obsession for him. He started out performing with pigeons and doves, later expanded to larger birds like Ostridges and Emus and then on to the big cats.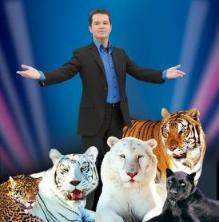 In 1997, Arthur started performing in "Jubilee!" at Bally's in Las Vegas and continued as a specialty for five years. He went on to perform at the Silverton, in the Plaza showroom downtown, in "Splash" at the Riviera and then headlined at the Tropicana for six years.
All the animals in his breeding program, and in the illusions used in his show, were born in captivity.
EDGEWATER HOSTS GIFT AND CRAFT SHOW
The Edgewater will be the site for the five-day International Gift and Craft Show, Dec. 28-Jan. 1. The free show will feature several vendors showcasing handmade items such as belly dancing apparel, jewelry and beaded pieces, hand-crafted women's fashions, home decorations, sculptures, candles and much more. Hours are 10 a.m. – 9 p.m. Friday-Sunday, 10 a.m. to 9 p.m. on Monday, and 9 a.m. to 5 p.m. on Tuesday.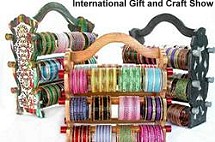 CHRIS CURTIS – HUCK FLYN AMONG COMEDIANS AT EDGEWATER
Weekends at the Edgewater showcase two different stand-up comedians every Friday – Sunday performing at 7 p.m. Tickets are $10.
Upcoming comedians include: Dec. 21-23-Chris Curtis and Jeremy Greenberg; Dec 28-30-Huck Flyn and Lucas Dick; Jan. 4-6 Mark Poolos and Danny Serrano; Jan 11-13-Marc Yaffee and Adam Stone; Jan 18-20-Leif Skyving and Lew Sall; Jan 25-27-Rick Pulido and Jayson Cross; Feb. 1-3-Jerry Torres and Cory Robinson; Feb. 8-10-Dennis Ross and Amy Snowden; Feb. 15-17-Phil Perrier and Sam Ridley III; and Feb. 22-24-Heath Harmison and Justin Berkman.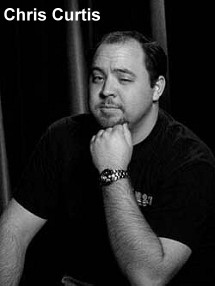 Chris Curtis, who will be center stage with Jeremy Greenberg Dec. 21-23, was the 1993 comic of the year for the Laff Stop comedy chain. After 62 weeks of grueling competition, Curtis wound up on top of the comedy "Laff-Off" contestants, taking the honors for Comic of the Year.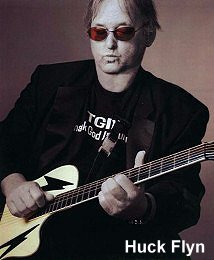 Huck Flyn will be the following weekend, Dec. 28-30, with Lucas Dick. "Rock & Roll" comedian Flyn, whose comedy runs the musical gamut, began his career as a rock guitarist. He was influenced by country, rockabilly, Elvis, Jerry Lee Lewis, Creedence Clearwater Revival and others and went on to perform with Pink Floyd, Super Tramp, Toto, REO and Tower of Power. Around 15 years ago, he visited a comedy club in San Francisco and that experience started him doing stand-up. Flyn has worked with Rob Schneider, Paula Poundstone, Bobby Slayton, Margaret Cho, Bruce Baum, and The Unknown Comic, among others.
TROPICANA FEATURES SANTANA-TOWER OF POWER TRIBUTES
Smooth with a tribute to Santana and Bump City with their tribute to Tower of Power will be together for a concert with dancing in conjunction with the Fiesta Classic Car & Bike Show at the Tropicana at 8 p.m. on Friday and Saturday, Jan. 4 and 5. "Bump City" was Tower of Power's second album. Tickets are $20.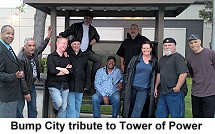 It is well documented that two of the late 1960s and early 1970s icons from the San Francisco Bay Area music scene were Santana and Tower of Power. The two groups often found themselves together on concert bills at The Fillmore, The Avalon, Winterland, Pepperland or other places around the Bay Area. Like so many years ago, these two tributes are recreating a little bit of music history.
TOP OF NEXT COLUMN
BRIEF HAPPENINGS
Every Sunday from 10 p.m. – 4 a.m. is Latin Night inside Club Inferno at the Edgewater with live music. It's a wild party featuring the hottest Latin music of Cuba and dancing styles including Salsa, Timba, Merengue, Reggaeton, and Bachata, etc.
The 108th Army Band made up of citizen soldiers within Arizona's Army National Guard will perform a mixture of traditional and contemporary music in the Avi Grand Ballroom on Saturday, Jan. 5 from 3 – 4:30 p.m. Admission is free.
The Pioneer Hotel & Gambling Hall is a pet friendly hotel with a dedicated block of rooms. In addition, the Pioneer has ample free parking that allows you to park within mere feet of your pet friendly room. Pet rooms require a $100 cash deposit upon check-in, which is returned after inspection at check-out.
The "Last Dance Pajama Party" celebrating the Mayan Armageddon at the Riverside in the Losers' Lounge will feature a "Doomsday Dance Off" with special "End of the World" prizes, drink specials, and two live bands on Friday, Dec. 21 from 7 p.m. – 6 a.m.
Spin to Win Daily Slot Tournaments are held anytime between 6 a.m. and 10 p.m. every Monday, Tuesday and Wednesday in December excluding Dec. 31. Entry fee is $10 and the guaranteed prize each day is $1,000. You can register daily in the tournament area.
Don't forget the Anaheim Ballet is presenting "The Nutcracker" at the Riverside Dec. 20-23. Performances are at 7 p.m. with matinees added on Friday and Saturday at 3 p.m. Tickets are $29.50.
ENDING THE YEAR WITH COASTERS AND PLATTERS
The Edgewater will wrap up 2012 with performances by R&B legends Cornell Gunter's Coasters, and Monroe Powell and the Platters Revue, plus a Surf and Turf three-course dinner, Dec. 29-31. Tickets start at $75.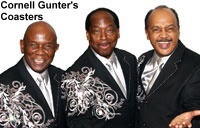 Charlie "D" Duncan, Lionel "Z" Pope and Ron Stevenson are the versatile singers whose harmonies and leads combine to make the Coaster sound of yesterday with precision choreography, trademark humor and audience participation. The Coasters were the first vocal group to be inducted into the Rock 'n' Roll Hall of Fame in 1987 with a string of hits that included "Charlie Brown," "Searchin'," "Youngblood," "Yakety Yak" and "Little Egypt."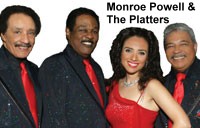 One of the top vocal groups of the Fifties, the Platters delivered smooth, stylized renditions of pop standards. Monroe Powell was the group's lead singer for the better part of four decades. In 1955, their lengthy string of hits began with "Only You" and continued till the end of the decade. Four singles that reached No. 1 included "The Great Pretender," "My Prayer," "Twilight Time" and "Smoke Gets in Your Eyes."
GUN/COLLECTIBLES SHOW BOOKED AT EDGEWATER
Gun/Collectibles Show with Western collectibles, guns, ammo, fishing equipment, books, coins, boots, spurs, antique firearms, and more, will take place at The E Center at the Edgewater on Dec. 22 and 23. Hours on Saturday are 9 a.m. - 5 p.m. and Sunday 9 a.m. - 4 p.m. Admission is $9 general and $7 for Access players club members with both prices good for a two-day pass. Admission is free for ages under 12.
EDGEWATER WILL HOST FIGHTS
The King of the Cage "Future Legends 12" live amateur mixed martial arts fights are set for Saturday, Jan. 5 at 6 in the E Center at the Edgewater with 12-plus bouts on the card, including two King of the Cage belt fights. The main event will feature Jered "The Rocky Mountain Mauler" Lowe (5-0), a U.S. Marine stationed at Camp Pendleton vs. Jonathan Wilson (5-0) of Riverside, Calif., for the 205 pound (light heavyweight) belt. Justin Jones, (5-0) of San Diego, Calif., will take on Brandon Collins (5-2) of Temecula City, Calif., for the 185 pound (middleweight) belt. Three femme fights will be featured on the card. Tickets start at $15.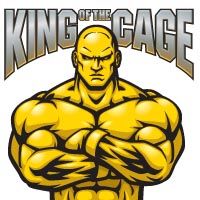 NEW YEAR'S EVE SHOW AND PARTY REMINDERS
Larry Gatlin and the Gatlin Brothers will appear at Don's Celebrity Theatre twice on New Year's Eve at 7 and 10:30 p.m. Tickets are $42 for the 7 p.m. and $44 for the 10:30 p.m. shows on Dec. 31.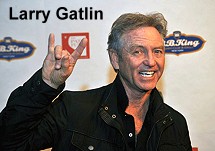 The Rockin' On The River New Year's Eve Party at the Avi will begin at 9:30 p.m. in the Native Harvest Buffet. There will be dancing to the sounds of local DJ Grace Black, hors d'oeuvres, desserts and a cash bar along with party favors, a balloon drop and champagne toast at midnight. Tickets are $25 per couple and $15 for singles.
There will be Big Band music at the Starlight Serenade dance at the Riverside on Monday, Dec. 31 at 8 p.m. Tickets are $24.
TROPICANA HOLDS FIESTA CAR – BIKE SHOW
The "Fiesta Classic Car & Bike Show" will take place in the North Parking Lot at the Tropicana on Jan. 4 and 5. The event is open to all vehicles. Trophies will be awarded for first through third places in each category. Cash awarded for "Overall Best" will be $1,000 for first place, $500 for second and $250 for third. Vehicles will be on display on Saturday and Sunday from 9 a.m. to sunset. The event is hosted by Louie and Cynthia Rojas of Happy Times Events.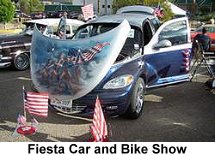 CHRISTMAS MEALS AT THE AQUARIUS

At the Aquarius the Vineyard Ristorante, Café Aquarius and Windows on the River Buffet will each present a special Christmas menu featuring traditional holiday favorites and treats. Meals are discounted if you have an ace | PLAY card.

The Vineyard Ristorante will offer a four-course Christmas meal at Laughlin's only gourmet Italian restaurant from 4-10 p.m. for $35.54. Café Aquarius will celebrate with a traditional meal of either Roast Tom Turkey or Honey Baked Ham from 11 a.m. to 9 p.m. for $14.39. Windows on the River Buffet's Christmas menu is $19.19.


CONTINUE ON TO...:
THIS WEEK'S >LAS VEGAS NEWS
LAST WEEK'S >LAUGHLIN NEWS
>VEGAS VIEW FULL ARCHIVES
Return to >"Heard Around Town"
Return to >Las Vegas Leisure Guide