TRACE ADKINS BRINGS COUNTRY MUSIC TO THE EDGEWATER!

Trace Adkins will headline at The E Center at the Edgewater on Friday, Dec. 14 at 8 p.m. Adkins' recognizable baritone voice has earned 30 charted singles and 15 Top Ten hits with total sales surpassing 10 million. From humble beginnings as a small-town Louisiana roughneck, his life parallels the songs he sings. Now the country superstar has a 20-year career of hits and has added roles as outspoken author and actor. Tickets range from $30 to $90.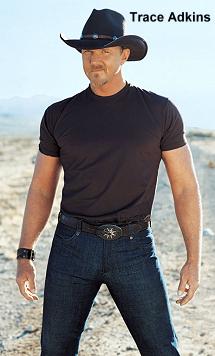 THE FOUR FRESHMEN HARMONIZE AT THE RIVERSIDE
The Four Freshmen will headline at the Riverside in Don's Celebrity Theater, Dec. 5-9. Their 7 p.m. shows will feature the same unmistakable four-part harmony sound of the original group. The new group not only preserves the Freshmen sound, they enhance it with their youth, vitality and talent giving a new treatment to the Great American Songbook. In their 60-plus year history, The Four Freshmen have bragging rights to more than 50 albums, 70 top selling singles and six Grammy nominations. Tickets are $28.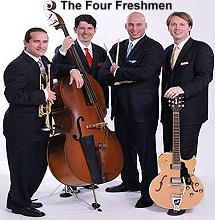 GOLDEN NUGGET HOSTS LAUGHLIN REGIONAL CHILI COOK-OFF
The Golden Nugget Laughlin's Chili Cook-Offs are back-to-back chili cook-offs that will take place on Saturday, Jan. 12 and Sunday, Jan. 13 in the resort's Front Parking Lot. Both cook-offs will have the same format: three categories in each cook-off of red chili, green chili, and best salsa. Both days, cooking for green chili will start at 10 a.m. with turn-in at 1 p.m.; cooking for red chili will start at noon with turn-in at 3 p.m.; and salsa turn-in will be 11 a.m.
The first place prize in each chili category is $1,000. All entry fees for salsa are returned as prize money. For information on chili cook-off entry, call Dessert Dawn at 775-727-9790 or email dawnschili@hotmail.com.
WEEKLY COMEDIANS PERFORM AT THE EDGEWATER
Every Friday through Sunday, two different stand-up comedians perform in the Inferno Nightclub/Edgewater Showroom at 7 p.m. Tickets are $10 at the door or the Edgewater Casino Cage.
The upcoming lineup of comedians include: Dec 7-9-Manny Maldanado and Cliff Yates; Dec 14-16-Vargus Mason and Michael J. Nelson; Dec. 21-23-Chris Curtis and Jeremy Greenberg; Dec 28-30-Huck Flyn and Lucas Dick; Jan. 4-6 Mark Poolos and Danny Serrano; Jan 11-13-Marc Yaffee and Adam Stone; Jan 18-20-Leif Skyving and Lew Sall; and Jan 25-27-Rick Pulido and Jayson Cross.
Manny Maldonado's journey to comedy wasn't planned. His goal was to play professional football but he was too short. After high school, he pursued sports broadcasting. While in college, he participated in speech debate and found his speeches were always funny and entertaining. After a few semesters, he dropped out of college to try standup comedy.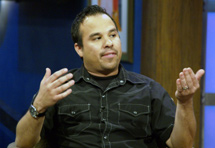 Ten years later, Maldonado is recognized as one of the hottest rising Latino comics and worked with Dave Chappelle, Dave Attell, George Lopez, and many other nationally known comedians. Some of Maldonado's television credits include BET's "ComicView," "Que Locos!," "Latino Laugh Festival," "Comics Unleashed" and "Paul Rodriguez & Friends: Comedy Rehab."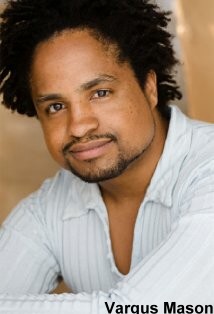 Vargus Mason appearing with Michael J. Nelson was been dubbed Vargus "The Human Cartoon" at the 2002 San Francisco Comedy Competition. Using highly physical movement and an arsenal of animated voices, Vargus took second place defeating 340 competitors worldwide. Many national comedy titles followed. Vargus has also appeared on a diverse range of television comedy shows. Foremost is NBC's "Last Comic Standing," where he was selected among in the world's elite 40 comedians to compete in the semifinals of year four. Most recently, he can be seen in 2013 as a series regular on the Travel Channel's "Exposed."
RIVERSIDE BOOKS HOLIDAY SHOWS
The "Joy of Christmas" will play in Don's Celebrity Theatre at the Riverside Resort, Dec. 11-16 at 7 p.m. Through songs and carols, the sights and sounds of the holiday season will be heard and experienced. Tickets are $30.
"The Nutcracker" presented by the Anaheim Ballet will follow Dec. 20-23.
This show is a classic heartwarming tale of Clara and her Nutcracker doll who changes her woeful winter into a feast in Candyland. Performances are at 7 p.m. with matinees added on Friday and Saturday at 3 p.m. Tickets are $29.50.
'I BELIEVE' CHRISTMAS GALA PLANNED AT AQUARIUS
The "I Believe" - 3rd annual Christmas gala performed by the Voices of the River Choir will be held in the Aquarius Pavilion on Friday, Dec. 14 at 6 p.m. Nevada time. The performance includes vocalists and orchestra members from several river communities. Tickets are $15 and $10 for ages 18 and under. All proceeds will go to benefit student scholarships and capital improvements to Mohave Community College Bullhead Campus. For advance tickets call 702-298-2214.
TOP OF NEXT COLUMN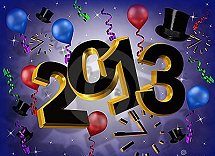 NEW YEAR'S EVE WEEKEND ENTERTAINMENT OPTIONS
Larry Gatlin and the Gatlin Brothers will be doing their show at Don's Celebrity Theatre in the Riverside, Wednesday-Sunday at 7 p.m. and on New Year's Eve at 7 and 10:30 p.m. Tickets are $37.50 Dec. 26-30 and $42 for the 7 p.m. and $44 for the 10:30 p.m. shows on Dec. 31.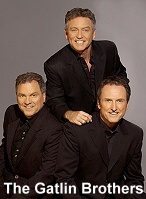 Magician Dirk Arthur will be performing his "Dirk Arthur – Wild Magic" show in the Fiesta Showroom at Harrah's, Dec. 27 – 30. Arthur presents illusions with some of the rarest animals ever seen. He's been featured on NBC's "World's Greatest Magic," David Lettermen, and his own documentary "Big Cat Magic" on Animal Planet. Tickets for his show are $25 and $35.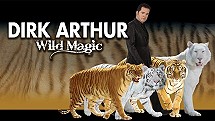 There will be a New Year's Eve Dance with the Starlight Serenade dance band highlighting the sounds of the Big Band Era in the Starview Room at the Riverside on Monday, Dec. 31 at 8 p.m. Tickets are $24.
The Edgewater will feature a New Year's Eve Dinner Show featuring music by Cornell Gunter's Coasters and Monroe Powell and The Platters Revue, Saturday-Monday, Dec. 29-31. Doors will open at 5 p.m. with dinner at 6 p.m. followed by the show at 7 p.m. Tickets are $75, $85 and $95.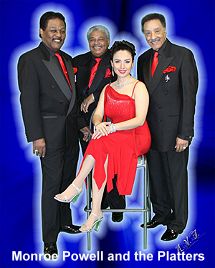 The Aquarius will welcome musical group The Sixties Sensation on Saturday, Dec. 29 and Sunday, Dec. 30 at Splash from 7 p.m. to midnight. The Sixties Sensation includes members Hal Singer, Mike Candito, Wayne Green and Johnny Rocker. Combined they have performance experience that ranges from television with such notables as Spencer Davis, to opening performances for such 60s icons as Herman's Hermits, Gary Lewis & The Playboys, Mitch Ryder & the Detroit Wheels and The Turtles. Admission is free and there is no drink minimum.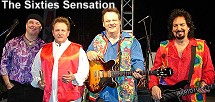 AQUARIUS HOLDS CHRISTMAS TREE AUCTION
From now through Saturday, Dec. 15, guests at the Aquarius can bid on 10 beautifully decorated six-foot tall Christmas trees. Bids begin at $100 per tree, with additional bids accepted in increments of $20. All bids can be placed at the ace | PLAY center and guests will be contacted when their bid is exceeded by another guest.
The 10 Christmas trees are displayed in the hotel lobby and decorated with the following themes: toys, angels, dogs and cats, snowmen, Disney, NFL Football Teams, bears, pink for breast cancer awareness, military red white and blue, and last but not least, Santa. Aquarius team members decorated the Santa tree and Aquarius guests contributed ornaments to help decorate the other themed trees.
Winning bidders can pick up their trees on Friday, Dec. 16 just in time for the holiday. All proceeds from the auction will be donated to local food
COLORADO BELLE SCREENS PACQUIAO-MARQUEZ FIGHT
The Manny Pacquiao vs. Juan Manuel Martinez fight will be broadcast live and shown via closed circuit at the Colorado Belle on Saturday, Dec. 8 at 8 p.m. Boxing legends Pacquiao and Marquez will square off for the fourth time. The fight will be shown on closed circuit TV throughout the resort including big screen TVs in Pints Brewery and Sports Bar.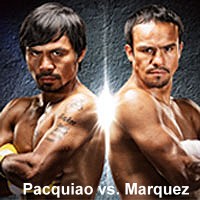 FEW NEWS CLIPS

The Tropicana has some brand new things happening in the coming months. The property has a new general manager, they are in the middle of a major room renovation, and will soon have some new slot products hitting the casino floor.

"The Sixties Sensation" will appear in the ArrowWeed Lounge at the Avi Dec. 3-8 reliving the '60s with all the hits of that era.

Three hundred Thanksgiving meals, large enough to feed a family of four, were given to seven local agencies that distribute food to those less fortunate as part of Aquarius' groundbreaking "Feed a Family" program that allowed ace | PLAY members to contribute players club points. This opportunity is continuing through Sunday, Dec. 23. For every 12,000 points donated by ace | PLAY members, the Aquarius donates a box of food for a family of four.

SOME LOCAL HOLIDAY EVENTS

The annual "Christmas Boom Box Parade" will take place on Friday, Dec. 7 at 6 p.m. Arizona time in Bullhead City. The parade's theme this year is "Spirit of Giving" and features all manner of floats, vehicles, bicycles, motorcycles, equestrian...even dogs....decorated in Christmas lights and decorations.

The annual parade down Route 66 Main St. of Oatman, Ariz., will take place Saturday, Dec. 8 at 2 p.m. Arizona time. The event including decorated shops, homemade cookies, cakes and other goodies, Old West staged gunfights starts at 11 a.m.

There will be a Christmas mixer for the Laughlin Chamber of Commerce with live entertainment and raffles for prizes at the Golden Nugget on Wednesday, Dec. 12 at 5:30 p.m. Cost is $10 plus two cans of food; proceeds from the raffle and food to be donated to the Colorado River Food Bank.


CONTINUE ON TO...:
THIS WEEK'S >LAS VEGAS NEWS
LAST WEEK'S >LAUGHLIN NEWS
>VEGAS VIEW FULL ARCHIVES
Return to >"Heard Around Town"
Return to >Las Vegas Leisure Guide