<!A-- Left Column -->

Multi-talented Charo has a gig at the Riverside, Dec. 27-31. On New Year's Eve, she'll be performing 7 and 10:30 p.m. shows. Tickets are $30, Thursday through Sunday, $40 for the 7 p.m. New Year's Eve show and $45 for the 10:30 p.m. show.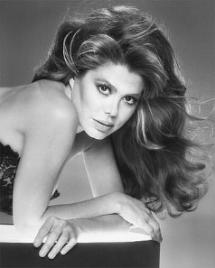 Since the early 70's, Charo, the comedienne, stage and screen performer, musician and singer, has been an integral proponent of contemporary Latin music. The spotlight on Charo has been shining brighter than ever since winning the "Female Pop Album of the Year" award at the Billboard International Latin Music Conference for her 1995 flamenco-inspired platinum album, "Guitar Passion."
Charo is a household name. She is instantly recognizable for her humor, loveable accent and mastery of the flamenco guitar along with her trademark statement, "Cuchi-Cuchi," which has become synonymous with fun around the world. She has appeared in countless hit televisions shows, including more than 45 appearances on "The Tonight Show with Johnny Carson" and appeared on "The Love Boat" more than any other star. Recently, she was introduced to a whole new generation of fans in a nationwide cellular phone commercial for Sprint P.C.S.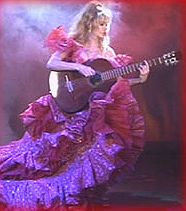 Currently, Charo is on tour and busy promoting her new CD, "Charo and Guitar," which is a mixture of her patented rhythms and mastery of classical guitar. It is a combination of original music of today and the most famous classical masterpieces in the world.
More than 200 of the world's top off-road drivers will compete in the annual race through the rough desert terrain in the Laughlin area, Jan. 24-27, 2008. An estimated 30,000 fans attend the event and view the race from two desert locations and a grandstand location. This event, which is filmed for national TV, is the first race in the SCORE Series throughout the Southwest, which culminates with the BAJA 1000 produces by SCORE International. Highlights include the unequaled Laughlin Leap, with a huge SCOREVISION big screen on the infield to replay highlights and show racing action along the track, and two full days of racing offering more than a $300,000 purse.
From Jan. 5-16, 2008, Steve Lucky & The Rhuba Bums will take over the Fiesta Showroom at 7 and 9 p.m. Tickets are $17.95, $22.95 and $27.95, call 702-298-8510.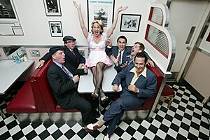 Enjoy an evening of jump, swing, blues accompanied with dance and comedy performances. Steve Lucky & the Rhumba Bums have appeared on CNN's Showbiz, PBS' "CD Highway," a Bravo! documentary "This Joint Is Jumpin'!," "Locals Only" on FOX, and on ABC "Good Morning America."
Did you know there are three movie theaters with 23 movie screens in the Laughlin Area?
At the River Palms, there's a "Party Pit" every Friday and Saturday night in the gaming area with roulette and blackjack tables along with a DJ playing requests, televisions, and special lighting located near the buffet on the casino floor providing fun times.

TOP OF NEXT COLUMN
Monday night football parties are being featured through Dec. 24 in Kokopelli's showroom at the Edgewater and Tarzan's nightclub at the Golden Nugget.
The Riverside is keeping with the holiday season and hosting "Hawaiian Christmas, Dec. 4-18 with $27 tickets, followed by "The Nutcracker," Dec. 20-23 with $20 tickets for adults and $10 for children 12 and under.
The Comedy Shop continues to rotate a noteworthy lineup of three stand-up comics weekly. Tickets for the 8 p.m. shows, Monday through Saturday, are $14.95 and $19.95. The comedians scheduled for Dec. 10-15 are Pam Matteson, Danny Villalpando and Gary Caouette.
Matteson, often referred to as the female Rich Little, has perfected more than 40 legendary personalities, from the sublime Billy Holiday to the ridiculous Marge Simpson. She is a favorite with corporate event planners and nightclubs as she delivers finely-honed musical takes on such legends as Judy Garland and Goldie Hawn singing a duet; Cher's aerobic tongue work-out (complete with a tongue-sized barbell); and Whitney Houston belting a lullaby to her baby.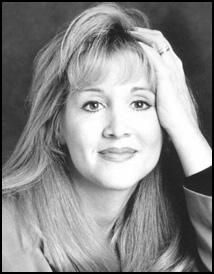 Villalpando has been performing stand up comedy for more than 15 years. Most of his comedy is based on his life experience and his material is clean. Villalpando has worked worldwide with the USO and Comic's on Duty. His comedy has taken him such places as Japan, Singapore, Afghanistan, Panama, Honduras, Greenland, Iraq, Italy, and Greece. He's also performed on television 17 times.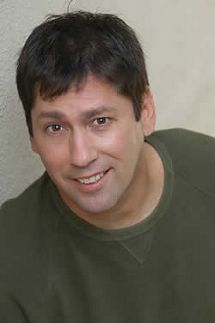 Caouette. who is originally from New England, got his start in the area and quickly rose through the ranks from host to feature act to headliner. He won the Comedy Connections Funniest Professional contest, and is a regular at the Catch A Rising Star comedy clubs. He has appeared in the movie "The Boonedock Saints" and had a feature role on Nippon TV's "Astonishing News." He has a DVD out called "Gary Caouette, Live, One Take" that was filmed at the Comedy Connection and it is a complete show without any editing.
The headliners already booked into the area next year include: Travis Tritt at the Aquarius on March 19 and The Temptations on Jan. 19 at the Tropicana Express.
At the Riverside, the lineup so far next year is: Sammy Shore Jan. 10-13; A Tribute to the Rat Pack Jan. 15-26; The Smothers Broths Feb. 12-17; The Oak Ridge Boys Feb. 19 -24;and Glen Campbell March 19-23.
At Harrah's, the seasonal Baja After Dark from 11 p.m. until closing every Friday and Saturday has the restaurant turning into at nightclub offering late-night revelers a hot party scene with dance music and spirited flair bartenders.
At the Avi, it's ongoing Dixieland jazz performed by two bands: The Dixie Boys, Friday-Sunday from 2 p.m. to 6 p.m.; and The Dixie River Band, Friday-Saturday from 8 p.m. to midnight.
CONTINUE ON TO...:
>THIS WEEK'S LAS VEGAS NEWS
>LAST WEEK'S LAUGHLIN NEWS
>VEGAS VIEW FULL ARCHIVES
>Return to "Heard Around Town"
>Return to Las Vegas Leisure Guide