TROPICANA FEATURES LAUGHS WITH RITA RUDNER
Rita Rudner will be bringing her trademark punch line style to the Pavilion Theater at the Tropicana Express on Nov. 13 at 8 p.m. The frequent late night Letterman and "Tonight Show" television guest is a mainstay headliner at Harrah's in Las Vegas. Tickets are $20.
Her first solo HBO special, "Rita Rudner's One Night Stand" was nominated for several awards, as was her English BBC television show, which later appeared on A&E. Rudner's two one-hour specials for HBO, "Born to be Mild" and "Married Without Children," were ratings standouts.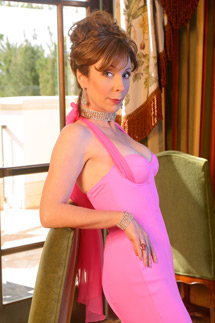 RICH LITTLE BRINGS PERSONALITIES TO HARRAH's
Master impressionist Rich Little will perform at Harrah's Nov. 13-16 in the Fiesta Showroom.Infamous for his skewing of political figures, Little has charmed, amused, annoyed, and lampooned politicians from here to his native Canada.Tickets to see the master mimic of more than 200 voices are $40 to $55.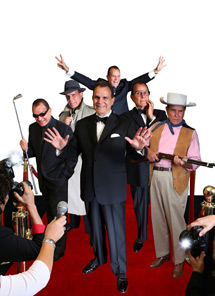 FRANK MARINO BRINGS 'DIVAS LAS VEGAs' TO THE RIVERSIDE
Female impersonator and Las Vegas headliner Frank Marino will bring his "Divas Las Vegas" show to the Riverside, Nov. 9-14. Marino, who stars as comic icon Joan Rivers, and his all-star cast of superstar female impersonators recreate uncanny likenesses of stars ranging from Britney Spears to Cher and Diana Ross to Beyoncé. Meanwhile in his role as the show's emcee, Marino changes dresses for every act creating a dramatic entrance every time. Tickets are $35.50.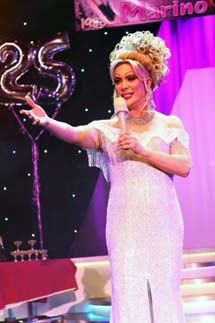 'COMEDY ON THE EDGE' CONTINUES AT THE EDGEWATER
The Edgewater is continuing with its ongoing "Comedy on the Edge" in Kokopelli's Showroom every Friday, Saturday and Sunday at 7 p.m. Each show features two stand-up comedians. Upcoming acts are: Nov 5-7—Ruben Paul and Angel Guillen; Nov 12-14—Chas Elstner and Bill Devlin; Nov 19-21—Quinn Dahle and Chris Simpson; and Nov 26-28—Pete George and Lisa Alvarado. Tickets are $10 at the Edgewater Casino Cage or the door.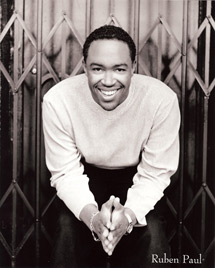 Ruben Paul is an accomplished stand-up comedian and actor with guest star appearances on "The Jamie Foxx Show" and a recurring role on "Pensacola Wings of Gold." Paul can be seen in such films as "Ground Control" with Kiefer Sutherland and "Deliver Us from Eva" with actor/rap sensation LL Cool J.
Paul has performed on George Lopez's new hit talk show, "Lopez Tonight" on TBS. In 2009, he was hand-picked by Russell Peters to perform on the Showtime Network Special, "Russell Peters Presents."
Paul's insightful observations about life come from growing up in an all-black neighborhood, going to an all- Mexican high school, attending an all-white church, and shopping at a lot of Asian stores. Paul has toured extensively with Jamie Foxx, George Lopez, Cedric The Entertainer and performed for U.S. troops around the world.


RESORTS SHOW PACQUIAO VS. MARGARITO FIGHT
Current World Boxing Organization Welterweight World Champion Manny Pacquiao, boxing's only seven-division champion, will take on Antonio Margarito for the World Boxing Council light middleweight title on Saturday, Nov. 13. Closed circuit viewing of the match taking place in Texas will be at 6 p.m. at three casinos: Aquarius in the Splash Cabaret and Race & Sports Book; Edgewater in the Rio Vista Room; and at the Colorado Belle Boiler Room. The Aquarius and Edgewater will also show the fight throughout the casino.


TOP OF NEXT COLUMN
HARRAH's SALUTES SINATRA, DAVIS AND MARTIN
Harrah's will again present "Drinkin'-Singin'-Swingin' " a salute to Sinatra, Davis Jr., and Martin in the Fiesta Showroom at 7 p.m. Nov. 6 – 11.The salute featuring the talents of Ryan Baker as Frank Sinatra; Bryan Clark as Sammy Davis Jr.; and Rick Michel as Dean Martin transports the audience back to the Rat Pack days. This trio captures the essence of the original Rat Pack as they perform legendary hits like "Candy Man," "New York, New York," "Mr. Bojangles," and "Volare." Tickets are priced from $16, call 702-298-8510.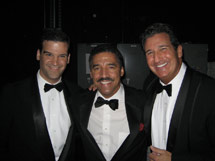 AVI HOLDS MOTORCYCLE – CHILI EVENT
"Rally on the River: Chili, Bikes and Blues" is an annual free three-pronged event involving motorcycles, chili and entertainment, Nov. 26-27. It will be held on the Beach Overlook and South Parking Lot. There will be a motorcycle poker run on Friday at 9 a.m., a bike show on Saturday at 10 a.m., and bike games at 1 p.m. Blues music will be provided by John Earl and the BoogieMan Band on Friday and Saturday from 11 a.m. – 5 p.m. with a chili feast both days. For motorcycle events and vendor info, call Di Lucas at 760-326-6877 or e-mail Dilucas2001@yahoo.com.
SPECIALEVENTS MAKE LAUGHLIN A HAPPENING PLACE
The River Palms will hold the "Wine Tasting and Charity Silent Auction," a fundraiser for Silver Rider Transit of Laughlin, on Saturday, Nov. 6 from 2 – 4 p.m. in the Banquet Rooms. This event will feature fine wines, hors d'oeuvres, high quality auction items, and two cash drawings for $500 each. Tickets are $15 in advance, call 702-298-4435 or $20 at the door.
The Laughlin Senior Games will be held at various sites Nov. 2-7. The annual event features competition in a variety of sports/activities open to people 50 and over. Events include bowling, basketball, swimming, couples and line dancing, poker, tennis, track and field, golf, horseshoes, kayak, pinochle and bridge, and more. Cost is $10 registration, $5 per event and $12 for a mixer. For details, call 702-298-3413. Registration deadline is Oct. 22.
On Nov. 11, "Laughlin's Got Talent" will be held at a venue to be determined at 7 p.m. The winners from each individual casino employee talent contest will vie for the top prize in this casino-wide show. Admission is one can of food or a $2 donation.
The Laughlin Coin, Currency, Jewelry & Stamp Expo will take place Nov. 12-14 in the Mardi Gras Room at the Colorado Belle. This show will have rare coins and other items on display and for sale as well as free appraisals. Admission, which is good for all three days, is $3 adults and $2 for seniors and children under 14 free. Hours are Friday – 11 a.m.-6 p.m.; Saturday – 10 a.m. – 6 p.m.; and Sunday 10 a.m. – 5 p.m.

The Aquarius will present the second Bullhead City Senior Softball Fall Classic, Nov. 8-10 at Bullhead City's Rotary and Ken Fovargue Parks. Start time each day will be 8 a.m. Arizona time and space is limited to 42 teams of 12 players each. All players must be 55 and older. For information, contact tournament director Bill Donigan at 928-577-0214.
The Laughlin Coin, Currency, Jewelry & Stamp Expo will feature rare coins on display and for sale in the Mardi Gras Room at the Colorado Belle, Nov. 12-14. There will be other items for sale and free appraisals. Hours are Friday 11 a.m.-6 p.m., Saturday 10 a.m.-6 p.m., and Sunday 10 a.m.-5 p.m. Admission is $3 adults, $2 seniors, free for children 14 and under; plus one admission price is good for all three days. For information, call Israel Bick, 866-226-0507.
Getting into the holiday spirit on Friday, Nov 26 at 6 p.m., the Avi will hold its free "Christmas Tree Lighting" in front of the casino and Grand Ballroom with hot chocolate, coffee, apple cider and cookies. A concert by the Needles High School Marching Band and Choir will follow.
The Holiday Boat Parade of Lights will take place on the Colorado River by the casinos on Saturday, Nov. 27 from 4:30 (5:30 p.m. Ariz. time) – 7 p.m. All kinds of boats will be decorated with holiday lights and parade down the river. For information, call 928-754-3555, ext. 233.
Another holiday event will be held in the Pavilion Theater at the Tropicana on Dec 16 at 6 p.m. The "Voices of the River Christmas Gala" is a holiday show featuring local artists including the "Voices of the River Choir" singing excerpts from Handel's Messiah. Tickets are $15 for adults and $5 for ages under 12. For ticket information, call 928-444-8192.
The town-wide SNORE "Rage at the River" off road races sponsored by Southern Nevada Off Road Enthusiasts will take place Dec. 10-13. For information, visit snoreracing.net.

More off road racing will take place with the SCORE: "Laughlin Desert Challenge," Jan. 14-16, 2011. The 17th year for this classic off-road racing event will feature top world off-road racers competing and the famous "Laughlin Leap," which is a drive off a ramp for distance. For information, visit score-international.com.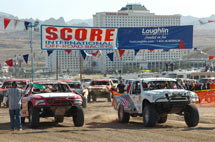 CONTINUE ON TO...:

>THIS WEEK'S LAS VEGAS NEWS
>LAST WEEK'S LAUGHLIN NEWS
>VEGAS VIEW FULL ARCHIVES
>Return to "Heard Around Town"
>Return to Las Vegas Leisure Guide