RIVERSIDE HEADLINES DEBBIE REYNOLDS, GATLINS, AND KISS ARMY
Don's Celebrity Theatre always features top level headlining acts. For tickets, call 800-227-3849, ext 616.
Hollywood movie star Debbie Reynolds will take audiences down memory lane with her humor, music and celebrity impersonations, Oct. 19-24. Tickets are $34 for her 8 p.m. shows.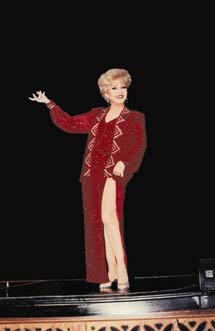 Larry Gatlin & The Gatlin Brothers will appear, Oct. 26-30. Over 50 years ago, Larry, Steve, and Rudy Gatlin started singing in their little hometown of Abilene, Texas. Over the course of a four-decade career their family harmony has been pure magic. Tickets are $35 for their 8 p.m. shows.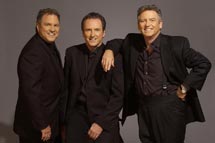 Closing out the month on Halloween, Oct. 31, KISS Army will perform their tribute to the band KISS at 3 and 7:30 p.m. Tickets are $25.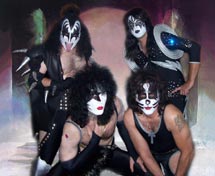 AQUARIUS HOLDS ANNUAL PSYCHIC FAIR
The Aquarius Ballroom will host its 3rd Annual Psychic Fair, Oct. 30-31. This Halloween season event will offer readings and information by, and from 30 psychics including palm readers, mentalists, spiritual healers, numerologists, toe readers, tarot card readers, aura photographers and more. Hours will be noon to 8 p.m. Saturday – Sunday. Cost is $20 per reading.
Some of the psychics who will attend are: Sunny Dawn Johnston; numerologist Rev. Angela Kay, Ph.D.; tea and Mexican Tarot card reader Sheryl Tilley; intuitive reader, author and healer, Marilyn Markham Petrich, R.N.; counselor and clairvoyant Rev. Lana V. Ante, B.S.W.; and tarot card reader Andy Sobczak.
The winner of the "Number One Psychic in Las Vegas" award, Patrice will be reading. Patrice is a licensed Psychic Arts Practitioner and the owner of Psychic Castles Metaphysical Book Shop and the Cosmic Corner reading room in Las Vegas at the Palms.
AQUARIUS HAS WINNERS AND HELPS FOOD BANKS
James Helpling of Anderson, Ind., hit a royal flush playing Let it Ride at the Aquarius on Sept. 26 and won $35,000.
Six winners took home a share of $12,000 when the Aquarius hosted the free "Rake in the Dough" Blackjack tournament on Sept. 18. The top players were Joan Zirhut from Fort Mohave, Ariz., with a first place win of $5,000; Paul Reeves from Pocatello, Idaho, with a second place win of $2,500; and Bruce Darling of Hayward, Calif., with a third place win of $1,500.
Recently Aquarius resort team members rallied to collect 4,720 food items or 3.3 tons of food for the "One Can, Two Can, You Can! Food Drive." Food items were donated to the Golden Valley Food Bank and Praise Chapel Bullhead City Food Bank to help through the holidays.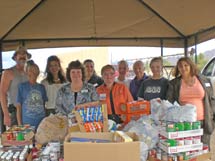 THE CARTER TWINS HEADLINE AT AVI
Country duo, The Carter Twins along with special guest comedian Grandma Lee, will headline at the Avi Convention Center on Oct. 23 at 8 p.m. The Carter Twins - Josh and Zach - grew up in Akron, Ohio, and were surrounded by music with their mother working in country radio and encouraging their interest. The brothers have relocated to Nashville to pursue their music career. Tickets are $15, $22 and $30.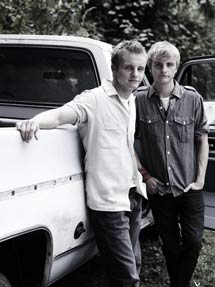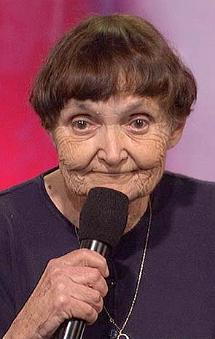 TOP OF NEXT COLUMN
'COMEDY ON THE EDGE' IS EDGEWATER MAINSTAY
The Edgewater is continuing with its ongoing "Comedy on the Edge" in Kokopelli's Showroom every Friday, Saturday and Sunday at 7 p.m. Each show features two stand-up comedians. Upcoming acts are: Oct 22-24—Kivi Rogers and Ryan Wingfield, and Oct 29-31—Barry Diamond and Rick D'Elia. Tickets are $10 at the Edgewater Casino Cage or the door.
Kivi Rogers and his six siblings grew up in the Pueblo Del Rio housing projects. He earned a degree in electronics and after college won his very first comedy competition and said goodbye to the 9 to 5 scene. When he showcased at the US Comedy Arts Festival in Aspen, Colo., he landed a development deal with Castle Rock Entertainment to star in his own sitcom. In 1998, Rogers was nominated for comedian of the year at the National Association of Campus Activities (NACA). He has made guest appearances on network television shows and appeared in feature films.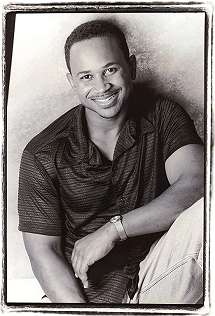 HARRAH's HIGHLIGHTS AL GREEN
American Gospel, soul and R&B singer, Al Green, will perform at the Harrah's Laughlin Rio Vista Outdoor Amphitheater on Oct. 23. Green has been honored with Lifetime Achievement Awards from the Grammys as well as BET Awards. He has been inducted into the Rock and Roll Hall of Fame and the Gospel Music Hall of Fame. The Rev. Green continues to minister at the Full Gospel Tabernacle in Memphis, Tenn. Tickets range from $40 to $70.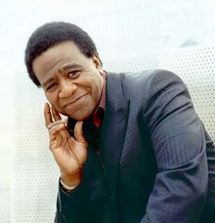 SPECIAL EVENTS MAKE LAUGHLIN A HAPPENING PLACE

A Monster Masquerade Dance with music by Ronnie and the Classics monster band will be held at the Avi Convention Center on Saturday, Oct. 30 from 7 - 10 p.m. The costume contest will offer $500 in prizes. Cost is $5.
The River Palms will feature a tribute to The Cure show on Oct. 30 and 31 at 8 p.m. at the 2700 Entertainment Center. Tickets are $10. On Saturday, there will be a costume contest for $1,000 in cash prizes.
The Tropicana will hold a Halloween Haunt and Glow Car Show in the North Parking Lot and Victory Plaza on Oct. 29-31. Hosted by the Island Cruisers Car Club, this event will feature classic cars, trucks, bikes with three top awards for each category. Car registration is $25 per car. The Car show is at 1 p.m. on Friday and from 9 a.m. – 7 p.m. on Saturday. There's a light show at 6 p.m. on Friday and a Halloween costume contest at 6 p.m. on Saturday with awards at 10 a.m. on Sunday. For information, call 909-856-2621.
The Riverwalk between the Colorado Belle and the Edgewater will hold "Halloween Safe Street" on Sunday, Oct. 31 from 5 – 8 p.m. Admission is free and there will be controlled trick-or-treating for kids in the early hours followed by an adult costume party later.
The River Palms will hold the "Wine Tasting and Charity Silent Auction," a fundraiser for Silver Rider Transit of Laughlin, on Saturday, Nov. 6 from 2 – 4 p.m. in the Banquet Rooms. This event will feature fine wines, hors d'oeuvres, high quality auction items, and two cash drawings for $500 each. Tickets are $15 in advance, call 702-298-4435 or $20 at the door.
The Laughlin Senior Games will be held at various sites Nov. 2-7. The annual event features competition in a variety of sports/activities open to people 50 and over. Events include bowling, basketball, swimming, couples and line dancing, poker, tennis, track and field, golf, horseshoes, kayak, pinochle and bridge, and more. Cost is $10 registration, $5 per event and $12 for a mixer. For details, call 702-298-3413. Registration deadline is Oct. 22.
On Nov. 11, "Laughlin's Got Talent" will be held at a venue to be determined at 7 p.m. The winners from each individual casino employee talent contest will vie for the top prize in this casino-wide show. Admission is one can of food or a $2 donation.
The Laughlin Coin, Currency, Jewelry & Stamp Expo will take place Nov. 12-14 in the Mardi Gras Room at the Colorado Belle. This show will have rare coins and other items on display and for sale as well as free appraisals. Admission, which is good for all three days, is $3 adults and $2 for seniors and children under 14 free. Hours are Friday – 11 a.m.-6 p.m.; Saturday – 10 a.m. – 6 p.m.; and Sunday 10 a.m. – 5 p.m.
The Aquarius will present the second Bullhead City Senior Softball Fall Classic, Nov. 8-10 at Bullhead City's Rotary and Ken Fovargue Parks. Start time each day will be 8 a.m. Arizona time and space is limited to 42 teams of 12 players each. All players must be 55 and older. For information, contact tournament director Bill Donigan at 928-577-0214.
The Holiday Boat Parade of Lights will take place on the Colorado River by the casinos on Saturday, Nov. 27 from 4:30 – 7 p.m. All kinds of boats will be decorated with holiday lights and parade down the river. For information about entering a boat, call 928-754-3555, ext. 233.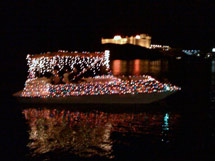 The town-wide SNORE "Rage at the River" off road races sponsored by Southern Nevada Off Road Enthusiasts will take place Dec. 10-13. For information, visit snoreracing.net.
More off road racing will take place with the SCORE: "Laughlin Desert Challenge," Jan. 14-16, 2011. The 17th year for this classic off-road racing event will feature top world off-road racers competing and the famous "Laughlin Leap," which is a drive off a ramp for distance. For information, visit score-international.com.

CONTINUE ON TO...:

>THIS WEEK'S LAS VEGAS NEWS
>LAST WEEK'S LAUGHLIN NEWS
>VEGAS VIEW FULL ARCHIVES
>Return to "Heard Around Town"
>Return to Las Vegas Leisure Guide