Magician Rick Thomas who spent eight years building a successful afternoon show at the Tropicana moved over to the Stardust more than a year ago. A couple weeks ago with no notice or fanfare, Jeff Kutash's "Headlights & Tailpipes" production show closed. Thomas has taken over the showroom at night and added a third show. He's currently performing at 2, 4 and 7 p.m. daily except Sunday.
The Stardust, which will be closing for good in a few months to make room for Boyd Gaming's $4 billion Echelon Place, has one of the Strip's oldest showrooms where the famous "Lido de Paris" played for 32 years.

Column Continues Below Advertisement


Nostalgia will play out a few more times in the showroom when comedian Don Rickles does his show Sept. 14-16 and Steve Lawrence and Eydie Gorme headline Oct. 26-28.
The Tropicana has scheduled a one-night only show by stand-up comic, successful author and talented actress, Brett Butler, on Saturday, Aug. 26, in the Tiffany Theatre. Tickets are $49; call 702-739-2411.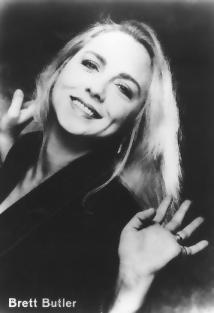 Brett Butler is best known for her role as quick-witted Grace Kelly on the hit ABC-TV series "Grace Under Fire," where she not only served as the show's star, but also the executive producer. She received a People's Choice award for her work on the sitcom. She recently made her big return to the small screen as "Joy's Mom" on the new NBC comedy sitcom, "My Name Is Earl."
Brett has toured the United States for more than 20 years with her no-holds-barred stand-up performance. She's known as the "Southern Lenny Bruce." In addition, she is a notable author. Her autobiography, "Knee Deep in Paradise," made The New York Times Bestseller list.
"Mamma Mia!," the smash hit musical based on the songs of ABBA, set a Las Vegas benchmark when it welcomed its 1.5 millionth guest at Mandalay Bay this month. Now in its fourth hit year at the hotel, "Mamma Mia!" is still one of the most profitable productions of the 11 worldwide. The show premiered at Mandalay Bay on Feb. 13, 2003. The production remains the longest running and most successful full-scale Broadway musical ever to play the Las Vegas Strip. Tickets are $100 - $45, call 703-632-7580.
Following Eddie Money's concert on July 15, the Silverton ended its popular live entertainment series to begin a year-long hiatus. The series that was held in the Outdoor Events Center has stopped temporarily to make way for a brand new entertainment venue located in the Silverton's revamped pool area that will re-open in Summer 2007.
Most recently in 2006, the Silverton signed a two-year extension to their previous deal with the easy rock super group Hootie & the Blowfish to appear exclusively at the resort while in Las Vegas. The band, which has committed to a partnership with the Silverton through 2008, will continue to make appearances at the resort throughout the hiatus, including a New Year's Eve 2006 performance.
The Popovich Comedy Pet Theater is appearing this summer at 3:30 p.m. Saturday - Thursday inside the V Theater in the Desert Passage mall at the Aladdin. The family show features international circus ringleader Gregory Popovich, who is an award winner and multi-world record holder in the art of juggling, and 15 talented cats and eight amazing dogs. Popovich leads an extravaganza of juggling and European-style comedy with furry friends performing astounding tricks.
The 23 adorable animals in the show are strays rescued from animal shelters. Audiences are amazed to see pets that were once homeless perform skits, ride scooters and dress in costume. The cats and dogs jump, flip, balance and even complete obstacle courses too. Popovich and his pets have entertained Jay Leno and David Letterman and been featured on Animal Planet, CNN and NBC.
Tickets are $32 for ages 12 and up, $18 for children ages two -12, and free for children under two years old, call 702-932-1818.
Blue Man Group Records will release "Live at The Venetian - Las Vegas" on July 25, with the single and video for "Rods and Cones" available in advance of the full album. Inspired by music industry advancements in distribution, the critically acclaimed Blue Man Group will digitally release the new live recording of their ongoing Las Vegas production at The Venetian® exclusively on iTunes. Video and audio podcasts will also be available.
The Blue Man Group's debut album, "Audio," was nominated for a Grammy in the Best Pop Instrumental category in 2001, and has subsequently been certified Gold by the Recording Industry Association of America. "The Complex," Blue Man Group's full-fledged rock album was released in 2003 and features collaborations with Dan the Automator, Tracy Bonham, Esthero, Josh Haden, Dave Matthews, Gavin Rossdale and others. Blue Man Group's The Complex Rock Tour reached nearly 100 cities across the United States and Canada. In 2004, Blue Man Group won critical praise for its first television score, providing the dramatic sound for Fox's "The Jury," as well as Intel's Pentium 3, Pentium 4, and Centrino television advertisements. Furthering their initiative into film scoring, Blue Man Group collaborated on the John Powell score of the 20th Century Fox 2005 hit animated motion picture and DVD, "Robots." A new rock concert tour from Blue Man Group hits the road September 2006.
Popular Chicago-based DJ Bad Boy Bill will bring his high-energy style of house music to Tabú Ultra Lounge at the MGM Grand on Wednesday, July 26 from 10 p.m. until the early morning hours.
Master magician and illusionist David Copperfield will continue his 2006 tour at the MGM Grand's intimate 740-seat Hollywood Theatre with scheduled performances Nov. 9 - 29 and Dec. 21 - Jan. 3. Tickets are $97, call 800-929-1111. Copperfield will ring-in 2007 with a special midnight balloon drop following his 10:30 p.m. performance on Dec. 31.
Opportunity Village will attempt to break the world record for the Largest Santa Gathering with the Great Santa Run and Kris Kringle Jingle fundraiser at 8 a.m. on Dec. 9, at the Fremont Street Experience. The head Santa will be Mayor Oscar Goodman and Robin Leach will head up event festivities. Registration fees are $45 prior to Dec. 9 and $75 on race day, call 702.259.3741.
Registration is open to the public, and offers a fun warm up event for the New Las Vegas Marathon being held the following day. "Santa Strollers" and "Kringle Jinglers" can register online at www.opportunityvillage.org. The first 5,000 jolly joggers will receive a five-piece Santa suit complete with hat, belt and beard and a gift bag. Participants may choose from the 5K Fun Run/Walk or the Kris Kringle Jingle one-mile stroll for the casual walker or jogger.
The current world record for the Largest Santa Gathering was set in December 2004 with 4,260 participants at the Newtown and District Dial-A-Ride Santa Run in the UK.
Comedian George Lopez, co-creator, writer, producer and star of the ABC network and Warner Bros. television produced sitcom, "George Lopez," will return to headline at the Las Vegas Hilton on Oct. 13 and 14 at 9 p.m. New next time will be the opportunity for a meet-and-greet with stage seats priced at $125.
The Tenth Annual Hooters International Swimsuit Pageant hosted by Brooke Burke will take place in Las Vegas at the Aladdin Theatre for Performing Arts on Tuesday, July 25 at 6 p.m. More than 130 contestants from around the world representing their hometowns from Shanghai, China to Atlanta, Ga. will compete for more than $150,000 in cash and prizes and vie for the Miss Hooters International crown. Tickets are $35, $50 and $75; call Ticketmaster at 702-474-4000.
Singer Barry Manilow, who headlines at the Las Vegas Hilton through 2007, has been nominated for two Emmys. His Hilton show, "Music & Passion," was taped and broadcast on PBS as a TV special. Manilow has a nomination for his individual performance and a second nomination for outstanding sound mixing by Tom Davis. The Emmy Awards will be broadcast on Aug. 27 on NBC.
Red Buttons passed away this month. Along with his film and television career, he made appearances in Las Vegas including playing at the Sands in 1953 when it was new and opened for Frank Sinatra at the Golden Nugget downtown in February 1986. He also made a name for himself being a popular guest at testimonial dinners and the Dean Martin roasts.
Zita Esquivel de Velazquez, a kindergarten aide from Torreon, Mexico, recently won a $1,234,549 Wheel of Fortune® quarter MegaJackpot® at Terrible's on Paradise and Flamingo roads. She plans to share her winnings with family and friends and to continue working with her kindergarten class.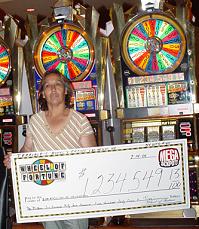 Terrible's has been operating in Las Vegas for more than five years and is currently preparing to open a new hotel tower and a 500-space parking garage. This follows the recent opening of an expanded casino space bringing their total to more than 1,000 slots.
BOA Steakhouse located on the third floor of the expanded Forum Shops at Caesars will host a special 7 p.m. dinner with Rudd Winery and Vineyards on July 27 as one in a series of wine dinners being offered this summer. The six-course dinner will cost $150 per person, call 702-733.7373.
The Las Vegas Art Museum located at 9600 West Sahara Ave. will present the 55th Art Round-Up Juried Exhibition, a show featuring the works of 150 local artists, from Aug. 6 - 31.
The Round-Up was first held in the museum's Lorenzi Park location in 1951 as a way to provide local artists more exposure within the Las Vegas arts community. This year's exhibition will feature 155 works by 150 artists in categories of painting, sculpture, photography, video, works on paper and watercolor.
The Las Vegas Art Museum is open from 10 a.m. to 5 p.m. Tuesday through Saturday, 1 to 5 p.m. Sunday, and closed Mondays. For information, call 702-360-8000.
The Las Vegas Walk of Stars will honor Las Vegas CEO, television celebrity, best-selling author, and gaming legend Wayne Allyn Root on Tuesday Aug. 15. The ceremony will start at 11:30 a.m. at ESPN Zone at New York-New York. Root is the creator, co-executive producer and co-host of the "King of Vegas" TV series on Spike TV.
He has written six books, sold a TV series to Hollywood, produced and starred in numerous national TV shows including "Wayne Allyn Root's WinningEDGE," become A guest on major TV network talk shows, and contributed as an editor to "Millionaire" magazine. Root has two new books coming out: "The King of Vegas' Guide to Gambling" on Aug. 3 and the paperback version of "Millionaire Republican" on Sept. 14. He recently announced that his TV show "Wayne Allyn Root's WinningEDGE" will move to the Discovery Channel.
CONTINUE ON TO...:
>THIS WEEK'S LAUGHLIN SEGMENT
>LAST WEEK'S LAS VEGAS SEGMENT
>VEGAS VIEWS FULL ARCHIVES
>Return to "Heard Around Town"
>Return to Las Vegas Leisure Guide