DOTTY'S ADDS RIVER PALMS TO ITS GROWING PORTFOLIO!

Nevada Restaurant Services, Inc., the Las Vegas-based parent company of tavern operator Dotty's, is buying the River Palms in Laughlin for $6.75 million from Atlantic City-based Tropicana Entertainment, which does not own the Tropicana in Las Vegas. The new owners, which are the Estey family, plan to close the River Palms for an undetermined time period while the 1,000-room, 25-story hotel tower and casino undergo renovations and other improvements. The company will take over operation of the hotel/casino upon receipt of gaming licenses.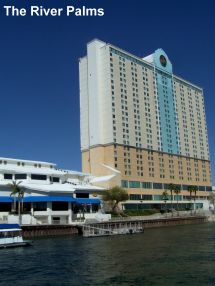 The River Palms along the banks of the Colorado River was originally built by developer John Midby opened in 1984. The resort was first operated as Sam's Town Gold River by Boyd Gaming Corp. until 1991. The River Palms casino has 600 slot machines, 13 table games and sports book operated by William Hill.
With this sale, Tropicana Entertainment will be able to focus its local efforts exclusively on Tropicana Laughlin.
All customers at River Palms who are Trop Advantage club members and have earned benefits and rewards will be able to enjoy their rewards at Tropicana Laughlin and all benefits and rewards will be honored immediately. Trop Advantage members are encouraged to visit the Trop Advantage Center to take advantage of their offers.
DENNIS DEYOUNG OF STYX FAME HEADLINES E CENTER
Legendary singer, songwriter, keyboardist, composer and record producer Dennis DeYoung will appear at the E Center on Saturday, Aug. 2. Tickets start at $15.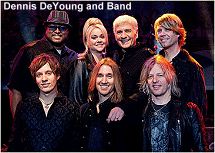 He is best known for being a founding member, lead vocalist and keyboardist of the rock band Styx, which lasted to June 1999. DeYoung is also credited as the group member writing the most Styx songs. From the Chicago area, DeYoung at age 14 teamed up with his neighbors Chuck and John Panozzo forming a three-piece combo. The trio later added two more members to form the band Tradewinds in the late 1960s. The band renamed itself TW4 in 1968 and became Styx in 1970. The song "Lady" propelled them to major league stardom.
ALMOST TIME FOR THE BULLHEAD CITY RIVER REGATTA
The 8th Annual Bullhead City River Regatta is set for Saturday, Aug. 9 with the anticipation of thousands of participants floating on the Colorado River. This year's Aloha tropical theme welcomes visitors for the nine-mile, three-to-four hour river float trip on rafts, inner tubes, kayaks and decorative, non-motorized barges and other creative float devices. People launch from 7 a.m. until 1p.m. Last year there were more than 29,000 participants. Life vests must be worn and are not provided. Minors 8-17 must be accompanied by an adult. Early registration for the $30 entry fee ends Aug. 1 and then the price goes to $40.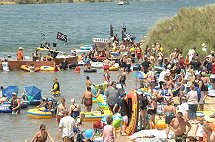 There will be a "Decorated Float Contest" with 4,000 in cash prizes awarded for best "Aloha" themes. Deadline is Aug. 1 to register and awards will be handed out in Harrah's Banquet Room on Sunday, Aug. 10 at 10 a.m.
HARRAH'S THROWS RIVER REGATTA PRE-PARTY
Harrah's Laughlin is throwing a free River Regatta pre-party sponsored by Red Bull and featuring one of Las Vegas's hottest DJs, Tatiana. Recognized as the best female DJ in the world, Tatiana currently performs her music magic at events across the country and is an official DJ for a nationally syndicated TV show. Throughout the evening, Tatiana will take center stage at the Harrah's beach in a custom built Red Bull MXT Event Truck with a full DJ set-up.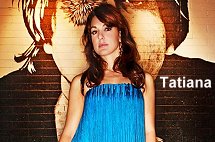 The River Regatta pre-party will start at 7 p.m. in three separate locations along Harrah's beach resort complex including the two riverside pools and the popular Colorado River beach front. Each of the three locations will be highlighted with an individual DJ who will deliver a unique style of music. The crowd of pre-regatta partiers will be able to flow from one location to another without missing a beat.
Red Bull will have a VIP Ultra lounge at the beach with leather sectional couches, a tent, LED screens and bar service. Additional sponsors include Corona, Jagermesiter and Modelo.
AQUARIUS CELEBRATES RIVER REGATTA WITH ROOM AND DINING DEALS
The Aquarius is offering a special room package for the 8th Annual Bullhead City River Regatta and meal deals during the event.
Aquarius has a floaters one-of-a-kind room package that includes: a two-night stay Aug. 8 and 9; two entries into the River Regatta; a free River Regatta T-shirt; lunch at the landing; and free shuttle service from Aquarius to the launch and landing sites and then back to the hotel. Aquarius will also provide its own exclusive air filling station at Davis Camp, just for Aquarius guests. The package starts at $409.99 plus tax; visit AquariusCasinoResort.com or call 800-662-5825 and mention REGA142.
The Aquarius has dining specials over the River Regatta weekend: Regatta Champagne Brunch at Windows on the River Buffet plus two free drinks $10.99; Surf and Turf special at Cafe Aquarius is $12.55; and complete gourmet River Regatta dinner at The Vineyard Ristorante is $35.95. All prices are with the resort's player club card and cost a few dollars more without.
EAGLES MUSIC WILL INVADE THE RIVERSIDE
"Desperado, Music of the Eagles" will prevail at Don's Celebrity Theatre at the Riverside July 24-27. Desperado consists of five extremely talented musicians and vocalists who have taken great measure and effort to present the Eagles' authentic, original sounds that have echoed for many decades. This band takes great pride in giving a "totally live" show, free of backing tracks, overdubs or any other tricks to enhance the vocal sound. Tickets are $25 for an 8 p.m. show.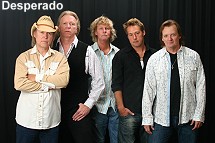 ROB GARRETT BRINGS NEIL DIAMOND TRIBUTE TO THE RIVERSIDE
"Hot August Nights - Rob Garrett's Tribute to Neil Diamond" will be presented with the KOD Band July 30-Aug. 3 and Aug. 6-10 in Don's Celebrity Theatre at the Riverside. Tickets are $20 for Garrett's 8 p.m. performances.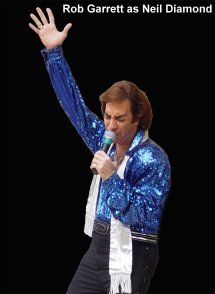 Like his iconic Neil Diamond counterpart, Rob Garrett was born in New York City. He began learning to sing and play guitar at age 13 and in 1974 the family moved to Las Vegas. In 1980, he formed the group "Rock 'n' Roll Heaven" and for 15 years achieved prominence as the leader and front man of Las Vegas' premiere "oldies" and classic rock group.
In 1994, Garrett made the decision to take his career in a different direction by paying tribute to one of his all-time boyhood idols and musical influences. Garrett landed a job with "Legends in Concert" and played Neil Diamond in the show for five years. Today, the award-winning Garrett has established himself as the world's most popular and requested Neil Diamond tribute artist, earning the title "King of Diamonds."
TOP OF NEXT COLUMN
WILD STYLE OPENS AT EDGEWATER REPLACING MCDONALD'S
The Edgewater has a new food outlet Wild Style Burgers & Pizza replacing what used to be the national chain McDonald's restaurant. The eatery is located at the south end of the main casino level.
The casual food menu for Wild Style concentrates on a few items including: pizza whole or by the slice; ground filet burgers in single, double or triple sizes with a "top it yourself" condiment bar; chicken sandwich; grilled cheese sandwich; fries; onion rings; breakfast items (sandwiches, rolls, bagels, muffins, hash browns); and beverages including shakes and two hand-crafted beers on tap from the Colorado Belle's Pints Brewery & Sports Bar. Prices are from $4-$6 range with the big 18" pizza the most expensive at $23.
Wild Style Burgers & Pizza opens daily at 7 a.m. and offers breakfast items until 11 a.m.
DARRYL RHOADES - TOM HOWARD PROVIDE LAUGHS AT EDGEWATER
Each week two comedians visit the Edgewater Friday through Sunday and make audiences laugh starting at 7 p.m. Show tickets are $10 and there's a $2 discount on Sunday for veterans.
The future roster for "Comedy on the Edge" includes: Aug. 8-10- BJ Johnson and Kate Brindle; Aug. 15-17- Pete George and Allison Breen; Aug. 22-24-Roy Haber and Ryan DeNisco; and Aug. 29-31- Spencer James and Tim Smallwood.
Darryl Rhoades will co-headline with Nathan Brannon July 25-27. In addition to comedy, Rhoades has a musical background dating back to the formation of the Hahavishnu Orchestra in 1975. The Orchestra was a 12-piece musical comedy troupe that traveled nationally until 1978.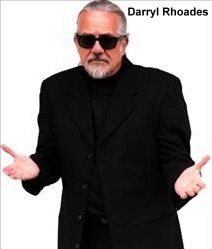 Rhoades' first LP was "Burgers From Heaven" in 1979, and the title song was in the Jim Varney film "Fastfood" in 1988. In 1985, Rhoades assembled The Men from Glad and released his second LP, "Better Dead Than Mellow." In 1989, he began his stand-up comedy career. In May 2001, Rhoades released his eighth comedy and music recording entitled "Rhoades....All Over The Map." The CD was aptly titled as it contained various musical styles such as jazz, country, swing, heavy metal, rockabilly and more. Most recently, Rhoades played drums in the Santa Fe scenes in the 2009 academy winning movie, " Crazy Heart."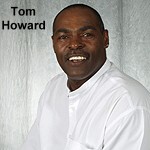 Tom Howard will appear with fellow funnyman Gary Jones Aug. 1-3. Howard burst upon the Northwest comedy scene in 1996. Fast paced and energetic, the sharp tongued "In Yo Face" comic will say everything that you only have the nerve to think about. He has appeared at many comedy clubs and universities. With a flair for recognizing great talent, he created The Howard Agency. With more than 500 comedy productions in the last four years, there is great anticipation from the comedy community on how far Howard will go.
INTERNATIONAL GIFT AND CRAFT SHOW VISITS LAUGHLIN
The International Gift and Craft Show will visit in the Edgewater's casino-level Taos Room on Friday and Saturday, July 25 and 26. This free two-day show will feature vendors showcasing unique and beautiful handmade items such as belly dancing and Zumba apparel, hand-crafted women's fashions, home decorations, sculptures, jewelry and exotic beaded items, candles and much more. Hours are 10 a.m.-9 p.m. Friday and 10 a.m.-8 p.m. Saturday.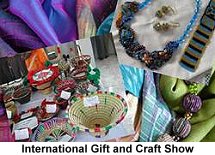 This family-friendly event has something for everyone and will return to Laughlin Aug. 8-10 for three days at the spacious Club 2700 on the 2nd level event center at the River Palms. Hours will be Friday and Saturday 10 a.m.-9 p.m. and until 8 p.m. on Sunday.
For information, call 714-206-1054 or visit http://www.igcshows.com/.
NOTABLE ENTERTAINMENT ON THE HORIZON
"America's Got Talent" 2007 winner Terry Fator will mesmerize audiences at The E Center at the Edgewater on Friday, July 25. The Las Vegas headliner from The Mirage on the Strip will have his sidekicks including the ever popular Winston the turtle. Tickets range from $30-$85.
The Edgewater has English rock musician, singer, songwriter, producer, guitarist and multi-instrumentalist Peter Frampton booked on Saturday, Aug.16 followed by American country singer-songwriter, actor and film director Dwight Yoakam on Saturday, Aug. 23 at The E Center. Tickets start at $40 for Frampton and $25 for Yoakam.
American country music artist Gary Allan will take over the Riverside Amphitheater stage on Saturday, Sept. 6 at 8:30 p.m. Tickets range from $35 to $80.
On Friday, Oct. 10, Chicago and REO Speedwagon will make for a powerful double bill of rock appearing at the Mojave Crossing Event Center located across the river from the Avi. Show will be at 9 p.m. with tickets ranging from $45 to $95.
LITTLE JOY Y LA FAMILIA HEADLINES AGAIN AT THE AVI
Little Joe y La Familia is returning to the Avi and will have with him special guest Roberto Pulido. There will be autographed memorabilia drawings after the 8 p.m. show on Saturday, July 26. Tickets are $22.50 and $27.50.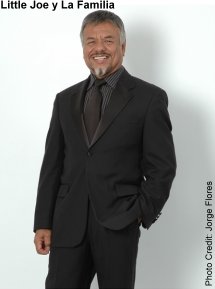 Little Joe & La Familia has been one of the most popular Tex-Mex bands in the music industry. Jose Maria DeLeon Hernandez "Little Joe" has been entertaining more than 40 years and helped pioneer Tejano music, a mix of traditional "norteno" music and country, blues and rock styles. Little Joe was born in a three-wall dirt floor car garage in Temple, Texas, in 1940. He was the seventh child of 13. In 1953, his cousin, David Coronado, who fronted the band David Coronado & The Latinaires recruited him for guitar and he didn't look back. Little Joe made his recording debut as a guitarist and in 1959, his young brother Jesse, who was the bassist, singer and songwriter joined in the band as David Coronado was leaving. Little Joe took over the band and renamed it "Little Joe & The Latinaires." In 1964, Jesse was killed in an automobile accident.
Now 60 some years later the Grammy winner with more than 60 albums tours the world breaking down cultural and musical barriers. Aside from his music career, Little Joe has worked in the film industry starring in two feature films, "Proposition187, A deadly Law" and "Down for the Barrio."
Special guest and Tejano music legend Roberto Pulido, who is also known as "El Primo," has blazed the music trail for more than 30 years. A self-taught musician, who began playing saxophone in the eighth grade, Pulido began playing for Los Hermanos Layton in 1965 as a high school freshman and the gig lasted six years. Between making music and working as a migrant laborer with his family, the gifted musician financed his way through school and earned a bachelor's degree in music in 1973. In 1974, Pulido formed his own backing band Los Classicos that has had a role in setting the stage for the current generation of Tejano stars. Over the years, Pulido's music career has resulted in the recording and production of more than 35 albums.
AQUARIUS TEAM MEMBERS HELP LOCAL FAMILY
One Fort Mohave, Ariz., couple received some much needed home repairs thanks to the nonprofit organization, American Center for Educational Opportunities (AMCEO) and volunteers from Aquarius, who were able to help them through an outreach home repair program called The Green Cactus Project.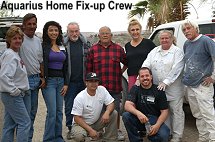 The Voyles were in dire need of repairs to their house. Due to water damage, new bathroom and kitchen fixtures and an exterior paint job were needed, as well essential repairs to their windows throughout the house. AMCEO and Aquarius team members supplied building materials and volunteer labor to make sure the repairs were made. Walter Voyles served during the Vietnam War and has little to no resources and failing eyesight.


CONTINUE ON TO...:

THIS WEEK'S >LAS VEGAS NEWS
LAST WEEK'S >LAUGHLIN NEWS
>VEGAS VIEW FULL ARCHIVES
Return to >"Heard Around Town"
Return to >Las Vegas Leisure Guide