The Temptations will appear at the 2,000-seat Flamingo Ballroom on Saturday, July 22 at 9 p.m. The current lineup consists of original member Otis Williams, Terry Weeks, G.C. Cameron, Ron Tyson and Joe Herndon. Tickets are $24.95 and $29.95, call 1-800-435-8469.
For more than 40 years, the Temptations have prospered, propelling popular music with a series of smash hits and sold-out performances throughout the world.
The Temps began their musical life in Detroit in the '60s as an essential component of the original Motown machine invented by Berry Gordy. The Temps became known for smooth stepping and flawless presentations. The Temptation Walk became a staple of American style, flair, flash and class.
When the '60s and '70s turned political, the Temps got serious. No matter the change in personnel, the Temptations remained true to their tradition. In the '80s, the Temps prevailed with smashes like "Treat Her Like a Lady." Then in the '90s, another Temptation explosion began with their appearance on Motown 25 in 1983, and it continued with the NBC prime time mini series that chronicled the group's history. Their latest release was "Awesome" in 2001.
The Saltgrass Steak House restaurant named after The Saltgrass Trail Texas cattle drive from the mid-1800s has opened at the Golden Nugget and bills itself as "Texas to the Bone." As the cattle back then awaited shipment, they fattened on the grass and came to be known as the best beef in Texas.
A little steak house sprung up along the route of that trail and it was called The Saltgrass Steak House. It prospered and expanded into a few more outlets and became a favorite place for Texans.
Landry's Restaurants of Houston acquired the small chain in 2002 and expanded the Saltgrass Steak House restaurants to 35, most of which are to be found in Texas. The first one in Nevada is the restaurant recently opened within the Golden Nugget, which is owned by Landry's.
The Laughlin Saltgrass Steak House has a charming decor blending the whimsical with the authenticity of its roots. Warm woods, red bricks, limestone columns and fireplace-murals depicting cattle drive scenes, and cowboy artifacts adorn its walls. A real stand out; however, is the view with windows overlooking the Colorado River and Arizona mountain skyline.
The new eatery has beef arriving daily from Las Vegas that has been aged 21-days and never been in a freezer. And it's all Certified Angus Beefr, which helps put Saltgrass in the No. 4 spot of "Best Steakhouses in America" on the Consumer Reports index.

TOP OF NEXT COLUMN
This Saltgrass Steak House offers breakfast, lunch and dinner daily, has an in-house bakery, and makes everything is made from scratch including the hamburger buns, croutons and signature beer bread.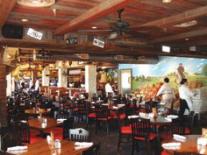 There is a "Happy Hour" from 3 p.m.-7 p.m., Monday through Friday featuring $1 off all drinks in the bar and throughout the restaurant; and draft beer for $1.50. Appetizers are available for half price at the bar only during "Happy Hour."
There is also a separate room called the Back Forty available for smokers and/or private parties, group meetings, business lunches, etc., call 702-298-7153.
The Colorado Belle's Paddlewheel Restaurant is now serving an incredible 34-piece shrimp special for $12.99. Paired with fresh dinner rolls and salad, the offer is good between 11 a.m. and 9 p.m. daily.
This special features four different types of shrimp-tempura shrimp, three skewers of grilled shrimp, round shrimp and coconut shrimp.
Lane Bryant, a national leader in plus-size fashion, has announced its newest venture in plus-size destination shopping: Lane Bryant Outlets. On July 14, a Lane Bryant Outlet will open at the Horizon Outlet Center and sell women sizes 14-28. There are more than 650 Lane Bryant stores and the company is planning to open 82 stores nationwide by the end of this year.
The $50,000 Over the Edge 2006 NFL Football Contest sign-ups are underway at the Colorado Belle and Edgewater. First place prize money for each half season is $3,000. Each week $1,700 will be awarded to the top four contestants with $1,000 going to the first place winner. Entry fee is $20 per entry and covers the entire season with a limit of 10 paid entries per person. If you buy 10 entries, 11th entry is free. Contestants will receive two free long-sleeved t-shirts when they buy five entries. Buy 10 entries and you receive four free long-sleeved t-shirts while supplies last.
To participate, contestants need to visit the Colorado Belle or Edgewater Sports Books each week and pick each Sunday's and Monday's winning teams - no point spreads. Contest cards will not be accepted in advance for any portion of the season.
The contest features two different ways to win cash. Each week $1,700 is awarded to the four entries with the best win/loss record for that week. In addition each half-season, the top 50 contestants share $10,300- including $3,000 for first place-based on their win/loss records over the half-season.
CONTINUE ON TO...:
>THIS WEEK'S LAS VEGAS NEWS
>LAST WEEK'S LAUGHLIN NEWS
>VEGAS VIEWS FULL ARCHIVES
>Return to "Heard Around Town"
>Return to Las Vegas Leisure Guide