If you are a Righteous Brothers fan, you'll love Gene Sironen as Bill Medley and Doug Masters as Bobby Hatfield in their tribute to The Righteous Brothers at the Riverside, July 18-23, at 8 p.m. Tickets are $20, call 1-800-227-3849, ext 616.
Sironen, a native of Grand Rapids, Mich., has been performing since the early age of 11. Sironen is a skilled composer, arranger and musician playing such varied instruments as the trombone, trumpet, flute, and keyboards. In addition to writing and arranging his own original songs, Sironen has also created jingles, songs and compositions for advertising and promotional purposes. His natural singing style has always been likened to Bill Medley and Michael Bolton... husky, deep throated and powerful, with a lot of soul.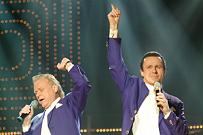 Masters started singing with big bands in the Milwaukee, Wis., at the age of five and knew right away that he wanted to entertain people for a living. He started playing the guitar at the age of seven. He played at local clubs in Wisconsin through high school, and then at the NCO clubs across Europe while in the Air Force. After returning to the states, he eventually made his way to Las Vegas.
Sironen and Masters met in 1994. Finding that they possessed the same "Righteous Brothers magic" when singing together, they auditioned for "Legends In Concert," the king of impersonator shows. Since that time, they have been performing at the Imperial Palace in Las Vegas, as well as showrooms in Laughlin, Reno, California, Minnesota, Wisconsin, Alaska, and the Bahamas. They have also performed at many conventions and charity events, and participated in promoting anti-drug programs. Their act is so powerful, that when the real Righteous Brothers saw Gene Sironen and Doug Masters impersonate them, they were impressed. They were quoted as saying, "These guys are so good, it's spooky."
"The Room" at the River Palms was originally the biggest Race and Sports Book on the river, followed by a dance nightclub and then reconfigured into a theater under the Sam's Town Gold River and then Gold River brand names.
When the resort became the River Palms, "The Room" became a bingo hall and remained so for quite some time. Recently, the bingo balls bounced back across the building over the weekend of the Laughlin River Run and returned to their original site in the remodeled Beach Club Bingo. The room offers eight sessions daily, from 9 a.m.-11 p.m., on the odd hour.
Meanwhile, "The Room" space is now the all new "River Sands Theatre" and for the next few months home for the summer run of the tribute show, "Superstars Live in Concert." The new theater can accommodate approximately 450 people and is located on the third floor/entry level of the River Palms. It has been outfitted with the latest in digital sound and light systems and offers River Palms an alternative venue to their smaller nightclub, The Bermuda Club.
The current lineup of performers in "Superstars Live in Concert" includes Barrie Cunningham as Neil Diamond; John Anthony as Rod Stewart; Coty Alexander as Madonna; Dan Meisner and Joe Messina as the Blues Brothers; Dean Simmons as Garth Brooks; and Wendy T. Engler as Reba McEntire. A variety of other artists will rotate in and out of the cast throughout the summer run until Sept. 3. Tickets are $24.95 or $19 with a Players Club card, call 702-298-2193.

TOP OF NEXT COLUMN
The Comedy Stop will run through Sept. 3 at the Flamingo in the Club Flamingo Showroom with shows nightly featuring three comedians at 7:30 and 9:30 p.m. Tickets are $11.95 with an A.C.E. Rewards Club card and $12.95 without one.
The comedians change weekly and Mitch Fatel will be the headlining July 3 through 9, followed by Andres Fernandez as the lead funny man July 10-16.
Fatel has been showcasing his talent to rave reviews for the past 10 years. After numerous spots on both the "Late Show with David Letterman" and the "Tonight Show with Jay Leno," Fatel is quickly establishing himself as a comedic star. On July 18, Fatel will report from OzzFest with Ozzy Osbourne on the "Tonight Show with Jay Leno."
In addition, Fatel is one of the few comedians to have ever appeared on "Dr. Katz, Professional Therapist" twice and he was voted "Best Stand-Up Comedian" at the 2006 Aspen Comedy Festival.
With his fresh brand of universal humor, Latino comedian Fernandez breaks down barriers. He charms audiences with his story telling ability and ethnic humor, which is not mean-spirited.
A native New Yorker, Fernandez says that his comedy routines mainly draw on experiences in his own family, cultural differences among people and conflicts between genders and generations.
Fluent in Spanish, Fernandez has performed as a member of the Copa Comedy Troupe at the Copacabana, a sketch player in "El Barrio" at Caroline's, and a legit stage actor with the Puerto Rican Repertory Theater. Classically trained at the William Esper Studios, Fernandez combines his love for acting with his stand-up comedy.
Andres also has several television appearances to his credit, including NBC's "Friday Night," Showtime's "Latino Laugh Festival," Comedy Central's "Stand Up Stand Up," a starring role in the Paramount / UPN pilot "American Family" and feature roles in soap operas on ABC, CBS and NBC.I
In the summer of 2003, 10,000 plus acres of land were assembled consisting of a size that spans over 20 square miles of the Bullhead City, Ariz., and Laughlin, Nev., area. Divided by the Colorado River - Laughlin Ranch is the largest Master Planned Community to be undertaken in Mohave County, Ariz., with a proposed 25-year build out.
As part of the vision, the Laughlin Ranch Golf Club is open and the Clubhouse is equipped with a pro shop, bar and grill, restaurant, banquet and meeting rooms, workout facilities, swimming pool, full-size locker rooms, day spa, GPS carts, driving range with practice fairway bunkers, practice sand traps and challenging chipping and putting greens. It is open to the public with a daily fee course. For information, call 1-866-684-GOLF (4653).
The Riverside Resort is keeping your shopping cart and gas tank full this summer with their Stars & Stripes Super Shopper promotion. King of Clubs Players' Club members are eligible to earn free gift cards through July 31.
By simply using your King of Clubs Players' Club card, you can earn gift cards to be used toward gasoline or other purchases at any Safeway or Sam's Club affiliated store. Members receive one gift card for each 500 points earned on their card. Each gift card has a face value of $5, $10 or $25.
CONTINUE ON TO...:
>THIS WEEK'S LAS VEGAS NEWS
>LAST WEEK'S LAUGHLIN NEWS
>VEGAS VIEWS FULL ARCHIVES
>Return to "Heard Around Town"
>Return to Las Vegas Leisure Guide