WYNONNA & THE BIG NOISE STOP AT THE E CENTER!

All-American country singing superstar, five-time Grammy® winner and "New York Times"bestselling author, Wynonna Judd will perform at the Edgewater's E Center on Saturday, July 5. Tickets for her 8 p.m. show range from $25-$85.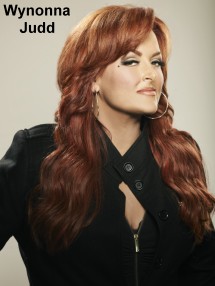 Whether performing alongside her mother as one half of the legendary duo The Judds, or pushing the boundaries on her own mega-successful solo path, Judd's ability to reach the heart of the human spirit through her bold and unflinching honesty is her true gift. Judd has sold more than 30 million albums worldwide during her 30-year career. Charting countless singles including 20 No. 1 hits and garnering more than 60 industry awards, the iconic performer was once dubbed by Rolling Stone as "the greatest female country singer since Patsy Cline."
RIVERSIDE HOSTS ANNUAL COUNTRY SHOWDOWN TALENT CONTEST
America's largest country music talent search, the 33rd Annual Country Showdown, will be held at Don Laughlin's Riverside on Thursday, July 17 at 6 p.m. in The Starview Room and admission is "free."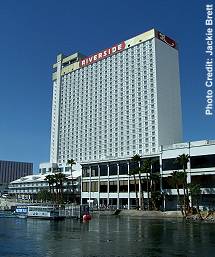 The road to stardom begins each spring with hometown talent contests sponsored by more than 500 radio stations across the country. Highway Country (KIXW/KIXF) and KJJJ102.3 today's best country in Lake Havasu have again been selected to host the local level of the Country Showdown and radio promotion.
Designed to find the most promising country music talent in the United States, the Country Showdown gives aspiring country artists in America a chance to launch their professional careers. Audiences may be seeing, hearing and applauding the next country music star. Local winners advance to more than 40 state contests where the prizes include $1,000 in cash and the opportunity to compete at one of five regional contests in the fall. The final five regional winners receive an all-expense-paid trip to the National Finals in Nashville, Tenn., to compete for $100,000 and the coveted National Title.
Open to vocal and/or instrumental performers, the Country Showdown welcomes individual acts or groups with up to seven members to compete. Acts must not have performed on a record charted in the top 100 country format on "Billboard," "Radio and Records," or the "Gavin Report" within 18 months preceding the local competition.
COMEDIANS BOB GOLUB AND ARMON WILLIAMS VISIT THE EDGEWATER
Every Friday through Sunday at the Edgewater at 7 p.m. two comedians take the stage to make audiences laugh. Comedians change each week. Tickets are $10 and on Sunday there is a $2 discount for veterans.
The "Comedy on the Edge" future roster includes: July 4-6-Huck Flyn and Cory Robinson; July 11-13-Dax Jordan and Rio Hillman; July 18-20-Barry Neal and Debbie Praver; July 25-27-Darryl Rhoades and Nathan Brannon; Aug. 1-3-Tom Howard and Gary Jones; Aug. 8-10- BJ Johnson and Kate Brindle; Aug. 15-17- Pete George and Allison Breen; Aug. 22-24-Roy Haber and Ryan DeNisco; and Aug. 29-31- Spencer James and Tim Smallwood.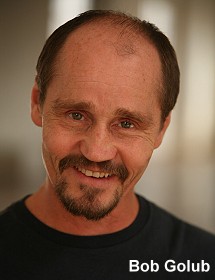 Bob Golub will make an appearance with Mike Ivy June 20-22. Golub's vast array of experience in the entertainment world led him to pursue a role in Martin Scorsese's 1990 blockbuster film "Goodfellas." "I didn't know any better," said Golub about his first interview with the casting director. "I went in there dressed as Jimmy the Gent with $2,000 cash and a gun." This resulted in being cast as a tough truck driver in the dinner scene. The Jimmy the Gent role went to another actor by the name of De Niro.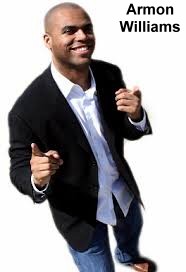 Armon Williams will co-headline with Jill Bryan June 27-29. Willliams' comedy is a lighthearted insight on his own life having grown up as an African American in an Anglo-Saxon suburban community where he developed his mental perspective and much of his comedic wit entertaining his peers. His comedy encompasses sports, religion, politics, the quirkiness of the music and entertainment industry, and the bizarre and odd things in life.
CARNAVAL FANTASTIQUE WILL HEADLINE THE RIVERSIDE
Carnaval Fantastique presents "Salute to America" in Don's Celebrity Theatre at the Riverside, Wednesday-Sunday, July 2-6 at 8 p.m. Tickets are $20.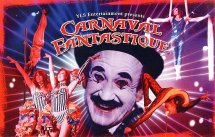 Carnaval Fantastique combines acrobatics, showgirls, stunning costumes, comedy and spectacular laser effects that transport audiences into the heart of Carnaval. World class technology and renowned gymnasts provide a Vegas-style show for the whole family accentuated by music and fanciful characters.
Carnaval Fantastique is well known for producing outstanding Cirque-style acrobatic shows. In celebration of America's independence, Carnaval Fantastique has designed a new show Saluting America's music and talent. Audiences will be treated to a unicyclist's comedic antics, body contortion in motion, a German Wheel performance, talented dancers, an amazing knife throwing act, a hand balancing duo and state-of-the-art, custom designed, Americana laser effects.
JULY 4TH FIREWORKS OVER THE COLORADO RIVER
Just after dark around 9 p.m. on Independence Day, Friday, July 4, the 24th annual Rockets Over The River fireworks display will be free for public viewing along the entire Laughlin Riverwalk next to Laughlin hotels. This spectacular display is one of the most exciting in the West with rockets shooting into the dark desert sky and creating shimmering reflections over the swift-moving Colorado River. Patriotic music will be choreographed to the show and simulcast over speakers by Laughlin hotels and local radio stations.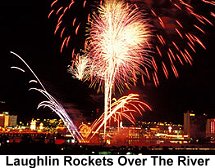 An option for viewing will by the 4th of July cruise aboard the Celebration tour boat. The cocktail cruise leaving from the Aquarius Dock on the Riverwalk will run 8-10 p.m. and have music and dancing. Cost is $25; call 800-228-9825 or 702-298-1047.
The following evening on July 5, the Avi will hold a weekend fireworks display by Zambelli Internationale just after dusk.
TOP OF NEXT COLUMN
MAGICIAN DIRK ARTHUR CALLS HARRAH'S HOME FOR THREE MONTHS
Dirk Arthur will be bringing his brand of "Wild Magic" to the Fiesta Showroom at Harrah's July 3-Sept. 28 with 8 p.m. shows Tuesday through Sunday except for a 4 p.m. matinee on July 4 because of the night time fireworks. Tickets are $29.50 and $40.50.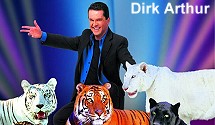 Arthur's show is particularly heartwarming due to his stunning illusions with some of the rarest wild animals. This entertaining performer has been featured on NBC's "World's Greatest Magic," David Lettermen, and his own documentary "Big Cat Magic" on Animal Planet. In his show, breathtaking big cat magic is interwoven with comedy, beautiful dancers, and large-scale illusions including one with a helicopter.
Arthur grew up in Los Angeles where he was able through Hollywood's famed Magic Castle Club and Academy to learn from and be mentored by the world's top professionals. He has since devoted his life to perfecting his craft. Years of research, collaboration and invention, along with thousands of live performances have given the world a master magician.
Arthur's original illusions included a floating car, a lightning-fast appearance of a 44-foot-long Amtrak Train and a helicopter. He was the first magician with the helicopter illusion, which has since been widely copied by many other magicians, but now he takes it even farther and causes it to vanish and reappear hovering over the audience.
Magic became an obsession with Arthur when as a child he got his first magic trick from a cereal box. His natural affinity for animals immediately came into effect as he worked with rabbits, doves, large birds such as emus and ostriches and eventually large exotic cats. Today his family of big cats includes white, orange and snow white tigers, African and Snow leopards, Ligers, and a very sneaky bobcat. Arthur is a leading advocate of preserving endangered species and for the humane and proper care of all the animals of the world.
JULY 4TH SIDEWALK EGG FRYING CONTEST IN OATMAN
This year Friday, July 4, will mark the 24th installment of the Oatman Sidewalk Egg Frying Contest in nearby Oatman, Ariz. At noon, competitors will try to see who can fry the best egg on the pavement of Main Street (Historic Route 66). For information, call Fred Eck at the Oatman/Goldroad Chamber of Commerce and Visitor Center at 928-514-8595 or email: spirit_mtn@hotmail.com.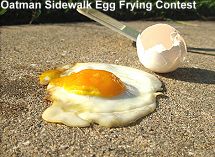 There are a few rules. The contest is open to all comers, regardless of age. One fryer is sufficient but usually competitors are teams made up of one cooker and two stewers. Competition requires everyone to use official eggs supplied by the Oatman Chamber of Commerce and you're not supposed to break the yokes. The eggs must be fried using only solar heat (aluminum foil, magnifying glasses, solar panels are okay) to help intensify the heat; no direct fire or blow torches are allowed. Contestants will be given 15 minutes to fry their eggs.
SPEEDY NOTES
Jeff Civillico continues through June 29 with his physical "Comedy in Action" show in the Fiesta Showroom at Harrah's nightly except June 26 at 8 p.m. The artist blends juggling, audience interaction and tons of energy. He holds a world record for bungee jumping on his unicycle off a cliff in New Zealand. Tickets are $29.50 and $40.50, and $10 for ages 12 and under.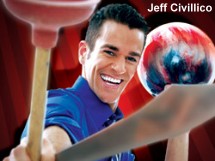 There will be a viewing party for UFC 175 featuring Weidman vs Machida and Rousey vs Davis shown via closed circuit at the Golden Nugget on Saturday, July 5 from 6-10 p.m. Admission is $25, which includes a specialty fight-night buffet.
The free Getcha Glow On Beach Party will be held on the Avi Beach with the Dayna Collins Band on June 28.
The "Country Superstars" tribute show from Las Vegas returns to Don's Celebrity Theatre at the Riverside June 18-22 and 25-29 at 8 p.m. Tickets are $20.
Through June 28 the Golden Nugget is holding weekly drawings for $5,000 every Saturday at 7 p.m.
The Dance Club at the Riverside presented by Tom and Sharon Craddock will take place again from 1:30 to 4 p.m. on the following dates: June 28, July 12, 26, and Aug 23. There is an admission fee. For details on parties or dance classes, call 928-444-4067.
SOME DINING NEWS
Daniel's Restaurant at the Regency offers an "All-You-Can-Eat Fish Fry" on Fridays from 1p.m.-10 p.m. for $10.99.
The Round House Buffet at the Tropicana has an All You Can Eat Prime Rib and Crab Legs Buffet every Friday and Saturday from 4-10 p.m. for $18.99 and $16.99 for ages 5-14 and cardholders.
The Edgewater's Grand Buffet also has a Prime Rib and Crab Legs Buffet every Friday and Saturday from 3:30-9 p.m. It is all you can eat for $19.99.
The Passaggio Italian Gardens restaurant has an "all-you-can-eat" option.The Bottomless Pasta Bowl is featured Sunday through Tuesday from 5-10 p.m. for $6.99 with a TropAdvantage Club card and $8.99 without a card. Guests have choices of a pasta type and sauce and the meal comes with bread sticks, soup and salad bar. Passaggio is closed on Wednesday and Thursday.
The River Palms offers a Veterans Buffet the fourth Wednesday of each month with the next date falling on June 25. U.S. veterans receive two free dinner buffets by swiping their special River Palms' Trop Advantage Veterans Card at a kiosk. Proof of service is required to get your card at the players club center.
EARLY MORNING BUFFETS OFFERED
The early bird visitors have many buffet options in Laughlin. Prices range from $6.99 to $8.99.
The Edgewater's Grand Buffet is open from 6-10:30 a.m. Monday through Friday and price is $7.99.
The Colorado Belle's Loading Dock Bar & Grille has a daily breakfast buffet from 7-11 a.m. costing $7.99.
The Avi's Native Harvest Buffet is from 7-10:30 a.m. Monday through Friday with breakfast costing $6.99.
Also Monday-Friday is the Tropicana's Round House Buffet breakfast from 7-11 a.m. for $8.99.
The Riverside Buffet goes from 7-11 a.m. Monday through Saturday for $8.49.
Harrah's Fresh Market Square Buffet runs Monday through Saturday from 7:30-11 a.m. The morning meal is $11.99 for Total Rewards card holders and $13.99 without.
On Saturday and Sunday, the River Palms Island Buffet offers morning dining from 7 a.m.-noon for $8.99.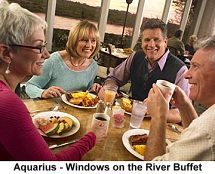 The Aquarius' Windows-on-the-River Buffet has brunch Monday-Friday from 7 a.m.-3 p.m. for $8.99
AQUARIUS TEAM MEMBERS RAISED MONEY BY BOWLING FOR CHARITY
Aquarius team members and many individuals from the tri-state community donned their bowling gear to participate in the recent 13th annual Silver Rider Bowling Tournament, which benefited the Southern Nevada Transit Coalition - Silver Rider Transit Meals on Wheels program.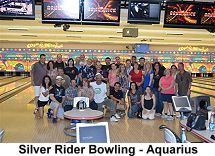 More than 100 bowlers participated in the bowling challenge at the Riverside Lanes and raised $3,786. Forty Aquarius bowlers and one virtual bowler participated in this year's event, raising a total of $820 for the cause. One hundred percent of the proceeds raised from the tournament go to support the Meals on Wheels programs for Laughlin and Searchlight, NV.

CONTINUE ON TO...:

THIS WEEK'S >LAS VEGAS NEWS
LAST WEEK'S >LAUGHLIN NEWS
>VEGAS VIEW FULL ARCHIVES
Return to >"Heard Around Town"
Return to >Las Vegas Leisure Guide