THE BEACH BOYS WILL EXHILARATE AUDIENCES AT THE EDGEWATER!

The Beach Boys will provide the perfect concert for summer and a return engagement at the Edgewater's E Center on Saturday, June 21 at 8 p.m. Tickets range from $25 to $65.

This famous band continues to create and perform with the same bold imagination and style that marked their explosive debut more than 50 years ago. Their 2013 Capitol Records release "Sounds of Summer" is RIAA certified triple platinum with more than three million in sales, and its companion "The Warmth of the Sun" marks a resurgence and interest in the Beach Boys.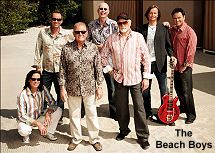 This group through their music seems to have found the key to unfading youth. To these guys, the beach isn't just a place where the surf comes to play - it's where life is renewed and made whole again. Founding member Mike Love is still on lead vocals.
In 1961, Love and his cousins who were brothers Brian, Dennis, and Carl Wilson and schoolmate Alan Jardine blended "rootsy" Chuck Berry R&B, The Four Freshman's intricate vocal harmonies, and the topical splendor of California's mythos of an Endless Summer into a unique, new music form that took root.
'COUNTRY SUPERSTARS' TRIBUTE SHOW VISITS THE RIVERSIDE
The highly successful "Country Superstars" tribute show from Las Vegas will visit Don's Celebrity Theatre at the Riverside June 11-15, 18-22, and 25-29 at 8 p.m. Tickets are $20.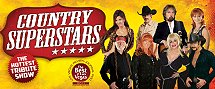 "Country Superstars" is a fast-paced, concert style event featuring a world-class live band and spot on tributes to some of the biggest names in country music such as Brooks & Dunn, Reba McEntire, Tim McGraw, Willie Nelson, and more. The show will feature four tribute performances per show and with a rotating cast of superstars you never know who might show up.
JUNE MEANS ENTERTAINMENT AT THE COVE AND SPLASH AT AQUARIUS
The Aquarius offers free entertainment at The Cove Bar and Lounge and the all new Splash with a no drink minimum at both venues.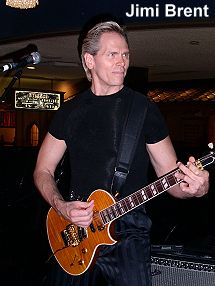 The Aquarius is welcoming Jimi Brent to The Cove Bar and Lounge every Friday and Saturday night in June. His shows are from 9 p.m. to midnight. Brent is a regular on the Las Vegas music scene, and is a talented singer, songwriter and performer. He is also an actor, athlete and writer. Brent has written original music, such as his 2003 debut solo CD, "Over The Top," and his 2010 Country/Rock CD, "Heartland."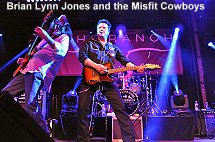 Splash with its spacious room to dance and beautiful ambiance is hosting Brian Lynn Jones and the Misfit Cowboys. The band will perform Friday and Saturday, June 6-7 and 13-14 with shows from 8 p.m. to 1 a.m. each night. Brian Lynn Jones and the Misfit Cowboys is a high-energy "Rock-N-Tonk" country band that performs all forms of American roots music and deliver country, rock-n-roll, blues and classic rock.
COMEDIANS RON MOREY AND STEVE SABO HEADLINE EDGEWATER
The place to grab some laughs on the weekend is at the Edgewater Showroom where two different comedians take center stage every Friday through Sunday at 7 p.m. Tickets are $10 and on Sunday there is a $2 discount for veterans. The upcoming "Comedy on the Edge" roster includes: Bob Golub with Mike Ivy June 20-22; and Armon Williams with Jill Bryan June 27-29.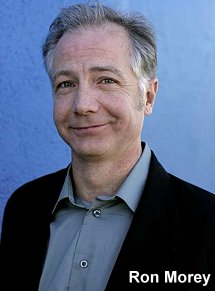 Ron Morey will be appearing with fellow comedian Jayson Cross June 6-8. Morey's highly energetic show includes characters, music and impressions and has earned him a nomination to the list of the top five comics in the country by "The Entertainment Business Journal." In addition to his constant touring of America's premiere comedy clubs, Morey has entertained our troops for the USO in Iraq, Bahrain, Kuwait, Italy and South Korea. Morey is a regular at the Improv in Hollywood, Calif., and has opened for many stars including George Lopez, Tracy Morgan, Ellen DeGeneres, and D.L. Hughley. He has been featured on NFL Films, PBS, A&E, and on Snoop Dogg's MTV show "DoggyFizzle Televizzle."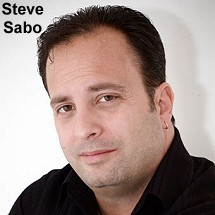 Steve Sabo is paired with Owen Thomas June 13-15. Sabo whose comedy has universal appeal has opened for Chris Rock, Bob "Bobcat" Goldthwait, Jim Breuer, Pablo Francisco, Chris Rock, Kevin James and The Spin Doctors and works on the road 52 weeks a year. He has played comedy clubs all over the United States and can be seen on "From the Earth to the Moon," "America's Rising Stars," and "Equal Justice." He can be heard regularly on SiriusXM Satellite Radio and has appeared on the nationally syndicated "Sex Talk Live" and "The Jiggy Jaguar Show."
An admitted workaholic, Sabo has released four full-length comedy albums, including 2009's "A Mouthful of Sea-Monkeys." He is currently traveling the globe working on material for his fifth as of yet untitled comedy album to be released sometime this year.
JEFF CIVILLICO BRINGS ACTION COMEDY TO HARRAH'S
Jeff Civillico, star of his own afternoon family show at The Quad in Las Vegas, will bring his physical "Comedy in Action" show to the Fiesta Showroom at Harrah's nightly from June 12-29, except for June 14, 16-17, and 26 at 8 p.m. Tickets are $29.50 and $40.50, and $10 for ages 12 and under.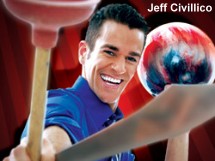 Civillico blends his perfected art of juggling with friendly audience interaction and insane amounts of energy. Civillico holds a world record for bungee jumping on his unicycle off a cliff in New Zealand, and goes "joggling" - juggling while jogging for fun. He raised more than $5,000 as a team member of "Athletes for Special Kids" by joggling all 26.2 miles of the Disney Marathon.
Civillico is the founder and president of Win-Win Entertainment,a nonprofit that pairs performers willing to donate their time and talent with charity organizations in need of entertainment. He is an avid member of the National Speakers Association of Las Vegas and remains committed to his alma mater Georgetown University.
TOP OF NEXT COLUMN
DINNER SHOW AT AVI FEATURES 'A TRIBUTE TO THE KING'
A sit-down dinner show featuring Travis LeDoyt in "A Tribute to the King" will take place in the Avi Ballroom on Thursday, June 12 with dinner at 6 p.m. followed by a show at 7 p.m. Tickets are $23 and autographed memorabilia drawings will be held after the show.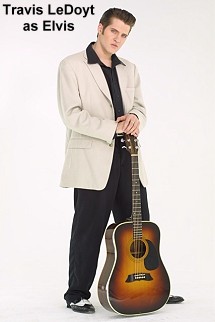 LeDoyt has been called "the best young Elvis in the world." He was born in Greenfield, Mass., where his fascination with music led to formal piano lessons at age nine. It wasn't long before he was proficient at playing piano and guitar, writing his own songs, and singing. LeDoyt as he matured found his voice and appearance were remarkably similar to Elvis. He also found he had a natural ability to move like Elvis, and after his first tribute performance to Elvis, he found the public response to be overwhelming. LeDoyt restricts his shows to the hits and ambience of 1954-1962. Utilizing a three-piece band featuring guitar, bass, and drums, LeDoyt takes his audience back to the fun and excitement of a 1950s Elvis concert.
LeDoyt has done four tours in the United Kingdom, performed in Hong Kong and Schenzen, China; Santiago, Chile; and Toronto, Canada. He has opened shows for such legends as Little Richard, Johnny Rivers, B. B. King, Chuck Berry, Jerry Lee Lewis, Bill Haley's Original Comets and others. For five years he was the only tribute artist invited to perform at Elvis Presley Days, a Graceland-sanctioned event in Tupelo, Miss. Since 2006, he has been a headline entertainer for Royal Caribbean Cruise Lines performing on eight to 10 cruises each year. In late 2004, he spent a week in Los Angeles where he auditioned for the role of Elvis Presley in a CBS mini-series on the life of the King. Although he did not get the part, he beat out more than 1,000 actors and Elvis look-a-likes to become one of the two finalists for the role.
'KING OF THE CAGE' MAIN BOUT FEATURES KYLE ZIEMANN VS DAN LEWIS
"King of the Cage: Future Legends 24" will feature live MMA bouts at The E Center at the Edgewater on Saturday, June 14 at 6 p.m. with the main event being Kyle Ziemann vs Dan Lewis. Tickets range from $15 to $75.
Dan Lewis is fighting for Rice Brothers BBJ based out of Redding, Calif. He has done all his fighting in the heavyweight division and now has cut down to challenge for No. 1 contender in the KOC light heavyweight division. With a 5-2 record in the heavyweight division, he looks to dominate in the light heavyweights now.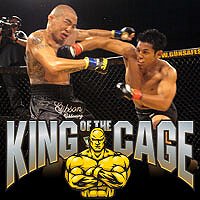 Kyle Ziemann, of Las Vegas, Nev., training at Xtreme Couture, has a 17 win-7 loss record. Ziemann has a very aggressive and dominating style. The winner of this one will fight for the belt in August.
The co-main event will feature John Florez vs Adrian Valencia. This fight will take place in the junior welterweight division, which is 160 pounds. Florez is out of Victorville, Calif. and trains under the legendary Joe Stevenson. Florez has very good stand up form and excellent submission techniques. Valencia, who trains at UMA Karate in Barstow, Calif., expects to counter anything his opponent brings to the fight with great wrestling and aggressive stand up.
Other bouts will include: Jonathan Noriega vs Omar Romero; Richard Camargo vs Philip Montague; Rodolfo Larios vs Gerald Harvey. Even more fighters on the card include Ronnie Moore, Chris Salazar, JD Houston, Christian Molina, Anthony Thompson, and Spencer Spiker.
FRANK OLIVIER'S 'TWISTED CABARET' INVADES THE RIVERSIDE
Frank Olivier, America's most versatile variety artist, will perform 16 different acts including magic, fire-eating, knife-throwing, juggling, sword-swallowing, unicycling, pick-pocketing, rock and roll, cross-dressing, and even ballet, at Don's Celebrity Theatre at the Riverside, June 5-8 at 8 p.m. Olivier's only assistance is by Flynch, his loyal hunchback assistant. Tickets are $20.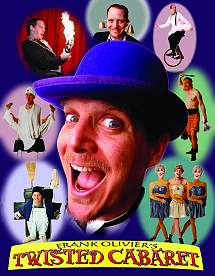 Comedic genius Olivier is the reincarnation of vaudeville with a decided edge! He has been seen on HBO's "Just For Laughs," "Last Comic Standing," "America's Got Talent," "Ellen," "The Tonight Show," "The Late Show," "The Late Late Show" and many more. Olivier has toured his "Twisted Cabaret" show for the last 12 years nationally and internationally.
MAKE NOTE OF FUTURE EVENTS
Aug. 9 is the designated date for the "Bullhead City River Regatta," which is a huge float adventure on the Colorado River by thousands of participants. People flock to the Laughlin hotels to stay and enjoy this event that includes many activities along with the big float experience. For information, visit http://www.bullheadregatta.com.
On Sept. 27 and 28, the "Viva Tropicana Car Show" will take place in the North Parking Lot at the Tropicana. This annual car show includes a Show 'n' Shine, vendors, DJ music, contests, etc. The Friday-Saturday event will run from 10 a.m. to sunset both days. It will be free to view cars.
Way later in the year on Oct. 3 and 4 will be "Laughlin LaughFest" at the Laughlin Event Center. There will be two separate shows. The Friday show will star Dana Carvey, Chris Kattan and Tim Meadows while Larry the Cable Guy will appear on Saturday at 8 p.m. The "Laughlin LaughFest" is a multi-pronged event that will include a comedy contest, amateur open mics, meet-and-greets, a female comedy show and more.
AQUARIUS SCULPTURE NAMED 'MOST UNIQUE' IN CHARITY COMPETITION
Thirteen teams from the tri-state community, including Team Aquarius, participated in this year's Foodstruction competition by creating various figures out of non-perishable food items. Every item used in the sculptures was donated to the Colorado River Food Bank. The Aquarius team members built a slot-machine sculpture made out of canned foods including chili, beans, and soup along with Oreo, cereal and Bisquick boxes. Their slot-machine sculpture was named "Most Unique" during the competition.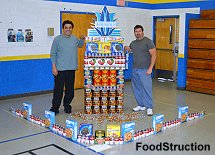 In addition to an abundance of non-perishable foods, the annual Foodstruction competition raises monetary donations to benefit the Colorado River Food Bank. This event is important to the community because local food pantries often start to run low in the spring and summer months. Aquarius team members raised $740 in canned foods and cash for this year's Foodstruction event.

FOOD CHAINS ARE ABUNDANT AT LAUGHLIN RESORTS

In addition to the many fabulous restaurants and quick dining outlets in Laughlin, many well-known specialty chains are also a familiar sight at major resorts. For coffee lovers there's the ever popular Starbucks at the Golden Nugget and Harrah's and Seattle's Best Coffee can be found at the Riverside. For folks who like smoothies, Emerald City Smoothies is at the Riverside. Famous pastry outlets in town include Cinnabon at the Riverside, Krispy Kremes at Portside Snacks at the Colorado Belle, and Cinnabon at Harrah's. For ice cream enthusiasts, Dreyer's Ice Cream is at the Riverside, Harrah's and the Aquarius.

At the River Palms, Denny's Restaurant is a 24-hour, full-service restaurant with breakfast, lunch and dinner menus plus late night specials.

In the burger department, there's Fatburger at the Riverside, plus McDonald's at both Harrah's and Aquarius. Panda Express is located at the Avi and Aquarius while Pizza Hut is at the Riverside.

For famous sandwiches, there's Capriotti's Sandwich Shop at the Edgewater, Sbarro's at the Avi, and Subway at the Avi and Aquarius.

CONTINUE ON TO...:

THIS WEEK'S >LAS VEGAS NEWS
LAST WEEK'S >LAUGHLIN NEWS
>VEGAS VIEW FULL ARCHIVES
Return to >"Heard Around Town"
Return to >Las Vegas Leisure Guide