AQUARIUS WILL OPEN NEW BAR AND LOUNGE

The Aquarius Casino Resort will open its new Cove Bar & Lounge overlooking the Colorado River on Friday, June 29. Located in the rear of the casino, the cozy yet sophisticated atmosphere has a wall of windows overlooking the Colorado River. The classy lounge's seating will offer comfy couches, high top tables and the bar to watch sporting events on one of several flat screen televisions. Visitors will be able to enjoy cocktails Sunday through Thursday from 4 to 11 p.m., and Friday and Saturday 10 a.m. to 1 a.m. Appetizers, which will include skewers, shrimp scampi, pizza and more, will be served Thursday through Monday, 4 to 9 p.m.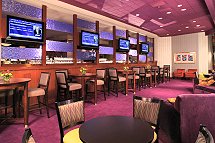 MONTGOMERY GENTRY PERFORM AT E CENTER
Now in their 12th year on the national stage, Eddie Montgomery and Troy Gentry known as Montgomery Gentry will headline at the Edgewater E Center on July 6 at 8 p.m. The duo has released more than 20 charted singles, with anthems like "My Town" and "Hell Yeah" becoming indelible parts of the honky-tonk landscape. They have hit the top of the singles charts five times, with "f You Ever Stop Loving Me," "Something To Be Proud Of," "Lucky Man," "Back When I Knew It All" and "Roll With Me." The duo's current single, "Where I Come From" recently cracked the Top 15 of the national country charts. Tickets start at $25.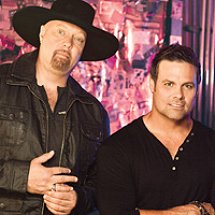 BRENTON WOOD WILL HEADLINE AT THE TROPICANA
Brenton Wood will perform at the Tropicana in The Pavilion Theater on Friday, Aug. 10. Brenton born in Louisiana and raised near L.A. is best known for writing and singing his two 1967 hits "Gimme Little Sign." and "The Oogum Boogum Song" He later touched the charts in 1977 with his version of "The Fleetwoods" 50's hit "Come Softly to Me." He subsequently joined the oldies soul tour circuit. In 2001, he made a return with yet another album of all new material called "This Love Is for Real." Tickets for his 8 p.m. show are $25.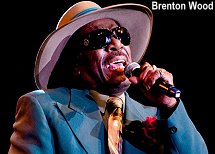 FELICE PROVIDES A COUNTRY MUSIC SHOW AT THE RIVERSIDE
"Country Diva" Felice will be performing the music of today's country superstars Taylor Swift, Carrie Underwood, and Miranda Lambert at the Riverside at 8 p.m. June 16-17, 20-24, and 27-30 in Don's Celebrity Theatre. Felice has been performing on the Las Vegas Strip for more than four years. She has been the principle singer in "Les Folies Bergere," "Fantasy," and "American Superstars" where she performed as Carrie Underwood and Christina Aguilera.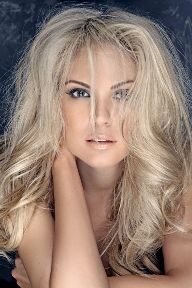 Felice has a Vocal Performance degree from UNLV and has studied opera and musical theatre, but her heart lies with country music. Tickets are $20.
CAFÉ AQUARIUS CREATES DAILY GOURMET BURGER
Aquarius Casino Resort is celebrating the hamburger this summer by having its chefs prepare a week's worth of gourmet influenced offerings. The chefs start with a 100 percent beef burger patty and then let their imaginations take over. A different gourmet burger is served each day, with two choices on weekends. Each selection is served with seasoned fresh, crispy fries for $9.99 with an ace | PLAY card, or $11.10 without a card for a limited time.
GRAMMY WINNER KENNY LOGGINS VISITS E CENTER
Kenny Loggins will visit the E Center at the Edgewater on Saturday, June 30 and perform an 8 p.m. show. Tickets start at $25. The two-time Grammy Award winning singer/songwriter over the past three decades has written and performed many hits including "Whenever I Call You Friend," "This is It," "What A Fool Believes," "Don't Fight It" and "Heart to Heart." Loggins writing has also included movie theme songs and children's CDs.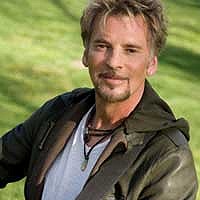 Kenny Loggins, Georgia Middleman and Gary Burr make up the trio Blue Sky Riders and they will open the concert. Amid the three-part harmonies all three sing lead, which told each of them from the start that as a trio they had something special. Blue Sky Riders for Loggins has offered a new creative step forward. Middleman as a teenager began opening for artists like Merle Haggard and Willie Nelson. She wrote Keith Urban's 2010 chart-topper "I'm In," and had her songs recorded by Faith Hill, Martina McBride, Reba McEntire, Terri Clark, Mark Chesnutt and Joe Nichols, among many others. Burr is a member of the Country Music Hall of Fame, has been named Songwriter of the Year by ASCAP, Billboard and NSAI, and has 13 No. 1 hits under his belt. He has toured with Carole King, produced for Olivia Newton John, and early in his career he spent three years as lead singer of Pure Prairie League.
'CHEFS FOOD FEST' IS ANNUAL FUNDRAISER
The annual "Chefs Food Fest" is a fundraiser that is usually held in the fall but this year it's on June 21 at 5:30 p.m. Chefs along with food and beverage departments from Laughlin casinos and some area restaurants will have their creations on display at the Aquarius Ballroom. Food will include appetizers, entrees and desserts and booths will also be a work of art. Matt Farris and his Kinfolk Band will provide music and Radio Central KJJJ is a sponsor. Tickets for this dining experience are $50, call 702-298-2214.
TEXACO COUNTRYSHOWDOWN IS FREE SHOW AT THE RIVERSIDE
The 31th Annual Texaco Country Showdown hosted by Highway Country (KIXW/KIXF) radio will be a free show for the public on Thursday, June 28, at Don Laughlin's Riverside at 6 p.m. Thousands of aspiring artists and groups with up to seven members compete annually all across the country. Local winners advance to more than 40 state contests where they vie for $1,000 in cash and the chance to compete at one of five regional contests. The five final regional winners receive an all-expense-paid trip to the National Finals to compete for $100,000 and the coveted title.
RIVERSIDE's BIG CAR GIVEAWAY ENDS JUNE 25
The Riverside has a big car giveaway running through June 25. The "All-American Summer Ticket to Ride" promotion is awarding 2012 GMC Sierras, Buick Veranos and Chevy Equinoxe models or $20,000 in cash and cash prizes of $2,500. Three winners are selected at drawings every Monday at 6 p.m. in the South Tower Promotions area with the first and second individuals receiving $2,500 and the third winner getting the car of their choice. Winners must be present to win and must be a member of the King of Clubs Players Club.
TOP OF NEXT COLUMN
BILL ENGVALL BRINGS LAUGHTER TO AQUARIUS AMPHITHEATER
Bill Engvall will star and create laughter at the Aquarius Outdoor Amphitheater on Saturday, June 16, at 8 p.m. Engvall is famous for starring in "Blue Collar TV," "Blue Collar Comedy Tour" movies and filling arenas nationwide for six years with an ensemble that included Jeff Foxworthy and Larry the Cable Guy. Engvall's 30-year career includes his "Here's Your Sign" routine that created a national catchphrase and producing country radio hits and a platinum record. Texas native Engvall has written several books, including his autobiography "Bill Engvall –Just A Guy." Originally he planned to be a teacher but that was changed at a nightclub when he made people laugh. Tickets are $35 and $45.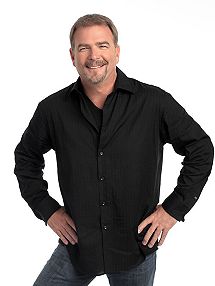 COMICS CHANGE WEEKLY AT THE EDGEWATER
Every week comedians change weekly in the "Comedy on the Edge" show at the Inferno Nightclub/Edgewater Showroom inside the Edgewater. Performances are every Friday through Sunday at 7 p.m. and tickets are $10 at the Edgewater Casino Cage or at the door.
The upcoming lineup of laugh makers include: June 15-17-Barry Neal and Debbie Praver; June 22-24-James Berry and Rio Hillman; June 29-Mike Muratore and Jen Murphy; June 30-31-Patrick Canelaria and Gibran Saad; July 6 Kris Shaw and Adam London; July 7-8 Keith Lenart and Kate Brindle; July 13 Mike Pace and Justin Rivera; July 14-15 Ed Regene and Mel Kohl; July 20-22 Richie Cantor and Frazer Smith; July 27 Drake Witham and P.J. Stansbury; and July 28-29 Steve Smith. And Byron Bowers.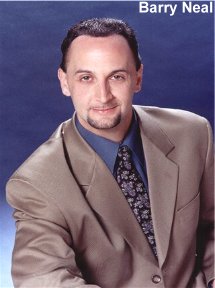 Barry Neal has been dubbed "The Counselor of Love." Along the way in his career, Neal began dating his princess from his collegiate days and after five years they married in 1993. Successful in a relationship, Neal was dubbed "The Counselor Of Love" preaching the benefits of love and marriage. His easy-going, clean act is loved by audiences ranging from 18-80. Neal is a standup regular at the World Famous Improv, MTV, Comedy Central and VH-1.
Debbie Praver's impatience combined with her sarcastic wit made stand-up comedy her only career option. She has appeared in several episodes of ABC's hit show "Desperate Housewives," shared the stage with Kathy Griffin in Dennis Hensley's "Screening Party," and appeared in the movie of "Screening Party." In addition, Praver earned her BS in Physical Education/Exercise Physiology from Cal State University at Long Beach and can be found teaching all sorts of fitness classes around Los Angeles.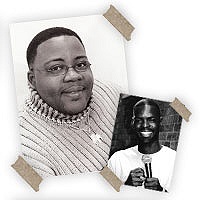 James Berry has a likable personality and "down-to-earth" attitude! His comedic style is observational, with an educated homespun feel. Rio Hillman will be sharing the stage with Berry.
RIVERSIDE FEATURES A BEE GEES SHOW
The world's leading Bee Gees show, "The Australian Bee Gees Show," is scheduled at Don's Celebrity Theatre inside the Riverside Resort, July 6-10. This show began in 1996 and has played around the world. The show has evolved and become the definitive live celebration of four decades of wonderful music written by the Brothers Gibb. Tickets are $25.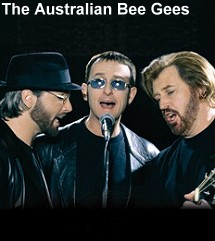 RIVERSIDE WILL HOLD SENIORs' AMATEUR KARAOKE CONTEST

Seniors will be competing in the Karaoke Seniors USA Contest, Aug. 26-29, at the Riverside in the Starview Room. The contest will offer a $1,000 first place prize for female and male winners in the following categories: Oldies/Rock and Country/Blues. Contestants must be at least 50 years of age and be amateurs. This event will be a combination karaoke contest and variety show. Visit karaokeseniorsusacontest.com or call 702-535-4985 to register or get more information.

SPECIAL EVENTS FILL UP THE SUMMER

The Gun/Collectibles Show will be held at the Edgewater E Center June 23 and 24. This show will have western collectibles, guns, ammo, fishing equipment, books, coins, boots, spurs, antique firearms, and more. Hours are Saturday 9 a.m.-5 p.m., and Sunday 9 a.m.-4 p.m. Admission is $8 and free for 12 and under when accompanied by a paying adult. Visit mcmannsroadrunner.com or call 866-698-6591 for more information.

Tom & Sharon's Dance Party at the Riverside is planned again on June 30, July 14, 28, and Aug 11, 25 from 1:30 - 4 p.m. Dances are varied. For admission fee and details, call 928-754-2097.

At the Avi, the "Avi Island Paradise Luau" will include a luau dinner and feature "Hot Lava," plus hula and fire dancers in a Polynesian revue from 7 – 10 p.m. at the Beach Overlook on Saturday, June 16. Price is $15 with beverages sold separately.

For Father's Day, June 17, Windows on the River Buffet at Aquarius will hold an endless BBQ so dads don't have to grill. It will be a traditional outdoor dinner served indoors from 4-10 p.m.

A tribute show to Santana with "Smooth" and dinner will take place at the Avi on Saturday, July 21, at the Beach Overlook. Cost is $15 with beverages not included.

The July 4 holiday is time for celebration with fireworks and "Rockets Over the River" will provide two nights of lighting up the sky above the Riverwalk at 9:30 p.m. on June 30 and July 4. The Avi will have Independence Day Fireworks by Zambelli Intl. on Sunday, July 1, at dusk with food and beverages on sale at the Beach Overlook.

Thousands will be floating on the Colorado River on Aug. 10 and 11 when the annual "Bullhead City River Regatta" takes place at Rotary Park in Bullhead City. This river event features themed floats, a party on Friday and many more activities; visit www.bullheadregatta.com/.

A sit-down dinner show from 6-9 p.m. featuring The Unknown Comic is planned at the Avi Grand Ballroom on Aug. 24. Tickets for "An Evening of Comedy" are $15 with beverage is not included.

Car enthusiasts will enjoy the "Viva Tropicana Car Show" at the Tropicana in the North Parking Lot on Sept. 28-29. This special event with music will include a Show 'n' Shine that will recognize "Classic Car," "Classic Low Rider," "Classic Muscle Car," and "American Made Motorcycle" with awards. To enter a car, cost is $25, and free for viewing the cars, call 800-243-6847.


CONTINUE ON TO...:
THIS WEEK'S >LAS VEGAS NEWS
LAST WEEK'S >LAUGHLIN NEWS
>VEGAS VIEW FULL ARCHIVES
Return to >"Heard Around Town"
Return to >Las Vegas Leisure Guide