MARTINA MCBRIDE VISITS EDGEWATER'S E CENTER!

Country music singer Martina McBride will visit the Riverside Amphitheater on Saturday, June 22 at 8 p.m. Tickets range from $35 to $90.

McBride's interest in country music began when she joined her father's local band, The Schiffters, playing keyboard and singing. In 1990, she moved to Nashville with her husband, who found sound crew work with Garth Brooks.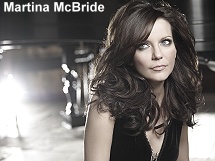 Brooks offered McBride a chance to be his opening act if she could land a recording contract. She signed with RCA and began touring and made her debut album in 1992. Her song "Independence Day," about domestic abuse won her Video of the Year by the Country Music Association in 1994.
RIVERSIDE LINES UP THE BON JOVI EXPERIENCE
"Dead Or Alive - The Music of Bon Jovi" is an exact reproduction of the world famous rock group Bon Jovi. Every little detail down to the last hair strand has been recreated in this incredible show that will be performed at Don's Celebrity Theatre at the Riverside June 20-23 at 8 p.m. Tickets are $30.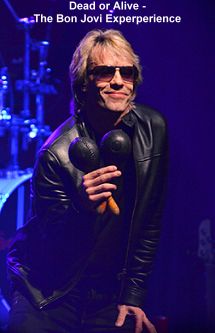 Every character looks exactly like the real person to whom they are paying tribute. Paul Gizzo's re-creation of Bon Jovi is unbelievable. He's so good that even Richie Sambora himself paid him the highest honor by jumping on stage and performing with him. If Sambora had a twin, then Sal Cartagine is it. The look, sound, instruments, comedy, and interaction between "Richie and Jon" make this act exceptional.
EDGEWATER BOOKS COMEDIANS ON A WEEKLY BASIS
The Edgewater Showroom lines up different comedians every Friday-Sunday and features two each time at 7 p.m. The admission cost is $10. The following comedians are on the future agenda: June 28-30 Steve Mittleman and Richard Weiss; July 5-7 Roy Haber and Chris Zapatier; July 12-14 Ron Feingold and Jeremy Greenberg; July 19-21 Barry Neal and Debbie Praver; and July 26-28 Billy Ray Bauer and Rich Slaton.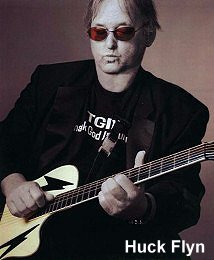 Huck Flyn and Ron Placone will perform June 14-16. The rock 'n' roll comedian Flyn began his career as a rock guitarist, influenced by country, rockabilly, Elvis, Jerry Lee Lewis, Creedence Clearwater Revival and others. He has performed with Pink Floyd, Super Tramp, Toto, REO and Tower of Power. Just 15 years ago, he visited a comedy club in San Francisco and began doing standup. Flyn is currently working on his autobiography about his experience in South Viet Nam called, "Rockin' Nam." He is also talking to Hollywood about a possible movie deal with a script he and screenwriter John Loran would write called "360 DAYS." Later this year, he plans to shoot a 30-minute TV pilot called "We Built This Business," which will be a round-table discussion with writers, players, singers, engineers, record execs, and label people from the 60s later this year.
Comedians BJ Johnson and Ryan Budds will co-headline June 21-23.

Johnson's distinctive style features his interesting twists on fatherhood, relationships and his fight with chronic end stage renal failure and kidney transplant. This inner city kid relates his life experience in a way that mainstream America can digest. Johnson an energetic comedian has won innumerable comedy competitions and festivals nationwide. He's opened for veteran comedians Bo-P, Corey Holcomb, Honest John, Coco Brown and Cedrick the Entertainer. Johnson is a USAF veteran who has entertained the troops stateside and worldwide.
AQUARIUS OFFERS SLOT LOSS PAYBACK PROMOTION
The Tropicana on Saturday, June 22 will be giving 100 percent payback on slot losses to Trop Advantage® Club players. The casino will refund slot losses from $100 to $1,000. The refund will come in three equal payments of Free Slot Play on redemption dates July 20, Aug. 24 and Sept. 21. Visit the Trop Advantage® Club for complete details.
JUNE 15 FEATURES HEADLINING ACTS
Harrah's and the Avi are providing a diversified headliners on Saturday, June 15.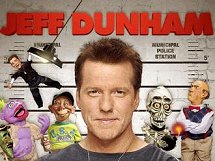 Comedy ventriloquist Jeff Dunham with his crazy pals will headline the Rio Amphitheater at Harrah's. Some his famous signature characters always challenging Dunham on stage include red neck Bubba J - contesting and chastising his every sentence. There's Walter, the grumpy retiree; the beer-NASCAR-loving Bubba J; manic Peanut and Peanut's own ventriloquist dummy Little Jeff; José Jalapeño, the spicy pepper from South of the border; the bumbling skeletal Achmed the Dead Terrorist; and the almost as dead long-lost son of Achmed, AJ. Tickets are $50, $65 and $75 for his 8 p.m. show.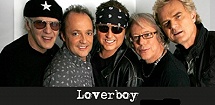 Rock band Loverboy will appear in the Avi Grand Ballroom at 8 p.m. The group introduced their act to the world in 1980 with their self-titled debut album. From 1980 through 1987, Loverboy garnered four multi-Platinum albums and numerous international Gold albums. With a hit album, Loverboy began playing huge tours with Journey, Bob Seger, Cheap Trick, ZZ Top, Kansas and Def Leppard, to name a few while more mega hit albums followed. Tickets are $35 and $40.
TOP OF NEXT COLUMN
MASTER HYPNOTIST RON STUBBS PERFORMS AT THE RIVERSIDE
Hypnotherapist/comedian Ron Stubbs will star in Don's Celebrity Theatre at the Riverside June 25-30 and demonstrate the silly things people can be made to do through the power of hypnosis. Stubbs, who bills himself as a "rock and roll hypnotist," now is a performer helping audience members get risqué in his stage act, which he performs at casinos and bars about 250 nights a year. Show tickets are $36.50.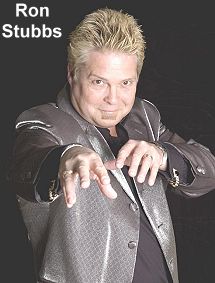 Stubbs was never a stranger to the stage since he'd been a performer all his life serving as the front man for several bands. He takes pride on the speed with which he can put audience members into a trance saying he has them already half-hypnotized by the time they are walking on stage. On the other hand, Stubbs got into hypnotherapy to help people and since the mid-1990s, he's been helping people lose weight, stop smoking and combat tinnitus (ringing in the ears). Stubbs has performed his comedy hypnosis show around the globe.
DINNER AND SHOW AT AVI FEATURES JOHN FOGERTY TRIBUTE BAND
The "Blue Moon Swamp" dinner and show featuring a tribute to John Fogerty and Creedence Clearwater Revival will be held in the Avi Grand Ballroom on Saturday, June 29 with dinner at 6:30 and show at 7 p.m. "Blue Moon Swamp" is a 1997 album by American singer/songwriter Fogerty. Tickets are $23.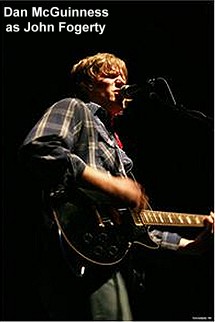 The John Fogerty / CCR Tribute Band performs all around the country reproducing the Fogerty concert experience with unforgettable hits. The group is led by the amazing vocals of award-winning performer Dan McGuinness who emulates the vocals of Fogerty and his distinct guitar work, performed by Pat Keiner. As a singer, McGuinness has opened up for, sat in or performed with various famous bands through the years including Pat Benetar, Jerry Jeff Walker and Creedence Clearwater Revisited to name a few. The group even has the right players pull off the Hall of Fame rhythm section.
INDEPENDENCE DAY WEEKEND PLANS ENTERTAINMENT
Clay Walker will be headlining at the Edgewater in the E Center on July 5. Tickets range from $22.50 to $62.50.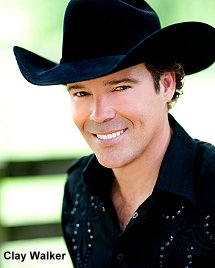 Big Bad Voodoo Daddy LIVE will appear at the Tropicana's Pavilion Theater on Friday, July 5. Tickets are $10.

Free for everyone to view will be the "Rockets Over the River" annual dual fireworks shows featuring full blown displays over the Colorado River on July 4 and 6 at 9 p.m.

QUIK NOTES

Now through July 25 in the Riverside's All American Summer Ticket to Ride promotion, players can receive a drawing ticket for every 100 points earned at a single rate or for every two hours of tracked play in the casino pit. Drawings are held every Thursday in June and July at 6 p.m. in the South Tower Promotional Area. Two people win $2,500 in cash and one winner takes home a brand new car of $20,000 in cash. People need to be present to win.

The band Midnight Riders will be live on stage at the ArrowWeed Lounge at the Avi June 18-23.

Chefs from Laughlin's resorts and local restaurants will join together for the 26th Annual Chefs Food Fest on Thursday, June 20 at 5:30 p.m. in the Aquarius Pavilion. Tickets are $50 for this fundraiser.

Celebrating its 11th year, The Laughlin Coin, Currency, Jewelry & Stamp Expo featuring rare coins on display and for sale along with other items and free appraisals will take place at the Colorado Belle June14-16. Admission is free. For information, call Israel Bick 866-226-0507.

AQUARIUS EMPLOYEES PARTICIPATE IN COMMUNITY FUNDRAISERS

For the Coyote Canyon Spring Fling Carnival held in May, eight Aquarius team members volunteered and raised $4,300 to help students at the Bullhead City, Ariz., elementary school. This event featured carnival games like Fish Pond, Coin Toss, a Cakewalk, Sack Races and more. Carnival style food and drinks were also on hand for students and their families.

More Aquarius team members participated in the 12th Annual Silver Rider Bowling Tournament in May and raised money for Meals on Wheels, provided by the community nonprofit organization Silver Rider Laughlin, and broke an all-time record. Nine Aquarius teams consisting of 36 team members took part in the annual bowling event at the Riverside Lanes. Together, they raised $720 of the record setting tournament total of $4,930.

Aquarius team members were named "Most Creative" during the third annual Foodstruction anti-hunger event held in May challenging teams to collect canned and non-perishable food items and then use the items to make a creative display. Foodstruction supports the Bullhead City Senior Center and the Colorado River Food Bank.

For the award winning display, the Aquarius team relied upon the theme "From the River to the Strip" and used food items to incorporate a likeness of sister property the Stratosphere in Las Vegas. The iconic tower at more than 11 feet high included oatmeal, canned foods and other food items to create the tower and one-of-a-kind thrill rides on top. The Aquarius entry was built from 428 separate food items, which were donated by the property's corporate giving arm, Community Connections. Food donations used in all entries were also donated.

A replica of the Aquarius Casino Resort was also constructed out of canned soup and boxes of instant oatmeal situated next to a Colorado River made up of blue sweetener packets and candies.



CONTINUE ON TO...:
THIS WEEK'S >LAS VEGAS NEWS
LAST WEEK'S >LAUGHLIN NEWS
>VEGAS VIEW FULL ARCHIVES
Return to >"Heard Around Town"
Return to >Las Vegas Leisure Guide