LEANN RIMES VISITS HARRAH's OUTDOOR AMPHITHEATER
Country music singer LeAnn Rimes will headline at the Rio Vista Outdoor Amphitheater at Harrah's on Saturday, June 5 at 9 p.m. Tickets start at $35, call 800-447-8700.
Rimes rose to fame at age 13 with the hit record "Blue" in 1996. In 1997, she was awarded a Grammy for Best New Artist, Best Country Song and Best Female Country Performance. Her career has been in high gear ever since then.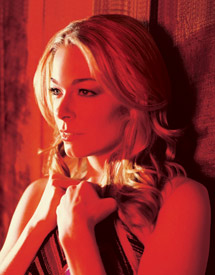 Immediately following the outdoor concert, the resort will host the Bud Light Guitar Drawing in the non-smoking casino. One winner will receive an artist-autographed Bud Light guitar or other musical instrument and a second winner will get $200 and a signed poster or postcard. Guests receive one drawing ticket with each concert ticket purchase.
THE EDGEWATER PROVIDES LAUGHS WITH 'COMEDY ON THE EDGE'
The Edgewater is continuing with ongoing "Comedy on the Edge" in Kokopelli's Showroom every Friday, Saturday and Sunday at 7 p.m. Each show features two stand-up comedians. Upcoming acts are: June 4-6—Bill Martin and Sid Davis; June 11-13—Del Van Dyke and Shane Murphy; June 18-20—Andrew Norelli and Eric Toms; and June 25-27—Mick Lazinski and Danny Morris. Tickets are $10 at the Edgewater Casino Cage or the door.
Comedian Cowboy Bill Martin is a Texas native, who is a regular in Las Vegas during the National Finals Rodeo. Martin has also toured with country music's elite including George Strait, George Jones on an 18-city tour of Canada, and the CMT Most Wanted Live Tour with Brad Paisley, Rascal Flatts and Chris Cagle. In the fall of 2009, he made his first tour of the Middle East for our Armed Forces in Iraq and Afghanistan on the Red, White and a little Bluer Tour.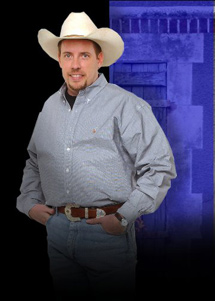 Martin began his career in 1996 when he had recently been divorced, fired from his advertising job and his Grandmother was dying of lung cancer. Not exactly situations to build a stand-up comedy career around. He even had three close buddies commit suicide after they broke up with a girl. As a result, one day he sat down and started writing an unpublished book called, "Life Under the Neon Moon Now that She's Gone and Took the Dog with Her," and it read like stand-up.
Now Martin is proving to be even more than a stand-up comedian. He has written and is shopping three reality shows, three movie scripts, a sitcom based on his life as a stand-up and continues to write the "Cos-Man-politan Report," a popular radio bit that he is in the process of syndicating.
QUICK CLIPS
"Face to Face" – Elton John and Billy Joel Tribute Show will play at The Pavilion Theater at the Tropicana Express on June 5 at 8 p.m. The show stars veteran tribute artists Jeffrey Allen and Michael John. Tickets are $19.99, call 800-431-1935.
TOP OF NEXT COLUMN
MORE QUICK CLIPS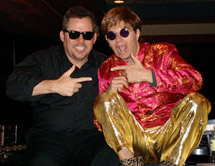 Enjoy "Reggae on the River" on the Riverwalk between the Colorado Belle and Edgewater on June 4 and 5. There will be music by Smoothie Jones and the Durty Bwoys, carnival games, and Jamaican and Caribbean dishes as featured food. This weekend event will be from 6-10 p.m. with free admission and food/drink sold separately.
It will be a "Hotel California Tribute to The Eagles" playing for a pool party at the Lagoon Pool at the Avi on June 4 and 5 from 7 – 10 p.m.
On June 19, the Avi will host a luau at 7 p.m. with a feast, drink specials and an 8 p.m. show featuring the Hot Lava Polynesian Revue. Tickets are $15.99 for feast, call 800-585-3737.
Tom & Sharon's Ballroom, Dance Party at the Dance Club at the Riverside will be held again from 1:30 -4 p.m. on June 12 and 26. There is an admission fee. For details on parties or dance classes, call 928-754-2097.
TRENT CARLINI BRINGS HIS ELVIS SHOW TO THE RIVERSIDE
A top Elvis tribute show, "Trent Carlini: The Dream King," will play at Don's Celebrity Theatre at the Riverside, June 11-20. His show goes from Elvis' career in the 50s through the 70s. Tickets are $32, call 800-227-3849, ext 616.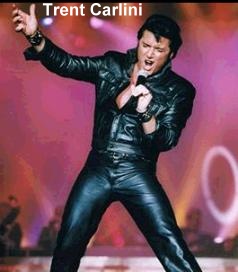 Carlini was born in Chicago, seven years after his parents immigrated to the United States from Italy. He became a Rock 'n' Roll fan at age 5, and at age 10 began playing guitar. Carlini attended school in Italy and during his late teens produced a few records of his own music. He moved back to the United States in 1987 and made Florida his home.
With the King's death in 1977, Carlini changed his musical direction to devote himself to recreating Elvis' style. In 1988, Carlini was chosen to star in the Annual Birthday Tribute to the King at the Star Plaza Theater in Indiana with the Jordanaires and others in the King's group. From 1992 until September 1996, Carlini starred as Elvis in "Legends in Concert" in Las Vegas and four years at the Las Vegas Hilton, where he currently has an ongoing engagement on Monday nights.
BRENTON WOOD PERFORMS AT RIVER PALMS
Brenton Wood will perform at the River Palms 2700 on Saturday, June 12 at 8 p.m. Tickets are $19, call 866-448-7849.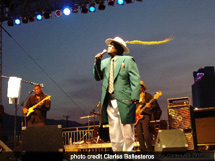 Born Alfred Jesse Smith in Shreveport, La., Wood moved west to San Pedro, Calif., as a child. After signing with Double Shot Records, Wood had a hit single in the spring of 1967 with "The Oogum Boogum Song," which reached No. 19 on the R&B charts and No. 34 pop. But the star of the album was on the second side. "Gimme Little Sign" was unique not only for its reggae/blues beat, but also for the fact that the title of the song was never mentioned in the lyrics. The chorus repeats, "Give me some kind of sign" instead. Despite a continuous presence on the recording scene, Wood never duplicated that early success.
CONTINUE ON TO...:

>THIS WEEK'S LAS VEGAS NEWS
>LAST WEEK'S LAUGHLIN NEWS
>VEGAS VIEW FULL ARCHIVES
>Return to "Heard Around Town"
>Return to Las Vegas Leisure Guide