The Riviera once again has an exciting headlining show and this one is an ice production from Russia. "ICE" features 42 of Russia's most disciplined and athletic ice performers on a stage that has been converted to a 3,000-square-foot, four-inch thick ice surface that must be kept at a chilly 24 degrees. The show guides audiences on a journey beginning with the bitter cold of Moscow to the warmth and vibrant colors of the Las Vegas desert.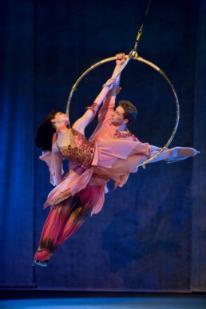 Rather than a traditional ice show, this one highlights ice skating at top speeds combined with stunning aerial acrobatics, acts of extreme dexterity and balance and some unconventional wit set to an eclectic mix of music. Watching aerial stunts done with the acrobats wearing their skates really makes the show multii-dimentional. There's a certain "Cirque"-like feel to the acts with circus feats including stilt skating and multiple action taking place most of the time. You see adagio numbers, balancing acts, and even a hula hoop master on skates.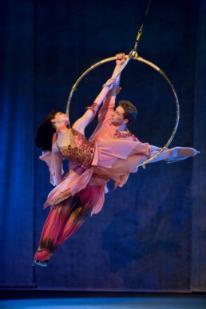 Performances are nightly except Friday at 8 p.m. and also at 10 p.m. on Tuesday, Wednesday, Thursday and Saturday. Tickets are $59.95 and $69.95, call 702-794-9433 or 1-877-892-7469.

Column Continues Below Advertisement


After a successful run at the Golden Nugget, "Simply Ballroom" will conclude its limited engagement at the Golden Nugget on May 31. The show, which features 10 top-ten ranked competitive ballroom dancers from across the globe in a celebration of dance, will be returning to the United Kingdom to prepare to embark on a world tour.
Starting June 1, the smash Broadway hit "Defending the Caveman" will make its Las Vegas debut at the Golden Nugget. The show is a funny insightful play about the ways men and women relate. Written by Rob Becker, "Defending the Caveman" is the longest running solo play in Broadway history, and has been seen by more than 7 million people in more than 30 countries and has been performed in more than 15 different languages. The Las Vegas show will star actor and comedian Kevin Burke.
Show times will be Wednesday through Monday at 8 p.m., with additional 3 p.m. matinee performances on Saturday and Sunday. Tickets start at $34.95, call 702-386-8100.
Three-time Grammy winner, Mary J. Blige will grace the stage in The Joint at the Hard Rock on Saturday, July 14. Tickets start at $96, call Ticketmaster at 702.474.4000.
For more than a decade, Blige has been touring to sold-out crowds and her latest album it titled "The Breakthrough." Her album demonstrates the journey she traveled to get to where she is today. As she's done throughout her career, Blige's musical palate reflects her lifelong affinity for old school soul and R&B. Blige is constantly making an impact outside the studio, and in 2001 she was honored for community activism with Rock The Vote's Patrick Lippert award.
This year's ninth annual CineVegas Film Festival running June 6-16 will open with the new "Ocean's Thirteen" film. The film's producer Jerry Weintraub will be honored with the Vanguard Producer Award during opening night fundraising festivities on Wednesday, June 6 at 7 p.m. at the Palms. Weintraub will be joined by his all-star cast including George Clooney, Brad Pitt, Matt Damon, Don Cheadle, Ellen Barkin and Andy Garcia.
In the third installment of the franchise, Danny Ocean (George Clooney) and the gang look to pull off their most ambitious and riskiest heist after ruthless casino owner Willy Bank (Al Pacino) double-crosses Ocean's friend and mentor Reuben Tishkoff (Elliott Gould).
For complete program details and to purchase passes, call 1-888-8VEGAS8.
For several years Gipsy Kings have been consistently voted Billboard's No. 1 World Music Artist and No. 1 Latin Pop Artist in the magazine's year-end awards. The group will perform at The Pearl at The Palms Aug. 30, at 8 p.m. Tickets for Gipsy Kings are $75 and $95, call Ticketmaster at 702-474-4000.
Gipsy Kings hail from the gypsy community in Arles and Montpelier in France. The group formed from two families, the Baliardo's and the Reyes', started their band playing for weddings and parties. In 1987, the Gipsy Kings released their self-titled album and the group introduced South America's rumba rhythm sounds to the world. Since that pivotal time the group has produced six gold-certified albums.
The group has been described as an exotic musical hybrid, "rumba flamenco," and they sing in a Gypsy dialect called Gitane. Ever since their hit single "Bamboleo," released in 1987, went platinum, they dominated the World Music Charts selling more than 13 million albums worldwide.
Remember the American Tourister suitcase and the smashing gorilla? It was comic Tony V who gave the ape its distinct voice and temperament. Touring extensively in and out of his high-tech $45,000 yak hair gorilla suit, both V and his alter ego had many interesting engagements. V brings his streetwise humor and genuine feel for the human condition to the Riviera Comedy Club, beginning Monday, June 4, for seven nights.
With a Bachelors Degree in Psychology, V plunged into the world of show business winning Showtime's "Funniest Person in Massachusetts" in 1986. His film credits include "Shakes, The Clown" with Bobcat Goldthwaite, "Housesetter," "By The Sea" and "One Crazy Summer" for Warner Bros. Having proven himself a solid comic actor, V then tackled dramatic roles on television working with such notable actors as Eric Roberts, Ice T and James McDaniels from NYPD Blue. V worked with Jay Leno, Dennis Miller, Steven Wright and opened for Kenny Rogers, The Temptations, Billy Ray Cyrus, the Beach Boys and Joan Jett, to name a few.
Appearing with V at the 8 and 10 p.m. shows will be Pat McGuirre, Arti Janvario and Josh Nasar. Tickets are $19.95, call 702-794-9433.
The rumjungle nightclub at Mandalay Bay has started presenting "Visual Eyes" a visual element enhancing the music atmosphere. Every Friday night, Kris P., Pioneer Electronics' hottest DVJ entertains the crowd by synchronizing his custom blend of exclusive remixed videos to the melodic beats. The evening is hosted with a live remote.
Kris P. has been rockin' crowds for more than 15 years, from coast to coast. From the nation's hottest clubs and events like the X-Games and ESPY Awards, to headlining parties at the Playboy Mansion and opening for artists like Fat Joe and Busta Rhymes.
The rumjungle has revamped its 20,000-square-foot playground with millions of dollars in renovations including all new plush seating d'cor, tables, bar tops, wine cabinets, and upgraded Pioneer sound system. Additionally, state-of-the-art Martin Lighting has been installed. The lighting coordinates to pulsating music, illuminating to different color schemes, all of which synchronize with the
The rumjungle is also known for hosting the world's largest rum bar, measuring 144 feet long and 19 feet high. "Rummeliers" are on hand enticing guests to indulge in one of more than 200 different rums on the wall. For information, call 702-632-7408.
It's being rumored that very soon hypnotist Marshall Sylver will be headlining nightly in the main showroom at Harrah's. It's been many years since he was headlining at the Sahara.
Texas Station in North Las Vegas is planning a mass wedding ceremony on 07-07-07.
Couples can get married or renew their vows for free on July 7. The wedding package includes a grand ceremony, minister, champagne toast and marriage certificate holder. For information, call 702-631-8321 or 800-654-8804.
Magician Nathan Burton recently held a casting call to find 96 sexy and temperature-tolerate ladies to participate in his "frozen in ice" spectacle taking place tomorrow, May 21. Burton will be encasing himself in a gigantic M-shaped ice sculpture for 24 hours in front of the Miracle Mile Shops' north Las Vegas Boulevard entrance beginning at 10 a.m. There will be four girls in the ice with Burton at any given time.
Jeff Beacher's "Madhouse" will return to The Joint at the Hard Rock on May 26.
The Las Vegas Art Museum will present the 56th Annual Art Roundup Juried Exhibition, July 27 to Aug. 26. The exhibition features a selection of approximately 100 works produced by Nevada artists, who will vie for cash prizes. This year's exhibition will include works in the categories of painting, sculpture, photography, video, works on paper, and watercolor. The museum is open 10 a.m. to 5 p.m., Tuesday through Saturday, 1 to 5 p.m. Sunday, and closed on Monday. General admission is $6 for adults, $5 for seniors, and $3 for students. For information, call 702-360-8000.
This week from May 21-27, comedian Steve Shaffer is headlining at The Comedy Stop at the Tropicana along with two more funny men Kevin Brennan and Paul Lyons.
The Lime Ice Frozen Bar is the newest addition to the food court at The Venetian, offering an array of frozen drinks and premium beverages.
Mandalay Bay's new $150 million room chic sophisticated redesign has added luxurious amenities, high-tech comforts and plush, vibrant décors in a palette of earth tones and dark woods.
Each of five room types, ranging in size from 550 to 1,500 square feet, assures a good night's rest with pillow-top mattresses and plush down comforters. There are floor-to-ceiling windows and two flat-screen televisions - a 42-inch plasma in the bedroom and a 15-inch LCD in each bathroom. More standard amenities include wireless high-speed Internet access, cordless phones with dual lines, iHome clock radios for iPods, in-room safes and his-and-her closets. Relaxing, multi-jet spa tubs also can be found in every suite.
Classic Cigar Art, poised to become the nation's leading retailer of framed original cigar label artwork, is an Internet-based retailer that has established its headquarters in Las Vegas. The Web site is ClassicCigarArt.com. The company specializes in the sale of framed, mint-condition cigar labels dating from the 1850s to the 1930s. All of the pieces are original lithographs printed as marketing tools during the golden age of cigar smoking. The miniature masterpieces were produced on a high-quality, acid-free paper that retains their vibrant colors a century after their printing and some are even embossed with 22-karat gold.
The labels carried by Classic Cigar Art were created through the painstaking and expensive process of chromolithography, in which elaborate images were drawn on a series of large, specially prepared Bavarian limestone slabs. The stones were used to apply the image to the paper, one color at a time.
The labels were designed to be pasted on the outside and inside of cigar boxes, which was one of the earliest examples of in-store advertising. Tens of thousands of cigar makers created unique, eye-catching labels to distinguish themselves from the competition. The labels that never made it on to cigar boxes have become the beautiful offerings of Classic Cigar Art.
The 38th edition of the 2007 World Series of Poker presented by Milwaukee's Best Light is set for June 1 through July 17 at the Rio and will be televised exclusively by ESPN. The mega-event will feature 55 bracelet events with buy-ins up to $50,000. Among the additions to the schedule, which includes nine bracelet events, are the $2,500 HORSE event and $5,000 Mixed Hold 'em Events and a $5,000 Heads-up No-Limit Hold 'em World Championship.
The 55-event 2007 WSOP schedule compares with 46 events in 2006, when more than 42,000 entrants from 56 countries generated a total prize pool exceeding $171 million - the largest purse in competitive sports. The 2006 World Series of Poker Main Event - the $10,000 buy-in No-Limit Hold 'em World Championship - attracted a field of 8,773 players. More than 870 players won money in the 2006 WSOP Main Event, including reigning world champion Jamie Gold, who captured the top prize of $12 million.
For the third straight year, the Rio will host the annual Gaming Life Expo July 5-8. A free consumer show featuring exhibitors from around the globe, the 2007 World Series of Poker Gaming Life Expo will showcase a broad array of gaming and poker products, memorabilia, books and clothing. In 2006, more than 100,000 people visited the Expo.
CONTINUE ON TO...:
>THIS WEEK'S LAUGHLIN SEGMENT
>LAST WEEK'S LAS VEGAS SEGMENT
>VEGAS VIEW FULL ARCHIVES
>Return to "Heard Around Town"
>Return to Las Vegas Leisure Guide