MICKEY GILLEY BRINGS COUNTRY MUSIC TO THE TROPICANA EXPRESS

Country artist Mickey Gilley will pay the Tropicana Express a visit on May 9 at the Pavilion Showroom.
Gilley grew up alongside his two famous cousins Jerry Lee Lewis and Jimmy Swaggart. He learned to play piano at an early age but did not achieve success like his cousin Jerry Lee until later.
In 1971, along with a business partner, he opened Gilley's. The club became known in the 80s as the world's largest honky-tonk with stars using it as a launching pad. It was here that Gilley started experiencing his first success when he released "Room Full of Roses." A television show was developed around the club, which only added to the phenomenon. But it was an "Esquire Magazine" article called "The Ballad of the Urban Cowboy" that caused Gilley's to develop into an urban cowboy craze. Paramount made a movie about the craze and cast John Travolta and Debra Winger in the lead roles. The soundtrack included a huge hit by Gilley, "Stand By Me," that went platinum and made him a household name.
Overall, Gilley has had 17 No. 1 hits on the country charts and has a star on the Hollywood Walk of Fame. He turned his attention to Branson, Mo., and became one of the first to build a theater in the boomtown for the country music industry.
THE RIVER PALMS IS IN IT FOR THE LAUGHS
Sammy's Comedy by the Shore is featuring different comedians weekly at the River Palms, Wednesday-Sunday at 8 p.m. Headlining May 13-17 will be Sonya White and Rob Sherwood. Tickets are $15 for general admission and $25 for VIP, call 800-835-7904.
Originally from Virginia but based in Chicago, White has combined southern charm with big city street smarts to create a show that won her a nomination as Campus Activities Magazine's Best Female Performer and multiple appearances on CBS' "Star Search."
White's observational comedy is enhanced by dead-on impersonations and appropriate sound effects. Both her comedy stage show and her one-woman show, "Airing Dirty Laundry," are based on real-life experiences. White's television credits include roles on the Fox Network's "Nightshift," The Family Channel's "Big Brother Jake" and MTV's national promotion for "Spring Break '98." She has played a colorful character on national promos for "The Jerry Springer Show," and done cartoon impressions for The Cartoon Network's "Pick Your Shorts."
White is a featured comedienne for Verizon Wireless on their "Fun and Games" mobile accessories option. If you've got a Verizon phone, you can see White any time you like -- in 60 different countries.
Comic/writer Sherwood is presently living in Las Vegas. He has been doing standup for 10 years but playing music was his first show business love. He is an accomplished drummer and joined his first band at age 11. Sherwood also spent many years behind the scenes as a light and sound technician. In addition to standup comedy, Sherwood is currently the host of the syndicated radio show, "Coast to Coast from Las Vegas."
CAR ENTHUSIASTS ENTICED BY 'WEEKEND OF WHEELS'
All eight hotel/casinos will be participating May 8-10 in the town-wide event "Weekend of Wheels." There will be a giant car show that is open to all years, makes and models of classic vehicles including cars, trucks and special interest vehicles. There will be contests, displays, food, music and vendors. For information, visit laughlincarshows.com or call 800-227-5245.
RIVERSIDE GETS 'IDOLIZED' WITH 'AMERICAN IDOL' TALENT
"Idolized" featuring contestants from "American Idol" including Nikki McKibbin, Mikalah Gordon, RJ Helton and Jasmine Trias will headline at Don's Celebrity Theatre at the Riverside, May 5-10. Tickets for the 8 p.m. shows are $30.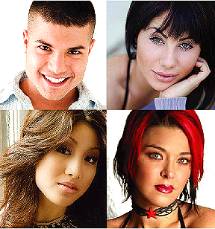 TOP OF NEXT COLUMN
McKibbin finished third in the 2002 debut season of "American Idol," and prior to that, she was one of the top 20 finalists in the first season of "Popstars." She is single and raising her son Tristen. In 2005, McKibbin appeared in several reality shows, including a special "Reality TV Stars" episode of the NBC series "Fear Factor," and the sports competition show "Battle of the Network Reality Stars" in which her team won. She also appeared in the E! Entertainment reality show "Kill Reality," which documented the filming of "The Scorned," a television movie with a cast comprised of reality television stars. McKibbin played a singer in the film.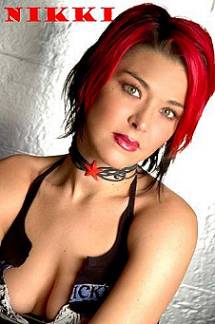 In May of 2005, McKibbin joined Dallas rock band Downside. They did several shows together, but due to creative and personal differences, McKibbin left the band in September that year. She is currently in Texas working on her album.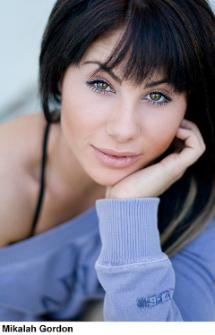 Gordon came in at 11th place on the fourth season of "American Idol;" however, she was most known for her smart mouth and over-the-top personality. Born and raised in Las Vegas, she now resides in Los Angeles. As an actress, she made an appearance on the CBS TV series "The Unit," co-hosted Fox Reality's "American "Idol Extra," and been a field correspondent for "The Tyra Banks Show." Her most recent television show was the second season of the CMT series "Gone Country," where artists from different genres go to Nashville to learn, live and sing country.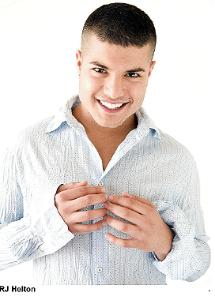 Helton was a finalist in the first season of "American Idol" and earned a place among the season's top five finalists. His first major-label release was "Real Life," on B-Rite Music. When he was 16, Helton captured the attention of the promoters of a musical tour of schools sponsored by "Reader's Digest" magazine that spanned the East Coast and Ohio Valley and gave him the opportunity to perform more than 150 dates in his last two years of high school. After high school, he became a member of Soul Focus that toured with a major Christian artist before it folded.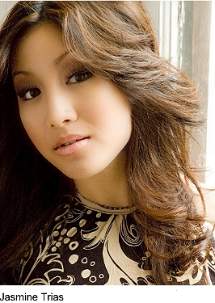 Trias, who is from Hawaii, was the third place finalist on the third season of "American Idol." Her debut album was "Jasmine Trias." In the Philippines, Trias has done television commercials and billboard ads for McDonald's, Smart Telecommunications, Hapee Toothpaste, and Bench Clothing. On Oct. 6, 2004, she released a promotional single for McDonald's entitled "Love Ko 'To" (the local translation of McDonald's "I'm lovin' it" slogan). On Feb. 27, 2005, Trias released a CD single entitled "Flying Home," which was sold exclusively in Pizza Hut and Taco Bell stores in Hawaii. Trias often performs with the Society of Seven in Las Vegas.


CONTINUE ON TO...:
>THIS WEEK'S LAS VEGAS NEWS
>LAST WEEK'S LAUGHLIN NEWS
>VEGAS VIEW FULL ARCHIVES
>Return to "Heard Around Town"
>Return to Las Vegas Leisure Guide