GRAMMY WINNER LEANN RIMES VISITS THE EDGEWATER!

Singer LeAnn Rimes, who has sold more than 37 million albums, will headline at the Edgewater's E Center concert venue on Saturday, Feb. 22 at 8 p.m.
Rimes has won two Grammy Awards, three Academy of Country Music Awards, a CMA award and 12 Billboard Music Awards. She was the youngest recipient of a Grammy Award ever and also the first country recording artist to win in the "Best New Artist" category. She has placed 42 singles on the Billboard Hot Country Songs chart, 13 of which are Top 10 hits, and has scored numerous hit singles in her career, including "Can't Fight the Moonlight," which went No. 1 in 11 countries, and "How Do I Live," which is the second longest charting song ever on the Billboard Hot 100 chart. Tickets are from $35.
BUMBLEBERRY FLATS IS NEW RESTAURANT AT PIONEER
The Pioneer Hotel and Gambling Hall has a brand new restaurant, Bumbleberry Flats, where the Boarding House used to be located. The "western motif" is gone and replaced with a new look featuring soft tones and modern, uncluttered clean lines throughout. The new eatery has a beer tap feature and a highly original menu with such items as "Southern Style Sushi" made with Andouille sausage, pepper jack cheese stuffed jalapenos, wrapped in smoked brisket and Cajun rice.

Chef Craig Pinkard started working on the menu nine years ago and wanted to make dishes with food people were familiar with but with a few twists. Pinkard started his career back in the 90s as basically an "onion chopper" in what was the Boiler Room, which is now Pints, in the Colorado Belle. Pinkard worked his way to a position as chef at Granny's in the Pioneer and was recently promoted to executive chef.
The restaurant's beer option is different. A few of the booths in the center of the dining room are outfitted with their own beer tap, linked to kegs of Sam Adams beer visible in a glass walk-in area within the room. Customers give their credit card to the server and the tap is unlocked for the guest to pour at their convenience. The beer is charged by the ounce with a meter next to the taps.
Bumbleberry Flats participated in the "Taste of Bullhead" community event the second day they were open and won "People's Choice" for "Best Food."
Chris Lowden, who is the resort's director of design and development, has explained the origin of the distinctive name Bumbleberry Flats. He said his father Paul Lowden, Sr. owned a Bumbleberry restaurant chain in the early 1970s and had an outlet in Las Vegas on Maryland Parkway and Karen. He added the "Flats" just believing it sounded good.
Pricing is $8 range for salads and sandwiches, $10-$15 range for main entrees and breakfast items around $9-$12. The restaurant opens daily at 7 a.m. and closes at 10 p.m. Sunday-Thursday and 11 p.m. on Friday and Saturday.
THE OAK RIDGE BOYS BRING THEIR HITS TO THE RIVERSIDE
The Oak Ridge Boys with their recognizable four-part harmonies will appear at the Riverside Resort in Don's Celebrity Theater Feb. 10-16. This foursome has spawned dozens of country hits and a number one pop smash, earned them Grammy, Dove, CMA, and ACM awards. Every time they step before an audience, the group brings four decades of charted singles and 50 years of tradition to a stage show. Their string of hits includes the Country-Pop chart-topper "Elvira," as well as "Bobbie Sue," "Dream On," "Thank God For Kids," "American Made," and many others. Tickets for their 7 p.m. and 3 p.m. matinee shows are $38.50.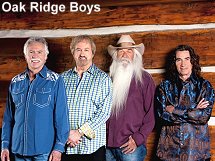 AQUARIUS LINES UP THE IV TENORS
The IV Tenors concert is a perfect booking at the Aquarius over Valentine's weekend on Feb. 15. Veteran performers Brian Damson, Michael Scott Brooks, Morgan James and Ken Nielson are four big guys with four big voices who bring Broadway classics to life, rock the stage with songs by Michael Bublé, Bon Jovi, Frankie Valli and Puccini, and even belt out beautiful opera pieces. Tickets for their 7 p.m. show are $20 and $25.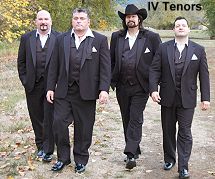 Damson the foursome's resident comedian has performed in musical theater and is an award-winning actor and cabaret performer. Brooks has been a working professional singer and pianist since age 15 and has performed at clubs, events, TV appearances and stages around the United States and Europe. James has performed with stars like Dean Martin, Barry Manilow, The Nitty Gritty Dirt Band, Andy Williams and Bob Hope. Nielson sings, acts, dances and has traveled the world performing for Walt Disney Productions, cruise lines and off-Broadway productions.
VICKI LAWRENCE AND MAMA SHOWCASE AT THE RIVERSIDE
Emmy Award winning comedienne Vicki Lawrence will bring Mama with her to Don's Celebrity Theater at the Riverside Resort, Feb. 18-23. Tickets are $32 for her 7 p.m. performances. Lawrence was plucked out of total obscurity as a high school senior and became part of the now-legendary cast of the "Carol Burnett Show." Lawrence shares her acting, comedic and vocal talents while Mama offers strong opinions on interesting topic.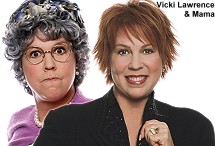 EDGEWATER HIGHLIGHTS COMEDIANS DENNIS ROSS AND LEIF SKYVING
At the Edgewater Showroom, it's always time for laughter with "Comedy on the Edge" taking place every Friday through Sunday at 7 p.m. Two different comedians are featured weekly. The upcoming lineup includes: Davin Rosenblatt and Joe Currie Feb. 28-March 2; Luis Villasenor and Kevin Young March 7-9; Mark Poolos and Joe Cocozzello March 14-16; and Scott Long and Todd Link March 21-23. Tickets are $10 and ACCESS Club card holders receive a $2 discount.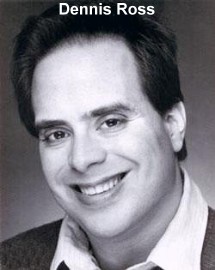 Twenty-year comedy veteran Dennis Ross will co-headline with Gary Keshner Feb.14-16. Ross is a spectator to everyday insanity and brings his observations about everyday life to the stage. From New Jersey, Ross is a writer for National Lampoon with that special flair for human comedy. Defying the caricature of the typical, manic comedian, Ross conducts his performance sitting on a stool speaking to the audience as if they were old friends. Ross' distinctive world-view brings his audiences material that is both extremely clever and hilariously truthful.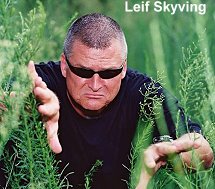 Comedians Leif Skyving and Lew Sall will provide the laughs Feb. 21-23. Skyving began his career stepping on stage at the famous Comedy Store in Los Angeles. Since then, he has honed his natural gift for comedy traveling across the United States and Canada for the past 15 years playing auditoriums, theaters, major comedy clubs, colleges and corporate special events. Skyving also uses his sharp wit to comment on current topics and vent about whatever happens to be bothering him. He has an "alter ego," Curt Sudden - a no-nonsense kind of a guy who may appear at any time. Sudden even plays a mean harmonica.
TOP OF NEXT COLUMN
ENTERTAINMENT REMINDERS
Award-winning country music singer Crystal Gayle best known for her hit, "Don't It Make My Brown Eyes Blue," will visit The Riverside Resort Feb. 27-March 2. Over the years, she has accumulated 20 number No. 1 country hits with six certified Gold records and was the first female country artist in history to reach Platinum sales with her album "We Must Believe in Magic." Tickets are $25.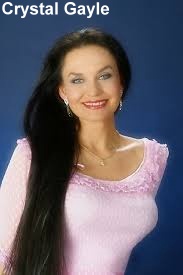 Magician Dirk Arthur who is well known for his rare exotic animals featured in his "Wild Magic" show is currently appearing at Harrah's in the Fiesta Showroom through March 9. Tickets for his family show are $27.50 and $38.50 and $10 for children 12 and under.
Paul Anka, singer-songwriter and actor, will headline the E Center at the Edgewater on Saturday, Feb. 15 at 8 p.m. He's still going strong. His two most recent albums – "Rock Swings" and now "Classic Songs, My Way" – feature songs originally created by some of the biggest rock performers of the day across several genres but with his twist doing the songs "his way." "Rock Swings" went Top 10 in the UK, and was certified gold in the UK, France, and Canada, hit No. 2 on Billboard's Top Jazz Albums chart and went on to sell half a million units worldwide. Tickets for his Edgewater show range from $40 to $95.
Country singer Jo Dee Messina, who has sold more than five million albums, had nine No. 1 singles, and earned two Grammy nominations, will headline at the Avi Grand Ballroom on Saturday, Feb. 15. Tickets are $20 and $25.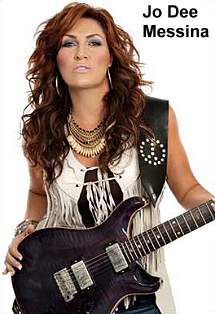 QUICKIE NEWS ITEMS
The BOXCINO 2014 Championship Boxing Tournament will be held at the Edgewater's E Center on Friday, Feb. 21. It will be the first of a series of boxing single elimination tournaments to be broadcast live on ESPN. The Feb. 21 fights will feature eight professional boxers in the lightweight division. Winners move on to the semi-finals. Tickets start at $15.
The 20th annual Avi Kwa Ame Pow Wow gathering of Native American tribes from across the West will be held Feb. 14-16 at the Mojave Crossing Event Center located across the Colorado River from the Avi. Some events will be open to the public including bird singing and dancing on Friday at 6 p.m., gourd dancing at noon on Saturday and Sunday, Grand Entry on Saturday at 1 and 7 p.m. and Sunday at 1 p.m., plus more (Arizona time). Tickets are $5 per day or $8 for two days. For information, call 760-629-4591.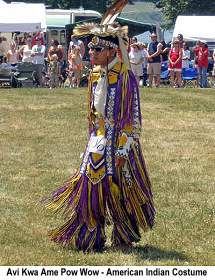 Later in the month, Feb. 27-March 1, the Avi River Stampede PRCA Rodeo will take place at the Mojave Crossing Event Center at 7:30 p.m. each night (Arizona time). Tickets for the full-blown indoor rodeo produced by Honeycutt Rodeo are: $30 Gold Buckle reserved seating; $20 reserved seating; $10 general admission; and $5 ages 2-10.
EDGEWATER HOSTS DOO-WOP DINNER SHOW WITH LEGENDARY ACTS
A Doo Wop Dinner Show with The Original Cornell Gunter's Coasters; The Legendary Monroe Powell & The Platters Revue; and Bobby Hendrick's Drifters will be held Feb. 28-March 2 at the Edgewater's E Center. Tickets start from $55 with dinner and show included.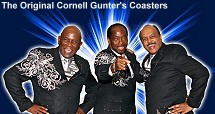 The Original Cornell Gunter's Coasters were the first vocal group to be inducted into the Rock and Roll Hall of Fame in 1987, with a string of hit catchy tunes such as "Charlie Brown," "Searchin'," "Youngblood," "Yakety Yak," "Little Egypt" and many more. Charlie Duncan joined Gunter and became one of the Coasters. Duncan carried on the tradition of vocal excellence, stage presence, high energy, choreography and humor he shared with Gunter following his untimely passing.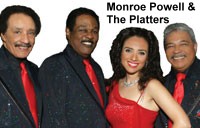 The Platters were one of the top vocal groups of the 50s, delivering smooth, stylized renditions of pop standards. Their string of hits began in 1955 with "Only You" and included four singles that reached No. 1: "The Great Pretender," "My Prayer," "Twilight Time" and "Smoke Gets In Your Eyes." Monroe Powell is the best known lead singer for The Platters for more than 40 years.

Bobby Hendricks is the oldest surviving lead vocalist of the Drifters. This group was one of the great American doo-wop and R&B/soul vocal groups. The Drifters' hits include "There Goes My Baby," "Dance With Me," "Some Kind Of Wonderful," "On Broadway" and "Under The Boardwalk."

NEARBY AREA EVENTS

Laughlin in conveniently located across the Colorado River from Bullhead City, Ariz., and less than a 90-minute drive from Lake Havasu City, Ariz. Events in either city can be fun for visitors to Laughlin. Times given for both cities are Arizona time because in the winter there is a one-hour time difference between Arizona and Nevada.

The Bullhead City Farmers Market held the third Saturday of the month will be from 8 a.m.-noon on Saturday, Feb.15 at a new location at Bullhead Community Park, 1251 Hwy 95, Bullhead City, Ariz. Admission is free.

The annual fundraising Moose Riders Sweetheart Ride with a poker run, raffles, 50-50 drawing, food and music by the Mohave Green Band will be held Sunday, Feb.16 at Lazy Harry's, 2170 Rio Grand Road, Bullhead City. You can sign up for the poker run at 8 a.m. and the ride follows at 11 a.m. Food and music will be back at Lazy Harry's at 3 p.m. Cost is $10 for a hand in the poker run and $25 for three hands. For information, call Lazy Harry's at 928-758-6322.

For the first time, the National Antique Barbed Wire and Collectibles Show will be held in Tri-State area Feb. 18 and 19. The event will be in the Bullhead City Chamber of Commerce Auditorium in Bullhead Community Park, 1251 Hwy 95, Bullhead City. There will be samples of more than 100 years of barbed wire, fencing tools, glass insulators, date nails, bottles, jewelry and antiques. People will be able to buy, sell or swap and there will be a live auction at 2 p.m. Hours are 9 a.m.-5 p.m. on Tuesday and 9 a.m.-3 p.m. Wednesday. Each visitor will get free antique barbed wire. Admission and parking are free. Vendor tables are $15 for members of the California Barbed Wire Collectors Association and $25 for non-members, call Mark Nelson at 909-592-1322 or email califbarbedwire@aol.com.

The 25th annual Western Winter Blast Pyrotechnic Show features spectacular fireworks displays by various pyrotechnic companies from across the United States. This free event will be held in SARA Park in Lake Havasu City. Parking is $5. Teaser shows are 7:30-8:30 p.m. on Feb. 13 and at 7:30 p.m. Feb. 14-16. For information, call the Lake Havasu City Convention & Visitor Bureau at 928-453-3444.

The 6th Annual Rockabilly Reunion with rockabilly and rock bands, cars, rat-rods, fashion, pin-up girl contest, beer garden, '50s hair salon and barber, motorcycles on display, food vendors and more will be held at Lake Havasu State Park, Windsor 4, Lake Havasu City Feb. 14-16. Cost is $25 for a three-day pass; $10 per day: and free for ages 10 and under. Hours are Friday noon-11 p.m.; Saturday 10 a.m.-11 p.m.; and Sunday 10 a.m.-10 p.m.


CONTINUE ON TO...:

THIS WEEK'S >LAS VEGAS NEWS
LAST WEEK'S >LAUGHLIN NEWS
>VEGAS VIEW FULL ARCHIVES
Return to >"Heard Around Town"
Return to >Las Vegas Leisure Guide