PAUL ANKA WILL SHOWCASE HIS MUSIC AT THE EDGEWATER!

Singer-songwriter and actor Paul Anka will visit The E Center at the Edgewater on Saturday, Feb. 15. Tickets for his 8 p.m. show range from $40 to $95.

Anka rocketed to fame as a 16-year-old teen idol in 1957 with his No.1 hit "Diana" and he's still going strong. Not resting on his laurels, Anka's two most recent albums - "Rock Swings" and now "Classic Songs, My Way" - feature songs originally created by some of the biggest rock performers of the day - as well as other established artists across several genres. Anka's twist was doing the songs "his way" by taking great songs and reworking them so they were natural for him. "Rock Swings" went Top 10 in the UK, and was certified gold in the UK, France, and Canada, hit No. 2 on Billboard's Top Jazz Albums chart and went on to sell half a million units worldwide.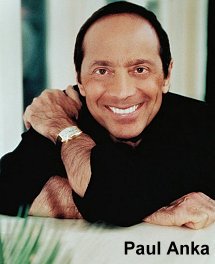 To his credit, Anka wrote many hit tunes, including "You Are My Destiny," "Lonely Boy" and "Put Your Head on My Shoulder." He also wrote the Academy Award-nominated theme for "The Longest Day," the 1962 film in which he also had a part, the "Tonight Show" theme song for Johnny Carson, and "She's A Lady" for Tom Jones. By the 1970s, the success of Anka's tune "My Way," performed by Frank Sinatra, and a string of hits including "(You're) Having My Baby" confirmed his status as an icon of popular music.
THE IV TENORS BRING THEIR ARTISTRY TO AQUARIUS
From classical masterpieces to contemporary rock and pop hits, including favorites from Michael Bublé, Bon Jovi, Frankie Valli and Puccini, The IV Tenors will fascinate at the Aquarius Pavilion with their brilliant vocal artistry on Saturday, Feb. 15 at 7 p.m. Tickets are $20 and $25.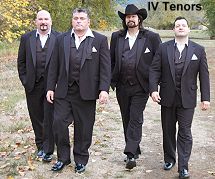 "The IV Tenors" is comprised of four brilliant performers: Brian Damson, Morgan James, Michael Scott Brooks, and Ken Nielson. The formula of their success is that each tenor has his individual style and genre in which he sings exceedingly well. Then they come together as a group and change styles cross genres without missing a beat. Included in their show is a segment celebrating some of the great groups during the last century like the Mills Brothers, the Beatles, the Mamas & the Papas and Aerosmith. And the show also features some comedy by the foursome's resident funny man Damson.
Damson was educated at the Cincinnati Conservatory of Music and The University of Kentucky. Damson has spanned the globe as an award-winning actor and cabaret performer.
Brooks has been a working professional singer and pianist since age 15. He earned his BFA for vocal performance at Wayne State University in Detroit, Mich., and has been musical director, composer, arranger, accompanist and tenor soloist with several professional groups.
James has worked as a soloist performer with the Roger Wagner Chorale, Reno Philharmonic Orchestra, and UCLA Men's Glee. He has had command performances before such dignitaries as President Ronald Reagan and also performed with stars such as Andy Williams, Dean Martin, Bob Hope, Jose Feliciano and Barry Manilow, etc.
Nielson is a natural entertainer and triple threatů.singer, actor and dancer. Nielson has worked for Walt Disney Productions and traveled the world from the Caribbean to Asia. He's performed more than 18 shows for major cruise lines as a featured vocalist and master of ceremonies.
DOUG KERSHAW WILL FIDDLE AT THE RIVERSIDE
Doug Kershaw, known as "The Ragin' Cajun," will perform his energetic mix of rock, blues, jazz, country and Cajun music at the Riverside in Don's Celebrity Theatre Jan. 28-Feb. 1. Tickets for his 7 p.m. shows are $30.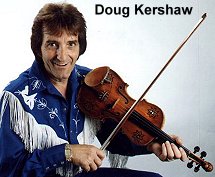 Kershaw's signature hits include "Diggy Diggy Lo," "Hello Woman" and "Cajun Baby." As a world-renowned fiddle player and talented singer-songwriter, Kershaw continues to expand his musical boundaries while remaining true to his Cajun roots. Kershaw has recorded 15 albums.
Born in Louisiana, Kershaw didn't learn English until he was 8 years old. By that time, he had mastered the fiddle, which he played from age 5, and was on his way to teaching himself to play 28 instruments. Kershaw became interested in Cajun music during houseboat parties his parents hosted, where he first heard Cajun bands playing the music.
Despite the demands of his music career, Kershaw earned an undergraduate degree in mathematics. In 1958 at the peak of his early career with his brother Rusty, the two of them enlisted in the U.S. Army and served three years. Afterwards, the two brothers recorded "Louisiana Man," an autobiographical song that Kershaw had written while in the Army. The song not only sold millions of copies but over the years has become a standard of modern Cajun music and was eventually covered by more than 800 artists. In November 1969, "Louisiana Man" was broadcast back to earth by the crew of the Apollo 12 moon mission.
THE OSMOND BROTHERS WILL GATHER AT THE RIVERSIDE
The Osmond Brothers will headline at the Riverside in Don's Celebrity Theatre Feb. 4-8. Tickets are $30 for their 7 p.m. shows.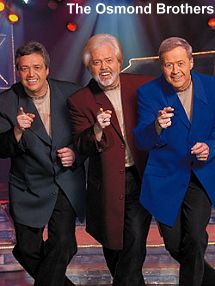 These multi-talented brothers are still going strong performing all styles of music from barber shop to jazz and have been entertaining audiences for more than 50 years with their close harmonies. Due to illness the scaled down group now features Jimmy (the youngest), Jay and Merrill ranging now in ages from 50 to 60 years old.
The Osmonds, which includes Donny and Marie, are an American family music group with a long and varied career, one that took them from singing barbershop music as children, to achieving success as teen-music idols, to producing a hit television show, and to continued success as solo and group performers. Jimmy later worked as a businessman and manager and eventually moved to Branson, Mo., and opened the Osmond Family Theater, where he and his brothers performed until 2002. Now the trio tours and they have far too much fun to think of bringing the curtain down on their careers.
JO DEE MESSINA WILL APPEAR AT THE AVI
Country singer Jo Dee Messina will appear at the Avi Grand Ballroom on Saturday, Feb. 15. Tickets are $20 and $25.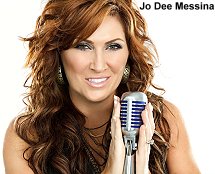 Messina is a singer with staying power. She has sold more than five million albums, had nine No. 1 singles, and earned two Grammy nominations in addition to awards by the CMA and ACM. Her spirit of country music has been with her since her childhood in Holliston, Mass. By the time she was 16, she had a band that included her sister on bass and her brother on drums. At 19, she loaded a car and headed to Nashville to make a big name for herself.
TOP OF NEXT COLUMN
COMEDIAN WAYNE FRANCIS WILL VISIT THE EDGEWATER
"Comedy on the Edge" takes place every Friday through Sunday in the Edgewater Showroom at 7 p.m. Tickets are $10 and ACCESS Club card holders receive a $2 discount. Two different comedians are featured weekly. The upcoming lineup includes: Feb. 7-9 - Marc Yaffee and Myk Powell; Feb. 14-16 - Dennis Ross and Gary Keshner; Feb. 21-23 - Leif Skyving and Lew Sall; and Feb. 28-March 2 - Davin Rosenblatt and Joe Currie.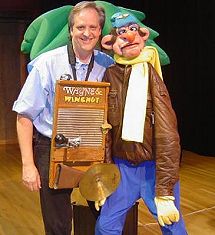 Wayne Francis will deliver the laughs Jan. 31-Feb.2 with fellow comedian Jimmy Abeyta. Francis is a nationally recognized comedy ventriloquist who works with life-size puppet characters. His most famous pal is old-time aviator Wingnut and together they have sailed the seas around the world entertaining aboard Princess and Seven Seas Cruise Lines. They have also entertained in comedy clubs from coast-to-coast and at air shows and balloon festivals all over the country. They have opened for acts including the Smothers Brothers, Drew Cary, Roseanne, George Lopez, Nitty Gritty Dirt Band, America, etc.
NORTH REACH OFFERS OUTDOOR ADVENTURE
North Reach, a $35 million Colorado River Heritage Greenway Park and Trails system, is a recreational paradise located along several miles of Laughlin's northern Colorado River front and close to Laughlin's hotels and casinos. The trails system's main features offer a variety of walks and hikes, practical fishing nodes and a fully-appointed day-use park with Davis Dam as its backdrop. The project, which includes three developed trailheads and a signature pedestrian overpass, enhances Laughlin's "soft adventure-appeal" while protecting natural and cultural resources on U.S. Bureau of Reclamation lands inside the Lake Mead National Recreation Area.
Pedestrian trails are concrete, lightly colored to blend with the desert environment, and welcome both pedestrian and bicycle users. All these paved pedestrian trails are handicap accessible and offer amenities such as signage, vegetation, restrooms, picnic shelters and shade shelters. Some of them are even lighted for nighttime use and security.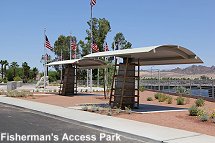 Another outdoor area is Fisherman's Access Park located on the river north of the Riverside Resort and across Casino Drive from the bridge trailhead. This is not part of the original trail system design but through a joint public-private arrangement with Don Laughlin, owner of the Riverside Resort, the park was developed. This park has a newly constructed launch ramp; a public-use dock; picnic ramadas; a Flag Plaza maintained in conjunction with the Laughlin American Legion; additional parking spaces for vehicles with boat trailers; and bank fishing access to the Colorado River.
For more information about the park and trail system, contact the Parks and Recreation department at 702-298-3413.
NEWS ON THE GO
The Flamingos known as the "Ambassadors for Romance" are appearing at the Riverside Jan. 21-26 in Don's Celebrity Theatare at 7 p.m. The group is celebrating its diamond anniversary for their career that includes hits such as "I Only Have Eyes For You." Show tickets are $32.
Magician Dirk Arthur has many bookings at Harrah's this year. He's appearing there now through Jan. 26 and will return for a month-long stint Feb. 4-March 9 in the Fiesta Showroom. Tickets are $27.50 and $38.50 and $10 for children 12 and under. His "Wild Magic" show is suitable for the whole family.
The 2nd Gem, Mineral, Jewelry, Bead & Gift Show featuring a wide variety of minerals, beads, fine jewelry, loose stones and much, much more is continuing at the E Center at the Edgewater through Jan. 26. Admission is free and hours are 10 a.m.-6 p.m. daily and until 4 p.m. on Jan. 26.
The annual "Sweetheart Ball" with dinner and dancing to the music of the band Littletown will be held Saturday, Feb. 8 at the Elks Lodge 2408, 1745 Emerald Road, in Bullhead City, Ariz. Cost is $15, call 928-754-4294.
AQUARIUS TEAM MEMBERS WILL "SCALE THE STRAT" IN LAS VEGAS
Aquarius team members for the fourth consecutive year will take steps to help end lung disease in Nevada by participating in the sixth annual "Scale the Strat" on Sunday, March 2 at Aquarius' sister property Stratosphere Casino, Hotel & Tower in Las Vegas. Hundreds of athletes of all abilities will climb 108 floors and 1,455 steps inside the iconic Stratosphere Tower, the highest building west of the Mississippi River. Aquarius team members are challenging every member of the tri-state area to participate and help those in Nevada that are struggling to breathe every day. Last year, nine Aquarius team members participated and collectively raised $3,700.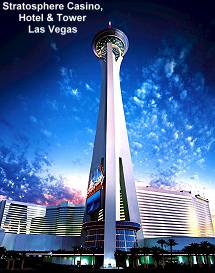 Early bird registration is $60 before Feb. 16. Regular and walk-in registration is $75 for climbers who register Feb. 17 to March 2, the day of the climb. In addition to the registration fee, all climbers are asked to make a minimum fundraising pledge of $150; visit www.ScaletheStrat.com.
NEIL MORROW RETURNS TO THE AVI
Neil Morrow & Memphis 54 will return to the ArrowWeed Lounge at the Avi, Jan. 29 - Feb. 1. Morrow's music is rooted from early American Rock 'n' Roll, Rockabilly and Country. Morrow leads the band with powering vocals and a driving piano style that brings the essence of Roy Orbison, Jerry Lee Lewis and Elvis Presley to life. However, Morrow has a current sound with his own originality.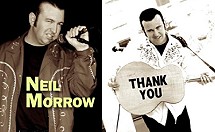 BULLHEAD CITY HOLDS BLUEGRASS FESTIVAL
The Colorado River Bluegrass Music Festival will present several top bluegrass bands, arts/crafts and merchandise vendors plus food vendors in a three-day event. Bands will include: James King; Bluegrass Patriot Reunion; Jerry Butler & The Blu-J's; Karl Shiflett and The Big Country Show; Lonesome Otis; Marty Warburton; and Just For Fun. The event will take place in Rotary Park off Riverview Drive in Bullhead City, Ariz. Hours are Friday 10 a.m.-5 p.m. and 9 a.m.-5 p.m. on Saturday and Sunday (Ariz. time). The cost is $15 per day and free for ages 12 and under. For information, call the Bullhead City Recreation Division at 928-763-9400, ext 303 or email ecatalfamo@bullheadcity.com.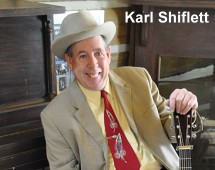 AQUARIUS PLAYERS HELPED FEED TRI-STATE FAMILIES

The Aquarius' second "Feed A Family" program and the generosity of Aquarius ace | PLAY™ members helped put a holiday meal on the table of 1,005 tri-state families in need this past holiday season. It was an increase of more than 100 families from last year's effort.

The "Feed a Family" program allowed ace | PLAY members to contribute their players club points from Nov. 1 to Dec. 20, 2013, to help provide a Thanksgiving or Christmas meal to a family. For every 12,000 points collected, Aquarius provided a box of holiday food items that contained enough food to feed a family of four. The food boxes were distributed prior to the holidays to various food banks and pantries in Nevada, Arizona and California.

In addition to players' club point contributions, $3,100 in cash was raised for the effort from the Aquarius' Christmas Tree Silent Auction, which ran from Nov. 30 until Dec. 21. Aquarius guests could bid on 11 extravagantly decorated 7.5-foot tall pre-lit Christmas trees, each with a specific theme. Aquarius also received $975 in other miscellaneous donations which brought a total of $4,075 additional dollars that was added to the "Feed a Family" effort. The additional money helped feed 203 families in the tri-state area and increased the final total to 1,005 families aided through this program.

CONTINUE ON TO...:

THIS WEEK'S >LAS VEGAS NEWS
LAST WEEK'S >LAUGHLIN NEWS
>VEGAS VIEW FULL ARCHIVES
Return to >"Heard Around Town"
Return to >Las Vegas Leisure Guide