Just saw the new BLUE MAN GROUP SHOW at the Monte Carlo and it now offers an experience never seen before. Blue Man Group provides audiences with a fully immersive audiovisual experience in a show that is a combination of science, comedy, music and vibrant visual effects. There is an explosion of color, humor, music and technology in the only show with a "smoking section," the only show with brains and the only show with balls. Blue Man Group's latest production is complete with electrifying music, sensational technology, a captivating nightly procession and an interactive audience experience. I have seen and enjoyed BLUE MAN GROUP show numerous times, but this new show is certainly something else, along with some of the mainstays that have been and always will be enjoyed.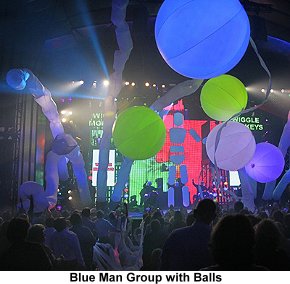 In honor of the holiday season, Blue Man Group is offering Nevada residents two tickets for the price of one to its new show at Monte Carlo now through January 27, 2013 To receive the two-for-one deal, locals can show their Nevada ID and mention the code "LOCALS" at the Blue Man Group Box Office or call 877.459.0268.
It's beginning to look a lot like Christmas, and Golden Gate Hotel & Casino is hosting a contest to celebrate the holiday season. On Saturday, December 22 beginning at 5 p.m., Sin City's sexiest ladies are invited to participate in Golden Gate's 2012 Miss Santa's Helper for a chance to win $5,000! Sharing Christmas cheer across the casino floor of Vegas' original hotel, female contestants dressed in their sexiest Santa's helper attire will seek to acquire holiday tokens from judges using their charm, wit and beauty. To enter, contestants can call the contest hot line at 702-388-2411. Females must be 21 years and older to participate. For more information, visit: www.GoldenGateCasino.com.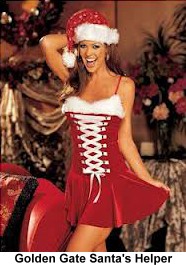 The Golden Gate is Las Vegas' most historic hotel and casino; opening in 1906 at One Fremont Street. Its legacy spans the birth of Las Vegas, the Roaring 20s and the Rat Pack era. The Golden Gate recently completed its first major expansion in 50 years, adding a 35,000-square-foot luxury tower with 16 suites, an expanded gaming floor with a high-limit pit, featuring its signature dancing dealers, and a new lobby displaying artifacts from its historical past.
---
Surprisingly at this time of the year, a few new good shows have opened.
Some of these are:
MUSIC DIRECTOR OF "PHANTOM" OPENS NEW SONG & DANCE SHOW AT THE PLAZA called The GRAND OLE VEGAS REVUE. Created by long-time "Phantom" performers Jonathan and Marisa Gorst, this gem of a show features the talent of seasoned Broadway and Las Vegas Strip performers in a quick-paced parade of song, dance, and comedy. Drawing inspiration from the vaudeville theater of the early 1900s, The GRAND OLE VEGAS REVUE delights in comedy skits, gags and fast paced one-liners throughout a show featuring top-quality performances. The closing is hilarious with a parody of Vegas' celebrated shows on the Las Vegas Strip.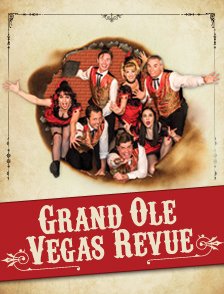 Jonathan Gorst has made his name as the Music Director of the National Tours of both "The Phantom of the Opera" and "Cats." But his roots go back to Cripple Creek, CO, where he played the piano for a little show much like the one he's produced. The result is delightful, because nothing is taken too seriously. The performers have been on big stages across the world, but they're not afraid of good old-fashioned pratfalls and whoopee cushions.
Gorst's co-producer and wife, Marisa Gorst, brings her own pedigree to the show, with a background in classical dance that saw her onstage at Lincoln Center with New York City Ballet and in Ljubljana, Slovenia with that country's National Opera Ballet. Her most recent years were spent as part of the ballet chorus in "Phantom" at the Venetian.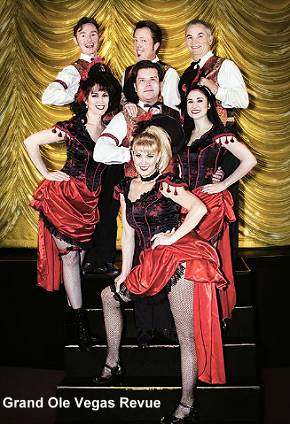 With such a cast and the musically gifted Jonathan Gorst on the piano, it's no wonder that when the show previewed at Bonnie Springs Ranch this past summer the reviews were spectacular. The show runs at 5pm on Saturdays, Sundays, Mondays, and Wednesdays. Tickets are $59.95 VIP, $49.95 adults, $19.95 children. Call 702-946-8934 for reservations,. A pre-show old-fashioned sing-along begins approximately 15 minutes before curtain.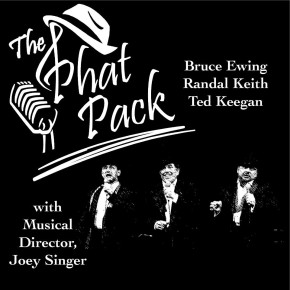 THE PHAT PACK - When `Phantom - The Las Vegas Spectacular' closed, some very talented people decided to put together their own show. The members of THE PHAT PACK show did just that and the showgoing public now has a chance to thoroughly enjoy a wonderful evening of extraordinary musical talent. Two of the performers - Ted Keegan, Randal Keith met through `Phantom' and Bruce Ewing, spent 14 years performing three of the roles in "Forever Plaid." Ted Keegan put in 12 years with `Phantom' and Randall Keith toured and performed on Broadway in "Les Misérables." Musical director, pianist, singer, guitarist and bass player, Joey Singer has worked with Debbie Reynolds for 27 years. He recently performed with Debbie Reynolds at the South Point. They all sing beautifully together as they sing marvelous Broadway, Opera, Standards and Originals. Each performer sings about their musical journey through life in a segment where they show and tell, along with screened family photographs, how they became musical-theater stars. Their musical ability along with their stories and humor bonds them with the audience, making this a truly memorable show. The night I was there, the enthusiastic audience showed their delight with standing ovations. THE PHAT PACK plays every Tuesday, Thursday & Friday at 5PM & 7PM at the Plaza Tickets & more information, call 702-946-8934.
LEGWARMERS: An 80's Musical - If you are emotionally attached to the eighties, then this is the musical for you at THE V THEATRE in the Miracle Mile Shoppes at PLANET HOLLYWOOD. Even if you were born before, during or after the awesome 80's this high energy interactive musical is sure to make you enjoy the musical hits and make you want to get up and dance. The storyline in LEGWARMERS follows six young teenagers in the 80's and is narrated by "DJ Chris Cruise" as he interactively guides the audience. Evan Schmalz and Sarah Willick lead the cast as the two young students trying to navigate through the complicated emotions that are apparently synonymous with high school in the 1980's. You'll experience all the fashion, slang and attitude that defined the age. While the show doesn't require you to participate, you'll most certainly want to and while at the Legwarmers show, there's a good chance you could be on stage rocking your socks off!
The Off-Broadway hit Stripped The Play opens on December 21 inside Saxe Theater at Planet Hollywood and performs nightly at midnight (dark on Sunday & Monday). Stripped The Play showcases another side to the sexy world of male stripping by following the true story of an ex-cop's final night on stage and the struggles he faces before taking-it-off one last time. This ex-cop used to take care of the bad guys of NYC, bit after a traumatic life-changing event, his NYPD career came to a halt and so he had to hang up the badge. Now, the badge is back on but this time it's the bad girls he's taking care of as the star of the all male-revue, Stripped.
---
D Las Vegas' American Coney Island is celebrating the most wonderful time of the year with "12 Days of Coney." From December 12 – 24, the iconic Detroit restaurant will feature a daily gift for customers ranging from free chili cheese fries and discounted Coneys to group offers and more. Coney fans are encouraged to 'like' and 'follow' the D on Facebook/theDlasvegas and Twitter/thedlasvegas. Each day at 12:01 a.m., the offer for the next 24 hours will be posted along with a secret holiday word needed to take advantage of the promotion. Customers must say the holiday word posted on the D's social media pages to take advantage of offers. A favorite of Detroiters and visitors for nearly a century, American Coney Island is the oldest family-owned business in Detroit.
And, D Las Vegas partnered with KOMP 92.3 to treat 12 lucky couples to be wedded on 12/12/2012. These newly wedded couples received accommodations in newly upgraded rooms, a festive reception and complimentary tickets to comedy, murder-mystery dinner show `Marriage Can Be Murder.'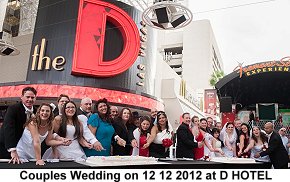 After being wed at La Cappela Chapel by KOMP 92.3's Andy Kaye, the dozen brides and grooms headed back to the D for a reception attended by their families and friends. The spectacle began when the twelve newlywed couples gathered outside the D on the Fremont Street Experience at 2:15 p.m. to cut their massive wedding cake in front of the crowd. After popping champagne and toasting to the special moment, the wedding parties gathered in the D's Detroit Ballroom for a more intimate reception complete with hors d'oeuvres and dancing.
---
There are so many New Year's Eve events going on, it would fill pages and pages of this article to list them. However, here is one that can save you moolah and SKIP THE STRIP for a New Year's Eve Bash. On Monday, Dec. 31, starting at 7 p.m. with an admission cost of $20 at the Silverton Casino Hotel's Veil Pavilion guests can enjoy New Year's Eve with a phenomenal deal and an evening of partying as 2013 rolls in! For $20, guests will receive an all you can drink wristband valid at all casino bars from 7 p.m. – 10 p.m. The wristband gets you access to the DJ Dance Party beginning at 10 p.m. inside Veil Pavilion. Dance the night away to endless music by various DJs, enjoy a champagne toast at midnight and much more. Join Silverton Casino Hotel and start the new year on a high note!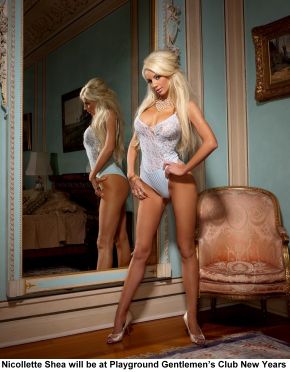 PLAYGROUND - one of the world's most famous gentlemen's clubs offers multiple rooms to satisfy the 24-hour cravings of tourists and locals alike. Nicolette Shea, the bodacious bombshell who turned heads at the Ladies Event tournament in the 2011 World Series of Poker, will host an over-the-top New Year's Eve bash at Crazy Horse III and Posh Boutique Nightclub located at PLAYGROUND on Monday, Dec. 31. Holiday partygoers will be dealt a winning hand as the hot blonde rings in 2013 with hundreds of the club's gorgeous entertainers. The professional poker player was featured in the June/July 2012 issue of Playboy's Vixens and Bluff Magazine. Revelers can enjoy a complimentary New Year's Eve open bar from 9 p.m. until midnight, including a champagne toast at midnight.
TOP OF NEXT COLUMN
Crazy Horse III and Posh Nightclub will keep the bottles popping with their annual industry appreciation breakfast from 4 to 8 a.m. Industry personnel can enjoy endless Bloody Mary's, Mimosas and breakfast food items into the early hours of 2013. Locals will have the exclusive opportunity to enjoy $99 champagne bottle specials.
Sapphire, The World's Largest Gentlemen's Club, marks the completion of the new $8 Million Sapphire Pool and Day Club.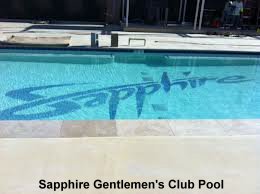 A chill in the air, twinkling holiday lights, icicles, snowmen and bikinis? Yes, bikinis! Not normally what you would expect in a winter wonderland. However, bikini clad snow maidens showed off their rosy cheeks at the new "Sapphire Pool and Day Club" during SAPPHIRE's 10th Annual Anniversary Party. Snowballs were replaced with beach balls and a snow blowing machine provided snow that added the final touch to this Winter Wonderland. The $8 million Sapphire Pool and Day Club includes a multi-level, state-of-the-art, three-tier pool utopia that can accommodate over 700 sun-worshiping party goers. An indoor/outdoor bar and restaurant, the Sapphire Grill will service the entire club and pool complex 24 hours a day.
Peter Feinstein, Managing Partner of Sapphire, said the Sapphire Pool and Day Club has been a long time coming. The 21,000 square-foot facility located on the south side of the Sapphire club is scheduled to open for pool season in March 2013. The pool will be open from about 10 a.m. to 7 p.m. Thursdays through Sundays during pool season and, in addition to being a poolside party oasis, will host entertainment and concerts much like the casino resort pools. The all new indoor/outdoor restaurant will be serving food 24 hours a day.
Sapphire, located at 3025 S. Industrial Road in Las Vegas, is the World's Largest Gentlemen's Club with 70,000 square feet of topless entertainment.
M Resort joins forces with Alien Tequila and Ciroc Vodka to present an out-of-this-world party event. December 21, the end of the Mayan Calendar will become the center of a celebration in the Ravello Lounge from 9pm until 1am.
Guests will be transported to another world with Alien margaritas, tequila flights and Ciroc drink specials. Celebrity DJ KoKo will be spinning the latest in alien groove for dance floor moves. Plus, Earthlings will receive tokens from another world from sexy female aliens and the first 50 people will receive a commemorative bottle of Alien Tequila. Ladies can join the party for free, $5 for locals and $10 for non locals. Guests may RSVP to this event by emailing nightlife@theMresort.com.
This is the first in a series of planned nighttime events inside Ravello Lounge every Friday. Visit the M Resort website at www.theMresort.com for upcoming entertainment and events.
---
9,712 Santas flooded the streets of Town Square in support of Opportunity Village winning the Las Vegas "World Santa Challenge" title for the second year in a row at the eighth annual Las Vegas Great Santa Run. With nearly 2,000 more participants than last year, a swarm of Santa's met at Town Square, Las Vegas to enjoy pre-race festivities from some of the best entertainers on The Strip. The masked men of Jabbawockeez performed jaw-dropping holiday dance moves while Lorena Peril and the girls from FANTASY at Luxor delighted the crowd with a rendition of "All I Want for Christmas is You." Grand Marshal, Terry Fator welcomed the runners along with Mayor Carolyn Goodman and the Chippendales. Guests looked up to the sky to find parachuting Santa's coming in for a landing, followed by Jeff Leibow of JERSEY BOYS at Paris Las Vegas singing the National Anthem to commence the 5K run, which was followed soon after by the one-mile Kris Kringle Jingle Walk.
After crossing the finish line, participants were greeted in the parking lot by some of Las Vegas' favorite food trucks including Lola D's, Fat Daddy's Ice Cream & Treats, Great BAO, Chi Town Hustler and Sauced, as well as a performance from the cast of Legwarmers: The Musical – a new, 80s-themed show at Planet Hollywood. At the awards ceremony, The Venetian won for largest team with more than 750 members and Circle K Convenience Stores, a sponsor of the event, beat out the competition with most money raised. With a significant lead, Las Vegas once again defeated its toughest "World Santa Challenge" competition from Liverpool.
The Las Vegas Great Santa Run® serves as the largest annual fundraiser benefitting Opportunity Village, (a not-for-profit organization that serves people in our community with significant intellectual disabilities) with thousands of participants flooding the streets for a 5K run and one-mile walk each year.
---
The Smith Center is proud to announce the anticipated lineup for the Winter Season through February. After a star-studded opening lineup with more than 125 shows in Reynolds Hall and nearly 250,000 patrons that have walked across the Fior de Pesco marble in the Grand Lobby, The extensive roster of programming will boast many internationally acclaimed acts and Las Vegas firsts comprised of classical concerts, lectures, dance and various special attractions.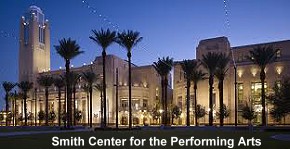 Tickets for individual shows begin at $18 and are on sale beginning Nov. 16 at The Smith Center Box Office or by phone at 702-749-2000 or 808- 326-6868
All performances scheduled below are in Reynolds Hall
JAZZ ROOTS: Vocalese featuring The Manhattan Transfer, New York Voices and Special Guest Jon Hendricks Thursday, Jan. 17 at 7:30 p.m. Tickets prices start at $26
DRUMLINE LIVE: Friday, Jan. 18 and Saturday, Jan. 19 at 7:30 p.m. Tx start at $24
The Joffrey Ballet: Co-Presented by Nevada Ballet Theatre and The Smith Center Tuesday, Jan. 22 and Wednesday, Jan. 23 at 7:30 p.m. Ticket prices start at $22
Ray Kurzweil "How to Create a Mind" Sunday, Jan. 27 at 7:30 p.m. Tx prices start at $24
Natalie Merchant: in Concert with Orchestra Tuesday, Jan. 29 at 7:30 p.m. Tx start at $29
KODO: Friday, Feb. 1 at 7:30 p.m. Ticket prices start at $29
JAZZ ROOTS: A Tribute to Ella, Joe and Basie featuring Janis Siegel, Kevin Mahogany and The Count Basie Orchestra with Special Guests Nikki Yanofsky and Nicole Henry. Sunday, Feb. 3 at 7:30 p.m. Ticket prices start at $26
BBC Concert Orchestra: Monday, Feb. 11 at 7:30 p.m. Ticket prices start at $39
Itzhak Perlman: Wednesday, Feb. 13 at 7:30 p.m. Ticket prices start at $39
Paddy Moloney and The Chieftains: Monday, Feb. 18 at 7:30 p.m. Tx start at $29
Circus Oz: Thursday, Feb. 21; Friday, Feb. 22 at 7:30 p.m., Saturday, Feb. 23 at 2 p.m. and 7:30 p.m. Ticket prices start at $24
---
Have you ever been to the "HAMMARGREN HOME of NEVADA HISTORY?" For a while, because of pending litigation, this wild event that had occurred every year celebrating Nevada Day and created throngs of crowds to this astonishing place, did not take place. However, this year, brilliant surgeon, Dr. Lonnie Hammargren; (former Nevada Lieutenant Governor, now ran once again as Regent, but was defeated) was able to open his home to the public for the 17th Open House to celebrate Nevada Day.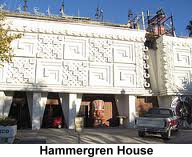 This home, in a residential area consists of his three massive homes, filled with amazing treasured artifacts, both good and bad, that you would never think of seeing. It appears there were thousands of people attending who enjoyed viewing the houses along with live entertainment. Not only is this place incredible; but so is the colorful host, the one and only, Dr. Lonnie Hammargren.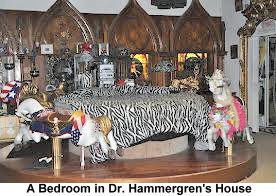 ---
SHINE ALTERNATIVE FITNESS KICKS OFF 2013 WITH $2 CLASSES. Fitness aficionados looking to launch a healthy lifestyle in 2013 can kick start their New Year's resolutions with $2 general classes at Shine Alternative Fitness on Wednesday, Jan. 2. With all of the cookies, candies and holiday parties, weight loss is one of the most popular New Year's resolutions. The Cirque-inspired studio features an eclectic mix of general classes including Stretch & Tone, Salsa and Xtreme Boxing that will motivate guests to have fun with their workout without breaking the bank.
With an impressive instructor roster that includes past and present Cirque du Soleil performers and top industry champions, Shine Alternative Fitness provides a Cirque-inspired fitness experience for guests of all ages daily. Shine Alternative Fitness is located in Loft Works at 6415 S. Tenaya Way #100, southwest of Rainbow Blvd. and Sunset Road.
---
Commonwealth celebrated its grand opening on Dec. 12, bringing an inviting new social scene to Downtown Las Vegas. Located at 525 E. Fremont St. The quintessential 6,000-square-foot cocktail bar is inspired by pre-Prohibition era design and libations; complete with its very own backroom speakeasy. A rooftop bar offers an experiential setting for live music. Commonwealth was designed to emulate an East Coast bar that has been sitting on the same cobblestone street for the past 100 years; but with amazing, eclectic touches that make it stand apart from any other establishment. The Commonwealth drink menu also includes Punch Bowls made to be shared with friends, and Fancy Beers, featuring cocktails made with beer.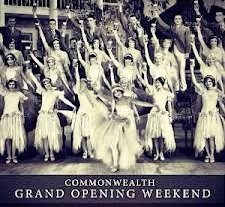 While the lower level is for socializing, the 2,000-square-foot rooftop patio is for partying. Live music and entertainment creates a dynamic setting for guests to enjoy the view of Downtown Las Vegas while enjoying beer, wine and cocktails
Here's a few interesting things you might want to do before 2012's year end:
The Ultimate Fighting Championship (UFC) will conclude 2012 with a bang Saturday, Dec. 29 when heavyweight champion Junior dos Santos meets former champion Cain Velasquez in UFC 155 at the MGM Grand Garden Arena. This long-awaited rematch between two of the sport's hardest-hitting competitors will produce fireworks before they burst in the Las Vegas sky on New Year's Eve. Velasquez is seeking revenge after dos Santos knocked him out last November, ending one champion's reign and beginning another.
Sing along to one of 2012's hottest bands, Maroon 5, as they take over the Mandalay Bay Events Center for two special performances Dec. 29 and 30. Preparing for a highly anticipated spring tour in 2013, the band will perform chart-topping hits such as "Payphone" and "One More Night" from their best-selling album "Overexposed."
"Take it Easy" and end the year on a high note with the legendary band The Eagles at the MGM Grand Garden Arena Sunday, Dec. 30. The Rock and Roll Hall of Famers return to Las Vegas with the Long Road Out of Eden Tour to perform hits from their chart-topping album "Long Road Out of Eden," as well as classics from their 30-year career.
Wishing all my readers wonderful HAPPY HOLIDAYS and a Very HAPPY NEW YEAR!
CONTINUE ON TO...:
> Entertainment Tidbits Archives
>Las Vegas News "Heard Around Town"
>Las Vegas Leisure Guide<