Now this is a way to move to a new Hotel! Blue Man Group, the international entertainment phenomenon, teamed up with Red Bull to celebrate the launch of its latest electrifying production by skydiving into their new home Monte Carlo Resort and Casino. Trained by members of the Red Bull Air Force, Blue Man Group took the daring leap at 7,000-feet high above the property and glided to the earth, landing on Rue De Monte Carlo.

During the event, Blue Man Group flipped a switch illuminating the theatre entrance to signal the official launch of their new show and new home and then headed inside to the Monte Carlo Theatre to celebrate their move to their new home on the Las Vegas Strip. What a way to make a move!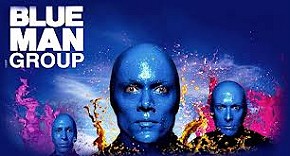 ---
Crazy Girls 25th Anniversary. I was at the opening of Crazy Girls 25 years ago and now at their 25th Anniversary party. I was delighted to meet with some of the original Crazy Girls that I was able to connect with over the years. Crazy Girls at the Riviera Casino & Hotel celebrated its 25th Anniversary show on Wednesday, Oct. 3.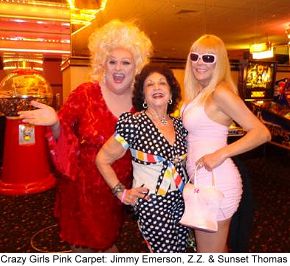 There was a pink carpet with celebrities including former Crazy Girls Jenna Jameson and Valentina Smirnova; Angel Porino (Absinthe); Chris Phillips (Zowie Bowie); Las Vegas Vixen--Sunset Thomas, Jimmy Emerson (La Cage); Murray Sawchuck, Steven Schirripa, former Riviera Entertainment Director; and MTV Reality Star Ricardo Laguna, among others. Crazy Girls founder, Norbert Aleman was presented with a proclamation naming Oct. 3 "Crazy Girls Day" and a commemorative cake.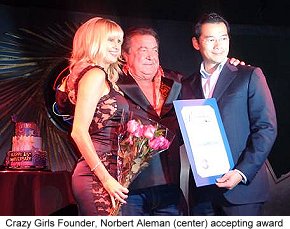 ---
If you missed the fabulous Frankie Moreno on "Dancing With The Stars" you can see him perform his show along with his amazing 10 piece band in his own namesake showroom at THE STRATOSPHERE. I've followed multi-talented, charismatic, handsome, sexy, Frankie Moreno for some time at lounges here in Las Vegas and always knew he was heralded for future headlining fame. I still most assuredly predict that.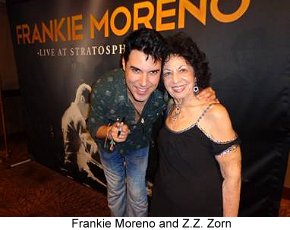 I was at the launch party of his new CD that he co-wrote music and lyrics with his two brothers and guitarist. What a night that was also Frankie's 150th show at the Stratosphere and included his 10 year old son that is a splitting image in looks and talent as his dad. Frankie's proud parents were also there and told me they have 5 sons and boy grandsons. No girls born in the family as yet. Wow Frankie, I wouldn't be surprised if you become as big as Elvis!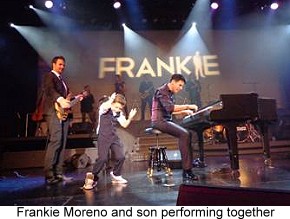 ---
Rita Rudner, the multi-award-winning comedienne, holds the distinguished honor of having the longest-running, most successful one person comedy show in the history of Las Vegas. The Venetian welcomes back 'Rita Rudner Live' for limited engagements through 2012. Known for her trademark clever observations, sharp timing and soft-spoken humor, Rita Rudner is an internationally renowned entertainer and best-selling author. She has starred in seven HBO comedy specials, her own PBS special, and has written several movie scripts. One of the most legendary performers in the business, Rudner has headlined in Las Vegas since 2000.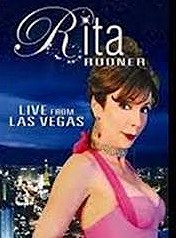 Rita will perform for a special residency through December 30 at 8:30 p.m.
Performance dates are: OCTOBER: 1, 3, 17, 22. NOVEMBER: 12, 21, 24, DECEMBER: 1. 24. 26. 28
---
FANTASY 2013 BARELY BEJEWELED CALENDAR has been released at the LUXOR and is now available to the public. FANTASY's gorgeous cast was showcased and draped in opulent jewelry as the calendar was shot by celebrated photographer Oscar Picazo. The FANTASY show now has sexy new dancers and new seductive numbers alongside the show's stunning headliner, Lorena Peril. In addition, special guest star, hilarious Sean E. Cooper has introduced new top-notch material.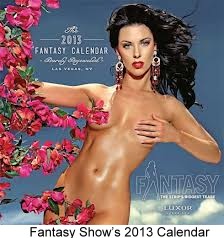 ---
The D Hotel Las Vegas (formerly Fitzgerald's) opened in grand style. Completely refurbished indoor and outdoor with an escalator right on the FREMONT STREET EXPERIENCE (FSE) along with an outdoor Long Bar with Go-Go dancers and a Coney Island Hot Dog 24 hour store on the FSE. The outdoor escalator leads to a 2nd floor Vintage Casino while the main Casino has completely modern renovations and its own indoor D Long Bar. I took a tour of the D's 14 new luxury suites which were quite spectacular, especially the corner suites that have a superb view of all the different parts of Las Vegas. The D's new affable co-owner Derek Stevens along with his co-owner brother chose the name D Hotel for three reasons. 1. His own name Derek. 2. He is from Detroit and 3.The D is downtown. Derek has great insights of how the D should encompass both the new and the old Las Vegas with fun and entertainment.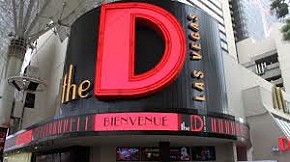 Opening night had the Purple Reign Tribute show (also performs in the D showroom) on the 3rd Street Concert Stage right next to The D, while Bret Michaels next performed next on that stage - all Free to the public. Congratulations to the D Hotel.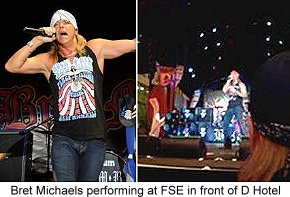 ---
Halloween antics are all over Las Vegas. Here are just a few samplings:
The Amazing Johnathan (the "Freddy Krueger of Comedy") has revealed The SCREAMont Experiment Haunted Attraction at The Las Vegas Club Hotel & Casino. The SCREAMont Experiment, a terrifying interactive walk-through attraction was formerly by invitation only at the Amazing Johnathan's annual haunted event at his private warehouse where he has been shocking and scaring guests for years. Now, he is ready to share The Amazing Johnathan's SCREAMont Experiment with the public and allow them to experience the warped, wicked theatrics that others have enjoyed for years.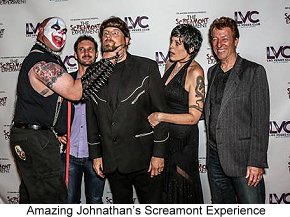 Amazing Johnathan's eerie attraction is a multi-level haunted hotel, featuring 35,000 square feet of themed rooms, optical illusions, mind-blowing special effects and terrifying twists around every corner. Upon entering, guests are greeted by a ghostly bellman who tours them through the quarantined hotel, which has been taken over by previous guests who've mysteriously gone insane during their horrific stay. The attraction will also feature a gift shop, where guests who survive the attraction can purchase ghoulish gifts and macabre merchandise.
The Amazing Johnathan's SCREAMont Experiment has tours nightly beginning at 7 p.m. Tickets are priced at $20 for general admission and $30 for front-of-the-line access. Each Tuesday, The Amazing Johnathan's SCREAMont Experimentl features a Two-For-Tuesday offer, allowing Southern Nevada residents to purchase two tickets for the price of one.
The Amazing Johnathan performs his regular bizarre 'Amazing Johnathan Show' that has adult themes and language at BALLY's 10 p.m. nightly (dark Sunday/Monday).
Tap into fear during Fremont Street Experience's Fourth Annual OktoberFrightFest; the ultimate festival that combines Oktoberfest and Halloween for a month-long street party in October. Guests can get their screams on as the wildly popular, nationally ranked haunted house Asylum, makes its downtown debut on Fremont Street Experience's 3rd Street North area.
The spook-tacular nightly fun continues throughout "Oktober" ending on Halloween, Monday, Oct. 31. Fremont Street Experience will once again transform itself for Oktoberfest and Halloween, featuring; the haunted house Asylum, Viva Vision light and sound shows themed to "Time Warp" and "Monster Mash," outdoor bars featuring beer and drink specials, the Third Annual Fall Beer Festival at Golden Nugget, three free Halloween-themed stage shows and more.
OKTOBER FRIGHTFEST ENTERTAINMENT LINEUP:
Asylum, located on Fremont Street Experience's 3rd Street North area, will be open on Fridays and Saturdays from 6:30 p.m. – midnight and on Thursdays and Sundays from 6:30 p.m. – 10 p.m. on the following dates: Oct. 11-14, Oct. 18-21, and Oct. 25-28. In celebration of Halloween, Asylum will also be open on Tuesday, Oct. 30 from 6:30 p.m. – 10 p.m. and on Wednesday, Oct. 31 from 6:30 p.m. – midnight. General Admission is $15. A VIP ticket is also available for $20 and allows the ticketholder to bypass the line. Nevada residents receive a $3 discount.
Live Shows during OktoberFrightFest:
"Frank & The Steins" is a live musical revue of classic Halloween songs. The cast is comprised of hot ghouls and guys; singers, dancers and live musicians performing songs including "Psycho Killers," "Spooky," "Time Warp," and "Ghostbusters," that will make audiences dance, laugh, sing and scream.
"Frank & The Steins" will perform on the 1st Street Stage Oct. 3-31 at 8:10, 9:10 and 10:10 p.m. (dark on Oct. 9, 16 and 23).
Zombie Rising will perform three themed sets that highlight a vast repertoire. Zombie Rising will perform on the Main Street Stage Oct. 5-31 on Sundays – Wednesdays from 9 p.m. – 1 a.m. and Fridays and Saturdays from 6 – 10 p.m.
"Drac & The Vamps" take over the 3rd Street Stage with a dominating, bloodcurdling, spine-chilling live performance Oct. 2-31 at 11:10 p.m., 12:10 and 1:10 a.m. (dark Oct. 12, 13, 19 & 20).
---
Highly acclaimed Sin City Comedy will now call Planet Hollywood Resort & Casino home starting Oct. 25. Two time winner of the coveted "Best of Las Vegas Award," Sin City Comedy will feature a rotating lineup of today's top comedians, all recognizable from appearances on Comedy Central, VH1, HBO,The Late Show with David Letterman, The Tonight Show with Jay Leno, Conan, The Late Late Show and more. The comedy show's burlesque twist dates back to the 1840s, when comedy and burlesque went hand and hand. Combining world-class comedy with sinfully sexy burlesque, this stand-up comedy show will delight guests at the Sin City Theatre on the Mezz level nightly at 9 p.m. Tickets are priced at $48.50 and $37.50.
TOP OF NEXT COLUMN
The book 'Fifty Shades of Grey' seems to have taken the world by storm and copycat versions either serious or hilarious are sure to come about. Las Vegas has caught on and here are two versions:
SPANK! The Fifty Shades Parody performs at the Crown Theater

inside the RIO from Thursday November 1 to Saturday November 10. The new show is a musical parody of "Fifty Shades of Grey," the risqué novel which recently surpassed "Harry Potter" to become the fastest-selling paperback of all time. Audience members can expect a laugh-filled evening that captures all the escapist fun and absurdity of the novel as the Fifty Shades characters are brought to life with sexy and fun musical numbers. SPANK! is an original and ingenious take on what has become one of the most popular books in the world. Part Second City, part Thunder from Down Under, SPANK! delivers big laughs, sexy fun and lots of surprises. All shows begin at 10 p.m. Tickets are available for $39 and $49.
And, New York-New York Hotel & Casino welcomes "Shades of Temptation" a sinfully sexy show that explores the forbidden and ignites excitement to The Broadway Theater. "Shades of Temptation" brings a new definition to sexuality as it transports audiences to a world of pleasure. The erotic and glamorous show will unleash the wildest of passionate desires while encouraging guests to free their inhibitions. The cast of stunning women and gorgeous men includes American Idol vocalist David Hernandez. A sophisticated and chic production, "Shades of Temptation" takes guests on an erotic journey like no show in Las Vegas has done before. The sizzling show performs Tuesday – Sunday (dark Monday) at 10:30 p.m.
The Broadway Theater is also home to "Dancing Queen," the hottest '70s party featuring ABBA's greatest hits, and "Broadway Celebration" an all-singing, all-dancing celebration of the hits from Broadway's greatest shows.
Tickets for "Shades of Temptation," "Dancing Queen," and "Broadway Celebration" start at $49.95 each, plus tax and service charges.
---
Sin City's hottest gentlemen's club, Crazy Horse III, was named "Best Club in the West"at this year's Exotic Dancer Awards. The hometown hot spot came out on top at the largest annual adult venue award show honoring the top gentlemen's clubs, entertainers and staff in the industry.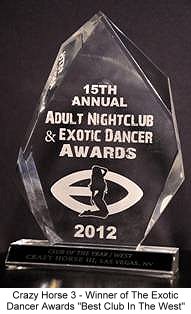 One of the world's most famous gentlemen's clubs, Crazy Horse III features hundreds of gorgeous female entertainers, three tantalizing stages, oversized chairs, a main room framing an enormous dance platform and an opulent VIP room. Crazy Horse III is part of PLAYGROUND, a lavish destination that offers nightlife and dancing as well as some of the best sushi in the city. Guests may take advantage of the hot spot's complimentary transportation, pending availability, by calling 702-673-1700
By the way, Playmate Brittany Binger will host Crazy Horse III's 'Champagne Campaign' on Saturday, November 3. The presidential-style party commemorates the upcoming election and will treat female partygoers to free champagne from 10 to 11 p.m.
---
Caesars Entertainment has revealed plans to re-name the Imperial Palace to The Quad Resort & Casino. Although guests will begin to see the brand transformation on the property as early as November, the official conversion will be completed by Dec. 21, 2012 with renovation plans scheduled for finish by late 2013. Interior and exterior renovations to the property are already under way. The renovations are scheduled to be completed in phases and will bring improvements to the exterior façade, porte cochere, front desk, bell desk, hotel lobby, casino floor, retail promenade and dining levels. In addition to revealing plans for renovation, the resort is also unveiling a new brand look and feel to accompany the name.
---
Bellagio received accolades at the 2012 World Travel Awards' Caribbean & The Americas Ceremony. The AAA Five Diamond Las Vegas resort has been recognized as North America's Leading Casino Resort, an honor Bellagio has received for four of the past five years.
---
The second annual Asian Food Festival will be held at Silverton Casino Hotel on Saturday, Oct. 20 and Sunday, Oct. 21 with an expected attendance of more than 30,000 people. The festival will feature live entertainment by Legaci, opening act for pop phenomenon Justin Bieber; Society of Seven, featuring "American Idol's" Jasmine Trias; and DJ Baby Chino, the world's youngest DJ, who will host a KidZone featuring child artists and performers. The festival, produced by Red Dragon Events and Promotions will also offer 25 authentic Asian restaurants and food trucks, including Sin City Cupcakes, Fukuburger and Truck Norris.
Saturday, Oct. 20 from noon to midnight and Sunday, Oct. 21 from noon to 10 p.m.
---
Smash Magazine presents Roots Reggae Uprising featuring Tribal Seeds, along with special guests: Fortunate Youth, ForTwentyDaze, HaleAmanO, One Pin Short and more on Saturday, October 20 at Henderson Events Plaza (200 S. Water Street). Gates open at 4 p.m. Tickets are $17 in advance, $21 day of show. Tickets can be purchased online at www.ticketfly.com.
---
As part of the center's Caring, Giving, Changing community campaign, Miracle Mile Shops at Planet Hollywood Resort & Casino will collect donations in its fountain in honor of Breast Cancer Awareness Month. Throughout October, all change tossed in the popular water feature and the center's indoor rainstorm will benefit the Southern Nevada Affiliate of Susan G. Komen for the Cure®.
---
Nevada Ballet Theatre (NBT) announced that it will honor legendary dancer, singer and actress Mitzi Gaynor as its 2013 Woman of the Year at the annual Black & White Ball on Saturday, January 26 at Bellagio. An Emmy Award-winning and Golden Globe®-nominated star of both stage and screen, Gaynor received world-wide acclaim for her iconic performance as "Ensign Nellie Forbush" in the 1958 motion picture adaptation of Rodgers & Hammerstein's South Pacific. A superstar performer in all mediums, Gaynor went on to achieve critical acclaim. A stage performer from the age of 12, she debuted as a concert artist in 1961 during a record-breaking engagement at Las Vegas' famed Flamingo Hotel and established her as a major attraction in Las Vegas. Mitzi Gaynor continues to captivate audiences today with her new one-woman show, currently on tour, Razzle Dazzle! My Life Behind the Sequins: An Intimate Evening of Laughs, Love & Music.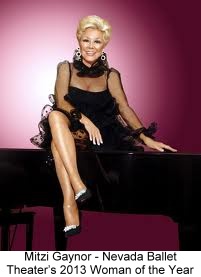 Past honorees of the Black & White Ball include luminaries of the stage and screen such as Debbie Reynolds, Chita Rivera, Celine Dion, Ann-Margret, Marie Osmond, Priscilla Presley and most recently Eva Longoria. NBT has honored these legendary women for their dedication to the world of arts and entertainment. Many of them have enjoyed a special connection to Las Vegas.
---
Winder Farms, Comedy-Magician Mac King, and The Public Education Foundation held a special assembly with the winning school of the "Delivering Magic"Book Drive at Gordon M. McCaw Elementary School.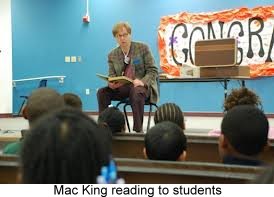 The assembly is the culmination of a book drive and contest held in September. The Grand-Prize Winner, Charity Kerr, chose Gordon M. McCaw Elementary School to be the recipient of a $2,500 check from Winder Farms. The assembly included a special check presentation by Winder Farms as well as an appearance by Mac King who performed tricks from his show and read a few short stories to the students, emphasizing the importance of reading. Additionally, Winder Farms distributed milk and apple slices to the students at the assembly.
---
Veteran performer/singer/host, Tony Sacca is now celebrating 27 years as producer and host of the award-winning entertainment television show "Entertainment Las Vegas Style." In doing the show, Sacca has collected rare entertainment and historical footage from covering hundreds of shows, entertainers and historical events, and now he's making a 52-episodic series titled "Classic Vegas Entertainment."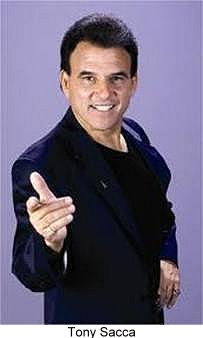 When Tony Sacca started producing an Entertainment Television Show from Las Vegas in 1985, the population was less than 400,000, the mega-resort hotels weren't even invented yet, there were no Cirque du Soleil shows and the "Showgirl" was the key Las Vegas icon. Over the past 27 years, Sacca has produced more than 500 television episodes covering hundreds of celebrity interviews, specialty acts, show and hotel openings, attractions such as bungee jumps, roller coasters, fish tanks and whatever the powers-to-be created in order to attract more tourists.
"Classic Vegas Entertainment" will be timeless, presenting never to be duplicated again footage.
---
David Marlon started the Solutions Foundation six years ago when he realized the tremendous problem of drug and alcohol abuse among teens in Southern Nevada. The Solutions Foundation is committed to solving this problem by providing awareness, prevention and treatment services to teens. Last year an ambitious project was started 'Choosing Life Over Using Drugs (CLOUD) an adolescent intensive outpatient program that provides treatment to adolescents 13 to 17 years of age. The organization offers substance abuse education to adolescents, reaching over 50,000 students in 25 middle schools and high schools.
---
THE ULTIMATE 5K RACE & FESTIVAL. Put on your warrior helmet & crazy costume and head out to Lake Las Vegas to get dirty in the Warrior Dash on Saturday, 10/20 at 9am. This ultimate event for thrill seeking athletes features twelve obstacles from hell on a challenging 3.31 mile course. The extreme course will have participants bounding over fire, trudging through mud, and scaling new obstacles and new heights. After the grueling event, participants can celebrate with live music, food, & beer. Registration is $90 with proceeds to benefit St. Jude Children's Research Hospital.
---
Studio at the Palms, a Las Vegas-based, high-end recording studio with a client roster including Katy Perry, Lady Gaga and Maroon 5, has completed a wall-to-wall installation of three Avid HDX systems and 176 channels of HD I/O to give Artists the unprecedented ability to create bigger, better sounding projects faster than ever. With the upgrade, artists at Studio at the Palms will get more tracks, more headroom, and up to five times more dedicated DSP power to undertake even the most immense music and post-production projects with the confidence that comes with guaranteed performance.
---
Performing at a professional Boxing Match is a dream yet to be fulfilled by many. Three of the Las Vegas Mass Choir members had this exceptional experience by performing The National Anthem for the World Boxing Council middleweight title fight between champion Julio Cesar Chavez Jr. and former champion Sergio Martinez of Argentina. The bout at the Thomas and Mack Center matched the 26-year-old son of the Mexican legend in his ultimate test against the 37-year-old southpaw Martinez, who was voted the 2010 fighter of the year.
The audience tallied over 19,000 people. The Argentinean National Anthem was sung first, followed by the Mexican National Anthem. The American National Anthem was sung last by Timothy Wells, Veronica "Lady V" Morton and Denise Robinson who are members of the Las Vegas Mass Choir. The Las Vegas Mass Choir began in 2004 when renowned Choir Master James R. Smith was contracted to audition, select and develop a 15-voice ensemble from the Las Vegas area. The Las Vegas Mass Choir is currently a common name on Gospel television and radio networks throughout the United States. The Choir has traveled to perform throughout the United States and to the Melbourne Jazz Festival in Australia. Over the years The Las Vegas Mass Choir has received numerous awards and commendations for their captivating performances of inspirational music and ministry.
---
The Cosmopolitan will host Sunset Sessions, an event that brings together music industry professionals and exposes them to the freshest new talent as well as legendary favorites, to be held in Las Vegas for the first time, Nov. 8 – 10.
Sunset Sessions at The Cosmopolitan will mark the first time the event has ever been open to the general public. It will bring together radio station programmers from all over the country, music supervisors from film, television, ads, games and sports, major and independent record companies, artist managers, music publishers, press and booking agents and expose them to the latest musical artists. Sunset Sessions' Main Stage will be located at the Boulevard Pool and will feature 20 – 30 up and coming artists including The Parlotones, Susanna Hoffs, Steve Earle, Tora, Courrier, Feral Vinca, Max Gomez, Michael Fitzgerald, Cheating Daylight and more over three evenings as the sun sets over the city. A complete lineup for the Main Stage will be announced soon as well as additional performances by several well-known favorites.
Tickets to Sunset Sessions cannot be purchased. The general public can however secure tickets by making a time commitment or a monetary donation to one of several nonprofit organizations, including Communities in Schools of Nevada, Three Square and Opportunity Village, as well as The Recording Academy's own MusiCares. For more information, visit www.cosmopolitanlasvegas.com/ sunsetsessions.aspx.
CONTINUE ON TO...:
> Entertainment Tidbits Archives
>Las Vegas News "Heard Around Town"
>Las Vegas Leisure Guide<