I don't know about you, but I love to watch and judge America's Got Talent. Following weeks of heavy competition and breathtaking performances on NBC's #1 hit television show America's Got Talent, this season's first place and $1 million grand prize winner OLATE DOGS and other top performers, along with fan-favorite special guests, will perform together live in a one-of-a-kind production exclusively at The PALAZZO. This will be an eight-week limited engagement, beginning Wednesday September 26. Led to first place by champion trainer Richard Olate and his son Nicholas, the high-energy act features magnificently coached dogs performing remarkably unbelievable routines with exceptional agility.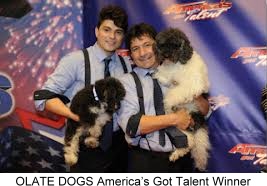 America's Got Talent Live In Las Vegas will be hosted by runner-up, Tom Cotter. Other fan-favorite performers will include: Joe Castillo - Astonishing creative artist who tells stories in a unique way with sand, William Close - Innovative musician and inventor of the Earth Harp, the longest stringed instrument in the world, with strings that extend up to 1,000 feet in length. Lightwire Theater - Spellbinding group of performers who use electro-luminescent wire to create characters designed to combine dance, puppetry and a glow-in-the-dark show. Recycled Percussion - "Junk Rock" group featuring gritty musical assaults on buckets, power tools or anything else they can get their sticks on and Spencer Horsman - The world's youngest escape artist extraordinaire. America's Got Talent Live In Las Vegas showtimes are: Saturday through Thursday: 7:30 p.m.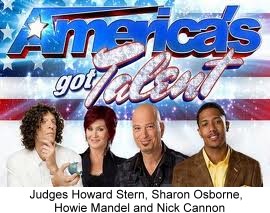 ---
Crazy Girls is kicking off their 25th Anniversary Celebration with Las Vegas' Longest "No Ifs, Ands, or…" Lineup at the RIVIERA by having the Public invited to "Show us your assets" on Tuesday, Oct. 2. Women 21 years of age and older are invited to recreate the famous Crazy Girls' pose, beginning at the popular bronze statue in front of the Riviera. The lineup begins at 1 p.m. with day-of registration and check-in opening at 11 a.m. by Le Bistro Lounge, located on the RIVIERA casino floor. Interested women can pre-register by sending their name, age and phone number to Butts@CrazyGirlsLV.com.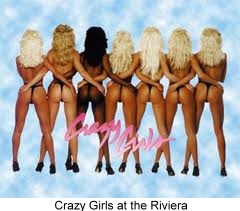 In addition to the Butt lineup, Craig, Al and Andy from KOMP 92.3's morning show will be broadcasting live from the casino floor from 1 - 3 p.m. Food is being provided by the Slidin' Thru truck and Riviera's Le Bistro Lounge is offering drink specials during the event. Las Vegas Entertainment Productions is taking commemorative photos, with photo proceeds benefiting American Cancer Society as part of Breast Cancer Awareness Month. Crazy Girls celebrates its 25th Anniversary throughout Breast Cancer Awareness Month by donating a portion from every show to American Cancer Society.
---
i♥burgers CELEBRATES ROYAL SHENANIGANS After delighting in the international majesty that is the Olympic Games, Las Vegas and i♥burgers were proud to welcome His Royal Highness Prince Henry of Wales (Prince Harry to his friends) for a weekend of debauchery. In his honor, and in memory of a Las Vegas vacation that will not soon be forgotten, i♥burgers unveiled a brand new gourmet burger: The Exposed Prince.
The Exposed Prince features a ground Kobe patty, aged Boxing Cheddar, garlic and onion chutney, a fried egg and HP sauce served open-faced on a pretzel bun. The Exposed Prince serves as a delicious British Invasion to i♥burgers' re-engineered American classic flavors. This approachable gourmet burger concept appeals to tourists, shoppers, conventioneers and locals alike.
To celebrate the unveiling of The Exposed Prince, i♥burgers is offering 20% off your bill at The Shoppes at The Palazzo when you flash us with your passport from the United Kingdom. However, the royal family will always eat for free. Enjoy your burger with more than 50 types of bottled and draft beers or a selection from the full service bar. Remember, if you are going to party naked with friends with camera phones, don't. Viva Las Vegas.
---
As part of "Rock-N-Wheels Weekend", which celebrates Classic Cars & Classic Rock, DOMENICK ALLEN stars in VINYL, the Classic Rock Experience, for one night only at 9:00 pm on Friday, September 28 at LVH (Las Vegas Hotel). Domenick, formerly with the group FOREIGNER, will lead 10 of Las Vegas' finest musicians to shake the walls and rock the house in an exciting show that re-visits some of Classic Rocks most popular multi-platinum hits. Famous for his high-energy vocals and multi-instrumental talents, Domenick says, "We want you to see Classic Cars, and hear Classic Rock hits that you know and love as if it's for the very first time!"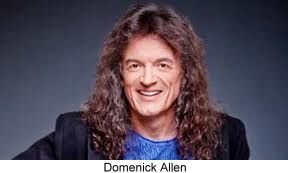 Domenick's very special guest will be a true Rock Legend: DENNY LAINE, former lead singer/co-founder of the MOODY BLUES, and co-founder, along with Sir Paul McCartney, of WINGS. For the first time on any concert stage, Domenick and Denny will combine their talents to create an unforgettable and unique musical event.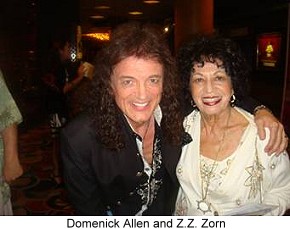 ---
Murray Sawchuck is having quite an amazing time these days and he deserves it. Everyone knows this talented comedy magician with the wild and crazy blonde hair from America's Got Talent. Murray just celebrated his 100th headlining show in The Laugh Factory at THE TROPICANA that has been extended to October 31; he got married to Chloe, his beautiful sidekick for many years; and has just signed on to do his own show with Discovery Television called 'Murray's "Delusional." Congratulations!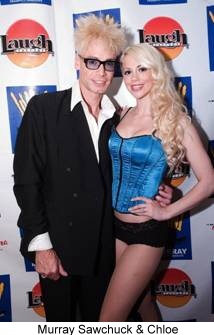 ---
I was invited to a special launch book signing party for the release of VEGAS KNOCKOUT by P Moss at the world-famous Double Down Saloon in Las Vegas. This was the wildest Book Signing party you could ever imagine. The crazy fun night included a Freak Show, Music, emcee JENN O. CIDE, sideshow act ANDREW S., sword swallower KELVIKTA THE BLADE, and midget entertainers LIL MISS FIREFLY and TURTLE.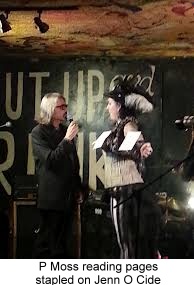 The Author of VEGAS KNOCKOUT is longtime Las Vegan P Moss who did a one-of-a-kind reading of some pages of his new book, with the pages of the book stapled onto Jenn O. Cide's forehead and other questionable places. Quite a night, and a really interesting book by P Moss as he searches for the soul 9of a city built on vice and explores the neon oasis and its dark, wild, and uproarious nature. VEGAS KNOCKOUT is the follow-up to his popular 2010 book BLUE VEGAS.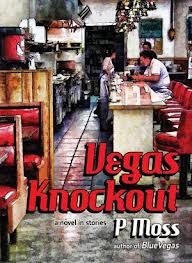 P Moss is a musician and songwriter whose band Bloodcocks UK recently concluded two sold out tours in Japan. P Moss is a prominent name in the nightlife world as he owns the popular Double Down Saloons in Las Vegas and New York City, and Frankie's Tiki Room in Las Vegas.
Music was by Portland-based aggressive indie rock band ATTACK SHIPS ON FIRE who played songs from "Vegas Soul," an album inspired by Moss's latest novel that created excitement and unrestrained dancing. I was pooped just from watching them dance. What a night in the Double Down Saloon, a place that you must see to believe, and a book that you have to read to believe.
---
Internationally-known comic magician Amazing Johnathan has moved to Bally's for an ongoing engagement. Appearing in the 230-seat Windows room, Amazing Johnathan continues to make audiences laugh and squirm with his unique wit and off-beat talent. Now in his 12th year performing as a major headliner in Las Vegas the Amazing Johnathan Show still showcases the same warped, sinister humor and unscripted antics that have earned him widespread recognition. Amazing Johnathan has brought his wacky assistant, Psychic Tanya, with him to BALLY's, along with new sketches and other added material, resulting in a new dynamic that adds a side-splitting twist to Amazing Johnathan's witty production.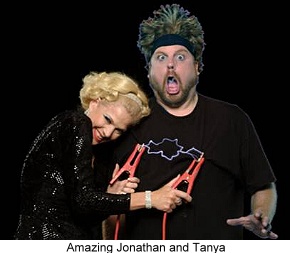 ---
On Monday, SEPTEMBER 24, at 7:30pm the National Touring Company of WICKED will host "THE WICKED ROCKY HORROR SHOW", a staged concert performance of Richard O'Brien's The Rocky Horror Show - Book, music & lyrics by Richard O'Brien. Held at The Tropicana Showroom, the event will feature the company of WICKED. The net proceeds of this event will benefit Broadway Cares/Equity Fights AIDS and Las Vegas's Golden Rainbow. "THE WICKED ROCKY HORROR SHOW" is part of an ongoing series of performances by the touring company throughout the country to support charitable causes which advance WICKED's theme of acceptance and illuminate the musical's message that people should not be judged on first impressions. In its 7 years on the road, the company has raised over $2,000,000 in donations for Broadway Cares/Equity Fights AIDS and local AIDS Services organizations all over the country. Tickets online at: www.troplv.com; in person at the Tropicana Showroom Box Office or by calling 702-739-2222.
---
Don't miss the Rock 'n Brew III Beer Festival, Friday September 28, 6:30pm - 10:00pm at Chateau Nightclub (Paris Hotel). The event is half beer festival and half music experience! Over one thousand people will descend upon Chateau's Rooftop and Nightclub to taste over eighty different local and national beers. Proceeds from ticket sales go to the UNLV Beverage Management Club. Tickets are $30 and can be bought online at http://www.brewunlv.com .
---
Posh Boutique Nightclub Las Vegas' premier late-night destination will cater to Sin City's finest with the introduction of its new weekly Industry Night on Wednesday, Sept. 12. Starting at midnight every Wednesday, Posh will host a sexy after-hours party with unbeatable drink and bottle specials for industry members. Revelers can toast the night away to the sinful tunes of famed DJs
Posh Boutique Nightclub at PLAYGROUND adult entertainment and nightlife complex is the perfect destination for revelers seeking an elegant, exclusive and energetic afterhours nightlife experience
TOP OF NEXT COLUMN
The Hard Rock Hotel has two big headliners October 6 and 7. Folk rocker Melissa Etheridge brings her smoky vocals & powerful lyrics to The Joint at Hard Rock on Saturday, October 6. Oscar® and two-time Grammy winner Melissa Etheridge is set to embark on a North American Tour in October in support of her latest album, "4th Street Feeling. Melissa wrote twelve new songs for the album, which features Blair Sinta on drums, Brett Simons on bass, and Zac Rae on keyboards. Melissa takes the lead on vocals, piano, harmonica, banjitar and some of her most stirring lead guitar work to date.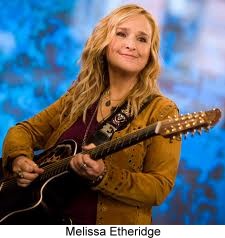 In addition to her recording career, Melissa hosts "The Melissa Etheridge Radio Show." In late 2011, Melissa was honored with a star on the Hollywood Walk of Fame and this fall, will be honored by the National Women's Museum of Art in Washington DC with her inclusion in the exhibition, "Women Who Rock: Vision, Passion, Power."
The Macadelic Tour with special guests Travis Porter and YG perform in The Joint at Hard Rock the next day on Sunday, October 7.
---
The "Happiest Steakhouse in the Universe" will deliver even more merriment as Oscar's steakhouse inside the PLAZA in downtown Las Vegas introduces its Happy Hour specials. The new Happy Hour will run from 4 to 6 p.m., everyday in the lounge and bar area of Oscar's steakhouse. Specialty cocktails, well drinks and a wide selection of beer and wine will be half-priced during happy hour.
---
Age of Chivalry is the 19th Annual Renaissance Fair. Costumed knights, fair maidens, knaves and wenches will be on hand for the Age of Chivalry Renaissance Festival Friday, Oct. 5 through Sunday, Oct. 7 now at Silver Bowl Park, 6800 E. Russell Road, due to the renovation of Sunset Park.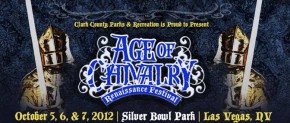 Clark County Parks and Recreation presents the festival in its 19th year with more than 50 shows per day, over 100 artisans, historical reenactments and plenty of food and drink to satisfy the masses. The festival is open from 10 a.m. to 10 p.m. Friday, Oct. 5 and Saturday, Oct. 6 and 10 a.m. to 4 p.m. Sunday, Oct. 7. Admission is $10 per day for adults and $5 per day for seniors ages 60 and older and children ages 5 to 12, ages 4 and younger are free. Three-day passes are $25 for adults and $10 for children, ages 5 to 12, and seniors, ages 60 and older. Combo packs including admission, an event T-shirt and 18x24 commemorative posters are available for Single-day or Three-day options. All tickets are available through Ticketmaster.
This year, Lexington Field, The Mahones and Killian's Angels will headline the fair's main stages. Along with concerts and shows all weekend, the fair will host a royal parade with Kings, Queens, Warriors and Peasants on Saturday and Sunday along with historical re-enactments, jousting tournaments, medieval pageantry and more than 100 artisans - including blacksmiths, stained glass designers, jewelers, wood workers, toy makers, perfume blenders, stone carvers and sword, dagger and armor craftsman - to demonstrate and sell their wares. Authentic food, from fish and chips to an English feast, will be available as well as beer and ales for adults with proper identification.
---
The Strip's biggest tease, FANTASY at the LUXOR now has two sexy new dancers in the show. They are, Ashton, a statuesque knockout with incredible moves to match, and the stunning Chloe, who recently moved to the United States from her native England. The ladies have joined the gorgeous and multi-talented cast at an exciting time as the show recently added two sexy new numbers and choreography. Watch for their new sexy Calendar coming out soon!
---
LegWarmers - An 80s Musical opens September 20 in V Theater at PLANET HOLLYWOOD inside the Miracle Mile Shops. LegWarmers is jam-packed with your favorite 80s hits and a storyline straight out of a John Hughes' film. The show tells the story of six friends and the night that changed their lives forever. As for the music, there is no shortage of hits. From one-hit wonders and new wave sensations to rock & roll classics and pop masterpieces; this show features the very best of the 80s. Audience members can sit back and enjoy the show or sing along with their favorite songs. It's part comedy, part love story, and ALL fun!
---
Fremont Street Experience, the five-block entertainment complex located in historic downtown Las Vegas will begin broadcasting a brand-new live, interactive talk show in partnership with the Vegas Video Network®, the first and only live online broadcasting network in Las Vegas. Each episode will be shot "on-location", throughout the various Fremont Street Experience casinos, restaurants and attractions and provide an authentic behind-the-curtain look at the people and places that draw over 17 million visitors annually.
---
World Series of Fighting, the mixed martial arts organization entered into the fastest growing sport in the world with a series of major announcements including a television agreement with NBC Sports Network, Its debut event will be in Las Vegas at PLANET HOLLYWOOD, with world class former bantamweight champion Miguel Angel Torres headlining the main event of this historic night of fights on Saturday, Nov. 3 live on NBC Sports Network.
The premier World Series of Fighting live card will also feature Gregor Gracie (7-2) of the famed Gracie family vs. Tyson Steel (8-1), Ronys Torres (25-4) vs. Brian Cobb (19-7) and Josh Burkman (23-9) in a welterweight bout. Gesias "JZ" Cavalcante (16-6) will take on Las Vegas local John Gunderson (34-14) as part of the undercard with more matchups to be announced.
---
The 33rdAnnual San Gennaro Feast at the SILVERTON HOTEL/CASINO was back again with massive crowds experiencing a taste of Italy featuring authentic dishes from cannolis to meatballs and everything in between as well as amusement rides, games and entertainment for the whole family The event had to start a day late because of the worst day of rain ever recorded in Nevada. TONY SACCA, who has been part of San Gennaro Feast's entertainment for more than 25 years, performed and introduced a stellar lineup of Las Vegas Strip entertainers on the main stage in the back area of the feast.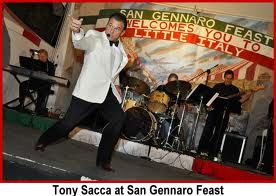 The event had an impressive lineup nightly with great entertainment including legendary accordionist Dick Contino; Society of Seven with American Idol Star Jasmine Trias; singers Mark Giovi, Genevieve, Mark OToole, Tony Pace, Ron Smith, Philly Cuzz, John Garafalo, Shades of Sinatra, Aaron Caruso, Amanda Kaiser, Robin Vincent, Annette Simmonds, Chelsea Rae Bernier, LJ Harness; "The Rat Pack is Back;" MJ Live - tribute to Michael Jackson; "The Best Little Whorehouse in Texas;" and "Nunsense - The Las Vegas Production;" all backed by the Michael T Band. Grand Marshals "Jersey Boys" and Grand Lady Denise Clemente also performed as well as top-rated bands: Déjà vu; David Perrico featuring Naomi Mauro; The NiteKings; Rock-It-Science; The Patty Janura Band; and Terry Forsythe's tribute to the Temptations and the Supremes.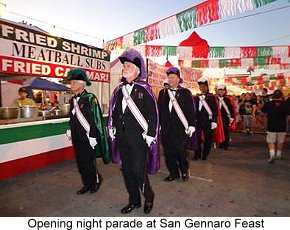 The SAN GENNARO annual feast held in May and September is "A Love Affair with Italy" honoring the patron saint of Naples, Italy. I always look forward to it and if they let me know the dates in advance of my publication deadline the next time, I'll make sure to let my readers know the dates.
---
Fremont Street Experience gets revved up with BIKEFEST ROCKFEST, a series of free concerts that will complement the 12th Annual Las Vegas BikeFest. Beginning Thursday, Sept. 27 and extending through Sunday, Sept. 30 the four days will be jam-packed with entertainment by some of the world's best tribute bands of rock superstars. Everyone is invited downtown to enjoy the feel-good sounds of great music while surrounded by the iconic neon lights of the Fremont Street Experience. All concerts are free and open to the public.
---
Retired Channel 8 news anchor Gary Waddell has been named 2012 Child Advocate of the Year. Court Appointed Special Advocate (CASA) Foundation will honor Gary Waddell at the 22nd Annual Child Advocacy Recognition Dinner on Saturday, Oct. 6, at The Venetian. Waddell will be acknowledged as CASA Foundation's Child Advocate of the Year for his longstanding contributions to the CASA program and the community.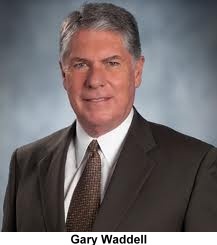 Previous recipients of CASA Foundation's Child Advocate of the Year include Mayors Carolyn and Oscar Goodman, Dave Courvoisier, Carol Kirshman, The Alterwitz family, Dr. Miriam Adelson, Justice Nancy Saitta and Barbara Buckley. All proceeds raised will benefit CASA Foundation's programs and initiatives. CASA Foundation's mission is to support the needs of abused and neglected children in Clark County's foster care system by providing clothing, tutoring, school supplies, scholarships and more. The Clark County CASA Foundation supports the CASA program, which provides court appointed volunteers to serve as advocates for neglected children to ensure they do not get lost in the legal and social services system. To reserve a seat, make a donation or for more information, visit http://www.casafoundationlv.org/ or call (702) 588.CASA (2272).
---
EMERGE AMERICA celebrates woman trailblazer Erin Bilbray Kohn, the first 2012 Trailblazer Honoree! Erin is the founder of EMERGE NEVADA in Las Vegas and is the longest serving Executive Director in the Emerge network. For the first year, with Erin's leadership, Emerge Nevada will pilot a unique high-touch field program targeting women voters with canvassing, phone banking and voter registration in the Woman to Woman Vote Program. Erin has spent the last 20 years as a political and strategic consultant to federal, state and local campaigns, focusing her consulting on "women only" candidates and progressive organizations. Longtime Nevada residents will remember the name Bilbray as James Bilbray is a former Nevada U.S. Congressman. Erin Bilbray Kohn is his lovely daughter.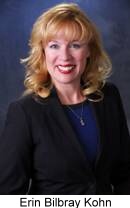 ---
The Fabulous Palm Springs Follies has been seen by over three million patrons, and celebrates the music and dance of mid-century America with a cast ranging in age from 54 to 83 years "young." The show features lavish, Broadway-caliber production numbers and plays five days a week November through late-May. The Follies is housed in downtown Palm Springs' historic Plaza Theatre, a charming, neon-encrusted old movie house, an attraction unto itself.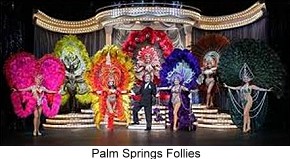 The Fabulous Palm Springs Follies' 22nd edition doesn't open until November 1, but theater-goers who purchase tickets before the box office officially opens on September 24, save 20% on all seats, all season long. This discount is available online by visiting the Follies website at www.psfollies.com or by calling (760) 327-0225. This is the first ever opportunity in the Follies' 21-year history to lock in season long savings.
Joining the Follies 22nd edition are three world-renown guest stars and a remarkable variety act:
Lorna Luft (Nov 1 - Dec 31, 2012) this celebrated vocalist sings the songs her mother, Judy Garland, taught her.
Lou Christie (Jan 8 - Mar 9, 2013) savor golden memories with his $million-sellers.
Lesley Gore (Mar 12 - May 19, 2013) Back by popular demand, she performs her Gold Record hits and, of course, her #1 smash and the anthem of a generation, "It's My Party."
Plus the "World's Greatest Hula Hoop Artist" Mat Plendl (All Season).
During the Follies season, for those that do not want to drive, bus shuttles are available from Las Vegas.

CONTINUE ON TO...:
> Entertainment Tidbits Archives
>Las Vegas News "Heard Around Town"
>Las Vegas Leisure Guide<